At some point you felt reasonably fit…maybe even dare we say it, very fit. Then life happened you took an extended break and now you're scratching your head wondering how to get back to running after time off?
Is it going to be painful, take forever, can your body even handle it?
Good news: your muscles (and brain) have a memory of those past activities and in many ways it's often EASIER to get back in to shape than it was the first time around.
Think about it. You don't have to convince yourself it's possible because you already know that you have run before. That takes away part of the battle and of course now with more life experience you're better equipped to push through discomfort.
It's one of the reasons so many top distance runners are older than athletes in other sports!
First, it's important to talk about how long you've been out of running. I've done an article on how quickly do I lose fitness, which addresses the short term of a couple days to a couple of months.
Today we're focusing on coming back after months or potentially years away from the sport.
How to Get Back Into Running
A few things will be common for every runner, but the reason you stopped running can also play a big part in the answer. So let's cover some of the big things and then break it down by reason.
Celebrate each step forward
Build a more resilient body
Follow a good training plan
Do what you can
Really, a lot of it depends on why you stopped in the first place.
To start breaking down a plan of action, is it returning to running after baby, or returning to running after a knee injury?
Or, is it returning to running after simply being too busy for anything but work, family, sleep, repeat?
Were you doing other sports or athletic activity?
Each of these comes with their own unique set of challenges and requirements to help your body feel strong and ready. But for each there are some key principles that cannot be ignored.
1. Celebrate Each Step Forward
Instead of trying to get back to where you were on day 1, start from where you are now. Prior to my knee injury, which ultimately lead to surgery, it was normal for me to run 40 miles per week.
I could have been frustrated about not being able to walk around the block afterwards, but I choose to start a new journey.
I celebrated each day that I walked a little farther and then celebrated when I shuffled through a 10 minute run and then my first mile and so on, all the way up to a 50 mile week during Ultramarathon training.
Positive emotions are going to reinforce the action
Don't reward yourself with food, but do keep praising yourself for showing up
Ask your family to support your goals
Set up a jar to put money in for new gear and add to it every time you finish a workout
Remember that showing up AT ALL is a win, even if you don't do the whole workout
All or nothing is not a mindset that will get you through this. Everything counts.
Have you had an extended break from running? These tips will help get you started again.
Click To Tweet
Is it hard to get back in to running?
It would be a lie to tell you that it's easy. BUT as I mentioned above the fact that you have done it before actually makes it easier than the first time you started!
After that these mental tips and ways of thinking about training will truly help. If in the past you ONLY ran and skipped the warm up, the strength training and thinking about fuel…well your body is different now and you can't get away with those things.
Running after menopause is a different animal.
Running after having kids and your entire lifestyle changing requires you to respect your time and body differently.
We aren't 20 any more and that's JUST FINE! We have more mental toughness now, which is why many great distance runners are actually in their 30's and 40's.
2. Build A More Resilient Body
Runners have one very common issue, we simply want to run. Therefore we neglect all the other aspects of training which help to prevent injuries, make us faster and generally help with running for weight loss goals (a big reason many come back).
I know you're busy.
I know you'd rather get those endorphins going.
I know it's easy to skip over this section.
Time to re-frame that entire way of thinking. How can you simply build these components in to your workout?
Make hip and core movements part of your dynamic warm up.
Commit to doing a minimum of 2 full body strength training sessions of 20 minutes
Know that you can still do a short run or take a walk on those strength days (again, it's not all or nothing)
Checkout my 30 Day Core Program or Runner Strength training – both are short, but effective!
New mother runners
There is a lot that goes in to feeling ready to return and then ensuring that your body is truly ready. Make sure you have sign off from your Dr first.
Then because it's a big topic, please read this guide on rebuilding your pelvic floor and this guide on tips from mother runners to make it all work.
Knee injury runners
Make sure you're spending plenty of time looking at good running form and doing hip strength exercises that prevent issues like IT Band Syndrome ALL THE TIME. It's non-negotiable.
And if you still have knee pain, then hold off on running and checkout these ideas to keep your fitness up with knee pain.
Super busy runners
I hate to break it to you, but lots of runners are super busy.
So it's time to decide if you're making excuses, wasting time in other areas or need to simply be ok with only having 30 minutes for your workouts. No one says you need to be running for hours on end!
DO WHAT YOU CAN.
3. Follow a Good Training Plan
What is a good training plan? One that works for you, takes your life in to account and is tailored around any injuries you may have.
Option 1: Get a Coach
My first recommendation is generally to find a running coach because they are truly going to look at whatever issues you've had, your schedule and your fitness level to help put in place something that's not only DOABLE, but gives you constant little wins which keeps you motivated and excited.
Option 2: Start from Scratch
Next up is to go with some tried and true things like the Couch to 5K program, which has worked for thousands of people!
It means getting past your weird ideas that you shouldn't be walking, which is a key tool for increasing time on feet and allowing the body to adjust to the pressures of running.
Option 3: Use an App
Looking for a middle ground of a paper plan and something a little more custom?
Checkout my training plans inside the PACE app from Training Peaks. It's different than a normal app because the plan will actually adapt to you!
You can enter a goal of fitness, not just a specific race
It will create a plan
As you record workouts you'll get feedback from me (not live in person)
And then if you are missing workouts or doing too much or too little, the plan will actually start to shift a little to help keep you focused on the highest priority workouts for your goal.
It also works for coming back from injuries! I developed plans specific to that.
📣BONUS – We know that tracking is a great way to create habits and consistency. KEEP IT simple.
Checkout my new printable running log, to track your progress and have a log to easily look back on come race day to remind yourself of all the hard work that you have done!
4. Do what you can
Those who already have a high level of fitness from other sports, still need to remember running is a different stimulus and you need to ease in to the process.
But all the other points remain the same of finding a solid plan to help you build up, like this first half marathon program.
After that the keys are simple (not easy):
Consistency – show up for yourself
Don't try to make up missed runs
Slow and steady is the key to continuing. It means preventing burnout and injuries, which will just force you to start over again.
Remember that your body is different now than it was before and different isn't BAD
Remember your mental strength can help you now to overcome some of the physical
How to get back in to running?
It's all about starting where you are with what you have!
Make a plan
Determine what will help you stay accountable
TRACK everything
Start small – 2 power walks a week and 1 strength sessions
Increase slowly to prevent injuries and maintain motivation by not being overly sore or fatigued
You're going to feel a little sore when you start because the body is adapting to a new stimulus. That does not mean you should be so sore you have to skip the next workout or can't function.
That's a sign you are doing TOO MUCH TOO FAST.
Trust me it's not worth it. An injury means time off, which means less chance of you sticking to the plan.
So don't be afraid to start REALLY SMALL. Let go of your ego.
A process we give many of the runners who come to us for 1-1 coaching after time off is as follows:
Start by building up to power walking 3 miles, each at a 15min/mile pace
You want to be doing that at least 3 days per week
AND I need you to be doing at least 2 days of strength training with that.
Now we have a body that's prepped to start doing run/walk intervals
We will slowly progress those over time til you hit your first mile running with no breaks or for some folks instead we stick to run/walk to work on endurance
Checkout this guide to run/walk training
More questions about getting started? Dive in to these resources:
Other ways to connect with Amanda
Instagram Daily Fun: RunToTheFinish
Facebook Community Chatter: RunToTheFinish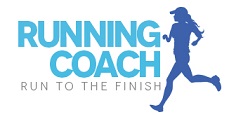 Sign Up to Receive a Weekly Newsletter with Top Running Tips and Laughs