Those who have been around these parts for awhile, know that I love treadmill running. It's a fantastic tool for so many reasons and since I've talked ad nauseam about the benefits of treadmill running today I'll stick simply to your common question.
Why Do I Run Slower on A Treadmill?
There are a few common causes:
Change in your running form
Lack of variety in your pace
Utilizing the same muscles for the whole run
Poor treadmill calibration
Mental dislike of the treadmill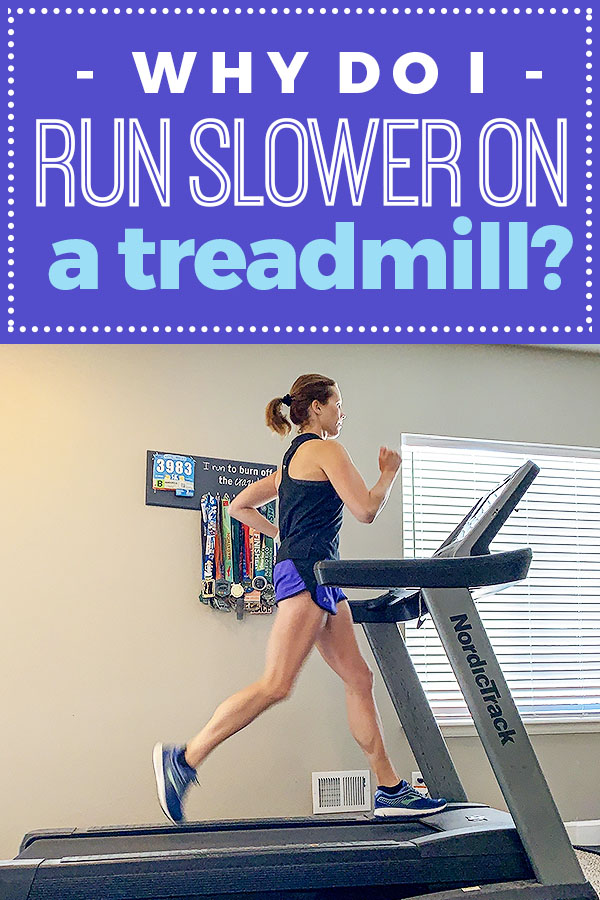 Treadmill Running Form
While your running form should be the same as outside, many runners tend to run too far forward on the treadmill. The result is that you change your gait and alter your stride.
Aim to be in the middle of the belt
Your arms shouldn't be hitting the console, that means you're too far forward
Keep your shoulders back and standing tall. If you're looking down at a screen you could be hunching over.
Think about your strides in terms of running cadence, you want a quick turn over.
Lack of Variety in Your Pace
When running outside, you'll naturally find your pace changes a little from mile to mile as you run uphill or blessedly downhill, whether you have wind or are simply stopping to cross a street.
The treadmill setting means that unless you are varying the incline, you're running a constant speed and using the same muscles for the entire run. While I think it's an AMAZING way to teach yourself pacing, it could at times make the run feel harder or slower if you are used to only running outside.
Try playing with the incline
Remember that a 1 % incline more closely mimics outdoor running
Try doing runs that are fartleks to throw in small changes in pace
Mentally Draining
If you've started calling it the dreadmill then why would you expect to have a good run? You've told your brain and body before ever starting that you're going to dislike the workout.
Running is a MASSIVELY mental sport and you need to reframe the way you think about the treadmill.
It's an incredible tool that you're really lucky to have access to. I know because tons of you email me asking what the best running treadmill is to buy all the time….so people want these!
A few things that can also help:
At home can you decorate or do something to make the space inviting
Name your treadmill just like Triathletes name their expensive bikes
Have a show that you ONLY GET to watch when on the treadmill
Have a run snack (like umm jelly beans) that you only get to use for long treadmill runs, yup never for outdoor
Do some things to help reshape your mindset around that training time.
Treadmill Calibration
If you're using the gym treadmill, you may not be able to do a lot about this, but treadmills need to be calibrated. Having run on hundreds (yes I did a thing where I tested 75 in one day) from my own to hotels, I can tell you they can vary greatly.
With the treadmill set on 0 incline, I use a level to see if side to side and front to back it is indeed level. Often you may need to adjust the back legs to get it sitting correctly.
If it's shifted to one side or the other then that will change your stride.
If it's already tilted up before you add incline then your runs may be harder.
Calibrating the speed is a little more involved.
Checkout does my watch work on the treadmill to get tips on calibrating!
Treadmill Running Tips
If you're going to be using the treadmill more then I have a few additional tips and tools that could help you make the time go faster:
All right? More treadmill questions, just let me know!
Other ways to connect with Amanda
Instagram Daily Fun: RunToTheFinish
Facebook Community Chatter: RunToTheFinish
Sign Up to Receive a Weekly Newsletter with Top Running Tips and Laughs