Amanda we're looking to get a new treadmill, what's the best home treadmill for running?
This has become a common refrain among my friends over the last 10 years as they too begin to realize all the reasons I love having a treadmill at home. And how I've now worked hard to test out a ton of options to find what the best treadmill for home is
The treadmill is one of the most versatile cardio machines available, despite being referred to as the 'dreadmill' by some.
Whether you have a running goal for this year, like completing your first half or full marathon, or you're trying to increase your daily step count, a treadmill is an incredible machine that'll help you hit those goals.
If you're in the market for the best home treadmill, it's important to know what to look for and then the best options you have available to you within your budget and according to what your fitness goals are.
Lucky for you, I've tested for 75 treadmills (as part of a job) and have run many, many miles since I first started running back in 2002.
If you're considering adding a treadmill to your home gym, I completely understand that it's a significant investment.
That's why I've done the work for you to help you find the best treadmill for home. Read on to learn my top 8 picks and what you should consider when buying one.
What Is The Best Treadmill For Home Use?
This is determined by several factors, including budget, space, and functionality.
The best treadmill for your home will be one that won't put a strain on your budget, will fit neatly into whatever space you're working with, and will have as many of the design features that your heart could possibly desire to keep you motivated while you're working out.
For some people, a simple machine with no extras will do the trick, but others may want a cutting-edge machine with the latest technology, like an HD touchscreen or smart technology integration.
As I mentioned above, I've tested over 75 treadmills in one day as part of a job, and have been using one or the other since 2002. And that's how I've come up with this list to help you find the best treadmill for home use.
The Nordictrack C1750 which can be had for around $2200 and will LAST forever.
I've tested it. I've recommended it to many friends who now have it and love it. It's from a stellar brand, which means it'll have a long life, it feels stable, and has the features you need without going too crazy.
If that's all you wanted to know, there you have it. But if you want all the details on what to look for and how to make sure it's perfect for your needs, my article will teach you all of that!
But that's not all, you'll also learn why Nordictrack C1750 is the best home treadmill, and what other treadmills I recommend as a running coach and someone who has trained for marathons on the treadmill.
How I Tested Treadmills
Every treadmill that's featured in this article is one that I've used and tested (many for quite a few miles!) before recommending it here.
As a running coach and someone who has been running since 2002, I have experience with dozens of treadmills. In fact, I once tested 75 treadmills in one day as part of a job I did!
Needless to say, treadmills and I go way back and I've come to learn what features are important for runners, and what you can pass on.
All the treadmills mentioned here have been evaluated in terms of performance, comfort, price, value, durability, features, and what runners truly need.
A few of the key components I looked at with selecting these:
Minimum CHP of 3.0 for runners
Running belt 58 inches or longer, walkers could look for a shorter belt
Sturdy frame and high quality
Best running treadmills for the price (no need to overspend!)
Console that's easy to use
Folding treadmill – standard for most now for easy storage
8 Best Treadmills for Running at Home
With plenty of options on the market, finding the best home treadmill can be tricky. But here I'm sharing my top 8 picks!
Every single treadmill mentioned here is one I'd recommend to a client or friend, so I'm absolutely sure you're going to find something that fits your needs. And if you also want something for while you work, checkout these cheaper underdesk treadmills.
Let's look at each of the 8 best home treadmills one by one:
Best Commercial At Home Treadmill – Nordictrack C2450 ($2,599)
The person who last serviced my C2950 Nordictrack (it's predecessor) treadmill thought the total number of miles displayed for the lifetime had to be an error…it's not.
My Nordictrack treadmill had well over 16,500 miles since I brought it home in 2013.
In 2021, the NordicTrack Commercial 2450 treadmill was launched with a few upgrades from my original model, including the swivel touchscreen so you can do more classes!
The 22-inch deck of this model glides effortlessly on 2.5-inch precision non-flex rollers, even at greater training speeds, thanks to the motor's 4.25 continuous horsepower. The base is solid and can easily accommodate varying body weights.
The deck's RunnersFlex cushioning lets you pick between a real road feel and engaging dampers that soften stress on your joints and lessen the risk of injury.
If you're training for a marathon or just want to keep up with your running schedule during the winter, the true road feel is a fantastic alternative to running outdoors.
Since it's a bit more than the 1750 that I often recommend, let's look at why it's different.
Commercial treadmills tend to have a little sturdier build and are made to withstand heavy usage(hence mine has moved 5 times and done many miles)
The 2450 has a much larger screen at 22 inches than the 1750
2450 has slightly larger motor making it better for interval running
Auto adjusting incline for programmed workouts
60-inch belt is great for long legs
-3% to 15% incline
12 MPH top speed
Some folks like the sleeker design, it's more like a Peloton.
You can get the previous model 2450 for $1999. It's not going to have the swivel screen or some of the latest technology, but if you just want a great motor and belt to run…winner. Like I said my 2950 is that version and has gone the distance.
Most of the NordicTrack and ProForm treadmills are both a good price and offer a good range of features.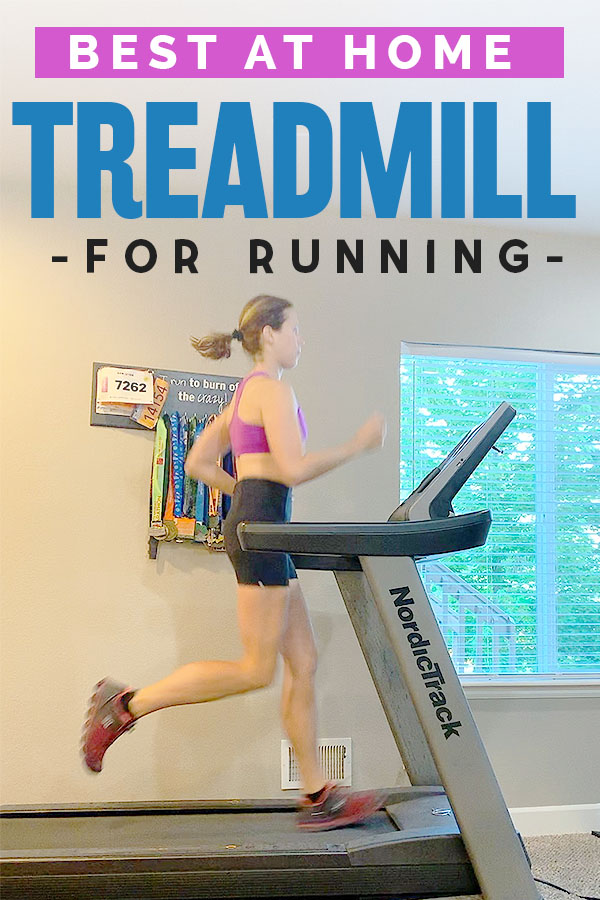 Best Overall Running Treadmill for the Price – Nordictrack Commercial 1750 ($2,299)
I stand by this as the optimal choice even though it's now their OLD model. They stopped producing it in 2019. It's going to last, so break down the cost over many years!
It boasts a 3.5 CHP motor and a running surface measuring 22 by 60 inches. Thanks to auto adjust technology, the treadmill can automatically change your pace, incline, and decline.
All of this makes for a quieter experience that feels more like being on the open road from your home. You may run up to 12 mph on it and replicate hilly terrain with an incline of up to 15% or a decline of down to -3%.
The treadmill also has a 14-inch HD touchscreen display that swivels so you can see it from anywhere in the room. You won't find yourself wishing you had a larger screen, even though it may not be nearly as spectacular as the 22-inch display on the NordicTrack C2450 treadmill.
To fine-tune your exercises, it syncs with a heart rate monitor that is offered separately and has tactile buttons along the edges of the display that makes changing the grade and speed simple.
The price will increase a bit with the number, but I do love that a commercial treadmill just seems to have a longer lifespan. Many of my friends have gone with my recommendation on the 1750 and had it for years with no issues.
Good-sized running surface (with long legs some treadmills can indeed be too short or feel narrow)
Touchscreen display
iFit Workouts (can run certain courses or do workouts)
More horsepower means a motor that's better for quickly doing intervals
Bluetooth connectivity (easy to pair your HR monitor)
-3% t o15% incline
12MPH top speed (that's a 4:36 mile pace)
Assisted lowering, so when unfolding it doesn't slam down
Supports up to 300 lbs
The 1750 and 2450 also available from Dick's Sporting Goods, so you may find some coupons here and there.
However from Amazon, you can add $89.99 to get expert in home assembly. We have moved our treadmill a bunch and don't need that now, but 100% needed it the first time.
Best Runner Up At Home Treadmill: ProForm Pro 9000 ($2,299)
Actually made by the same company as Nordictrack, so you can expect some similarities though I often find the Nordictrack to be just a bit more upscale. But it's truly a good bang for your buck, especially as they have added a lot of features to this model like iFit.
In the past, ProForm was always considered the more "budget-friendly" version of Nordictrack. Meaning less features, yet a good product. But they are pretty quickly working their way up to being on par with this model.
I would recommend it over many of the other lower priced versions for those planning to run. You need the strong enough motor to quickly pick up for intervals and not burn out.
I love a decline for some fast LHR runs, but also for training for so many of the big downhill races that are popping up. So it really excites me to see that in any model.
Originally I had listed the Proform 2000 as a great budget friendly option, because it was $700 less. But they have phased out that model to go with something that's far more in line with new flashy screens.
22 inch touchscreen display (does not swivel like Noridctrack)
Calorie burn and HR display (like the above)
Built in fans
Bluetooth connection for headphones
-3% to 12% incline
12MPH max speed
3.6 CHP Mach Z
Easy to fold
If you're curious to really understand more, checkout Nordictrack vs ProForm Treadmills. I'll break down what makes them different though they have the same parent company.
Best Integrated TV and Apps at Home Treadmill – Bowflex 22 ($2,700)
For those of you who LOVE watching things or listening to timed music, this is all the bells and whistles! They are newer to cardio machines but have been making top-notch home gym equipment for years, so it is a brand I trust.
The Treadmill 22 is Bowflex's newest and most technologically advanced model, and it's a treadmill that many runners will love.
This treadmill is built like a tank, with a powerful 4-horsepower engine, a wide and long (22″ x 60″) running surface, and a cushioned (Comfort Tech) deck to reduce impact at any speed.
It offers one of the widest incline ranges, from -5% decrease to 20% incline to mimic running up and down hills, and supports the most weight at 400 pounds. The treadmill's slope and speed controls are on the handlebars and stability bars, making it easy to use.
This treadmill features a 22-inch touchscreen that can be adjusted to your ideal viewing angle, allowing you to follow along with trainer-led workouts through the JRNY, a subscription-based service), or watch content from a number of popular streaming services.
The Bowflex Treadmill 22 has a lot going for it, but before you order it, make sure you have room for it. It's fairly bulky, measuring 85 inches in length, 39.6 inches in width, and 70 inches in height.
It does have a folding technology called SoftDrop that helps minimize its overall footprint by almost 40%, but it doesn't fold up fully, so you'll still have to make some room for it.
22 inch touchscreen
-5% to 20% incline (one of the best ranges)
12 MPH top speed
JRNY built-in personal trainer workouts
Watch Netflix or other streaming services right on the panel
Bluetooth enabled and HR armband included
Cushioned deck with 60-inch belt (good for long legs)
Additional hand grips are useful when using the 20% incline
This is another treadmill that is also available at Dick's Sporting Goods. Unfortunately, they don't have them in many stores, so you can't go test in person. But you can get financing like 0% down.
If you buy direct from Bowflex, I always feel warm and fuzzy about the warranty. But also free shipping and a mat for under the treadmill.
Best Treadmill for Trail Runners – Nordictrack X32i ($3,999)
Listen if you want to conquer big vert then you need a treadmill that's got serious incline power and can still give you what you need for a speed workout.
It's going to take you from -6% up to 40%!
Now that is some serious glute power happening and one of the reasons that so many of my trail running friends love this treadmill. But even if you want to train for big hikes or just walk, that incline is going to WORK you out.
Massive incline as noted
Massive 32 inch touchscreen display
Live incline, decline control when running a course or doing a workout
Bluetooth headphone connectivity
Run with Google Maps
Running deck to help reduce impact
12 MPH top speed
Pricey…but a STELLAR treadmill.
Best Treadmill for At Home Workouts: Peloton Tread ($4,000)
Honestly, I didn't have this on the list originally because I feel like the price point is just crazy.
But, I have chatted with many of you that do indeed love the treadmill workout programs and wanted to provide details so you can see how it compares to others for home use.
Largest treadmill LCD display with touchscreen of all treadmills
Knobs for speed and incline control, that's right no buttons
59-inch belt
Tied into Peloton for tons of workouts and data tracking (only included for 1 year)
5% incline max
0 motor is not as good as others for interval running, great for distance running
20 inches wide is not ideal for runners, 22 inches is better
So in terms of actual treadmill components for the high-end price it doesn't match up to the recommended Nordictrack or Bowflex treadmills.
In fact, I did a full comparison of Nordictrack vs Peloton treadmills to give you a better idea of how they work.
Popular At Home Treadmill – Sole F80 ($2,700 – currently marked down to $1699)
My first at-home treadmill was a Sole! It was 2008 so I can't remember the model, but I do remember choosing it because it was stable and at the time more budget-friendly.
One of the reasons they are so popular is you can actually find them in stores like Dick's Sporting Goods to test out for your home gym.
This treadmill is going to have that more old school look. Chunky console, grey screen, cup holder. And yet, who cares if it gets the job done at a price that feels good!
0-12MPH
USB plugin for your phone or music
Incline up to 15%, no decline
Easy to fold
Whisper flex deck – means good shock absorption
Supports up to 375 lbs
It's going to cover all your bases and they've been running some great sales. Like the Sole F 80 is $1599 right now on their site linked above.
Best Curved Treadmill
If this is your jam, check out my detailed post on curved treadmills at home.
I also break down self-propelled vs motorized treadmills, so you can figure out what's best for you.
They are much more expensive and have a few different things to consider when buying. They are not ideal for long-distance running in most cases.
Honestly, those are my top picks!
There are tons of at-home treadmills out there and lots of versions even from those brands, but that's where I'd start if shopping myself.
PART 2: Treadmill Buying Guide – Understanding the Most Important Features.

I listed a few things here, but you'll get far more details in that article.
What to Look for When Buying a Treadmill for Home
Over the past few decades, more and more features have come out and it can feel a bit overwhelming considering how many options we have on the market.
But don't worry, I've narrowed it down so you know exactly what to consider when buying a treadmill for home use. Let's look at each of them in detail:
Fitness Goals
First things first, what are your fitness goals, and what do you want to do with your treadmill?
If you're looking for a treadmill for general fitness goals and using it to walk, your technical requirements will be lower than someone looking to do high-volume running on it.
It all comes down to the continuous horsepower (CHP) motor. If you're a runner, you'll need a treadmill with at least 3.0 CHP. If you're using it to walk, a CHP of 1.75 or more might work for you.
But if you're somewhere in the middle and are looking to jog on your treadmill instead, look for a motor with a CHP motor of between 1.75 to 2.5.
In general, I don't recommend a treadmill with a CHP lower than 3.0 for runners.
Budget
The next thing to consider is your budget. There's no point in looking at all the fancy features if that's not something you can afford at the moment. Luckily, there are some good budget-friendly options on the market and I'll share my favorite one with you in this article.
In general, the higher the price, the better the quality of treadmill you'll get. Treadmills that are mid-range or high end in terms of price also tend to last longer and be more durable, with some even featuring a steel frame.
High quality treadmills are usually also better at shock absorption and come with features you'd see in commercial-grade treadmills.
If you need to keep cost down though, here are my best treadmills under $1000.
Noise
You might need to make sure your treadmill is quiet depending on where you plan to use it. For example, if you live in a small apartment with many neighbors, you may need to invest in a high-quality treadmill that does not creak or squeak.
While a foldable treadmill may appear to be a reasonable solution for a small room, the design can generate unwanted noise.
Dimensions and Space
The dimensions of your treadmill are important for both the room it will be placed in and the workouts you plan to do on it.
When it comes to how you move on the machine, it's important to remember that walkers have shorter strides and gaits than runners. This means that walkers can use a treadmill with a belt that's about 50 inches long, but runners will need at least 60 inches.
To get on and off your treadmill securely, you'll also need to account for space behind and to the side of the treadmill.
Safety Features
The primary purpose of a treadmill is to help you work up a sweat, but if you make a mistake or use it improperly, the treadmill's moving parts pose a risk.
Make sure your treadmill is stable during a challenging workout and has side handrails. Many treadmills also come with a safety clip that stops the belt if the user falls off.
While this might not be the fanciest feature to consider, it's definitely one of the most important ones to stay safe and injury-free!
Warranty
Treadmills can be quite pricey, so just like when you buy a stove, refrigerator, car, or computer, you should expect a warranty to cover any potential problems.
Look for at least three to seven years of coverage on parts, and at least one year warranty that covers labor. Frame and motors should come with a lifetime warranty.
Other Features to Consider
Let me tell you something: treadmills can get as fancy as you want them to be. But that's not necessarily what you need.
Nonetheless, there are a ton of fun features and conveniences that many treadmills come with that you might be interested in. This includes HD touchscreen displays or LCD displays, streaming services for subscription-based workout classes, heart rate monitors, Bluetooth speakers, cooling fans, easy storage trays, etc.
Others might have more of a bring-your-own-tech vibe, where you can connect your tablet or phone for interactive training.
Is A Treadmill Better Than Walking?
Both are advantageous in their own ways.
A treadmill provides a stable, predictable walking pattern that is always under your control. Alternatively, the outdoors will keep you on your toes with its unexpected turns and challenges.
Treadmills are useful for training because they can record data like speed, incline, and calories burned. Alternatively, going outside has been shown to have positive effects on both physical and mental health.
It's not necessary to choose one over the other. Track your workouts on the treadmill and then get some fresh air to clear your head.
A few more of the common treadmill questions I get:
Other ways to connect with Amanda
Instagram Daily Fun: RunToTheFinish
Facebook Community Chatter: RunToTheFinish
Sign Up to Receive a Weekly Newsletter with Top Running Tips and Laughs