Amanda we're looking to get a new treadmill, what's the best home treadmill?
This has become a common refrain among my friends over the last 10 years as they too begin to realize all the reasons I love having a treadmill at home.
It's also turned in to a joke because many of you start out Googling the answer and come up with videos of me testing out over 75 treadmills (part of a job I did!).
If you have no patience to do the search or read the full post, I'll skip right to it.
✅This is the best treadmill for running at home.
The Nordictrack C1750 which can be had for under $2000 and will LAST forever.
I've tested it.
I've recommended it to many friends who now have it and love it.
It's from a stellar brand, which means a long life, it feels stable and has the features you need without going too crazy.
Best Home Treadmill
I definitely have some preferences and some opinions thanks to the many…many…many miles I've put in on a whole variety of treadmills since I started running in 2002.
In fact, the person who last serviced my C2950 Nordictrack treadmill thought the total number of miles displayed for the lifetime had to be an error…it's not.
My Nordictrack treadmill had well over 15,000 miles since I brought it home in 2013.
It's about $400 more than the 1750, but bumps up to a commercial level. So it's made it through lots of moves and still runs wonderfully.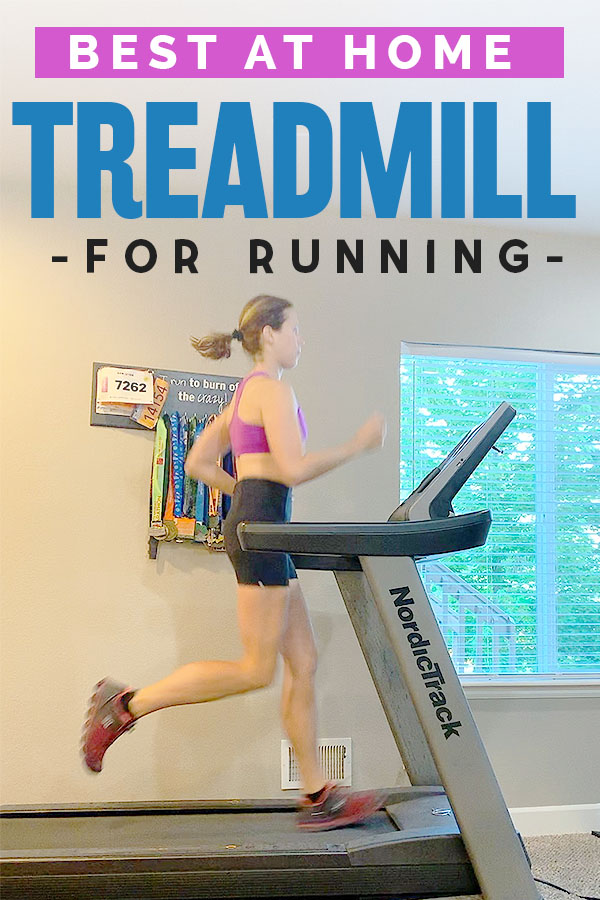 Many top runners utilize the treadmill for training, so why shouldn't we?
Especially when we live in crazy climates or terrain that doesn't mimic the race we'll be doing. Some have found they run slower on treadmills, but there are a few correctable reasons why that might be.
A great running treadmill at home eliminates excuses, so this is what I've learned about all the variables you see listed to help decide which things actually matter.
As you know I have the NordicTrack C2950 and a number of my friends are now rocking the NordicTrack 1750 per my recommendations! I adore my treadmill and it has over 15000 miles on it, going strong.
But I know that it's a more expensive model than I would have even chosen on my own.
Most of the NordicTrack and ProForm treadmills are both a good price and offer a good range of features.
NOTE: Right now, prices are higher without as many sales due to more people looking for an at home treadmill. If you see a sale, I won't lie…you should jump on it.
Best Treadmills for Running At Home
Having tested hundreds of treadmills, these are the one's worth your money.
I'll go through specific features to look for in a treadmill like the belt length or motor to help you in comparing others on your own after this.
Click the name of any treadmill below to see the specific features.
Best overall running treadmill
Nordictrack 1750
Retail $1899
I stand by this as the optimal choice. It's going to last, so break down the cost over many years! However, this model is out of stock A LOT. Probably because it's a good price and a good set of features, so the runner up for me is the C2450 ($2200) or C2950 mentioned above.
The price will increase a bit with the number, but I do love that a commercial treadmill just seems to have a longer lifespan.
Each now has a touchscreen, iFit workouts, high end motor, -3% to 15% incline and up to 12mph speed.
Runner up at home treadmill
Sole F 80
Retail $2700
My first at home treadmill was a Sole! It was 2008 so I can't remember the model, but I do remember choosing it because it was stable and at the time more budget friendly.
0-12MPH, USB plugin for your phone or music, up to 15% incline.
It's going to cover all your bases and they've been running some great sales. Like this on is $1500 right now.
Best budget friendly treadmill
ProForm 2000
Retail $1500
Actually made by the same company as Norditrack, so you can expect some similarities though I often find the Norditrack to be just a bit more upscale. Again it's a good budget friendly option that goes from -3% to 15% incline.
I love a decline for some fast LHR runs, but also for training for so many of the big downhill races that are popping up.
Best treadmill for trail runners
Nordictrack x32i
Retail $3999
Listen if you want to conquer big vert then you need a treadmill that's got serious incline power and can still give you what you need for a speed workout.
It's going to take you from -6% up to 40%! Now that is some serious glute power happening and one of the reasons that so many of my trail running friends love this treadmill. But even if you want to train for big hikes or just walk, that incline is going to WORK you out.
Pricey…but a STELLAR treadmill.
Best Curved treadmill
If this is your jam, checkout my detailed post on curved treadmills at home.
They are much more expensive and a few different things to consider when buying.
Home Treadmill Features to Consider
Everyone is going to have slightly different needs in a treadmill for running at home. But there are a couple of things which will be universal.
Some of the key features to look at when selecting the best treadmill for your needs, whether you're focused on getting back in to running or serious marathon training a lot of these are the same.
Stability of the Treadmill

If you'll be running on the treadmill, then ask to turn it on in the store. You want to ensure that as you pick up the pace there's no swaying of the machine. Most of the newer machines with some of the features mentioned below will be solid.
One of the reasons I went for a commercial treadmill was knowing they are a built to withstand a lot of miles and are definitely very stable machines.
That also means a slightly higher price tag and sometimes a heavier machine.
Motor Size

Runners need 3.0 CHP or higher motor to ensure it quickly picks up speed and maintains. If you're someone who does a lot of tabata running and want to really take your speeds from 5MPH to 12MPH then you should look for a 4.0CHP or higher.
Here's my review of the treadmill that I most often recommend, the Nordictrack 1750 (still a top rated machine even 4 years after my initial crazy video because they upgraded it to commercial level quality.)

Belt Length
Did you even realize treadmills are different lengths?! It's especially important as a runner, not to end up with one built more for walking that could have a track as short as 43″.
Most good running treadmills will be 58-60″ and if you're super tall, look for one's that are 63″.
Available Inclines
Nearly every running treadmill now goes up to 10-15% incline, which is more than enough for most of us to do some seriously workouts that increase HR without the pounding.
If you want to go crazy with inclines, then look more towards an incline treadmill, which is not as much for running.
One of the reasons, I selected my treadmill was that it also has a decline of -3% and this make training for downhill races much easier and bonus points because it makes speed training on low heart rate more accessible.
Variety of Speeds
If you're looking at a treadmill with a top speed of 6MPH, then it's probably a walking treadmill with a small motor.
Most new treadmills go up to 12MPH, which is roughly a 5:14 mile depending on the incline. I for one will likely never touch that button, but hey goals.
Space Needed
For years we had to find ways to situate our tiny spare bedroom around the treadmill and the fact that it folded was absolutely a must have feature!
It's important to remember it's not just the space of the treadmill, but having some area around it and above your head.
Display Options
Display options now are out of this world. You can get the very standard display showing your speed and distance around the track or a full color display with built in WiFi.
This is what allows you to do things like run a route using Google Maps.
TV Included
The C2950 actually comes with an exterior attachment for a mounted TV. I loved using that in the apartment because otherwise I'd have been staring at a wall.
This is definitely when you're getting more to the top end of treadmills, but it can be fantastic for small spaces or those with sleeping babies because there's no need to crank up the TV across the room.
Built in Programs
A few weeks ago, I talked all about the built in programs and creating your own to stay engaged. The built in programs can be a great source of motivation, so check them out and decide how important they are in terms of overall features.
Extras
Other things to consider are built in fans or trays, both can be very nice to have…but it's all about price and what matters to you. As a runner the lower tray bothers me because I just envision kicking it, but the fans are a great bonus for us sweaty folks.
Honestly those are my top picks!
There are tons of at home treadmills out there and lots of versions even from those brands, but that's where I'd start if shopping myself.
What matters to you most in an at home treadmill?
Other ways to connect with Amanda
Instagram Daily Fun: RunToTheFinish
Facebook Community Chatter: RunToTheFinish
Sign Up to Receive a Weekly Newsletter with Top Running Tips and Laughs