Amanda we're looking to get a new treadmill, what's the best home treadmill?
This has become a common refrain among my friends over the last 10 years as they too begin to realize all the reasons I love having a treadmill at home.
It's also turned in to a joke because many of you start out Googling the answer and come up with videos of me testing out over 75 treadmills (part of a job I did!).
The Nordictrack C1750 which can be had for under $2000 and will LAST forever. (also, I've linked to the best price I've seen)
I've tested it.
I've recommended it to many friends who now have it and love it.
It's from a stellar brand, which means a long life, it feels stable and has the features you need without going too crazy.
8 Best Treadmills for Running at Home
I definitely have some preferences and some opinions thanks to the many…many…many miles I've put in on a whole variety of treadmills since I started running in 2002. In fact, I spent one day testing 75 different models!
A few of the key components I looked at with selecting these:
Minimum CHP of 3.0 for runners
Running belt 58 inches or longer, walkers could look for a shorter belt
Sturdy frame and high quality
Best running treadmills for the price (no need to overspend!)
Console that's easy to use
Folding treadmill – standard for most now
Commercial At Home Treadmill
C2950 (C2450)
$3100 (look for sales!)
The person who last serviced my C2950 Nordictrack treadmill thought the total number of miles displayed for the lifetime had to be an error…it's not.
My Nordictrack treadmill had well over 16,500 miles since I brought it home in 2013.
Since it's quite a bit more than the 1750 that I often recommend, let's look at why it's different.
Commercial treadmills tend to have a little sturdier build and are made to withstand heavy usage (hence mine has moved 5 times and done many miles)
The 2950 will have a much larger screen at 22 inches than the 1750
2950 will have a slightly larger motor making it better for interval running
60 inch belt is great for long legs
-3% to 15% incline
12 MPH top speed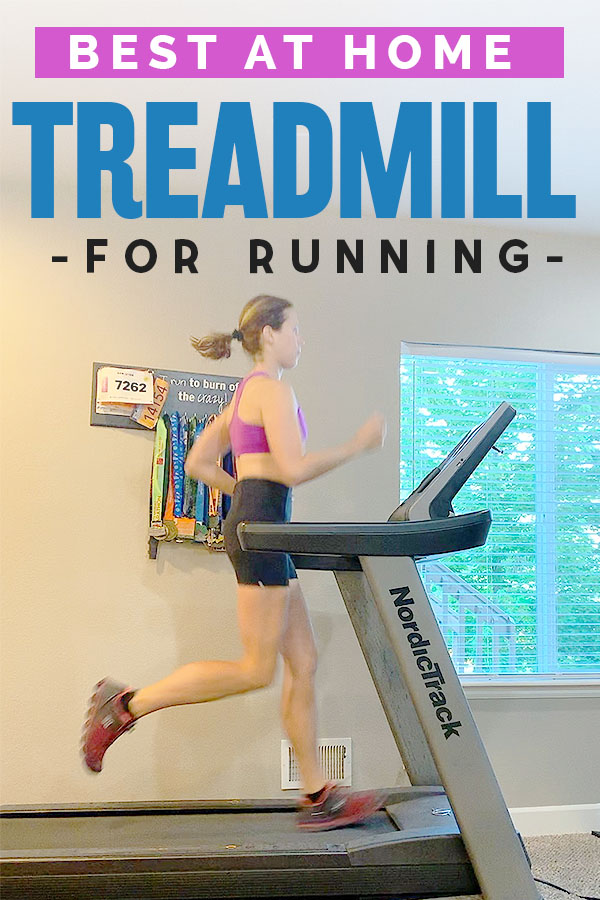 Most of the NordicTrack and ProForm treadmills are both a good price and offer a good range of features.
NOTE: Right now, prices are higher without as many sales due to more people looking for an at home treadmill. If you see a sale, I won't lie…you should purchase.
I'll go through specific features to look for in a treadmill like the belt length or motor to help you in comparing others on your own after this.
All treadmills are linked so you can see more features and the current price points.
Best Overall Running Treadmill for the Price
Nordictrack Commercial 1750
Retail $1899
I stand by this as the optimal choice. It's going to last, so break down the cost over many years!
However, this model is out of stock A LOT. Probably because it's a good price and a good set of features, so the runner up for me is the C2450 ($2200) or C2950 mentioned above.
The price will increase a bit with the number, but I do love that a commercial treadmill just seems to have a longer lifespan. Many of my friends have gone with my recommendation on the 1750 and had it for years with no issues.
Good sized running surface (with long legs some treadmills can indeed be too short or feel narrow)
Touchscreen display
iFit Workouts (can run certain courses or do workouts)
More horsepower means a motor that's better for quickly doing intervals
Bluetooth connectivity (easy to pair your HR monitor)
-3% t o15% incline
12MPH top speed (that's a 4:36 mile pace)
Assisted lowering, so when unfolding it doesn't slam down
Supports up to 300 lbs
The 1750 and 2450 also available from Dick's Sporting Goods, so you may find some coupons here and there.
However from Amazon, you can add $89.99 to get expert in home assembly. We have moved our treadmill a bunch and don't need that now, but 100% needed it the first time.
Runner Up Best at Home Treadmill
Bowflex 22
$2700
For those of you who LOVE watching things or listening to timed music, this is all the bells and whistles! They are newer to cardio machines, but have been making top notch home gym equipment for years, so it is a brand I trust.
22 inch touchscreen
-5% to 20% incline (one of the best ranges)
12 MPH top speed
JRNY built in personal trainer workouts
Watch Netflix or other streaming services right on the panel
Bluetooth enabled and HR armband included
Cushioned deck with 60 inch belt (good for long legs)
Additional hand grips are useful when using the 20% incline
Another treadmill that is also available at Dick's Sporting Goods. Unfortunately they don't have them in many stores, so you can't go test in person. But you can get financing like 0% down.
If you buy direct from Bowflex, I always feel warm and fuzzy about warranty. But also free shipping and a mat for under the treadmill.
Best Budget Friendly Treadmill
ProForm Pro 2000
Retail $1500
Actually made by the same company as Nordictrack, so you can expect some similarities though I often find the Norditrack to be just a bit more upscale. BUT it's truly a good bang for your buck, you're just getting a smaller screen and not some of the features like iFit.
No iFit just means using the shelf as a tablet holder to do things like Peloton runs instead!
I love a decline for some fast LHR runs, but also for training for so many of the big downhill races that are popping up.
Small 10 inch touchscreen display
Calorie burn and HR display (like the above)
-3% to 12% incline
12MPH max speed
3.25 CHP
Easy to fold
Will still do great for most interval training, but may not ramp up quick enough for short tabatas
Best Treadmill for Trail Runners
Nordictrack x32i
Retail $3999
Listen if you want to conquer big vert then you need a treadmill that's got serious incline power and can still give you what you need for a speed workout.
It's going to take you from -6% up to 40%!
Now that is some serious glute power happening and one of the reasons that so many of my trail running friends love this treadmill. But even if you want to train for big hikes or just walk, that incline is going to WORK you out.
Massive incline as noted
Massive 32 inch touchscreen display
Live incline, decline control when running a course or doing a workout
Bluetooth headphone connectivity
Run with Google Maps
Running deck to help reduce impact
12 MPH top speed
Pricey…but a STELLAR treadmill.
Best Treadmill for At Home Workouts
Peloton Tread
$4000+
Honestly, I didn't have this on the list originally because I feel like the price point is just crazy.
BUT, I have chatted with many of you that do indeed love the treadmill workout programs and wanted to provide details so you can see how it compares to others for home use.
Largest treadmill LCD touchscreen of all treadmills
Knobs for speed and incline control, that's right no buttons
59 inch belt
Tied in to Peloton for tons of workouts and data tracking (only included for 1 year)
12.5% incline max
3.0 motor is not as good as others for interval running, great for distance running
20 inches wide is not ideal for runners, 22 inches is better
So in terms of actual treadmill components for the high end price it doesn't match up to the recommended Nordictrack or Bowflex treadmills.
In fact, I did a full comparison of Nordictrack vs Peloton treadmills to give you a better idea of how they work.
Popular At Home Treadmill
Sole F80
Retail $2700 (often on sale for $1600)
My first at home treadmill was a Sole! It was 2008 so I can't remember the model, but I do remember choosing it because it was stable and at the time more budget friendly.
One of the reasons they are so popular is you can actually find them in stores like Dick's Sporting Goods to test out for your home gym.
0-12MPH
USB plugin for your phone or music
Incline up to 15%, no decline
Easy to fold
Whisper flex deck – means good shock absorption
Supports up to 375 lbs
It's going to cover all your bases and they've been running some great sales. Like the Sole F 80 is $1599 right now on their site linked above.
Best Curved treadmill
If this is your jam, checkout my detailed post on curved treadmills at home.
I also breakdown self propelled vs motorized treadmills, so you can figure out what's best for you.
They are much more expensive and a few different things to consider when buying. They are not ideal for long distance running in most cases.
Honestly those are my top picks!
There are tons of at home treadmills out there and lots of versions even from those brands, but that's where I'd start if shopping myself.
PART 2: Treadmill Buying Guide – Understanding the Most Important Features
A few more of the common treadmill questions I get:
What matters to you most in an at home treadmill?
Other ways to connect with Amanda
Instagram Daily Fun: RunToTheFinish
Facebook Community Chatter: RunToTheFinish
Sign Up to Receive a Weekly Newsletter with Top Running Tips and Laughs