Walking, often underestimated in its benefits, has the remarkable ability to enhance not only your physical health but also your mental well-being. And what better way to supercharge your walking routine than by introducing a walking treadmill into your life?
It's a low-impact exercise accessible to almost everyone, making it an ideal choice for individuals of all fitness levels. But why opt for a treadmill when you can simply step outside and hit the pavement? The answer is simple: you want to, the weather, saftey, time, family, nearby bathroom.
Honestly, you don't have to justify using the treadmill! If it's going to help you move more, then get going!
This comprehensive guide is your passport to discovering the seven best walking treadmills currently available on the market. Whether you're a fitness enthusiast seeking to enhance your training regimen or someone taking their first steps toward a healthier lifestyle, we've done the legwork for you.
These top-rated walking treadmills have been handpicked for their outstanding features, reliability, and performance.
What to Look For in A Walking Treadmill
I have written extensively about the best running treadmills at home. You may see one here, but I find that if you are only planning to walk you don't need the same level of machine.
When you're in the market for a walking treadmill, it's essential to carefully consider several key specifications and features to ensure you make the right choice for your fitness goals and lifestyle. Here are the critical factors to keep in mind:
A. Budget
Determine how much you're willing to invest in a walking treadmill. Prices can vary significantly, so having a clear budget in mind will help you narrow down your options. I'll share with you a variety here, but anticipate that $500-$1500 is not unsual depending on the features you want.
B. Space and Size
Measure the available space in your home where you plan to place the treadmill. Ensure that the treadmill's dimensions, both when folded and unfolded, fit comfortably within your designated area.
Smaller areas might be best suited for an under the desk style treadmill!
C. Motor Power
Look for a treadmill with a motor that suits your needs. For walking purposes, a motor in the range of 1.0 to 2.5 horsepower is generally sufficient. Higher horsepower is necessary for running or heavy use.
D. Speed and Incline Options
Consider the treadmill's speed range. For walking, a speed range of 0.5 to 4 miles per hour (0.8 to 6.4 kilometers per hour) is typically adequate. Additionally, some treadmills offer incline adjustments, which can make your workouts more challenging and mimic outdoor terrain.
If you are planning to do walking workouts, I really do recommend going for one with an incline.
E. Cushioning and Shock Absorption
Pay attention to the treadmill's cushioning system. Quality shock absorption can reduce the impact on your joints, making your workouts more comfortable and safer over the long term.
F. Display and Technology Features
Modern treadmills often come equipped with LCD screens or touchscreens that display workout data, such as speed, distance, time, and calories burned. Consider your preference for these features and how they align with your fitness tracking needs.
But as expected, more technology means a higher cost.
G. Durability and Warranty
Research the treadmill's build quality and materials. A sturdy frame and quality components are essential for long-lasting use. Also, check the warranty provided by the manufacturer; a longer warranty period can offer peace of mind regarding repairs and maintenance.
7 Best Walking Treadmills
All right now that we know what we evaluated, let's dive in to some of the best walking treadmills for you. I have tested a lot of these in person or asked for feedback from others. Hopefully it will give you a good idea of feel, specifications, price and styles available.
Best for Cheap Treadmill for Walking at Home –ProForm City L6 ($599)
The ProForm City L6 is the most affordable treadmill on this list at less than $600. It boasts several great features, including being foldable with wheels for rollaway storage.
With the ability to go up to 8 mph, it can be used for a light jog but with its smaller motor and shorter belt, it would be more ideal for walks. Another positive regarding the motor is it is pretty quiet. While the compact size is a plus, it may be too small for those with a longer gait.
Truly walking to lose weight is something  most of us can do for our health and doesn't require the fanciest treadmill.
The ProForm City L6 is iFit enabled, which offers live and on-demand training programs, and there is a slot for your phone or tablet to display workout programs. A 30-day subscription to iFit is included with treadmill purchase, but is a monthly fee thereafter.
Dimensions (entire treadmill): 29"W x 70.25"L x 44.5" H
Dimensions (belt area): 17.5" x 45"
Weight Capacity: 250 lb
Speed: 0-8 mph
Incline: N/A
Display: Bluetooth enabled
Machine Weight: 125 lb
Motor: 1.6 CHP
Warranty: 10 year (frame), 1 year (parts and labor)
The Sunny Health and Fitness Slim Walkstation is just that…slim! It's also on the affordable end of the spectrum at only $369, plus they ALWAYS have discounts on their site.
This is similar to a few units I tested previously and even as a tall person, I found the size just fine because well I'm not working out, I'm meandering as I type.
I like the wheels on the front to more easily maneuver it if you don't want to leave it in place under your desk all the time.
The lightweight unit comes with a remote control to adjust speed and has a large digital display showing you time, speed, calories, steps and distance. Its speed range goes from 0.5-3.75 mph. The treadmill has an emergency stop clip, shock absorption, power saving technology and wheels for easy moving.
Dimensions (entire treadmill): 50"L x 21.5"W x 6.5"H
Dimensions (walking area): 39"L x 14"W
Weight Capacity: 220 lb
Speed Range: 0.5-3.75 mph
Machine Weight: 55.1 lb
Incline: Fixed
Warranty: 3 year (structural frame), 180 days (parts and components)
Best for Walking Workouts– Sole F80 ($2,700 – currently marked down to $1799)
My first at-home treadmill was a Sole! It was 2008 so I can't remember the model, but I do remember choosing it because it was stable and at the time more budget-friendly. If you are going to be doing power walking, changing the incline and really pushing yourself then I do recommend spending a bit more to get a really quality treadmill like this.
One of the reasons they are so popular is you can actually find them in stores like Dick's Sporting Goods to test out for your home gym.
This treadmill is going to have that  more old school look. Chunky console, grey screen, cup holder. And yet, who cares if it gets the job done at a price that feels good!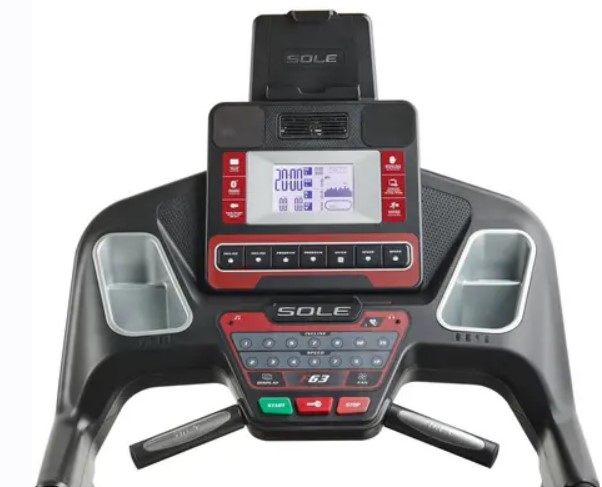 0-12MPH
USB plugin for your phone or music
Incline up to 15%, no decline
Easy to fold
Whisper flex deck – means good shock absorption
Supports up to 375 lbs
It's going to cover all your bases and they've been running some great sales. Like the Sole F 80 is $1599 right now on their site linked above.
Best Budget Overall At Home Walking Treadmill –Horizon T101 – $649
According to the Horizon Fitness website, this is their best-selling treadmill. It's quick to set up, boasts bluetooth speakers, a device holder to let you watch your favorite shows or take part in your favorite fitness classes, and a rapid-charge USB port.
The treadmill has dial-style controls to manage speed and incline changes and a larger motor than the Proform City L6 making it a solid option for both running and walking. You can monitor stats like time, calories, speed and incline, distance, and heart rate on the display.
It has a 3-zone variable response cushioning system for increased comfort and workout longevity and has a sturdy frame with hydraulic folding to save space when not working out. You also can't beat the lifetime frame warranty.
Dimensions (entire treadmill): 34"W x 71"L x 57" H
Dimensions (belt area): 20" x 55"
Weight Capacity: 300 lb
Speed: 0.5-10 mph
Incline: 0-10%
Display: 3 Blue LED Windows
Machine Weight: 180 lb
Motor: 2.5 CHP
Warranty: Lifetime (frame and motor), 1 year (parts and labor)
The NordicTrack T Series is a popular treadmill from a well known company. While no longer available through the NordicTrack website, it's still a great find on Amazon. Truly it's hard to find any treadmill under $1000 from them, as they continue to move to higher end and higher tech products.
They have replaced it with the EXP 7I, which is $1199. I recently saw this model on sale for $999 and 100% would recommend going for it if you have a little more money. You are going to get an big upgrade.
While larger than the two previous models listed here, the Nordictrack treadmill is still a more compact machine than more expensive models. It has decent incline and speed ranges to diversify your workouts and you can easily monitor everything on the LCD display screen. Like the ProForm, it comes iFit enabled with a 30-day membership included.
This treadmill also boasts 20 built-in workout programs and folds up for easy storage.
Dimensions (entire treadmill): 36"W x 73.5"L x 54" H
Dimensions (belt area): 20" x 55"
Weight Capacity: 300 lb
Speed: 0.5-10 mph
Incline: 0-10%
Display: LCD screen
Machine Weight: 203 lb
Motor: 3.0 HP
Warranty: 10 year (frame), 2 year (parts), 1 year (labor)
With a name like SpaceFlex, you know it's going to be among the best when it comes to space, design, and ease of storage. This treadmill is slim and relatively light by comparison.
While it doesn't have a fancy console display, it has 6 separate LED windows to keep track of your workout data.
It also has a tablet holder where you can place your phone or iPad to do your favorite workouts, listen to music or watch movies. Built-in speakers and AUX cable let you play music and a USB port keeps your device charged while you work out.
The SpaceFlex folds flat, stores upright, and rolls away easily with non-marking wheels.
Dimensions (entire treadmill): 28"W x 57"L x 48" H
Dimensions (belt area): 19" x 51"
Weight Capacity: 220 lb
Speed: 0.6-8.0 mph
Incline: 12 levels, 5.5-10.5%
Display: LCD screen
Machine Weight: 127 lb
Motor: 2.5 HP
Warranty: 5 year (frame), 180 days (parts and components)
This has been one of the treadmills I recommend the most to anyone looking. Partially because of the stability of the machine and the lifespan, but now because they are also adding in so much with iFit.
It boasts a 3.5 CHP motor and a walking surface measuring 22 by 60 inches. Thanks to auto adjust technology, the treadmill can automatically change your pace, incline, and decline.
All of this makes for a quieter experience that feels more like being on the open road from your home. You may walk up to 12 mph on it and replicate hilly terrain with an incline of up to 15% or a decline of down to -3%.
The treadmill also has a 14-inch HD touchscreen display that swivels so you can see it from anywhere in the room. You won't find yourself wishing you had a larger screen, even though it may not be nearly as spectacular as the 22-inch display on the NordicTrack C2450 treadmill.
To fine-tune your exercises, it syncs with a heart rate monitor that is offered separately and has tactile buttons along the edges of the display that makes changing the grade and speed simple.
The price will increase a bit with the number, but I do love that a commercial treadmill just seems to have a longer lifespan. Many of my friends have gone with my recommendation on the 1750 and had it for years with no issues.
Good-sized walking surface (with long legs some treadmills can indeed be too short or feel narrow)
Touchscreen display
iFit Workouts (can walk certain courses or do strength/mobility workouts)
More horsepower means a motor that's better for quickly doing intervals
Bluetooth connectivity (easy to pair your HR monitor)
-3% t o15% incline
12MPH top speed (that's a 4:36 mile pace)
Assisted lowering, so when unfolding it doesn't slam down
Supports up to 300 lbs
The 1750 and 2450 also available from Dick's Sporting Goods, so you may find some coupons here and there.
However from Amazon, you can add $89.99 to get expert in home assembly. We have moved our treadmill a bunch and don't need that now, but 100% needed it the first time.
Looking for more tips?
Other ways to connect with Amanda
Instagram Daily Fun: RunToTheFinish
Facebook Community Chatter: RunToTheFinish
Sign Up to Receive a Weekly Newsletter with Top Running Tips