Have you ever wondered what makes a curved treadmill different? Why do some gyms swear by these manual treadmills and others are sticking to the good old fashioned motorized treadmill?
Have you heard of athletes jumping on the curved treadmill bandwagon and wondered what the benefits of it are? And are there any drawbacks when it comes to it?
I've answered all these questions, my personal opinion as a certified running coach as well as the top options you have when it comes to curved treadmills in 2022.
What is a curved treadmill?
A curved treadmill is a non-motorized, self-powered treadmill that has a concave shape (hence the name!).
This U-shape style is designed to be more ergonomic and is promoted to help reduce joint stress while feeling more natural, compared to a standard flat non-motorized treadmill.
Manual treadmills are understandably very hard to get going and maintain any momentum, a curved treadmill helps to resolve this issue.
Each stride you take moves the belt very easily and is designed to follow the arc of your stride. Which can also mean that controlling your speed takes a lot of practice.
In this case, the belt is made up of slats, rather than a continuous piece, providing a smooth flow over the arc.
As you speed up your running pace, the belt will start moving faster in return. So, how fast you want to run is entirely up to you at any given moment while using a curved treadmill by adjusting your own speed and stride.
However, you'll quickly find that it's easy to really get moving FAST on it, which is why it's not ideal for everyone.
To understand if it's right for you, let's first look at how it works.
How Does a Curved Treadmill Work?
The way a curved treadmill works has a lot to do with a combination of gravity, friction, and forces.
While running, the downstroke backwards, the weight of the body, and the foot itself pull the belt slat down and back with the help of the curved shape of the treadmill.
The design is meant to enable the point of contact to the treadmill to be ahead of the center of mass. This makes the experience of running on a curved treadmill significantly different than that of running on a non-motorized treadmill or running on the ground.
To figure out if a curved treadmill is the right fit for you, let's consider some benefits and then look at the drawbacks as well. Only then will you get the full picture.
Benefits of Using a Curved Treadmill
I think you'll quickly see that while I think curved treadmills are really interesting and have their place in high intensity training, I don't fully agree with all the benefits if you are a long distance runner.
Engages More Muscles
Curved treadmills tend to engage more muscle groups due to the propelling technique that's required to move the belt forward.
They're particularly good at engaging the posterior chain muscles, that is the glutes, hamstrings, and calves.
Increases Calorie Burn
A study published in the Journal of Science and Medicine in Sport shows that runners work about 30 percent harder on the curved, non-motorized running surface of a curved treadmill, which also leads to more calories being burned.
If you ignore that they are usually running for a much shorter time than on a regular treadmill, which then means they have burned less calories over all.
Useful for Sprint Intervals
These are meant to be used for sprint intervals and can be useful when doing tempo runs or training where you need to adjust your pace.
Improves Your Running Gait
Runners tend to stand up straighter and take shorter steps for better form while running on a curved treadmill.
Studies back this by showing that it results in significant changes to your gait characteristics, that is your step length, stride length, and stride angle.
More Eco-Friendly
Since they are self-propelling and non-motorized, no electricity is needed! There are no power cords with these due to their completely manual nature.
So you can literally set these up anywhere without having to worry about a power outlet. It'll help to save up on your energy bill and also be eco-friendly in the process.
Minus the fact that they still need to be manufactured and delivered…
Other Claimed Benefits
There are also other benefits that are routinely mentioned when talking about curved treadmills:
Potential for less joint impact – although it's meant to be easier on the joints, I've been unable to find any data or studies to back this.
No routine maintenance is required – but let's be honest, how many of you do anything to your regular treadmill anyway?
They're sometimes considered safer than regular treadmills – I think this is debatable as there's a learning curve (no pun intended) to controlling your speed. You can't just hit a stop button, you have to physically stop your body.
Claims to last longer than a traditional treadmill – Again, I disagree with this one. My Nordictrack treadmillhas over 15,000 miles on it and going strong for at least a decade. That's roughly the lifespan you'd expect with a curved treadmill, so I'm not onboard with that sales pitch.
Drawbacks of Using a Curved Treadmill
With that being said, there are certain cons to using (and buying) a curved treadmill that you definitely need to know:
❌More Expensive
They tend to be a lot more expensive than traditional treadmills. Though it would seem with fewer parts they should be less expensive than a motorized treadmill, you'll find many are 2 to 4 times the cost. It's like a bikini, why does so little cost extra?
In this case, it's largely because they are still new and not mainstream.
Thus this cost hasn't yet been driven down and many models that are available must be purchased at a commercial level, where there are many at-home treadmills that offer less function than their commercial counterparts.
❌Difficult to Control Your Pace
While some might argue that you can control your pace better on a curved treadmill, the reality is a bit different. It's actually hard to learn to control your pacing and as I mentioned above, there is a learning curve to them.
You will also have to change your pace goals due to the higher effort – which leads me to my next point.
❌Not Meant for Distance Runners
While curved treadmills are great for sprint intervals, they're not meant for distance runners. They're not designed with marathoners in mind when it comes to long runs.
Distance running is also a lot about your mind, as well as your body. You can't just get into the zone and run with these. They require you to stay alert and aware while using them.
They're not a treadmill I would advise the average runner to purchase for home usage. I think it's really designed for those doing more Orange Theory style workouts, faster or elite runners.
So, they're not for everyone and it's important to know all these aspects before you make your decision to purchase one.
Not interested in all the research and just want to know what I'd pick?
✅Best home treadmills for running.
All the tips on what to look for in a treadmill, along with what I've recommended to literally hundreds of runners over the years for treadmills they continue to love.
Once you've tested a curve and fallen in love, then you need to know what you're buying and what matters most.
My Top Picks for Curved Treadmills in 2022
Though it would seem with less parts they should be less expensive than a motorized treadmill, you'll find many are 2 to 4 times the cost. It's like a bikini, why does so little cost extra?
In this case, it's largely because they are still new and not mainstream.
Thus this cost hasn't yet been driven down and many models that are available must be purchased at a commercial level, where there are many at home treadmills which offer less function than their commercial counterparts.
Best for the Fast Runner
Woodway Curve
Woodway treadmills have long been a high quality favorite of many due to their construction, which is also to say they're some of the more expensive models for both curved and motorized.
Their curved treadmill is slightly more curved than other brands and therefore makes it much easier to pick up speed very quickly and requires a great deal of good core strength.
Those who have a Woodway will RAVE about the feeling of deck shock absorption and how well the treadmill moves, along with it being quiet. As a treadmill lover, I've definitely tried them out and they are great. For my pocket book maybe not an extra $4,000 great.
Size: 67 x 33 x 67 inches
Warranty: 10 years on frame, 3 years on parts, and 1 year on labor
Maximum Weight: 400 Pounds
Best for the At Home Walker
SB Fitness CT400
If you've decided you like the shape and are willing to put in a little time getting used to the slightly off balance feel to start, after that a curved treadmill for walking can be an excellent tool.
Here's a look at how slats appear, instead of a flat belt.
The SB Fitness CT400 would be my pick due to the less intense curve of the machine, making it easier to get your bearings and not find yourself constantly going too fast.
In fact, the maker flat out says this is not designed for distance running and I appreciate the honesty!
You won't be able to practice any type of incline workout, which increases calories burned and leg strength, but you'll engage a lot of muscles for higher burn than a flat walk and won't need a bit of electricity.
It has transport wheels and a handle to help you move and store it between workouts. It also comes with three levels of manual magnetic resistance and an easy-to-read display as well as Bluetooth connectivity for heart rate monitoring.
Size: 72 x 31 x 62 inches
Warranty: 10 years on frame (excluding handlebars), 7 years on parts (including handlebars), 2 years on console, and 1 year on labor.
Maximum Weight: 375 Pounds
Best for HIIT Workouts
Assault Fitness AirRunner
The Assault Fitness AirRunner Elite is amongst the best in the market when it comes to HIIT (high-intensity interval training).
This treadmill also has a digital console that features Bluetooth connectivity, and a variety of built-in heart rate and interval training programs. It also has transport wheels to enable it to be more portable. It's also pretty good in terms of durability thanks to its steel frame.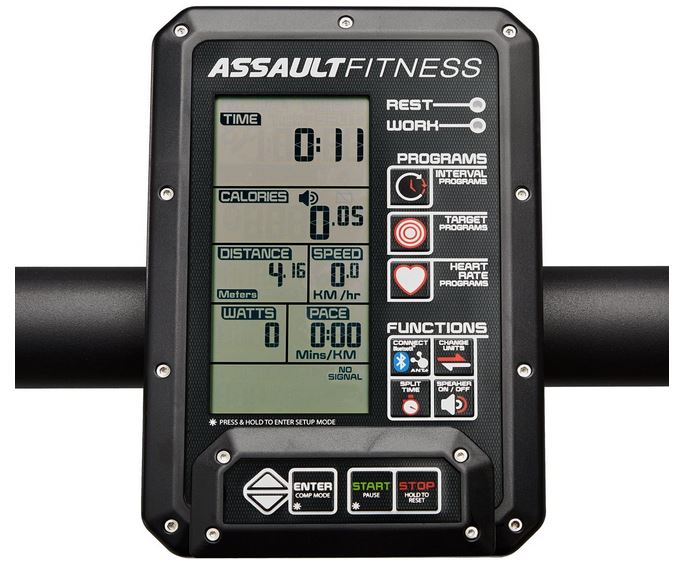 With a price tag of approximately $4000, the Assault Air Runner is mid-range when it comes to curved treadmills and offers great quality if HIIT is what you want to focus on.
See all the details of the Air Runner >>
Size: 70 x 32 x 65 inches
Warranty: 10 years on frame, 1 year on labor, and lifetime on belt
Maximum Weight: 400 Pounds
Best for Design and Aesthetics
NOHrD Sprintbok
Hey, some folks use their treadmill for hanging clothes but, in this case, the treadmill becomes a work of art and thus the price tag at nearly +$7000.
The NOHrD Sprintbok is a beautiful display of curved wood and craftsmanship that actually performs. It comes with a whole tablet, with a monitor screen that's a whopping 17.3 inches big and has its own app too.
If you're looking for the best-looking curved treadmill on the market, this is it. It's made of sturdy material but is probably not the one for you given its steep price.
There's also the issue that out of all curved treadmills on this list, it's the one with the shortest warranty period – only 1 year.
Size: 71 x 28 x 55 inches
Warranty: 1 year
Maximum Weight: 353 Pounds
Best Resistance Training Option
Wolfmate Curved Treadmill
The WOLFMATE curved treadmill might be top of my list for at home options due to the resistance function which is not seen on most of these.
I think that applying a little resistance could make it easier to find stability when first walking on the treadmill, but also see how it can quickly be used for other workouts.
Utilizing it in place of a sled pushing workout
Better for those needing to do hillier races that require more power for uphills (still not the same as hill training)
Helpful to maintain speed control, so not everything is a sprint
See full details for the Wolfmate >>
Size: 73 x 34 x 63 inches
Warranty: 3 years on frame, 1 year on accessories, and 1 year on console
Maximum Weight: 440 Pounds
The majority of these curved treadmills are around the $2500 range, with a few on the top around $8,000.
I've probably made my personal opinion pretty clear, but that's just it my opinion.
I have a number of running friends who ADORE running on these and would happily have one at home. I can say most of them are not marathon training or expecting to use it for long treadmill runs.
Looking for more treadmill training tips?
Other ways to connect with Amanda
Instagram Daily Fun: RunToTheFinish
Facebook Community Chatter: RunToTheFinish
Sign Up to Receive a Weekly Newsletter with Top Running Tips and Laughs