A high-quality treadmill can be the cornerstone of an effective and engaging workout routine. For runners, whether you're training for a marathon or simply aiming to stay in condition, the right treadmill can make all the difference in achieving your goals. Enter the NordicTrack 2450 treadmill – a powerhouse designed to revolutionize your running experience both at home and in commercial settings.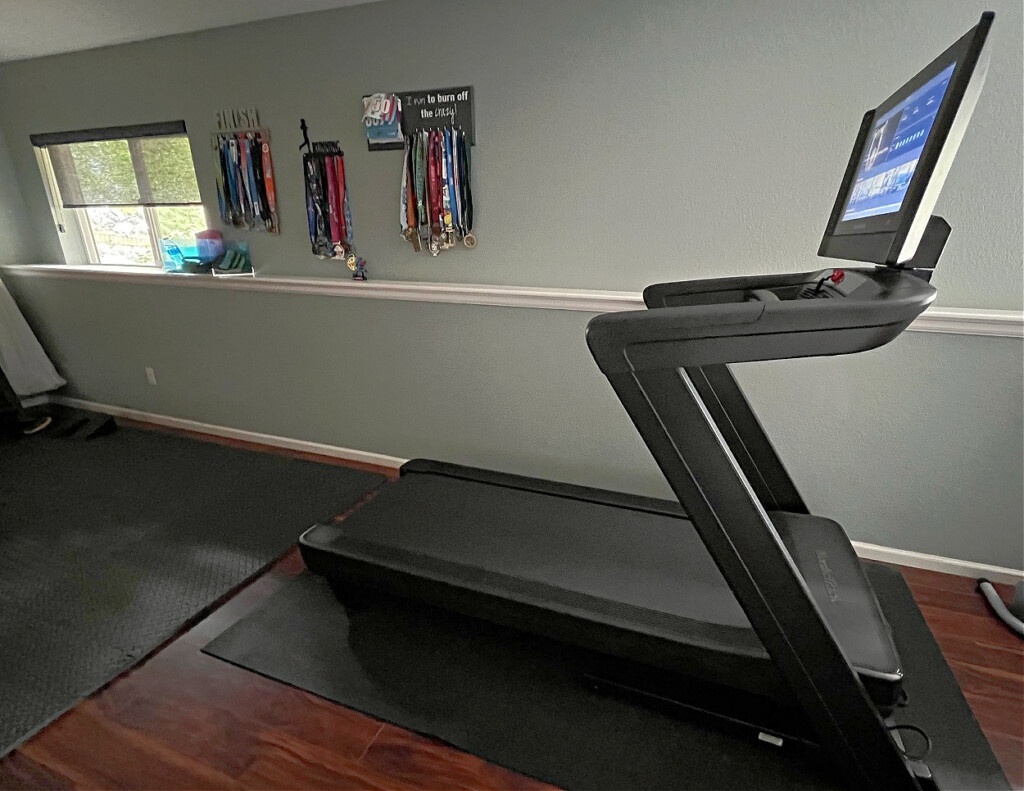 As a runner with over 2 decades of experience and a coach that has worked with thousandsof runners, I'm a big fan of including the treadmill in training. It eliminates so many excuses and provides treadmill running has benefits.
My previous Nordictrack 2950 had almost 18,000 miles! It was time for a replacement (due to 9 moves causing issues, not because the machine failed). Having tested and run on a lot of treadmills, I wanted to replace it with another NordicTrack.
This lead me to the newest model in their line up the 2450 updated in 2023. I'm going to share not just the features, but things to help you better understand the size, feel and why I like this machine.
Additionally, I'll draw comparisons with its sibling model, the NordicTrack 1750, to help you make an informed decision about which treadmill aligns best with your fitness aspirations.
Prepare to explore a world of interactive workouts, advanced features, and hardware as we unravel the NordicTrack 2450's potential to take your running journey to new heights.
NordicTrack 2450 Review
This treadmill is designed to provide an exceptional running experience with a powerful motor and an extensive running deck. With a sturdy build, it can support a wide range of users, making it suitable for individuals of various fitness levels.
The 2450 is renowned for its integration of cutting-edge technology and its array of workout options, promising an engaging and productive fitness journey. While no longer labeled as a commercial series, you'll see it often still referred to that way because it has all the right features for a home gym or gym.
Quick Facts:
$2,999 — watch for sales, they happen a few times a year
12 MPH max speed
-3% decline to 12% incline
10-Year Frame Warranty, 2-Year Parts Warranty, 1-Year Labor Warranty
Touchscreen that will pivot and tilt
I recommend you purchase from NordicTrack for the best delivery and customer service
Now let's dive in to more detail. I'm going to share some of the key features of the machine and any specific impressions that you may find useful from my workouts.
Immersive Touchscreen Display
The centerpiece of the 2450 is its expansive 22 inch HD touchscreen display. This vibrant interface not only provides real-time data on your workout progress but also serves as a portal to a world of interactive training.
Thanks to iFit you can navigate through workout programs, virtual running routes, and fitness classes with a simple touch, keeping you engaged and motivated throughout your sessions.
If you're someone who likes to watch TV while running (raises hand) you cannot stream anything through this console. I'm 5'8″ and can see over this large console to watch a TV that's about 12 feet away. For my shorter friends, this could be an issue.
I also like that you have the option to set the screen to dark mode. When it's on standard light mode the screen feels overwhelmingly bright to look at for the duration of a workout.
Using the Treadmill in Manual Mode
Since a lot of you like myself might already be following a plan and don't need an iFit membership for your runs, it's important to know you can use the NordicTrack without iFit.
You'll hit manual in the top right corner and then can start your own workout. Once you start your workout, you can hit an icon at the bottom that says 123, which will bring up a screen with all of you data. I like using this screen because it's easier to see pace, pace per mile, total time, heart rate, etc.
iFit Compatibility for Personalized Training
With iFit integration, the 2450 offers more than just workouts – it offers a personalized fitness journey. Gain access to an extensive library of instructor-led classes, scenic global routes, and even real-time performance tracking.
The treadmill's incline and decline settings adjust automatically to match the terrain of your chosen route, providing an immersive and dynamic workout experience. This was a previously missing feature and one of the few reasons in Peloton vs NordicTrack that I recommended Peloton.
And thanks to the swivel screen, you can better utilize the strength, mobility and yoga workouts that are also provided. I appreciate that they have full progressive programs you work through as well, instead of just randomly picking workouts.
While I don't use a lot of pre-programmed running workouts (I mean I am a coach), my husband is loving them. He almost never used the old treadmill, but has been on the new one every week testing out a run in a new location.
So if you struggle with motivation, lace up and checkout Italy or Spain! Plus, you can connect your headphones via Bluetooth and really zone out!
Versatile Incline and Decline Settings
Elevate your training by simulating diverse terrains with the 2450's adjustable incline and decline settings. With a significant incline range, you can tackle uphill challenges that target different muscle groups, while declines offer a break from traditional flat running and further engage your muscles.
For those of you training for downhill races, the decline setting is a life saver. Meanwhile for all of my trail runners, being able to put it on 12% and do a hard hike in the winter when you may not have good trail access is huge.
Space-Saving Folding Design
While the 2450 offers a robust running platform, it also values convenience. Its folding design allows you to reclaim floor space when the treadmill isn't in use, making it an ideal option for home setups where space is at a premium.
It absolutely takes up less space that my older 2950 and older 1750 models. The arms are sleeker and the sides are more narrow.  The belt is technically 2 inches more narrow than the 2950, but I've not had any issues with this.
Heart Rate Monitoring
Keeping track of your heart rate is something I recommend most runners do to better monitor their training. The 2450 will pair with your watch or chest strap, to display HR on screen.
This enables you to stay within your target heart rate zone and optimize your workouts.
Console Fan
This sounds silly, but I love the fan! My old model was so loud, I never once considered using. But even on the lowest setting the fan puts out a powerful breeze and let's be honest, something that makes you feel cooler can change how intense those intervals or that HIIT workout feels.
Console
One of the other updates to the newer more ergonomic models is a slimmer overall console. I do like that it's trimmed down, even if the cupholders are a bit smaller.
You won't find any place to prop up a book, tablet or other device if that's how you want to watch a show.
NordicTrack 2450 vs 1750
When it comes to NordicTrack's premium treadmill offerings, the Commercial 2450 isn't the only contender on the field. Its sibling model, the NordicTrack Commercial 1750, also holds a strong reputation.
For at least 10 years now, I have recommended multiple iterations of the NordicTrack 1750 when anyone asks me about the best at home treadmill for running.
While the price has continued to rise each year, the 1750 is still about $500 less and I'm generally all about saving that dough. The 2450 comes in at $2,999, the 1750 at $2,499.
Let's break down the similarities and differences between these two models to help you make an informed decision. And if you're looking for cheaper options (or more incline), checkout my complete comparison of NordicTrack treadmills. Or for even more budget friendly consider the ProForm treadmills made by the same parent company.
Touchscreen Experience
Both machines have a touch screen that will swivel and tilt.
2450: The NordicTrack 2450 boasts a generously sized 22 inch touchscreen display that makes navigating workouts and tracking progress a breeze.
1750: The 1750 also features a touchscreen display, albeit slightly smaller at 14 inches. I actually think the smaller screen would probably be my preference.
Motor
The bigger the motor the more quickly it can pick up speed for things like intervals, sprints and HIIT workouts. These two are pretty darn close.
2450: 3.6 CHP Motor
1750: 3.5 CHP Motor
Treadmill Size

While the two look very similar in size, the 1750 actually has a 6 inch higher step up on the to the platform. This generally isn't a big deal unless you are putting your treadmill in a basement, where you need to account for ceiling height.
You really want to have a couple of feet above your head to feel comfortable running.
Although, one of my running form tips is not to bounce…so this would enforce that.
Additionally the 2450 weighs about 40 pounds more than the 1750. Both are heavy at over 300 lbs, which is why I took advantage of their white glove service to place the treadmill because I didn't want to carry it down the stairs.
The 1750 is also a couple of inches longer and wider, though pretty minimal for a decision factor.
Incline and Decline Range – Same

2450: 12% incline to -3% decline
1750: 12% incline to -3% decline
Speed Controls – Same
Both machines have numbers along the side you can hit quickly to adjust the pace, arrows on the console and a slider on the touchscreen once you start a workout.
2450: 0-12 MPH
1750: 0-12 MPH
Can You Watch TV on the NordicTrack 2450?
No. While it does have Wi-Fi and bluetooth connectivity, there is no option to stream content or connect to cable. I did have this on the 2950 and can tell you it was kind of a pain.
Unfortunately there also is not a place to rest your tablet, so you'll need something like this book holder if that's how you want to watch content.
Can You Use the 2450 Without WiFi?
Yes. You can use it in manual mode. As expected, you need a good connection to have access to the iFit programs as they are not native to the machine. The benefit to this is that you're able to access the full library of content and the most updated content.
Is the NordicTrack 2450 Easy to Move?
At 303 lbs, no it's not the easiest. While the hydraulics make fold it up very easy, the machine is not on rollers or anything that would make moving it simpler.
Having moved our other 2950 multiple times, I will say that what we had to do was take it apart. We removed the console, removed the legs and then moved all the pieces separately.
What Happened to the NordicTrack 2950?
They have discontinued this model. While I loved it, they are generally trying to streamline their total offerings and make it more clear what sets each model apart. Though looking at the above list comparing the 2450 to 1750 that doesn't seem to be happening right now.
What is the Difference Between the 2950 and the 2450?
The 2950 was more like a standard commercial treadmill you'd find at a large gym. The machine took up more space and had a much, much smaller screen. It was basically a small tablet embedded.
However, it did have the option to attach a TV and connect it to cable.
iFit Review
One of the highly promoted features of the NordicTrack Commercial 2450 is its seamless integration with iFit, a cutting-edge fitness platform that enhances your workouts in ways you might not have imagined. Your treadmill will need a WiFi connection to utilize this tool.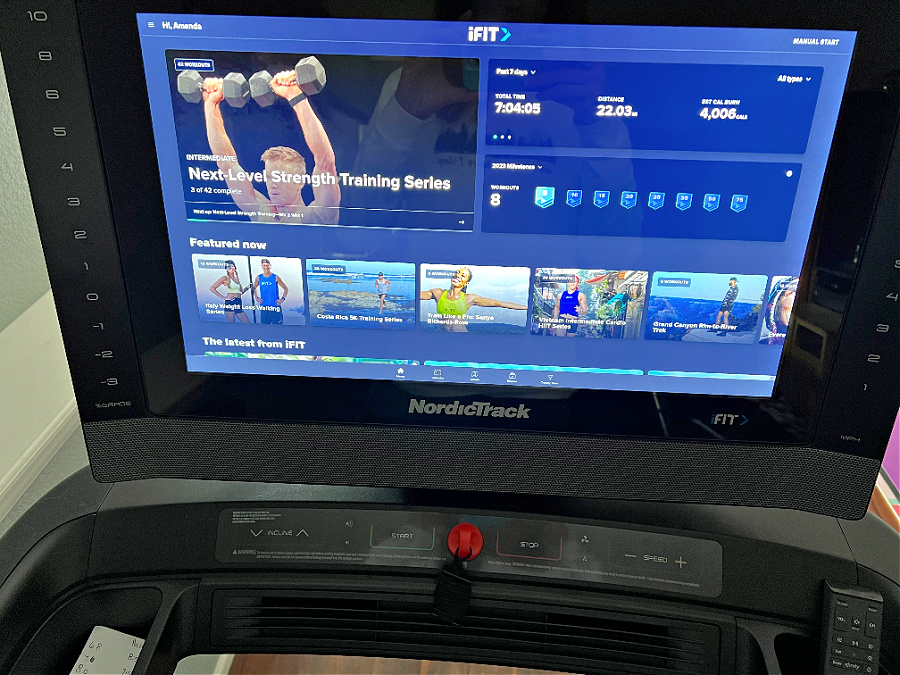 Here's what you can expect from iFit's workouts on NordicTrack's treadmills:
Endless Workout Variety
With iFit, your workout options are virtually limitless. Choose from an extensive library of workouts led by world-class trainers who guide you through diverse routines, including running, HIIT, strength training, yoga, and more. You'll find the perfect workout to match your mood and fitness objectives.
I started one of the intermediate strength series and I love that my homescreen shows me the next workout in that series. It makes it really easy for you to stay on track and progress.
Additionally, if you have multiple treadmill users each will simply create their own iFit login under one shared iFit account. This way my husband's running series shows up for him.
Global Running Adventures
Speaking of running adventures, this is what has peaked his interest in treadmill usage.
Experience the thrill of running across the globe without leaving your home. The 2450, when paired with iFit, allows you to virtually explore stunning routes from iconic locations around the world. Whether it's the bustling streets of Tokyo or the scenic trails of the Swiss Alps, iFit brings these destinations to life on your treadmill's screen.
Interactive Training
iFit goes beyond pre-recorded workouts by offering interactive classes, that will adjust your machine. Join a live session and receive real-time feedback and motivation from expert trainers  discontinued May 2023). It's like having a coach cheering you on every step of the way.
I haven't noticed as many of these lately, but I still think the fact that the treadmill auto adjusts for you in a workout is pretty amazing.
Performance Tracking and Progress
As you work out with iFit, the 2450 tracks your performance data, including distance, speed, incline, heart rate, and calories burned. This data is conveniently displayed on the treadmill's touchscreen, allowing you to monitor your progress and make informed adjustments to your training.
Video Controls
You can adjust the total volume, along with the volume of the trainer vs the music.
The one thing that you cannot do is fast forward through a workout. As someone who has already done a warm up, I do wish I could chop off a few minutes and just get in to the meat of things.
Looking for additional treadmill tips:
Other ways to connect with Amanda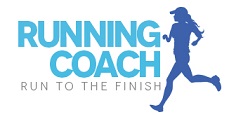 Instagram Daily Fun: RunToTheFinish
Facebook Community Chatter: RunToTheFinish
Sign Up to Receive a Weekly Newsletter with Top Running Tips and Laughs