I've preached it. You've read it. We now all understand that strength training needs to be part of our running routine.
Yet, we still let it slide because, well time, life, priorities and we just don't particularly love the gym. It's why we run!
I've found two things really help us stick with a runner strength training plan:
Knowing exactly how it's going to make us a better runner.
It needs to be quick, so we can keep getting in our miles.
I'm the first to admit that if a workout leaves me so sore I can't get in my miles, I'm unlikely to want to do it again. Running is my primary goal, my strength training needs to enhance the speed, distance or feel of those runs!
What strength exercises should runners do?
Our focus is on creating stronger hips, glutes and core stabilizers for injury free running. This workout from Sara Lizabeth fitness is an easy way to incorporate a full body workout that will enhance your running. In fact, I'm going to let her take it from here to help answer you're burning question:
Does lifting weights help with running?
Running requires a TON of balance and stability. Constantly shifting weight from one side of the body to the other requires so many muscles to be firing at once. No wonder it burns so many calories! And no wonder runners who refuse to do any cross training often end up injured…
Running by itself – won't necessarily recruit those muscles.
Muscles need to be turned on and engaged, otherwise they're just along for the ride. And I don't know about you, but I'm not about to let any muscles free load during my runs. That sh*t aint easy and I need all the help I can get. It's why you'll often hear people talking about activating their glutes, which are turned off from sitting all day.
But when is it best to strength train for distance runners? Should I run after lifting?
Here's my secret: Strategic strength moves BEFORE you set out for your run — as a warm up.
Today I'm sharing 5 of my favorite strength training for runners at home exercises. Each move targets a different muscle group — and a different aspect of your running form.
Runners Full Body Workout
Perform each move, in order without any rest between.
Aim for 8-10 reps of each move but remember that FORM is key.
If you can do 5 reps with great form and then need a break before doing 4-5 more – do that. Sloppy form isn't going to get you stronger.
Rest 1-2 minutes and repeat the entire circuit 2-3 times.
Beginners can do the moves exactly as pictured, with no weight. If you're more comfortable with weights you can add 5-8 lbs to the lunge, squat, and marching bridge. It's best to add this into your weekly training plan 1-2 times a week on a medium distance or difficulty day. This ensures that you keep your easy days easy!
1. Plank knee tuck
What it works – hip flexors and rectus abdominis [core!]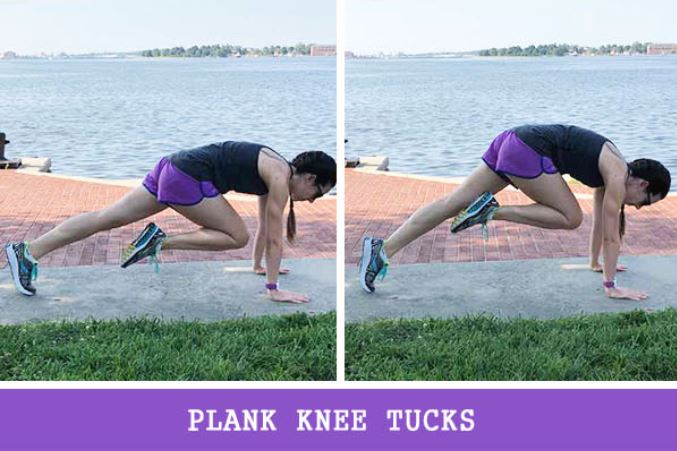 Why it's important – Good running form is not just about pushing off the ground. That's only half of it. The other half is strong hip flexors that can pull the knee up and forward. Not only does this help take stress off your lower leg, it helps to get that coveted "mid foot strike" all the pros are talking about. Having a strong and engaged core is crucial to this movement. Does your run feel like a shuffle in those last miles? Do this move to help improve core and hip flexor strength.
How to do it – From a plank position, engage your core and pull one knee up to your chest as far as you can. Once you've got your knee tucked, round the back lifting the hips and knee. Note your arms should not shift back (like a down dog position). The amount of movement in this exercise is small but mighty.
2. Reverse Lunge
What it works – Isolates the glutes and replicates the "push off" motion from running. Will also work the qauds.
Why it's important – If you want to get faster a more efficient stride and effective push off are key. But if you have weak glutes all the power to push off is going to come from below the knee. Do you frequently have tight calves, or tightness in the Achilles or bottom of the foot? You may need this move! The glute is a MUCH larger muscle, so making it stronger will not only give you more power in your stride but take some stress off your lower legs.
How to do it – Stand with feet hips distance apart. Step back with your right foot into a lunge position, using your left glute and quad for most of the power. Both knees should be at 90 degrees and back knee does not touch the ground. Using your left glute/quad push off the ground to bring right leg forward. The front leg is doing the work in this move, not the back.
3. Triceps Lower Down / push up
What it works – back muscles [lats] and triceps.
Why it's important – Your lats are responsible for pulling your arm backwards – like when you're running! Strong back muscles are also important for good posture while running. If you feel like Quasimodo at the end of a long run – you need to work on those lat muscles!
How to do it – From a plank position, shift forward on your toes. Bend the elbows, keeping them tucked tightly to the sides and lowering your body down. Elbows should be pointing backwards not to the sides. If your elbows are bending to the sides try rotating your hand placement slightly so that pointed fingers are at 1 and 11 (on a clock) instead of straight ahead at 12. This will help to rotate the elbow joint. Beginners lower down all the way to the ground, and use knees to help get back up to start position. More advanced lower almost to the ground and then using the triceps and back push back up to start position.
4. Squats to side leg lift
What it works – quads, glute max, glue med, abductors.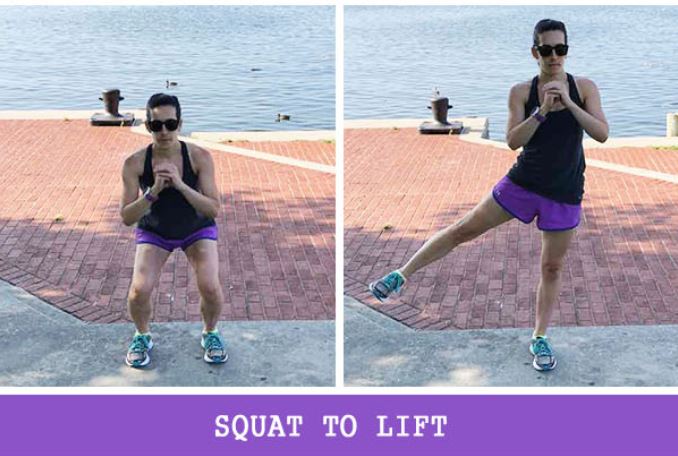 Why it's important – Glute Med & smaller Abductor muscles are important stabilizers that can keep your feet and legs from rotating inwards as you run. Do you ever feet your sneakers graze against each other while you're running? Especially when you're tired? Weak or un-engaged abductors are the culprit.
How to do it – Stand with feet hips width apart and lower down into a squat. Think of pushing the booty backwards instead of lowering your body down. This helps to engage the glutes. Push back up into a standing position and at the top of the motion lift your left leg out to the side, squeezing the abductors as you lift. Lower back down and go right into the next squat. Alternate, lifting your right leg on the next upward motion.
5. Marching bridge
What it works – Glute max, hamstrings.
Why it's important – Similar to the above two exercises that help isolate and activate glutes, this is another move that helps target those muscles in a slightly different way.
How you do it – Lying face up with knees bent and feet flat on the ground, lift hips until torso forms a straight line from shoulders to knees. Glutes will stay engaged the entire time. Lift right foot off the ground and bring knee to chest without hips dipping or twisting. Lower back down to the ground & repeat with left foot.
How often do you include strength training?
What helps you stay consistent?
Connect More with Sara
Sara is a personal trainer and running coach based in Baltimore Maryland. After several different injuries sidelined her from the roads – she decided to get smart about her training and make strength just as important as the miles. She is the creator of Get Strong Run Faster a strength training program designed specifically with runners in mind. And that's only her side gig! Full time you can find Sara working for one of the biggest names in sport – developing training apparel for Under Armour. Catch up with her on Instagram!
Other ways to connect with Amanda
Instagram Daily Fun: RunToTheFinish
Facebook Community Chatter: RunToTheFinish
Get more running tips: Pinterest