Power walking is an exercise technique that emphasizes speed and arm motion to improve health. It's a great way to start your fitness journey but is often overlooked and underestimated. It's one of the fundamentals we use to get many people running with ease!
Truly, it's an incredible way to get back to running again after a long time off or simply enjoy all the benefits of walking. I walk daily because it's a great stress reliever and breaks up a day of sitting!
It's a great low-impact workout that gives you countless benefits, including increased endurance without a lot of stress on your body and joints.
But unlike taking a stroll, there's a technique to power walking that you should learn to reap all the benefits.
In this article, you'll learn what exactly power walking is, along with its benefits, techniques, and tips and tricks on how to get started along with a sample workout!
What Is Power Walking?
Power walking is the same form as regular walking, but at a faster pace and with more intensity.
In other words, it's faster than a regular walk, but slower than a jog. I like to call it walking with purpose. Like you've got somewhere important to be!
Although power walking is a lot like walking faster, you need to learn specific methods to guarantee that you maintain the correct form and reach an optimal aerobic level.
It's a great way to get into the world of running, or it can also be used as a full way of exercising on its own. In fact, some people even walk a marathon or walk a half marathon!
I define it for our athletes as walking a 15 minute mile or faster.
Ideally, I want runners to work up to 3 miles at a 15 minute pace before transitioning to run/walk.
As a result, with power walking strides per minute increase, and the upper body, notably the arms, are used more to propel the body forward.
When compared to regular walking, power walking is likely to cause a you to breathe harder and heart rate increase. It overall emphasizes speed and arm motion as a way of increasing health benefits from walking.
True race walking that you see in say the Olympics involves a lot of hip movement. If you're really going at their 6 minute mile paces it also inadvertently affects your waistline. But we aren't trying to get you to that level, just using a regular walk at a higher intensity to ramp up your fitness!!
There are a ton of benefits to power walking. And it might be the perfect way of working out for you, so let's dive in to these and get you started.
Power Walking vs Regular Walking
Regular walking is a low-impact exercise that involves strolling at a leisurely pace, often for pleasure or transportation.
Power walking, on the other hand, is a more intensive activity that provides a greater cardiovascular workout and calorie-burning potential. Power walking also involves a greater range of motion and muscle engagement, making it a more effective way to tone and strengthen your lower body and core.
Another difference between power walking and regular walking is the mental aspect. Power walking requires more focus and concentration than regular walking, as you need to maintain proper form and pace to get the most out of the exercise.
This can be a great way to clear your mind and reduce stress, while also improving your physical health.
11 Incredible Benefits of Power Walking
Power walking can do wonders for your overall health. Because it really can be a full body workout, since you're working the leg muscles and also focusing on arm movements to increase the total exercise.
Here are some of the key benefits:
#1 Low Impact
Power walking raises your heart rate while being gentle on your joints and connective tissue.
And so, it's a great option for anyone just getting into working out, or someone with weaker joints that are looking for a low-impact, but effective workout.
#2 Less Risk of Injuries
In comparison to running, there's a substantially lower risk of injury with power walking. Therefore, if you're currently recovering from an injury, just getting started again or even coming back after baby, you should try power walking.
#3 Burn Calories
If burning calories is on top of your to-do lists, then you'd be happy to know that you can burn just as many calories power walking as you can jogging if you use the correct technique. Trust me, power walking can get you into shape.
#4 Full Body Engagement
In order to power walk, you must move quickly and actively use your arms. To maximize the benefits of this exercise, you should walk quickly and move your feet from heel to toe with each step.
Maintain momentum by pumping your arms. Engage your core throughout the workout to increase strength and balance in your body. Power walking engages the entire body, increasing calorie burn and increasing heart rate.
#5 No Special Equipment is Necessary
It's one of the easiest ways to work out. There's no need for fancy kettlebells or weights here. All you need is a solid pair of shoes and the simple techniques involved in power walking.
I do not recommend walking with weights on the ankles. This an lead to shin splint and other injuries. If you want to wear a weighted vest, that can add intensity.
#6 Improves Overall Health
Studies show that power walking can help boost good cholesterol levels and decrease bad cholesterol levels, as well as assist lower high blood pressure.
As a result, walking can help reduce the risk of diseases such as type 2 diabetes, some forms of cancer, and strokes.
#7 Suitable for Everyone
Power walking is beneficial for people of all ages, sizes, and fitness levels, barring obvious disabilities or diseases. You select your terrain and pace based on your capabilities, but almost everyone can go for a power walk.
#7 Improves Joint Health
Your bones can also benefit from power walking.
A recent study published in the American Journal of Preventive Medicine discovered that an hour of moderate-intensity exercise each day, such as power walking, reduces disability in people with symptoms of joint problems in their lower extremities.
We know that it helps to lubricate the joints.
#8 Boosts Mental Health and Brain Function
Power walking is great for more than just your body.
According to research, brisk walking has a significant impact on your mental functioning, decision-making abilities, and memory, especially as you become older.
#9 Helps Relieve Stress and Anxiety
Power walking can help relieve tension by redirecting your focus and concentration away from stressful environments and situations.
Endorphins are neurotransmitters that are produced in the brain as a result of physical activity. These endorphins result in a more relaxed demeanor and a calmer state of mind and can help reduce symptoms of depression, anxiety, and low self-esteem.
Fortunately, we now have decades of research that also demonstrate that brisk walking reduces anxiety, depression, and low self-esteem.
#10 Boosts Immunity
Regular physical activity, including power walking, has been shown to boost your immune system and reduce your risk of getting sick. This activity stimulates the production of white blood cells, which help fight infection and disease.
This means that power walking can help you stay healthy and avoid common illnesses, such as colds and flu.
#11 More Social Interaction
Power walking is a low-impact exercise that can be done in groups or with friends. This provides an opportunity to connect with others who share similar interests and goals.
When you power walk with others, you can engage in conversation, share tips and advice, and motivate each other to keep going. Over time, these interactions can lead to lasting friendships.
Research has shown that social support can be a key factor in maintaining an exercise routine. When you have friends who are counting on you to show up for a power walking session, you are more likely to stick with it. This can help you achieve your fitness goals and improve your overall health.
How to Power Walk – Proper Power Walking Technique
The most important thing about power walking is learning the proper technique. (And of course consistency!)
Power walking engages many different muscles throughout your body. While we don't often think of walking as a cause for injury, it's just like any sport where you need to think about how you're moving your body.
Here are some effective power walking form tips for you to follow in order to avoid injuries from bad form or overuse.
1. Focus on Good Posture
Maintaining a good posture is key when it comes to power walking.
Make sure to stand tall, with your head up and your shoulders back but relaxed. Pull your abs in tight and lift your chest.
2. Forward Arm Swing
Your arm swinging motion while power walking is really important. A good arm motion will help burn 5 to 10% more calories during your workout.
While power walking, bend your elbows at a 90-degree angle and keep them pulled in close to your body.
Move your arms straight forward and not diagonally as you walk but keep them low. Make fists with your hands, but keep them relaxed and not tight. All of this will also help to prevent hands from swelling while you walk
3. Planned Foot Strike
Your steps should be taken from heel to toe. Your heel strikes first, followed by your foot rolling through your toes.
In this motion, your foot will be landing in front of the body, which is different than our goal in running. Because of this you also need to ensure that your leg does not lock out. You want to keep a light bend in the knee, which is going to prevent you from hyperextending when you land with the heel.
Landing with that super straight leg is going to reduce power, but also will lead to knee pain over time.
4. Relaxed Hips
Preventing excessive hip rotation is important. Maintain a comfortable posture and move them forward rather than to the side. We aren't sashaying or wiggling.
5. Maintain a Natural Stride
Don't try to move faster by taking big steps or strides that are too long. Instead, think about pushing off your back foot when it's on the ground to really engage your glutes.
Allow that to power you forward and then work on moving the legs faster, rather than bigger steps.
How to Start Power Walking (7-Step Process)
Want to get into power walking? Great! It can be part of your current training immediately. Don't overthink it, just get out there and start moving.
Even when I'm in marathon training, I include walks during training. They help all runners and all athletes to improve our overall health and fitness.
Here are some quick steps to get you started.
#1 Warm-up
Warming up properly is essential for all forms of exercise, including power walking.
I recommend dynamic stretches that target your calves, legs, and feet. Consider hip circles or ankle circles when performing stretches before a power walking session.
Begin walking slowly to continue giving muscles and tendons time to loosen up. After 7-10 minutes easy walking, you can start to really push the pace.
#2 Start Slow
When you first start power walking, start by walking slowly and increase your pace over the coming days and weeks. Starting too fast, too soon can lead to injuries and soreness.
A good way to see if you're walking at the right pace is by doing the talk test. Walk with a friend and try to carry on a conversation. If you can speak at least a few sentences at a time, you're walking at a good pace.
If you could just talk non-stop, you might need to push it more!
#3 Track Your Distance
As you start getting into power walking, consider getting a step counter or an affordable fitness watch to track your distance. It'll allow you to know how far you've power walked in a given time and help you understand your pace.
Remember, you're power walking and not jogging! An average power walking pace is around a 15-minute to 13-minute mile, which equates to about 3 to 5.5 miles per hour.
#4 Increase Mileage Slowly
Just like walking too fast can lead to injuries, so can walking too much. This is where the ten percent rule comes in!
Increase your mileage week by week, on average, by ten percent compared to the previous week. This is a general estimate to ensure you don't increase your mileage too fast.
If you're new to power walking:
start by power walking for 15 to 20 minutes on your first walk
gradually increase your time to 20 to 25 minutes
You can then increase it to 30 minutes or more after a couple of weeks
Start with just two days a week and you can build to 7 days of power walking!
#5 Embrace Hills
Whether your goal is to start running or you just want to improve your fitness, hills are a key piece of this process. They give you a bigger bang for the time spent training by burning more calories and increasing the strength in your legs.
That new strength will allow you to walk faster on the flats and soon power up those hills.
#6 Try Intervals
While walking through a park or along the shore of a lake, it's not uncommon for your pace to unintentionally slow down. Maintain a focus on speed by incorporating intervals into your routine.
Try pushing your speed for 30 seconds if you're going to be outside for 30 minutes. Just watch out that you don't start jogging instead of power walking. Maintain your form to keep your impact low.
You can gradually increase the length of each interval by 10 to 20 seconds until they are a few minutes long. Do these after every other workout to help you recover.
#7 Finish Off with a Stretch
Don't forget to take out time at the end of your power walking session for some light static stretching.
Make sure to stretch your calves, glutes, hamstrings, quads, and hips as this will help prevent soreness and keep you free from common walking injuries.
How Fast Should I Be Power Walking?
Finding the proper power walking speed will be heavily influenced by your fitness level as well as how long you've been doing it. Power walking is defined as walking at a speed that is above the usual range for walking.
This is typically 3 to 5.5 miles per hour, or 13 to 15 minutes to walk a mile.
Begin walking at 3 miles per hour and progressively increase your speed depending on how you feel. If 3 miles per hour seems too easy, increase it to 4 miles per hour.
When you're ready to power walk at a higher intensity, aim for 5 miles per hour, or approximately a 12-minute mile. Keep in mind that longer strides aren't the aim here. Keep them short, but walk faster. You will have a far more effective session as a result. (we call this cadence in running)
Should I Power Walk or Walk Regularly?
Do both, frequently. If you just have a small amount of time to exercise, go for a power walk. This style of walking will allow you to burn more calories and tone your muscles in a shorter amount of time.
Meanwhile going for a daily walk is nice to simply de-stress and move the body.  Walking at a moderate speed helps the heart as well. You'll also be able to clear your mind and refocus yourself.
Overtime, you'll notice your standard walking pace has increased and much like my husband, folks will note that you only power walk.
Sample Power Walking Workout to Try
If you're just getting started with power walking and want a little taste of it without committing entirely to it, here's a fun sample workout for you!
Try alternating between regular walking and power walking if you love your relaxed stroll around the neighborhood, but want to crank things up a notch.
This means that you would walk normally most of the time, but for one block or one minute, you'll power walk.
Pump your arms and go faster. You'll be able to walk quicker and cover more ground. Slow down after that one minute or one block and resume regular walking. You may incorporate power-walking intervals as often as you wish.
In the long run, this method will help you build up to walking faster over time.
Top 13 Power Walking Tips
Here are some power walking tips that will make sure you get all the benefits of this incredible workout the right way:
#1 Maintain Good Walking Form
Walking makes use of more than simply the legs. To avoid hunching forward, keep your shoulders back and your chest high.
Maintain proper posture by pulling your abs in as you walk. Keep your arms free so you can swing them near to your side.
I don't love when people carry water bottles as they seem to stop pumping their arms. So consider the running belt or hydration pack.
#2 Wear the Right Shoes
As you begin a new power walking routine, proper footwear will be your best friend.
Don't simply grab any old pair of running sneakers from the shelf or the back of your closet. Invest in a good pair that's right for you.
You want something that is both comfortable and cushioned, as well as supportive. As you walk, your foot may roll inward or outward, therefore the shoe's support should accommodate that.
Here are the best Hoka Walking Shoes >>
#3 Be Visible
Walk on a route or sidewalk that is away from traffic. If you need to walk on the road, always walk TOWARDS cars. That is actually the law and the safest thing for you.
Use reflective gear, or light, if you're strolling during sunset or in the dark.
#4 Grab a Friend
Want to stay consistent with your new routine? Don't got it alone. Study after study shows that some accountability can go a long ways.
Walk and Talks are what I call this time with friends. Yup, even as a running coach this is how I plan get togethers. I generally prefer it to running with my friends because we're less out of breath, ha!
#5 Take it Easy
When you first start power walking, don't push yourself too hard. Shin splints are a frequent power walking injury in which the tendons, muscles, and bone tissue become irritated.
So incrementally increase your mileage targets to prevent your muscles from getting too tired. If you push yourself too far or for too long, you'll need more time to recover later.
#6 Strength Train
Remember that walking is just one piece of the fitness and health puzzle. You MUST strength train.
Especially for women over 50, fitness requires strength training because we simply lose muscle mass so easily. And less muscle mass means an increased chance of injury, slower metabolism and changing body shape.
If you're totally new to strength training, checkout our awesome 8 week bodyweight course. It's going to give you videos for good form and more importantly a plan you can follow!!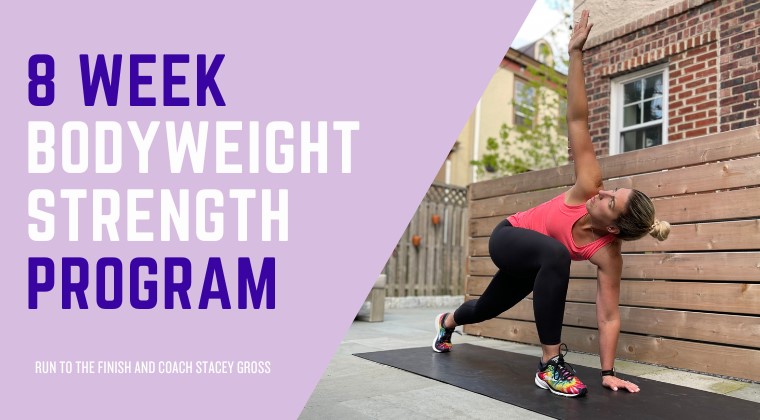 #7 Use Trekking Poles
If you want to up the calorie burn even more, grab some poles! It's going to engage more muscles, while also helping you to feel more stable and often walk even faster.
It might also get you excited to take your walks on to the trails for a change of scenery and to change up the workout.
In fact, this is actually called Nordic Walking! It's a massively growing trend because it increases your total calorie burn.
#8 Vary the Terrain
Don't be afraid to jump on the trails, even if you go a bit slower. The intensity from the varied ground and hills is still increasing your fitness.
Likewise, don't be afraid to do your workout on the treadmill. In fact, one of my favorite treadmill workouts uses power walking and incline!
#9 Avoid When Sick
Power walking can actually help with symptoms above the neck, like a runny nose or sneezing. If your symptoms are more serious and are below the neck, like body aches or swollen glands, you should skip your walk and try again another day.
#10 Eat Healthy Foods
If you're power walking to stay healthy and maybe even lose weight, then one important thing to do is to eat healthy.  When power walking for exercise, your body will naturally crave the nutrients it requires.
By power walking about three times per week, you will begin to pick foods that provide your body with the best fuel for power walking. You'll start to prefer healthy options like fruit and whole grain sandwiches naturally over greasy fast food.
And if you're still struggling with eating healthy, this is a good time to make that choice and reap the full benefits of power walking.
#11 Stay Hydrated
Staying hydrated is important during any physical activity, especially power walking. When you exercise, your body loses water through sweat, which can lead to dehydration if you don't replenish your fluids.
Make sure to drink plenty of water before, during, and after your walk, to help regulate your body temperature and prevent dehydration.
If you're planning a longer power walking session, consider bringing a water bottle with you to stay hydrated on the go.
#12 ​​Walk in Safe and Well-lit Areas
When power walking, it's important to walk in safe, well-lit areas that are free from hazards or obstacles. Walk on sidewalks whenever possible, and cross at designated crosswalks or intersections.
If you're walking in an area without sidewalks, walk facing traffic so you can see oncoming cars. Wear reflective clothing or accessories if walking at night, to help improve visibility. It's also a good idea to carry a whistle or other alert device with you, in case of emergency.
#13 Listen to Your Body and Avoid Overexertion
When starting a power walking routine, it's important to listen to your body and avoid overexertion. Start slowly and gradually build up your intensity and duration.
If you experience pain, discomfort, or other unusual symptoms, stop walking and seek medical advice if necessary.
It's also important to vary your power walking routine to prevent boredom and reduce your risk of injury.
Consider walking on different terrains, incorporating hills or stairs, or adding in strength-training exercises to keep your workout challenging and engaging.
Can I Power Walk a Marathon?
Running is not the only way to finish a marathon.
If you want to walk the entire marathon, you can do so as long as you get there before the cut-off time. Not only will you not be disqualified from the race, but many of the marathons have made changes so that this is now possible.
I've written a complete guide on how to walk a marathon, which I'm sure is going to come in handy if you're thinking of this fun goal. Not only will it help you train to walk a marathon, but it also shares helpful tips that will guarantee your success on race day!
Looking for more training tips?
Other ways to connect with Amanda
Instagram Daily Fun: RunToTheFinish
Facebook Community Chatter: RunToTheFinish
Sign Up to Receive a Weekly Newsletter with Top Running Tips and Laugh