Swish,swish,swish…it's not the sound of three point shooter on fire, but the noise I imagine my hair making while I run. And when I had to chop it all off a few years ago after getting sick, I missed that invisible noise.
The feeling that it gave me. The one thing that made my surfboard body feel a little more feminine. Hair is like the accessory that you never take off and I didn't realize that all my sweaty workouts could be causing damage!
Did you ever have one of those dolls where you could crank the arm and the hair grew?
While it would be a little awkward to ask Mr RTTF to crank my arm in a circle, I wish it was that easy to change my hairstyle on a whim!! I'd do a short bob one day and rock out the long braid another.
I mean if I could choose a superpower first would be teleportation and second perfect hair any day, any time, automatically.
Alas, it's not that easy and after a few visits to my stylist I started to whine "why isn't my hair growing??"
At which point ideas from friends started flowing like wine on a girls night out.
Healthy Workout Hair Tips
I thought I'd share some of what I've learned, plus my new favorite skin care routine from FRÉ skincare because let's be honest, what's great hair if we've messed up our skin…and yes indeed your bad hair habits can cause breakouts too!
Wash Less
Stop washing all the time. OHH this is hard as a runner, which is why I now love dry shampoo!! Washing daily dries out hair and can increase breakage from styling as well. I have also read that you should condition, shampoo, condition for really dry hair…so I'm trying this now too!
– When you do wash it, go for air or towel drying. In fact, for my curly haired sisters they recommend using a shirt or pillow case to dry hair because it's not as rough and curly hair is often drier.
– Dry shampoo is available just about everywhere now for cheap. Go for the spray and not the powder as it's much easier to blend in. Note it doesn't work until your hair is dry, that's how it soaks up any greasy looking areas.
Products
Speaking of washing, it takes some time for your hair to get used to the switch, so you'll still shampoo once a week with with a cleansing shampoo followed by a deep conditioning treatment. And if you find your hair isn't too oily, then an even better process is actually to CONDITION and then shampoo.
That's right, we're throwing all the old wisdom out the window! It turns out for those of us with finer hair conditioning second leaves hair weighed down and allows for more product build up.  I just started using some products from Innate Life which I really love.
Less ponytails
I was also told to stop putting my hair in a pony tail all the time. Pulling it aback in the same spot weakens the hair! Move that pony tail around and when you can leave it down, do.  Consider a bun, a top knot or a braid to mix things up and distribute the tug on your hair.
– If your hair is dry, after pulling out a pony is a good time to brush and distribute the natural oils from your roots through the ends
– Speaking of brushing, don't over do it! The old 100 strokes per night is not true.
Coconut Oil
Used on hair to help infuse moisture and prevent breakage this is seriously better than most moisturizers on the market, plus you know it's all natural. With curly hair I can use some after a shower to define my curls, other times I layer it on prior to a run as a deep treatment mask, which I think wash out afterwards.
Just be aware that it can take a couple shampoos to get out oil, especially in finer hair.
Headbands
OMG did you know this new trend is also tugging on those poor little strands of hair. As much as I love mine, I am more cautious about whipping them on and off, as well as wearing them non-stop.
Could your favorite headband be wreaking havoc on your hair?! More workout hair mistakes...
Click To Tweet
Sun Protection
Just like you need to spray on some heat protection before styling, it's a good idea to protect those locks from all the time spent in the sun with something that will protect color, prevent fading and keep your scalp happy too. Hey your scalp is where the whole healthy hair piece starts!
Learn more about this moisturizer with sunscreen from FRÉ below!
Eat for Silky Hair
We know a healthy diet makes every part of our body look better due to nutrients! Here are a few foods pinpointed for long healthy locks, click each for some recipe ideas:
Hair Mistakes on Your Skin
As if caring for your hair wasn't enough to think about after you find yourself covered in sweat, your sweaty hair could actually be interfering with your quest for clear skin!
According to The American Academy of Dermatology, hair is one of the main causes of adult acne.
It's not just what happens during your workout, it's that recommendation I gave you to wash less and what happens when those hair products get on your face…yup you're just asking for a breakout. Which is why a great skincare routine is super important, so let's talk about how to keep you glowing even after the workout.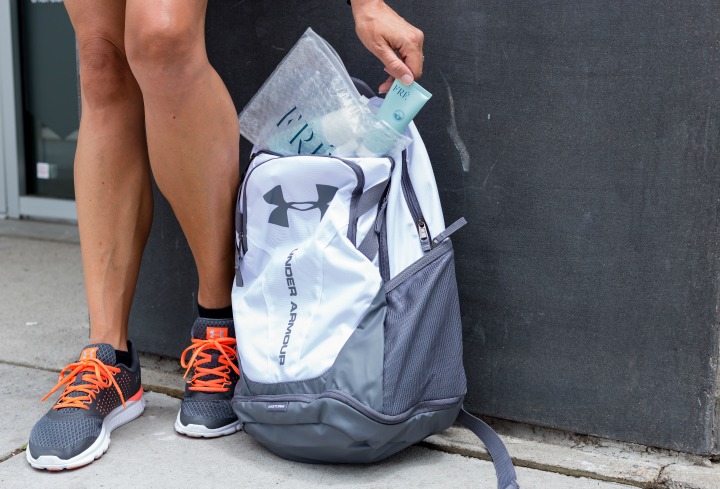 Find a great face wash!!!
For me that has become FRÉ Purify Me because it has just tiny little beads to exfoliate, while being a moisturizing wash. It doesn't leave your skin dried out, which can aggravate skin and lead to more breakouts.
Wash BEFORE your workout. Any dirt on the skin once you start sweating is what leads to breakouts.
Look for Argan leaf-water extract, like in FRÉ, to help calm the skin which is often red and irritated after being in the elements.
Wash in the morning to help clear your skin, after rolling around in that unwashed hair all night.
Wear your sunscreen!!
I have to admit face sunscreen usually bothers me..a lot. I sweat and suddenly in my mouth I can taste it or I just feel sticky. FRÉ Protect Me is a great moisturizer that happens to also have 30 SPF!
Sun exposure can cause sunspots and skin damage, along side the big scary C word.
Look for hypoallergenic formulas, like this one, to ensure it doesn't clog your pores or cause itching as you get warm and sweat.
Look for water-resistant so that it doesn't run when you sweat. FRÉ is also good for 80 minutes before you should reapply.
The combo moisture and SPF means it's one less thing to think about!
Repair your collagen!!
Ok so we've washed away anything left over from your hair products and sweat, we've protected you from the sun…now is the bonus step. The one that helps to keep your skin glowing and healthy looking all the time: serum.
Must like with our hair, we don't want to overload the skin with products. Instead, it's about using just a couple of well made items for great results.
FRÉ Revive Me is designed to combat both the short and long-term harm caused when sweat combines with UVA, UVB & IRA rays and other harmful environmental conditions. It helps to moisturize, regenerate collagen and replenish vitamins. I love how silky my skin feels without feeling the weight of thick moisture cream.
This whole line is truly designed with runners in mind. It's designed to make caring for your skin easy, to help calm inflamed skin, take care of the damage we cause from hours in the sun and keep it moisturized, not oily!
Want to try out my new favorite skin care line? You can!!
Use code RTTF25 for 25% OFF on the 123FRÉ Skincare Set >>
What's your healthy hair tip?
Love your locks long or short?
CONNECT WITH ME!!
Instagram: RunToTheFinish
Facebook: RunToTheFinish
Get new posts via BlogLovin
This post is sponsored by FRÉ skincare. I never promote products I don't love, so all opinions and sweaty thoughts are my own.