There's nothing more annoying than hair ties for working out that won't stay in place, loses elasticity, snaps, or damages your hair! Seriously, I didn't realize how bad so many of them are for our hair until I'd been ripping out strands for years.
While there are an abundance of choices on the market these days, not all hair ties stand up to the test of running, HIIT, cycling, yoga, and even everyday wear.
So how are we supposed to know which one works best without buying them all? Well, thankfully I'm here to help!
Through my own experience, research, reviews, and some quality crowdsourcing, I've compiled a list of the best hair ties for working out. On this list you'll find options for thin hair, thick hair, fine hair, curly hair, running, yoga, breakage prevention, and more.
But first, let's discuss why a quality hair tie is important.
How Do You Tie Your Hair Without Damaging It?
For those of us with longer hair, keeping our hair up, off our neck, and out of our face during a workout is important. Hair ties are essential!
However, it's important to use the right hair tie for the job and for our hair.
One of the biggest challenges we face is finding a hair tie that won't cause damage or pull on or out strands of our hair. Another challenge, for those who are not daily hair washers, is the crease/kink/dent some hair ties cause.
In addition to finding the right hair tie(s), how you wear your hair can impact how well it stays in place and its health.
Ponytails are always a great option. They keep hair back and away from our face and depending on length, generally off our neck.
One thing to keep in mind though is to move the location of your ponytail around. This helps prevent a weakening of the hair in the location of the hair tie. 
But besides a regular ponytail, there are tons of other options for how you can wear your hair to keep it secure through even the toughest workouts. I've previously highlighted some fun, fabulous and long lasting running hairstyles; including buns, knots, braids, hats and headbands. Check it out and try some out with your new hair ties!
What's the Healthiest Hair Tie For Hair?
When it comes to the healthiest hair ties, the first thing to consider is the material. Hair ties made of natural materials such as silk, satin, and cotton are the best options. These materials are gentle on your hair, and they won't pull as much to cause any breakage or damage.
Another factor to consider is the type of hair tie. Elastic hair ties, which are commonly used, can cause friction and damage to your hair. Instead, it's better to use a hair tie that's gentle and won't pull or tug at your hair.
For example, scrunchies or spiral hair ties are great options. They're made of soft materials and are gentle on your hair, reducing the risk of breakage.
Am I the only one who gets overwhelmed here?! They all say they don't pull or damage, but I've tried them and that's not true! So hopefully the recommendations below help.
It's also important to note that the tightness of your hair tie can affect the health of your hair. I know a high ponytail looks AMAZING, but ahair tie that's too tight can cause breakage and damage. So it's good to switch up your look and it's best to opt for a hair tie that's snug but not too tight.
All right with this in mind, let's talk specifically about what many of you have found to work well!
10 Best Hair Ties for Workouts
When making my final list of hair elastics, I considered a number of factors.
I looked for variety in both materials and hair types, as well as workout type. I also looked for good value because hair accessories range wildly in price. It can be hard to imagine spending a lot of money on just one scrunchie or even three hair ties, when you could get two or three times that number with a cheaper brand.
Now, it's time for my list. Please note, these are in no particular order.
While these are one of the more expensive options, they do overall have good reviews. The Sleek and Strong hair ties are stretchy and reflective and in Lululemon's words, they're "Designed for on the move." Plus, they're cute and listen I'm not above picking cute.
When I crowdsourced for hair ties, these were recommended for their long lifespan. That might make the price a bit more reasonable. Especially, when I think about all the hair ties that have gone stretchy on me after a few uses.
Runners also noted they are great for thick hair with a nice strong hold.
Price: $14
No. in Pack: 3
Color: Black
Material: Synthetic rubber and polyester
#2 Hairstylist Recommended – Scrunchies
When I started to notice hair breakage, my hairstylist explained to me a lot of things about my daily ponytail! I've covered much of that in how to prevent breakage, but one of the key things was changing my ponytail holder.
She recommended going back to a good old scrunchy. And while I know they weren't "fashionable" for awhile. My hair health far outweighed that concern!
Luckily these from Kitsch are cute and quality. I like the basic matte colors, the feel and yay for a women owned company. You can also find Goody at pretty much any pharmacy or hair aisle in Target.
Price: $7.99
No. in Pack: 5
Color: Variable color options
Material: Cotton
If you're one of those folks who can't seem to remember where you put your last hair tie, this is the option for you. A massive pack, variety of colors and if you lose them no sweat at this price.
I distinctly remember these becoming massively popular, so of course I grabbed a package myself. They definitely stay put and i didn't find any pulling, but the bands don't have a super long life. And if I have one around my wrist, the knot can get a little annoying.
None the less, I know have bands everywhere I ever might need one.
And they are a BIG HIT if you want to customize something! You can find these as a great cheap option for that group relay team or whatever.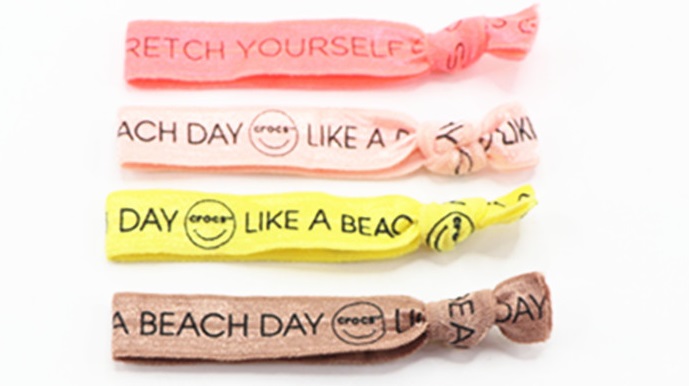 Price: $8.99
No. in Pack: 120
Color: Variable color options
Material: Stretchy ribbon
Can I just say, I was really surprised to see this one recommended to me so many times! I thought no way could my old phone cord not rip out hair, but turns out I'm wrong! For those looking to pull their hair back but not get creases or dents, the Kitsch Spiral may be your go-to hair tie.
These provide enough hold without causing a crease. While maybe not the best choice for running, they're great for everyday wear, strength workouts, and other lower impact workouts.
The one con regularly mentioned was that these do stretch out overtime. However, a big plus is they're on the inexpensive side and they come in a variety of colors and pack sizes.
Price: $5.99-$9.99
No. in Pack: 4 or 8
Color: Clear, black, brunette, blonde, nude
Material: Smooth plastic
Bunzee Bands are unique because they're adjustable allowing you to find the perfect fit and hold. They also bill themselves as the "world's comfiest hair ties."
Bunzee Bands are soft, designed to absorb micro-movements and yanking, and are cushioned to prevent tension headaches. The woven material prevents breakage and the bands are very stretchy to accommodate all hair thicknesses.
The bands come in a variety of different colors and also come in extra large to accommodate puffs, big hair, and updos. Again, this one was highly recommended by a number of runners in my survey.
View this post on Instagram
Price: $14.95, $15.95
No. in Pack: 3 for regular, 2 for XL
Color: Red, grey, blue, brown, black, blonde, burgundy, white, orange, rainbow, tan, pink, green, camo
Material: Plush fabric
What I love about these Gimme hair ties is they offer a variety to fit a multitude of hair types and thicknesses, from curly hair to fine hair to thick fit and more. Since my hair is sometimes curly and sometimes straight, honestly I'm always switching up what band I use, so thank you!
Pack sizes range from 6 to 12 pieces and are $12 per pack. They retain elasticity for 6 months or more, even with daily use. As noted the Lulu should last much longer.
The hair bands offer a firm hold, zero dent, no snagging, numerous colors, zero seams, and don't cause headaches. They are designed to gently slide out of your hair when you want to remove them.
They also offer a $10 hair fitting kit to help you determine which band will work best for you. The options include Any Fit (comes in the most colors), Thick Fit, Long & Curly Fit, Fine Fit, Extra Fine Fit, and Extra Grip.
Price: $12
No. in Pack: 6-12
Color: Black, brown, neutral, blonde, and additional colorful variety packs
Material: Microfiber
#7 Best for Thick Hair – Burlybands
Got thick hair? Look no further than Burlybands!
Burlybands feature a heavy duty design to hold the thickest and heaviest hair. It has a strong and firm hold with no slipping, pain, or damage. They're durable, lasting for several months without breaking or stretching out but it's recommended you rotate usage.
Burly bands are also great for curly hair. They're great for everyday wear, sports,  and trips to the gym. They can be wrapped up to three times and are machine washable.
Price: $11.29-19.24
No. in Pack: 3 or 8
Color: Black, brown, light brown, blonde, dark gray, light gray, pink, light blue, blue, multipack
If you already know you like spiral hair ties, another one to try is the Invisibobble.
The spiral design of the original Invisibobble distributes pressure evenly around your ponytail for a strong yet comfortable fit. Made of polyurethane, it doesn't absorb dirt or bacteria and is easy to clean.
According to the company, the bands are proven to cause 31% less damage, leave 68% less marks and 100% less pain when compared with a regular elastic hair tie.
Invisibobble makes a variety of other products, including barrettes, scrunchies, headbands, and more. The Invisibobble also comes in a "slim" size too.
Price: $5
No. in Pack: 3
Color: Clear, black, pink, brown, bronze, purple, and more
Material: Polyurethane
#9 Tiny for Fine Hair – Teleties
I added Teleties to my list because of their variety and versatility.
According to Teleties, they are safe for all hair types and work for countless hair styles. They come in three sizes: tiny, small, and large. You can also buy a mixed pack.
The tiny hair ties are recommended for updos and kids, the small hair ties are perfect for thin hair and pony tails, and the large are best to wrap thick and curly hair.
Also a spiral, they provide a strong grip yet protect against slipping, creasing, and damage. They are great for sports, the gym, and with all the color options, they are fashionable too.
Price: $7.99 to $9.99 for regular bands, $14.99 for mixed pack
No. in Pack: 3 for regular sizes, 5 for mixed pack
Color: Numerous
Material: Polyurethane
Last, but not least, on my list are the LilySilk Scrunchies. These are excellent to have on hand, especially for those with curls.
Silk is gentle on your hair and these scrunchies are no exception as they are made with 100% mulberry silk. They will slide out of your hair without tugging or breakfast and leave your hair crease-free.
While not something I'd do a high-intensity workout with, they would probably be fine for a low key pilates or yoga workout or just everyday wear.
They come in numerous colors and both as singles or in multipacks. An added bonus is they'll look lovely on your wrist.
Price: $9.99
No. in Pack: 1
Color: Numerous
Material: Mulberry silk
Other ways to connect with Amanda
Instagram Daily Fun: RunToTheFinish
Facebook Community Chatter: RunToTheFinish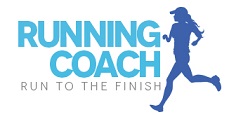 Sign Up to Receive a Weekly Newsletter with Top Running Tips and Laughs