Knowing the best running hairstyles is more than just aesthetics; it's about being able to perform at your best, without needing to worry about your hair getting into your face and distracting your focus.
Picture this: you're running a marathon, putting in everything you have set a new PR. Then you have to pause for to fix your hair that's suddenly flying everywhere. Not only is it frustrating, it's distracting, and downright annoying.
Plus, who likes a stray piece of hair or flyaways getting sweat all over their face and even poking into your eyes while you run. And, let's face it, we all want a finish line photo where we still look semi-human!
Additionally, pulling your hair in to the same ponytail over and over is really damaging. In fact, that's a top tip in avoiding common sweaty hair damage.
So, it's important to not only know what the best running hairstyles are, but the one that fits your hair type and style. Here is a complete guide to cover all the bases and help you find the best option for your next run.
So read on to find simple, yet fun workout and running hairstyles that'll save you a lot of trouble down the line!
Best Overall Running Hairstyles
We're starting off with some simple yet effective hairstyles that will work for many hair lengths and styles, and then we'll move on to answering more specific questions to make sure you right the right hairstyle for you.
And of course most importantly, make sure you have one of the best hair ties for running that won't damage your hair!
1. High Ponytail
Let's start with our most basic and simple hairstyle: a high pony tail. This is a good option for anyone who (like me) isn't the best at braiding their hair but wants a workout hairstyle that'll work every single time.
It works for those of us with short hair or medium-length hair that won't have it swinging around too much in front of us.
It's a great option for those with longer hair too, if you're not distracted by your hair swinging around too much. If you are, the next one is perfect for you!
2. Jasmine Ponytail
This hairstyle is a twist on the classic high ponytail and is super easy to do; I mean, if you can tie a ponytail, you can do this hairstyle. This is a great option for anyone with long hair that doesn't want to tie a braid.
Start by pulling your hair back into one long ponytail, then add additional hair ties to secure it tightly. You can space them apart as little or as much as you like, and even experiment with different colored hair ties if that's your thing!
This is the perfect hairstyle if you have a ton of layers in your hair since you can secure your ponytail wherever the layers are to have the perfect distraction-free running hairstyle!
3. Classic Top Knot
This is a classic hairstyle and, seriously, who doesn't look good in a high bun? Blogilates really rocks this style in her workouts.
Personally, I've found for most runners it needs to turn into more of a tight bun on the top of your head with solid bobby pin support to make sure things stay put while bouncing around.
Here's a great example of using some pins along the front to hold down those baby hairs and then securing the bun with pins as well! Don't be afraid to go while with them.
For my male friends out there with longer hair, you can totally rock a man bun as well!
4. Regular Braid
Does anyone else feel a little overwhelmed by the super cool braids? Ya, me too, so let's not downplay the role of the standard braid.
A braid pony is a winning combo for Serena Williams and therefore good enough for me too! I do like that this keeps the hair off the nape of the neck, which can help us to feel cooler.
For this hairstyle, all you need to do is pull your hair into a low ponytail, secure it with a hair tie, and then do a simple braid all the way till the end and secure it again. Yep, that's all you need to do!
5. French Braid
A lot of runners prefer the french braid as they find it's an easy way to pull in different baby hairs, but more importantly, they can often do the braid the night before a big run or race so it's one less thing to worry about.
If braiding the hair in advance, spray generously with hairspray and make sure you secure a few key areas with bobby pins.
You can do a traditional french braid which is all your hair in one french braid or do a double variation!
6. Double Dutch Braid
Here's Alice Yuri showing off with the double dutch braid, as a perfect run do. (can we all say hair goals?!)
A dutch braid is just a french braid reversed so the hair lays on top of the head, instead of flat against it.
The best thing about french braids is that you can even do the double variation even if you have hair length that's above the shoulders.

7. Fishtail Braid
In theory, a fishtail braid should be easier to do as we're taking two strands together instead of three.
You can start by securing your hair into a low ponytail and then divide the hair into two sections. Next, take a small piece from the outside of one of the sections and cross it over to the inside of the opposite section.
Each of the pieces will fall into the center of the two sections. Repeat this process while alternating sides. The smaller the pieces you grab, the tighter your fishtail braid will look.
Here's a detailed post on how to create a fishtail braid.
Meanwhile, I love this idea from Platesbykel. She finishes with the bun and I like this idea because my braids look thin at the ends. This keeps some nice volume, but everything is still out of my face and off my neck.
And if none of these work then let me introduce you to my favorite tool…
8. The running hat.
Morning run savior! I don't need to do anything except slap it on my head and instantly things all look better!
It's like the dry shampoo of work hair.
Over the last 20 years, I've tested a lot of great hats and here's my list of best running hats >>
9. The running headband.
Whether you've always had a lot of fine hair or maybe have a lot of baby hairs growing in postpartum, the headband can be your best friend.
I've come to accept that if it's windy and I'm not wearing one, I look like a mad woman! So this could be a stand alone for those with shorter hair or an addition to the above styles.
Sweaty Bands are my go to because they stay put, won't pull hair, last for years and come in a ton of colors. I do love my black and silver sparkles, but eons ago I got tons of fun patterns.
Tips for the Best Running Hairstyles
Don't fight your natural hair parting when braiding your hair in double french braids. Let it naturally part how it would, and then braid it. That way you're not fighting against your hair but working with it.
Have bangs? Then secure it up with some bobby pins to the side or up to make sure they don't stick to your hair while you're running. You can also use a soft headband to keep them in one place.
If you have a lot of baby hair or flyaways, some coconut oil or argan oil will do wonders for you. All you need to do is take a pea size amount and lightly apply it to get those flyaways out of the way!
Another great tip is to use some hairspray to secure your hairstyle in place and make sure it stays that way the whole time you're running.
Always remember that bobby pins are your best friend when it comes to running hairstyles! Secure your hair wherever you feel it'll naturally fall out to keep it put.
Ultimately, the best running hairstyle is one that's perfect for your hair length, texture, thickness, and your personal preferences.
And of course, always try your hairstyle while running and practice with it to make sure you're all set for your next race or marathon!
Looking for a little more runner beauty tips?
Other ways to connect with Amanda
Instagram Daily Fun: RunToTheFinish
Facebook Community Chatter: RunToTheFinish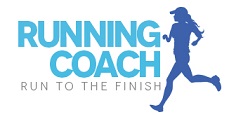 Sign Up to Receive a Weekly Newsletter with Top Running Tips and Laughs