Sip it, slurp it, guzzle it, eat it with a spoon, just do it. This is your ultimate green smoothie recipes for beginners guide to take you from "uhhh what's that" to "I gotta have it".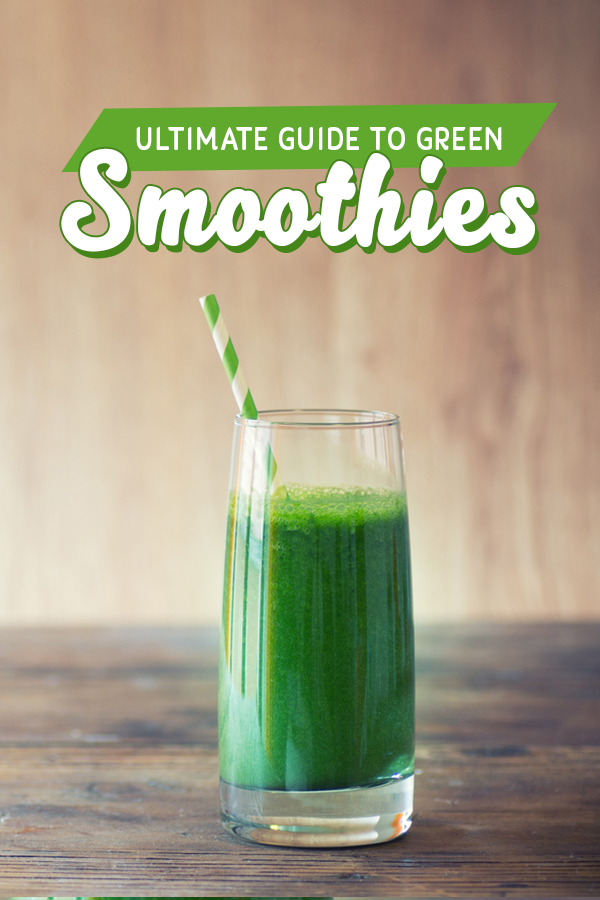 If you've been shying away from the green smoothie bandwagon, today is your chance to find out what all the fuss is about and for those of you who've been doing it for ages…maybe some tips to give your smoothie an update for the biggest benefits.
Green Smoothies for Endurance Athletes

Before we dive in, I think it's first super helpful to look at why the green smoothie has become such a ubiquitous health drink and understand if it's really that healthy!
Efficiency
I've never found an easier way to get in 3-5 servings of vegetables at once. I love a good salad, but blended down you can more easily consume the bulk at once, plus it literally takes just SECONDS to make.
Health
Leafy greens are the best thing we can eat for our health and this is an easy way to get in more each day, reducing our risk of all kinds of disease and improving our hearts.
Digestion
The truth is most of us eat too fast, we don't chew our food well enough and we may indulge in a few too many things from a package. All of this places stress on our GI, which inhibits it's ability to assimilate nutrients and quickly pass everything through (hey we all need to poo).
Fiber
Unlike a juice, smoothies use the entire vegetable or fruit and thus do contain all the fiber which our body needs.
Are there any downsides to green smoothies?
May not fill you up, solely because your brain is used to chewing
Too much fruit can create a sugar overloaded snack
Expensive if you buy rather than make
They aren't a silver bullet, you still have to choose whole foods the rest of the day
Cold foods don't always make some folks feel best
Have a #greensmoothie question? This guide answers it all, plus tons of #recipes
Click To Tweet
Magic Bullet or VitaMix Blending Tips?
Do you need a great blender?
Not really…but no doubt they are better with one!! The first 3 years that I made green smoothies was in my Magic Bullet. It served me well, but to be honest I have been able to get a lot more nutrition in to my smoothie with the VitaMix 5200 and I think it will outlive me.
For example, kale in the Magic Bullet never seemed to break down all the way and I'd end up with a piece or two while drinking…not so pleasant.
How much to blend?
A great reminder from Ben Greenfield is that we need to stop pulverizing the life out of our food. I'm guilty of putting it in then doing things in the kitchen…no bueno.
In a high speed blender you don't need more than 60 seconds most of the time and indeed you might get some fullness benefits out of a less blended smoothie with some little chunks.
Blender Tips
If you are using a smaller blender:
– Remove kale and swiss chard leaves from the stalk
– Chop thicker pieces of vegetables or fruit before putting them in the blender
– Try blending thicker pieces for a second then tossing in some of the softer items like the banana
Banana Mango Avocado from Emilie Eats
After Run Smoothies
Does every smoothie need protein?
No. I like to use protein when I am drinking it after a workout to accelerate recovery or if it's a substantial snack. Other times I will leave it out as an afternoon energy boost drink.
Is protein powder my only option?
No you could put in pasteurized egg whites, greek yogurt, silken tofu, chia seeds, hemp seeds, quinoa or oats. Here's my full breakdown on the variety of different powder options.
Protein Powder Recommendations?
Vega Sport Protein is my preferred powder for after any workout because it's dairy free ( a common cause of bloating), it's made with clean ingredients and has some great add-ins for digestion and recovery.
Buy some small packets to test out different brands and flavors to find what works for you
Try to avoid overly processed brands filled with chemicals, that defeats the purpose of the smoothie
Try to avoid huge amounts of sugar, instead use Stevia and fruit as natural sweeteners
How Thick to Make a Smoothie?
Vanilla flavored almond, soy, or coconut milk are a great starting point for most runner smoothies. I try to use the Unsweetened Vanilla Coconut Milk most of the time to keep sugar low, but most soy milk will have more protein so if you aren't adding protein it's worth considering. If regular milk is your thing that's great too, but try adding a little vanilla extract for flavor.
Over time you can reduce your milk alternative amount and increase your water. Initially start with 1 cup milk, 1/2-1cup water…now I generally use only water most days.
The volume of liquid will depend upon whether you want a smoothie to sip or smoothie bowl to eat!
Coconut water
Almond/Soy/Coconut/Milk
Water
Too Ice Cold
There are a number of holistic doctors who will tell you that super cold foods are harder on the digestive system. Since one of the reasons we turn to smoothies is help our guts, consider dropping the ice and even use room temp liquids.
Superfood Smoothie Bowl from Cotter Crunch
Recovery Smoothies Require Veggies

The bulk of your smoothie should be veggies!!! Not fruit, not milk, etc. The goal of these smoothies is to help you get in more veggies than you likely would and in a manner that is easy to absorb by the body. Unless otherwise noted all veggies are RAW.
Baby spinach is the ideal starter green for most people. It has a more mild flavor and 1-2 cups can easily go unnoticed.
Kale and swiss chard have a more definitive flavor, but again mixed with the right fruit you'll soon be drinking it like nobody's business. For those just starting out use spinach in week one and then try adding a leaf or two of kale the following week…a little more the week after.
The goal is to switch up your greens occasionally to keep getting a variety of nutrients (try bok choy, dandelion greens, nearly anything).
Beets: I've found buying frozen beets or pre-peeled and cooked beets then freezing them is the best method to get in this great blood builder
Carrots: Use shredded in a smaller blender, this sweet veggie will balance out some other flavors and improve your eye sight
Cucumber/Celery: High water content helps it blend in well and it's great for debloating
Broccoli: Use small pieces in a small blender to get the calcium, Vitamin K and C benefits of this gut cleaner
Bell Pepper: Toss in the white part of bell peppers to benefit from their high nutrition sans flavor
Zucchini: It works in breads and muffins, why not your smoothie! Folate, vitamins and great for heart health
First let's get past the fact that I recommend adding broccoli to your smoothie.
Most green smoothie drinkers have been able to overcome the green caused by spinach or kale, but broccoli gives them pause. I promise fresh, NOT steamed, broccoli has no taste and with a good blender simply becomes part of the liquid gold.
Everything you need to know to build the perfect #greensmoothie #eatwell
Click To Tweet
When selecting any veggie, consider how intense of a flavor it carries (i.e. I can only use a little beet) and balance it with the sweetness of fruit.
Green Detox Smoothie from Gimmie Some Oven
Keep the Fruit in Check

When selecting your fruit, it's both about flavor and benefits. Stick to whole fruit since you are doing a smoothie after all and don't up the sugar with a juice.
Banana: This is the primary fruit recommended for all first time smoothie makers and one still used by many for years. It's high sugar content helps mask the veggies and it's great for athlete's due to potassium, etc.
Pineapple: Add some frozen chunks to cool your smoothie and get an extra dose of Vitamin C to fight of those winter colds, Manganese for bone building and most importantly anti-inflammatory effects.
Oranges: I love an orange creamsicle smoothie, but have found this only to work well in the VitaMix. In my Magic Bullet the white strands hung around making it just awkward to drink.
Apple: I started doing a lot of apple due to the lower sugar and higher fiber. I also love the vanilla flavor.
Lemon: Great for detoxing, a little lemon daily is recommended so why not put it in your smoothie.
Berries: Super high in anti-oxidants berries are a natural choice! Some people (me) don't care for the texture when blended, so be open to testing this out.
Almost any fruit will work, it's a bit about preference and the amount of sugar you want in your smoothie.
Berry Beet Smoothie from The First Year
Best Smoothie Additions

Beyond the fruits, veggies and protein there are some little things you can add which will pump up recovery or help with other things.
Cinnamon: Great for helping to balance blood sugar, so if you're using high sugar fruits a great add.

Tumeric: Hard to get a high enough dose in one smoothie for the anti-inflammatory effects, but a little daily could certainly add up.
Stevia: A few drops adds a little sweetness if your drink is bitter because you got excited with your veggies
Peanut Butter: I like my peanut butter on the spoon, but many folks swear by adding some to their smoothie for the satiating effect
Coconut oil: Many folks started to shy away from fat in the 80's, but thanks to new research we know that fat doesn't make you fat. TOO much sugar, carbs and processed crap makes you fat. Adding coconut oil to your smoothie will actually help you burn fat and that's just one of the many benefits!
Maca: This nutty tasting powder helps the body to overcome adrenal stress caused by workouts or life by balancing the endocrine system. (read more about adrenal fatigue)
Apple Cider Vinegar: It's been long touted as a home remedy to aid in digestion, among many other things
Glutamine: Found in the Vega Sport Recovery powder, Glutamine is not only good for digestive issues, but helps with protein synthesis which ensures that you start recovering right away and your body doesn't begin to use your muscles for fuel.
Ground Flax: Did you know the omega 3's in ground flax are more easily absorbed than from the fish oil pill you might be taking? Not only that but the added fiber will fill you up and keep your gut happy.
Best Smoothies for Runners

Still not sure where to start? Here are some green smoothie recipe ideas to help you out:
9 Healthy Green Smoothie Bowls from Greatist
17 Protein Packed Post Workout Smoothies from RTTF
31 Healthy Fall Smoothie Recipes from RTTF
30 Healthy Smoothie Recipes from Love Life Surf
25 Vegan Peanut Butter Smoothies from My Natural Family
Green Smoothie Pancakes from The Lean Green Bean
Green Smoothie Vegan French Toast from Ex Sloth
Mint Chocolate Green Smoothie from Food Faith Fitness
Hundreds of #greensmoothie ideas to refuel your workouts! #health
Click To Tweet
What's your favorite smoothie?
Weirdest thing you've ever put in a smoothie?
Other ways to connect with Amanda
Instagram Daily Fun: RunToTheFinish
Facebook Community Chatter: RunToTheFinish
Sign Up to Receive a Weekly Newsletter with Top Running Tips