Finding the right shoes and feeling comfortably supported should be your top priority if you have flat feet.
One of the things that lead to injury for many runners with flat feet is overpronation, which is when the arch falls in causing the ankle to roll in as well, sending strain up to the knee and hip. The best running shoes for flat feet can help with this, so today we're going to look at what's recommended and what to look for.
As always, I'm also a big proponent of learning to do exercises that will help your body become stronger and not rely on the shoe to do things for you.
If you don't then over time you'll create new areas of weakness and only mask issues for a little while. Flat feet are one exception because it's usually a structural issue and not say weak hips.
I wrote a previous article with all the exercises and tips you need to know about running with flat feet. Today we're to diving in to my top recommendations from 7 different brands.
You're definitely going to find the right flat feet running shoes for yourself here! Let's just get a couple quick things defined before we talk about shoes.
What are Flat Feet?
Flat feet, also known as fallen arches, means that the entire sole of the foot touches the ground.
Studies indicate that approximately 27% of the population has flat feet, so if this is you, you're not alone! That's over 1/4 of folks out there.
Runners with flat feet tend to overpronate, which is when the foot rolls inward after landing. This sends strain up the knee and hip and can lead to injury.
Often this is felt in the ankles, knees and hips making running more uncomfortable.
Each time the foot rolls inward, it pulls the knee in pulling tendons, ligaments and joints out of alignment.
For this reason, it's important to pay attention to the type of shoes that are most suitable for flat feet. You could also look to a good running insole for support if you've found a shoe that you already love the feel of, but aren't getting enough support.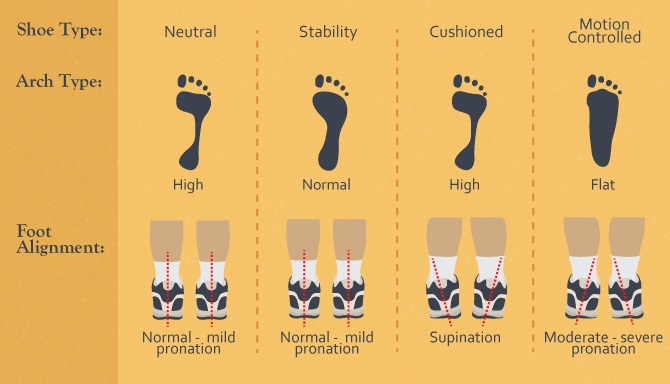 Types of Running Shoes for Flat Feet
There are a lot of different types of running shoes. But two that podiatrists recommend for runners with flat feet to help prevent pronation.
Stability Shoes
These shoes are great for runners with mildly collapsed arches or those with flexible flat feet. These shoes prioritize providing extended support for the foot arch, without being too rigid which can put stress on the feet and knees.
They're known to deliver sufficient arch support without the added stress, and more cushioning than a neutral shoe would offer.
Motion Control Shoes
These shoes are meant for runners who have severely fallen arches, or those with rigid flat feet. These shoes restrict improper movement when running and offer strong arch support.
They're known to help alleviate pain and discomfort by giving the most amount of stability needed to minimize arch flex and inward ankle rolling, as is the case with severe overpronators.
It's MUCH harder to find motion control shoes now. I generally do not recommend them to the majority of runners because they can  be stiff and feel like too much correction.
Running Insoles
As noted this is another really good option. In fact, David was resistant to changing shoes, but was starting to have Plantar Fasciitis issues and knee pain.
In testing a few different styles here is what we found: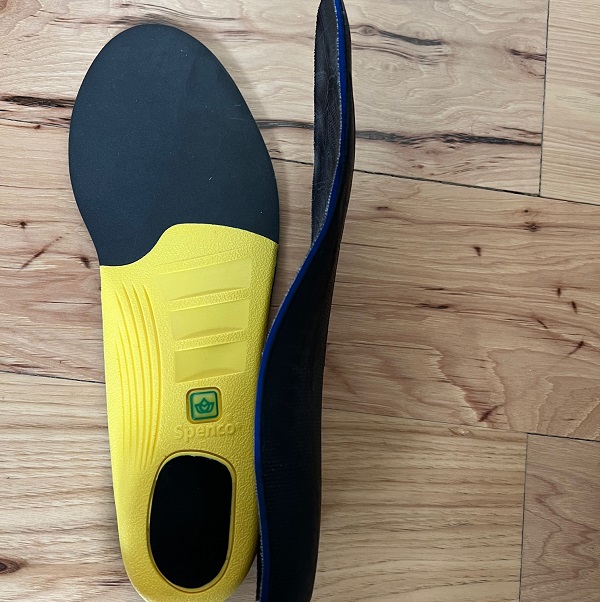 Why It's Important to Choose the Right Running Shoes for Flat Feet
We all want to be able to focus on enjoying our runs, and wearing the right footwear can help you do so by reducing pain and preventing injuries.
The best running shoes for flat feet are those that provide the necessary support and stability while also cushioning and protecting your feet from impact.
With the proper footwear, you can prevent overpronation. This happens when your foot rolls excessively inward during running, causing strain on your feet and legs.
The right shoes can not only help you avoid pain and injuries, but they can also help you run better. You may improve your running form and stride with the correct support and cushioning, which will make your runs more efficient and you'll enjoy them even more!
Investing in the proper running shoes can have a significant impact on your running experience. With a good pair of running shoes, you can hit the pavement with confidence and relish in the benefits of running.
Factors to Consider When Picking Running Shoes For Flat Feet
Here are some of the most important factors to consider when picking the right shoes for your flat feet:
Type of Flat Feet
Some runners have anatomically flat feet, while others experience 'collapsed arches,' when the arch collapses due to a lack of muscle strength. Even though the two can look very identical, the way you buy shoes for them is very different.
When it comes to shopping for a shoe for a flat-footed runner with collapsed arches due to muscle weakness, you can add arch support until the foot gets stronger and can support its own arch.
However, with an anatomically flat foot, arch support simply transfers tension to the knee, which can cause knee problems.
Before choosing a shoe, it's important to know what kind of flat foot you have and how it affects your knees, hips, and range of motion, in addition to your foot.
Level Of Support
There are three main types of running shoes to choose from, namely neutral, stability, and motion control shoes.
Neutral shoes provide no extra support along the medial edge, so these aren't a good option for flat feet. Stability shoes strike a balance between support and cushioning, and motion-control shoes offer great support and structure.
The design of motion control shoes places the foot in a more neutral position, allowing for a more efficient gait cycle when running or walking. These shoes are ideal for runners with severe overpronation.
But if your flat feet only cause you mild pain, you may want to choose a soft stability shoe that combines comfort and support. If you're unsure of how much support you require, it may be helpful to consult a podiatrist to determine how the anatomy of your foot affects you while you run.
Shoe Fit
Flat feet are frequently associated with wide feet because the lack of an arch puts more of your foot in contact with the floor, resulting in a bigger footprint. Many people who have flat feet can benefit from wearing shoes with a roomy toe box such as wide running shoes.
But you should still think about the shape of your forefoot, midfoot, and heel before buying a shoe. For instance, a significant amount of a shoe's support comes from the heel, which maintains contact between the sole of your foot and the shoe. So, choose a shoe with a tighter fit if your heel is narrow to prevent it from rising and falling with each step.
Cushioning
The fact that you have flat feet does not mean you should avoid cushioning, but a stiffer shoe will often work better for you. But still, there are some runners with flat feet who like shoes with more cushioning and shock absorption because it makes them feel better.
You might be able to figure out what you like by looking at the shoes you wear every day, or you might have to try out different kinds to find the right amount of cushioning for you.
7 Best Running Shoes for Flat Feet
It's important to not only know what type of flat feet you have, but to also consider how your entire body moves. This includes your hips, knees, and range of motion. If you only focus on the feet rolling in due to flat feet, but actually have week hips then you may find they continue to roll in despite adding more arch support.
My husband is someone with very flat feet. So I've spent a lot of time trying to find shoes that will help him feel best on the run. During my research, I've come across many shoes from different brands.
I absolutely recommend going into your local running store and trying on some shoes to see which one best fits your needs.
Asics for Flat Feet
I recently did a full review of the Asics GEL Kayano and here it is again as a long-standing winner. It's a favorite marathon training shoe and one that will help to provide you with the extra support your foot needs.
The Asics Gel Kayano 29 is known for its supportive, multi-density midsole and firmer foam through the arch. They're one of the best motion-control shoes with firmer medial (inner) and softer lateral (outer) midsole sidewalls.
Its DuoMax Support System is the perfect fit for you if you overpronate since the firm sponge layer in the midsole helps your foot land in a more neutral position.
If in the past you've found the Gel Kayanos to be bulky, then the 28th version is here to change your mind. It has a redesigned, three-layer midsole that feels soft, bouncy, and supportive but also lightweight at the same time.
The shoe has been designed to be a stability shoe for overpronators, but it's highly popular for high-mileage neutral runners as well.
29 is the newest model, but if you find an older one on sale go for it
10 mm heel drop
DuoMax® Support System doesn't add weight but does add support
See current prices at Dick's Sporting Goods (often older model on sale) >>
Checkout REI pricing (probably the most liberal return policy ever, you could take them back after 100 miles) >>
New Balance for Flat Feet
While New Balance is largely known for having extra widths to accommodate wider feet, they do have a great option for flat-footed runners as well.
The New Balance Fresh Foam 860  has a dual-density medial post in the midsole that helps with overpronation, which will stabilize your foot strike and help to keep you in better alignment.
A combination of hard and soft rubbers on the outsole of the Fresh Foam 860 imparts grip, while the firm midsole is useful at runs of a higher pace.
Their latest V13 delivers an identical ride to its V12 counterpart, with great improvements to its upper. It's now made of a single-piece mesh that's also embroidered for visual as well as functional effect.
The breathable mesh upper keeps your feet cool and secure, and the cushioning is second to none.
It's a stability running shoe that's surprisingly light. It has a stretchy, spacious forefoot and toe box which feels comfortable and not too loose or sloppy.
10 mm heel drop
Review: " have low arches on my feet so I tend to overpronate when I walk/run. With these shoes, my over-pronation is much less noticeable and makes my workouts a lot more enjoyable."
There are A LOT Of fresh foam numbered shoes, so note that the 880 is neutral cushion. The 860 is the stability option.
See current colors and pricing at Road Runner Sports (join VIP for instant discounts) >>
See pricing on Amazon (I'm seeing cheaper options, but returns may not be as easy) >>
Brooks Running Shoes for Flat Feet
Brooks has several running shoes that offer great stability including the super popular Brooks Adrenaline GTS, but specifically for flat feet, there's a lot of hype around the Brooks Beast.
The Brooks Beast 20 provides maximum cushioning and motion control to keep your feet stable without limiting your natural gait.
It accomplishes this balance by mimicking the curvature of your feet so that they're incredibly easy to slip on and feel spacious, seamless, and secure when you run.
It can be classified as a cushioned shoe with sufficient arch support, and a filled-up under-arch area or high midsole sidewall.
There is no medial post in these shoes, Instead, there is the Brook's GuideRails®, which are a set of raised barriers on either side of the midsole that support throughout to provide stability.
Its broad midsole provides plenty of support and the insole is thick enough to be replaced with a custom-made orthotic if that's something you're planning to do.
Its 12 mm heel drop makes it higher than others. I generally do not recommend shoes that are over 8mm because it leads to heel striking and IT Band issues. However, if you have Achilles issues it can be beneficial.
It's important to note that the Brooks Beast is probably not one of their most stylish shoes if that matters to you. Personally, I just want to stay injury-free, so I care very little about the look.
See men's available at Dick's Sporting Goods >>
See multiple models available on Amazon >>
Nike Running Shoes for Flat Feet
Nike doesn't make a lot of stability shoes, but they do have the Infinity React Run Flyknit and Zoom Structure. As someone who is on my 7th pair of the Epic React Flyknit, I can say without a doubt that the cushion in these is amazing.
The Nike Air Zoom Structure 24 has ditched the medial post that the 23 had, but is a support-oriented running shoe with a wide midsole and a snug-fitting upper.
It's considered a supportive-neutral running shoe and is best for runners that have flexible flat feet. When you want some support, but don't want to opt for stability or motion-control shoe.
The Nike React Infinity Run Flyknit 2 is an alternative to the Zoom Structure line-up and includes Nike's new guide rail system, which is very similar to the one Brooks has. My personal preference is towards a stability shoe that's softer like this.
It features midsoles with triple the density of most running shoes and provides runners with insole foam midfoot and a sturdy foam wedge at the heel. All this while still ensuring breathable mesh uppers.
It ensures that the feet are cool and dry, while still ensuring a secure fit. It includes Nike's waffle texture, which provides runners with solid traction on any running surface.
The React Infinity Run has a movement-responsive structuring of the front which provides flexibility in speed as well as comfortable cushioning without excess bulk.
8mm drop
Generally, find the best prices buying direct and they have a great try and return policy
They do run more narrow, so not ideal for a wide foot
Nike has a great return policy, so I like to buy direct. Then you can go for a few runs and return if it feels awful.
Saucony Running Shoes for Flat Feet
For many years I ran nearly every race in the Saucony Kinvara, which is the polar opposite of a stability shoe. It's a more low profile minimal shoe and yet I see many folks with low arches end up in a shoe like this. It might initially feel good to not have the arch support, but your body will thank you for picking a shoe with it.
The Saucony Guide often comes up for stability, but the Hurricane is going to provide you with the most support for flat feet.
The Saucony Hurricane 24 is the most well-cushioned and stable daily trainer from Saucony. It includes their premium foam and is an impressive shoe that combines plushness and responsiveness.
It has a form-fitting upper which feels like memory foam and helps
8mm heel drop
Great cushioned shoe (I love their cushion)
ISO option reduces weight of the shoe
Review: "Great comfort and cushion with good support to keep my arches supported and my ankle from rolling inward."
See current colorways and pricing available at Dick's Sporting Goods >>
See colors and pricing at Road Runner Sports (including the ISO) >>
Hoka Running Shoes for Flat Feet
The Hoka One One Arahi 6 is an excellent example of how stability shoes can still feel lightweight and responsive without feeling clunky or bulky.
If you're a runner with slightly wider feet, this might be the best shoe for you with its open construction and roomy forefoot section. It's definitely one of a kind when it comes to stability shoes with its lightweight construction and responsive cushioning.
Featuring a minimal design, the shoe provides plenty of midfoot stability and also extra shock absorption for flat-footed runners when needed. It's a breathable mesh upper makes it a great choice, and it has a low 5mm drop.
Its structured heel cup helps guide the feet through a smooth gait.
5mm heel drop
Love that Hoka's are by design providing more stability already, so they still give you plenty of cushion.
Available in wide width
Review: "

Fantastic shoes! I work at a hospital and my feet and back have never felt better.

."
Find current models and sizing at Dick's Sporting Goods >>
See current models on Hoka.com >>
Mizuno Running Shoes for Flat Feet
The Mizuno Wave Inspire 19 offers a great balance of moderate cushioning and stability. The 19 includes a wider platform and outsole that increases ground contact.
The design is sleek and includes a breathable mesh upper, which keeps your feet dry. The U4ic midsole feels incredibly smooth and allows for a stable ride with its impact-absorption capabilities.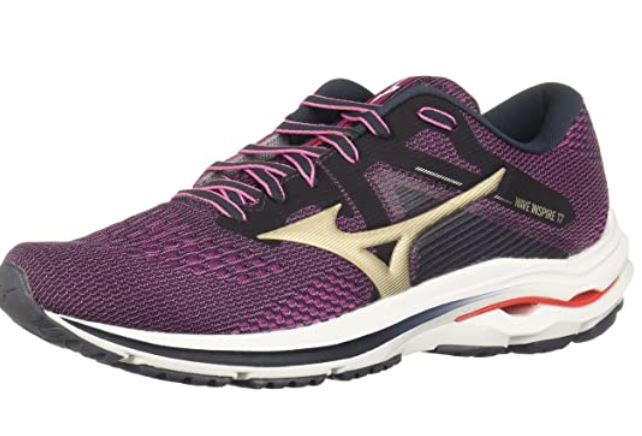 It's no wonder that the Wave Inspire is highly regarded for having stability benefits, being lightweight, and having a low profile. They're also considered to be one of the best trail running shoes for flat-footed runners.
The Mizuno Wave Inspire 19's full rubber outsole offers great high-mileage durability if you're looking into running in them over long distances.
12 mm heel drop (again not what I often recommend)
Mixed reviews on the amount of cushion
Review: "A lightweight and supportive running shoe. I've worn them for years."
See the current colorways and pricing at Road Runner Sports (earn points on all purchases!) >>
Checkout additional older models on Amazon to find different pricing >>
Remember that how a shoe feels is really important, so don't feel pressured into a stability shoe that feels awful.
Once you put on the shoe make sure your foot isn't still falling inward.
If it is, but you love the shoe, consider an insole.
Most places will let you take a shoe for a few runs and then return if you dislike it. Don't be afraid to do this!
All right there you have some of my top picks for flat feet running shoes. I hope this gives you a place to start your search.
Don't be afraid to go to a running store and run around the block! Or truly checkout the return policy for many places. You will often be surprised to find that you could take them out for a couple runs and then return them because you don't like the way they feel.
Looking for more running shoe info?
Other ways to connect with Amanda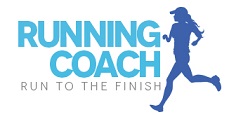 Instagram Daily Fun: RunToTheFinish
Facebook Community Chatter: RunToTheFinish
Sign Up to Receive a Weekly Newsletter with Top Running Tips and Laughs