One of the things that leads to injury for many runners is overpronation, which is when the arch falls in causing the ankle to roll in as well and sending strain up to the knee and hip. The best running shoes for flat feet can help with this.
As always, I'm also a big proponent of learning to do exercises that will help your body become stronger and not rely on the shoe to do things for you.
If you don't then over time you'll create new areas of weakness and only mask issues for a little while.
Flat feet are one exception because it's usually a structural issue and not say weak hips.
Best Running Shoes for Flat Feet
My husband is someone with very flat feet, so I've spent a lot time trying to find shoes that will help him feel best on the run. In general, you'll be looking for shoes labeled stability.
I absolutely recommend going in to your local running store and trying on some shoes.
The high arch may feel a little weird, but remember it's correcting what your foot is not doing on its own.
Asics for Flat Feet
I recently did a full review of the Asics GEL Kayano and here it is again as a long standing winner. It's a favorite marathon training shoe and one that will help to provide you with the extra support your foot needs.
27 is the newest model, but if you find an older one on sale go for it
10 mm heel drop
DuoMax® Support System doesn't add weight, but does add support
New Balance for Flat Feet
While New Balance is largely known for having extra widths to accommodate wider feet, they do have a great option for flat footed runners as well.
The New Balance 860 has a dual-density medial post in the midsole that helps with overpronation, which will stabilize your foot strike and help to keep you in better alignment.
Also has their fresh foam system which keeps the shoe light with some cushion.
the V11 is just being released, which means great deals on the V10
10 mm heel drop
Review: "

have low arches on my feet so I tend to over pronate when I walk/run. With these shoes my over pronation is much less noticeable and makes my workouts a lot more enjoyable."
Brooks Running Shoe for Flat Feet
Brooks has a number of running shoes that offer great stability including the super popular Adrenaline GTS, but specifically for flat feet there's a lot of hype around the Brooks Beast.
12 mm heel drop makes it higher than others, which is good if you have ankle or achilles issues, but can also lead to heel striking
One of their most cushioned shoes
GuideRails® support throughout to provide stability
Probably not one of their most stylish shoes if that matters to you (personally I just want to stay injury free so I care very little about the look)
Nike Running Shoes for Flat Feet
Nike doesn't make a lot of stability shoes, but the do have the Infinity React Run Flyknit. As someone who is on my 5th pair of the Epic React Flyknit, I can say without a doubt that the cushion in these in amazing.
8mm drop
Generally find the best prices buying direct and they have a great try and return policy
They do run more narrow, so not ideal for a wide foot
Saucony Running Shoes for Flat Feet
For many years I ran nearly every race in the Saucony Kinvara, which I feel like is the polar opposite of a stability shoe.
The Saucony Guide often comes up for stability, but the Hurricane is going to provide you with the most support for flat feet.
8mm heel drop
Great cushioned shoe (I love their cushion)
Review: "Great comfort and cushion with good support to keep my arches supported and my ankle from rolling inward."
Remember that how a shoe feels is really important, so don't feel pressured in to a stability shoe that feels awful.
Once you put on the shoe make sure your foot isn't still falling inward.
If it is, but you love the shoe, consider an insole.
Most places will let you take a shoe for a few runs and then return if you dislike it. Don't be afraid to do this!
How do you know if you have flat feet?
When standing without shoes, you'll notice that your arch is touching or very nearly touching the floor. This could simply be how your feet have always been, could be caused by an injury or in some cases fallen arches are sign of muscle weakness.
Just because you don't have pain, doesn't mean you can ignore it.
Can you run with flat feet?
Absolutely! But you 100% need to pay more attention shoes and insoles than a lot of runners.
Running with flat feet can lead to:
Knee pain
Ankle pain
Foot pain
Shin splints
Basically a boatload of injuries because that inward pressure on the foot is changing the line of your leg with every single step that you take.
Tips for Running With Flat Feet
People with flat feet are unfortunately more prone to injuries as we note above.
If you can see a Physical Therapist, you'll get some incredible information about how YOUR foot works and understanding your mechanics. That allows you to know if you have rigid flat feet and need more stretching or to get custom orthotics because you've already started noticing pain.
There are a few primary things that can help:
Choosing the right running shoe
Completing exercises to strength your feet CONSISTENTLY (see below for ideas)
Maintaining a healthy weight to reduce pressure on the feet (our shock absorbers)
Vary the surfaces you run on, giving your feet a relief from pavement only running
Additional strength of the ankles, hips and glutes to provide more stability
Stop running through pain – it's not ok! Instead, commit to the work to fix it
Flat Feet Running Exercises
To prevent injury, our goal is additional strength in the arch, ankles and of course up the leg.
Tennis Ball Foot Strength
While I usually go for a PT ball, you want the slight flex of the tennis ball.
You can also do these three movements daily, start sitting and move to standing to increase pressure.
Place heel on ball and push down (up to 1 minute)
Place toes on ball and curl it towards you (1o reps)
Image from Paleo Plan.
Toe Yoga for Runners

This was one of the first things that I had David start doing when his flat feet were giving him issues.
Sitting or standing, try focusing on raising each toe one at a time independent from other toes
Biggest one to make work is the big toe
You can also put a towel on the ground and grab it with your toes, scrunch and release
Stair Calf Raises
Great to add in before or after runs, 10-20 reps per leg.
Standing with heel off the back of a stair, you'll lower the heel down and then raise up on to your toes.
This is a single leg exercise
You want to go slow for full range of motion
After finishing the movement, go in to a long hold calf stretch. Up to 1 minute of pushing the leg straight back with leg in front bent (think a yoga pose).
Core Focused Strength
From here you need to ensure you have hip, glute and ab strength (aka your core)!
Looking for more running shoe information?
Other ways to connect with Amanda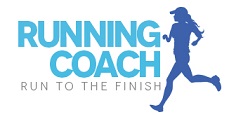 Instagram Daily Fun: RunToTheFinish
Facebook Community Chatter: RunToTheFinish
Sign Up to Receive a Weekly Newsletter with Top Running Tips and Laughs