When it comes to finding the right running shoe for wide feet, it can feel like a never ending hunt. But a seriously important one. If you've been dealing with blisters, bunions or other foot pain these wide running shoes might help.
A wide shoe has more room throughout the entire width of the shoe. Where a wide toe box is focused on increasing the space for the widest part of your foot, known as the ball of your foot.
The difference does matter, as we're looking to find that great fit where you foot doesn't slide around, but as enough room to spread out.
How to Know if You Have a Wide Foot?
You may simply know based on the comfort of many shoes, but there are also measurements that determine foot width.
From the example below, you are going to measure at point B. The determination of a wide foot actually changes based upon the length of your foot as well.
For example, a women's size 8 at 3.95″ is wide and 4.3″ is extra wide.
A men's size 8 is considered wide at 3.9″.
There's absolutely nothing wrong with having wide feet. But now the goal is to find shoes that FIT WELL.
Do You Need a Wide Running Shoe?
As noted above, most of us could get some benefits out of having more space for our toes. But there are a few clear signs that you really should be looking in to a wider running shoe.
Or you may simply discover that a regular running shoe doesn't give you the room that feels good. This could be because you have wide feet or that the additional space around your toes simply provides more proprioception (feeling the ground).
If you're not sure whether or not you need running shoes for wide feet, it's always best to consult with a doctor or podiatrist. They'll be able to help you figure out if you have any problems with your feet that require a wider shoe.
Issues With A Shoe That Is Too Wide
While running shoes for a wide foot can be great for people with certain foot problems, it's important to make sure that the shoe isn't too wide.
If a shoe is too wide, it can cause blisters and other issues. This is because your foot has too much room to move around in the shoe and as a result creates the friction that leads to blisters or even chaffing.
Make sure that you try on the shoe and run around in it before you buy it to make sure that it's the right fit. Or order from places that have awesome return policies (generally directly from the brand, REI, Zappos).
What Running Shoe Comes in Wide? Our Top 3 Picks
Before diving in to specific shoe models, there are a few brands that have a lot more options to fit the wider running foot. I want to cover these first so you can look at additional models if needed.
Each of these plenty of room and extra wide sizing so your toes don't feel cramped.
Altra boasts its Altra FootShape toe box that allows the toes to fan out naturally while the big toe remains in place. This gives your toes the space they need and allows the foot to naturally stabilize unneeded pronation.
In other words, instead of tapering like a traditional running shoe the Altra shoe remains more rounded for the toes to lay in a more natural position. Mimicking your barefoot posture.
It is important to understand that Altra shoes have a zero-drop platform, meaning that when wearing the shoes, your heel and forefoot are at the same distance from the ground making it a neutral shoe. For some runners, it easily lines up with their natural gait, but it's not everyone's thing.
Hoka running shoes are great for runners who need wide width shoes.
If you tend to feel like shoes are tight on you, Hokas may definitely be worth a try. While the normal shoes generally seem to be a bit wider and certainly have a bigger toe box, Hoka also offers all of their key running shoe models in wide widths.
It's a great idea to test these out in a running store and see how both the regular and wide width feel on your feet.
New Balance has been offering wide widths in their shoes for pretty much forever. They offer different widths for their models of shoes so you can find one that works for your feet especially if you have a wide midfoot.
In fact, they are some of the most expansive when it comes to offering a variety of widths from 2A narrow to 2e and 4e wide.
12 Best Running Shoes for Wide Feet
There are a lot of factors to consider when you're choosing a new pair of running shoes. If you're looking for a pair with a wide toe box, these are our 7 picks for the best running shoes you can buy right now.
We've looked at some of the best brands and shoes so that you can be sure that your feet will be happy no matter how far you run.
When you need that shoe with enough cushion to get through a lot of weekly miles, the Triumph is a great choice. It won't say it's the lightest or maybe most breathable of all my running shoes, but I enjoy it.
In fact, I included this is my best treadmill running shoes. With a slightly higher drop at 10mm, that's actually a benefit on the treadmill to help the Achilles not stretch as far. Combine that with a cushion that feels fantastic, but doesn't deaden your step and it's a winner.
Neutral running shoe
Wide available
10 mm heel drop
Max cushion
9.7oz men's, 8.6oz women's
$140
Best Lightweight Trainer  – HOKA Mach
We already mentioned Hoka's ability to build a shoe that is comfortable for a wider fit.  If you like a lighter shoe with that slight rocker to help you feel speedy, then this is a winner for wide feet.
The men's version offers a wide selection, but you'll notice even the women's regular fit is a bit roomier than traditional running shoes. Keeping this shoe light and quick was their goal, so while you have a padded heel collar the tongue is just a thin material.
In some shoes I found that problematic, but this is soft and pliable so no issues with it digging in to the foot. I tend to like a tad more cushion for longer runs, so that's why I've listed this for speed sessions or those 3-5 mile days.
Neutral running shoe
Wide available only in men's
5 mm heel drop
Least cushion (designed for speed)
8.2 oz men's, 6.8oz women's
$140
For over a decade now I've been running in the Saucony Kinvara. It used to be my go to half marathon racing shoe even!
Having tested it from model 1, I can definitely say that I didn't love 7-9, but am back on board with the 13.
If you like minimal cushion (but still feels like cushion) this is a top choice. Honestly mine are too dirty and broken in to make a nice photograph now, ha!
Neutral running shoe
Wide available in men's and women's
4 mm heel drop
Least cushion (designed for speed)
7.2 oz men's, 6.2oz women's
$120
New Balance's Fresh Foam is every bit as lovely as it sounds. These shoes feel fabulous when you slip them on and yet maintain good responsiveness. In fact, I've been running A LOT of miles in the 1080 model and recommend it frequently as well.
With a roomy area for your mid-foot, it still has a good heel cupping to help prevent your foot from sliding out. This is a maximal road shoe, meaning it has a higher stack height from toe to heel. If you've never run in a shoe like that, trust me within a few minutes you don't notice anything different (except the great cushion here!).
That taller stack height provides a slightly wider base and more stability without in anyway being a stability shoe.
Neutral running shoe
3 mm heel drop
Available in regular and wide, but not extra wide
Max cushion, maximal shoe
10.4 oz men's, 8.4 oz for women's
$149
Also Great Max Cushion for Wide Feet – HOKA Bondi
I feel like I would be remiss to not include the Bondi in this list! Not only is it the plushest shoe that I've ever run in over the last 20 years, but it comes in wide widths!
Particularly for runners who do a lot of walking or know they've struggled with joint pain from long runs, I think this can be a really comfortable option. But you need to know your body! Some folks like a little more firmness in their ride to help maintain good form.
I love these for my recovery runs or anytime I'll be standing around a lot.
Neutral running shoe
4 mm heel drop
Available up to 4E in men's, D in women's
Max cushion, maximal shoe
10.4 oz men's, 8.9 oz for women's
$165
Cloudflyer running shoes are known for their comfort and style. They feel super nice on your feet, due to their soft cushioning, but they also have the stability you need. Having run in these, I'd label them as a firmer shoe providing more support and less of that plush cushion.
Great if you need some additional stability or arch support.
The wide version of a Cloudflyer shoe still has all the luxuries but is constructed 4mm wider than the regular fit. It might sound like a small amount of difference, but your toes will thank you the very first time you go for a run in them!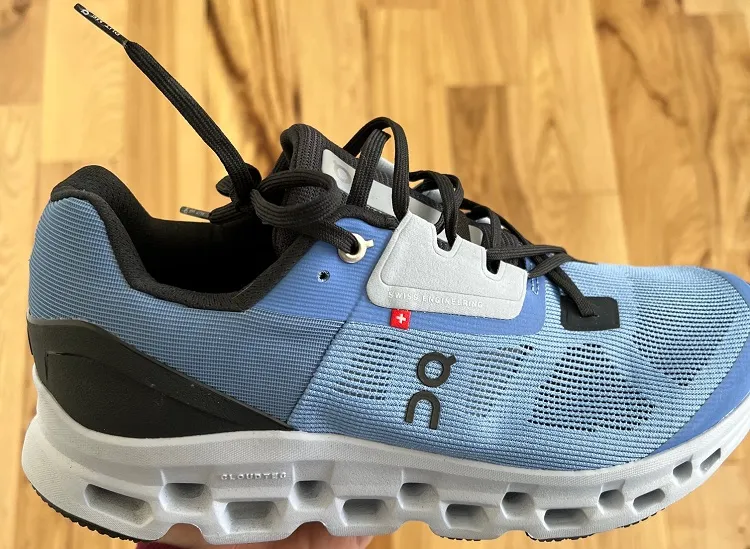 Stability running shoe
7mm heel drop
Moderate cushion
14.8 oz women's
 $159.99
Best Traditional Running Shoe for Wide Feet – Asics Gel Nimbus
While I often tell runners to steer clear of shoes with a heel drop over 10mm, the truth is that some of you have LONG run in that and love it. Or others have Achilles issues and it really is beneficial to have that drop.
So if you fall in that category, then the Asics Gel Nimbus is often recommended by your wide foot running counter parts. It's one of the only shoes on this list that I've not tested because it's simply not a shoe that I would enjoy at that high heel.
This is going to be a great cushioned shoe that will take you though a lot of miles.
Neutral running shoe
13mm heel drop
Available up to a 2E width in men's, wide in women's
Max cushion
10.8 oz men's
 $159.99
If you're a trail runner and need a wider shoe, Brooks Cascadia has got you covered. It is an extremely protected shoe so you don't have to worry about your feet getting banged up on rough terrain, while remaining light and agile.
I used these on all the trails when we first moved to Colorado!
They're also built for distance meaning they won't wear down on you. Trail runners need shoes that offer stability and comfort whether their feet are wide or narrow. Cascadia delivers.
Stability running shoe
8mm heel drop
Moderate cushion
12 oz for women's
 $160
Runner Up Trail Runner for Wide Feet: HOKA Speedgoat
I'm trying to give you a variety of brand options in case you already know you don't like a certain type. But I have to include the Speedgoat because it's a favorite of mine.
I've put a lot of trail miles on this shoe and it can take it. From easy trails, to more technical you'll have plenty of grip and great cushion to make the miles comfortable.
Some folks dislike the max height because there's less connection to what's underfoot. I've never had that issue.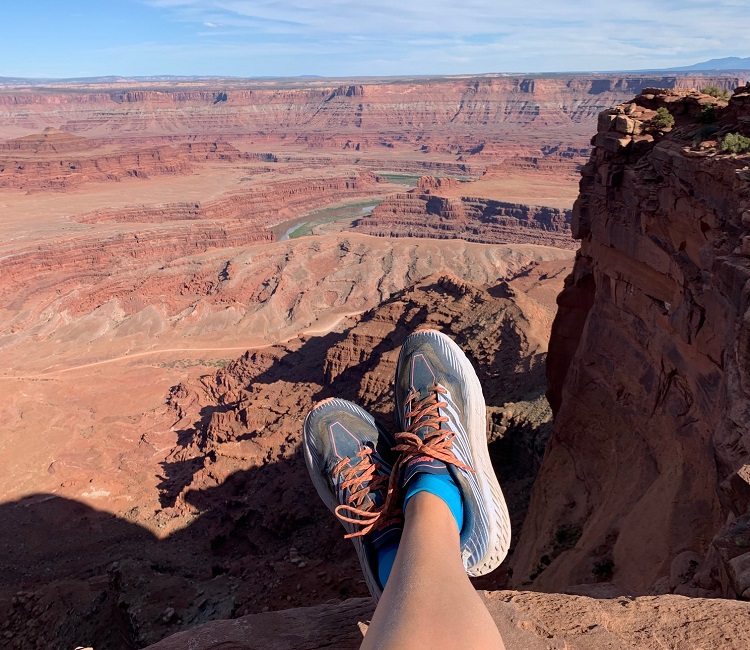 Neutral running shoe
Available in wide width
4mm heel drop
Moderate cushion
8.5 oz women's. 10.3 oz men's
 $155
The Nike Pegasus line is a popular line of running shoes and for good reason! The Nike Pegasus Trail is great for trail-to-road running.  Its durability allows it to perform well on both surfaces and looks super stylish as well.
My husband has been using this shoe and with his flat feet, it's felt like a really great ride. It remains comfortable for your wide feet even for long trail, marathon, or ultra training runs.  All of this while still offering a quick ride so you can keep up that speed!
Neutral running shoe
9.5 mm heel drop
Maximum cushion
9.2 oz for women's
$130
Note just started testing the Altra Olympus max cushion and I absolutely think it's even wider! But it's a big stack height.

We know I'm not a big stability shoe person and yet these don't feel like a stability shoe at all. I think it's because they have a good amount of cushion and aren't stiff. Technically the Altra Torin is their neutral model, but I don't like the tongue on the current version so I'd rather direct you to this shoe which I do enjoy.
I've taken these out for quite a few miles now and surprised myself by finding my calves didn't scream. I think a good sign that I've been rotating through a large variety of heel stacks.
This is one that I'd recommend if you've been considering a stability shoe, but aren't going to let up on all the hip, glue and core work that will make sure you aren't relying on the shoe.

10.1 oz. Men's / 8.3 oz.  Women's
Zero drop model
Highly cushioned with more of a maximal shoe style
Designed for the road, but the outsole would do great providing grip on basic trails
Available now for $140
See a comparison of Altra Running Shoes >>
Many experienced trail runners swear by their Salomon Speedcross shoes. The Salomon Speedcross Wide takes everything we already loved about the Salomon Speedcross and adapted it to a wider shoe.
This shoe prides itself on its push-off and braking grip on all types of surface conditions. It cradles your heel, making it both comfortable and stable, but also giving a clean foot strike.
Stability running shoe
10 mm heel drop
Moderate cushion
11.3 oz for women's
 $130
Hopefully this helped provide you with more understanding about wide toe box running shoes and wide running shoes in general. They really can be more comfortable for many runners and are just worth seeking out.
Looking for additional running shoe information?
Other ways to connect with Amanda
Instagram Daily Fun: RunToTheFinish
Facebook Community Chatter: RunToTheFinish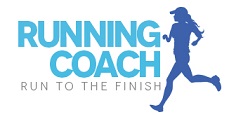 Sign Up to Receive a Weekly Newsletter with Top Running Tips and Laughs