I've been on a gear testing streak lately, which lead to 4 new pairs of running shoes that are white or probably some fancy color like ecru or eggshell. They are beautiful and also going to immediately look like trash, so how do you clean running shoes?
Can you toss them in the washer?
Do we even need to clean them?
Beyond our white shoes, let's just talk about taking care of our running shoes shall we? They aren't high maintenance, but it can be worth a little bit of time to make that $150 investment last as long as possible.
How To Clean Your Running Shoes
Let's talk about some practical tips we can put in to place that also WILL NOT compromise the shoe.
Let's start with the biggest tip there is:
Do NOT Put Running Shoes in the Washing Machine
I'm sorry. I know it's the easiest option.
But that long duration in water is going to soak in to the adhesive, plus they're going to be banging all over and if you wash them in hot water breaking down the parts faster.
Dry Brushing
Step one is often to let them completely dry, which is when the mud will finally solidify so that you can get large clumps off.
Start by banging the shoes together, super technical.
Then move on to using a soft brush to clear out any remaining large pieces that are stuck to the sole of the shoe or along the sides. If you've been enjoying the trails, that's likely everywhere.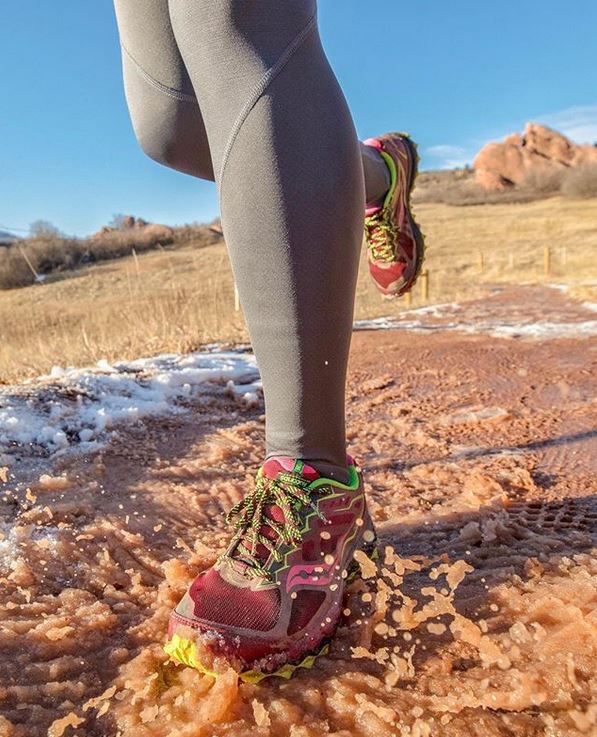 Hand Washing In the Sink
With any large debris removed, it's time to wash your running shoes. It's not a complex process, but it does require you to hand wash.
Fill the sink or a bucket with warm water and add a TINY drop of detergent (soap and water are magic)
Remove the insoles and laces
DO NOT drop your shoes in to the water
Grab that SOFT brush or toothbrush, dunk that in the water and start to scrub along the outer sole of the shoe to clean off any remaining dirt. You'll want to use the brush on the heel, toe and any rubber part of the shoe.
Do NOT SCRUB, just brush. We don't want to breakdown the material, just loosen and remove the dirt.
You can use the toothbrush or a sponge to then scrub along the outer fabric of the shoe
Obviously if you have a shoe that is leather or suede, unless it's been water treated, DON'T DO THIS. Why do I have to say that?!
Once you have finished wiping down your shoes, you can use the same process with your insoles and laces.
Again, we are NOT putting the insoles directly in to the water. Instead, scrub them with the sponge or toothbrush. And then wring them out.
Tips for Washing White Running Shoes
I know it's tempting, but don't touch that bleach. It will breakdown some of the outer coating and technical aspects of the shoe that keep it flexbile and breathable.
Mesh really picks up particles, so don't store them where you are tossing around other shoes. Give them their own special space.
Start by simply repeating the process above. Gently brush an area with fast strokes multiple times and see if that doesn't get rid of the issue.
If a stain remains. Mix a little bit of toothpaste, baking soda and water together then use that toothbrush to scrub any particularly bad areas.
Air Dry Your Shoes
Once again, don't you dare go near that washing machine or dryer. The heat will absolutely cause the adhesive to break apart and ruin your shoes.
Leave your shoes in an open space (awesome if they can sit outside on the porch for sun and a breeze)
Charcoal bags or crushed up newspaper inside the shoe will help with drying time and maintaining shape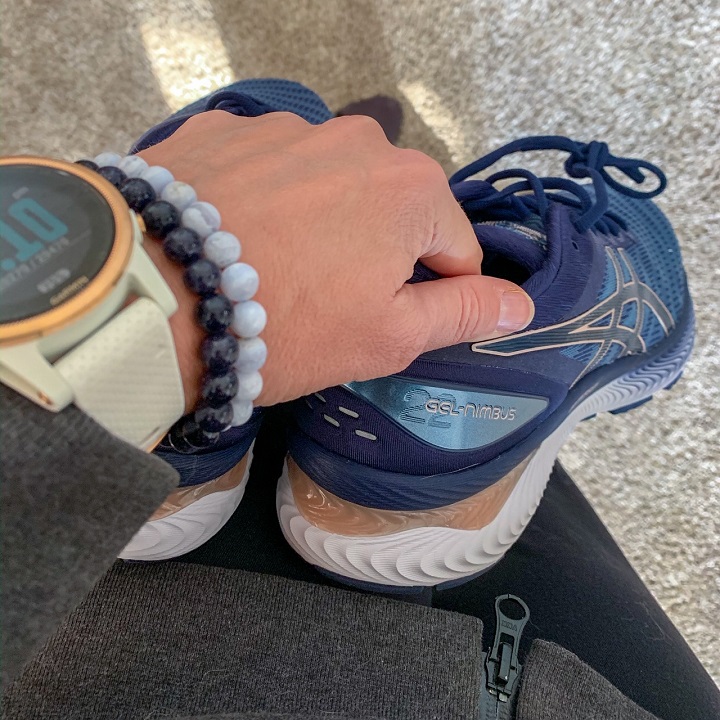 Removing Shoe Odor
If the reason you need to clean your shoes is more about odor than appearance, good news we've got tools for that!
Sprinkle a little baking soda in your shoes after each run and shake the shoe around to get it over the entire insole
Insert these charcoal bags in shoes (also helps with drying if you've been in the rain)
Storing Your Running Shoes
Does where you slap them down post run really matter?
Well, ya it kind of does!
You don't want to drop them off in the garage for more than a day. We know that with big temperature swings you will see some breakdown of the shoe.
Cold temps will actually breakdown the foam so it's no longer providing you the cushion or structure it should.
Super hot temps will as noted above breakdown the adhesive.
A dry place at room temperature allows all the materials to stay flexible and ready to perform.
After 20 years of running, I can tell you that to clean your shoes by hand is not all that hard.
It's also in my experience not all that necessary unless they've just gotten to be a crazy mess or you're enjoying this new white shoe trend!
Looking for more running shoe talk??
Other ways to connect with Amanda
Instagram Daily Fun: RunToTheFinish
Facebook Community Chatter: RunToTheFinish
Sign Up to Receive a Weekly Newsletter with Top Running Tips and Laughs