With almost 20 years of running under my fuel belt, it's really easy to skip over the important FOUNDATIONAL components of training. Or more accurately it's easy to do until we're injured then we start looking at options to keep us running pain free.
In fact, as little as 20 minutes a few times a week on base building work will ensure you not only run better, but stronger and longer.
Base building includes things like:
Today we're focusing on one of those areas…CORE. Which as you know is about so much more than just getting a six pack.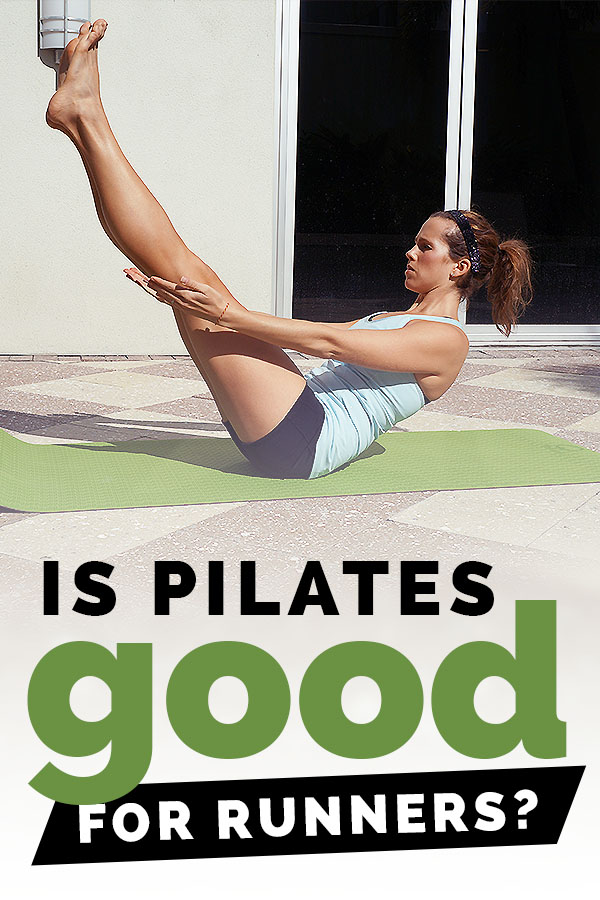 Is Pilates Good for Runners?
I think this quote says a lot about why we want to utilize something like Pilates no matter what sport we choose to play.
The cure for the wrong kind of core movement isn't to stop all movement, it's to learn the right kind of movement.

Pilates is a tool to help runners better learn to use their bodies and prevent injury. It can be done in place of traditional ab workout or as part of a strength training day.
Pilates can be done via a mat class (i.e. at home or in a group setting) or via a machine called the Reformer. I happen to really love the reformer, but those classes often get very pricey and thus I'm pretty content to rock the benefits at home for free.
What is Pilates?
As described by For Dummies: Pilates (pronounced puh-lah-teez and not pie-lates) is similar to yoga but emphasizes your body's core — the abdomen, obliques, lower back, inner and outer thigh, butt, and so on.
Pilates emphasizes proper postural alignment, core strength and muscle balance.
Created by Joseph Pilates in the 1920s, he actually wanted to call it Contrology, which better describes what you're doing. Through a series of movements, you are engaging your muscles to control the movements.
For this reason, Pilates develops much of what exercisers need — strength, flexibility, muscular endurance, coordination, balance, and good posture — with a much lower chance of injury than with other forms of exercise. The discipline emphasizes correct form instead of going for the burn.
Why Pilates for runners?
Great question, I am so very glad you asked!
My friend Jessica over at Pace of Me became a Pilates teacher after seeing the massive benefits it brought about in her training. Her words say it so well:
Because it has made me more self aware and stronger from the inside out. Because dedicating myself to Pilates has allowed me to run with more efficiency, more comfort, more strength and more confidence.
I wanted to be more fit and strong and I loved to run, but I found that when I would run long distances and get further into my training, my body would tire and my form would collapse resulting in injury and chronic pain.
My core was not strong enough and as I got tired it all just felt apart.
I would slump over and my back and shoulders would ache. With my shoulders hunched and my chest caved in, my breathing was then compromised and everything felt like such hard work.
My pace would slow often to a walk and I just felt like giving up and often did. It was not fun. Something had to change if I wanted to keep running and if I wanted to improve as a runner. I needed to commit myself to having a stronger core, to being more self aware.

Benefits of Pilates for Runners
Let's breakdown what she said a little bit further:
It provides a stronger core for better running form
It strengthens our hips and glutes to prevent running knee pain
It provides more muscle endurance, again for better form as we run longer
It protects our lower back which can hurt as we slump in long runs
It helps us build a more injury proof body
It helps us to run faster by working muscles that are often neglected
It teaches us how to control the motions of our body
It makes us more aware of good posture, which helps with breathing
A #Pilates inspired core workout to make you a better runner!
Click To Tweet
Pilates Workout for Runners

Here is an easy at home workout you can try, to get familiar with Pilates. These moves are going to force you to think about your core and posture.
If you're looking for more options to get acquainted while you workout at home, try these videos:
Have you ever tried Pilates?
Other ways to connect with Amanda
Instagram Daily Fun: RunToTheFinish
Facebook Community Chatter: RunToTheFinish
Sign Up to Receive a Weekly Newsletter with Top Running Tips and Laughs