It's dark, you can see your breath, you know it's going to take a few miles to feel your fingers and none of that is doing much for getting out from under the covers to go run. Cold weather running can either be the best or worst thing to happen to a runner's training! Especially, when it's a key time for running base building.
There's nothing wrong with an off season from running, but it's about how you use that off season.
Do you need some major recovery time or do you need to focus on building a more injury proof body?? Working on your improving your running form? Doing some of the things we all neglect like hip strength?
Winter is a key base training period for anyone looking to crush some race PR's in the spring or summer.
This is the time where you embark on what is lovingly referred to by running coaches as "maintenance mode" or "base training".
Especially, if you're asking when should I start training for a spring marathon…the answer is now.
This seemingly easy part of training, could be more important than any speed workout you do, as it sets you up to prevent injury and run strong!
This is another in the Road to a PR series. This time addressing the age old question of when to run and when to call in sick on your training plan and for how long.
What is Base Training?
For beginning runners it's the period of first putting together a consistent weekly plan and figuring out how to move from run:walk to more consistent running or simply finding a grove.
Meanwhile for long time runners, it's a chance to return to the basics and resolves a lot of issues from poor form to lack of strength training, which might be keeping them from hitting those big PR's. Which is why this could be considered either a plan for starting out or simply maintaining, while you get through the craziness of the holidays.
When to Start Base Building?
As for when you should start base training, I consider this a year round go to.
If you've got a specific race in mind, then give this at least 6-8 weeks before really going hard. But otherwise, look at base building as the perfect maintenance plan between races.
Which is to say I am often in base building mode for half the year! Which means I'm still doing plenty of running and training, but without race specific workouts.
How Long Should Base Building Be?
Duration: 6-8 weeks
Could be longer if your goal race isn't until summer, but this is a minimum time frame for a solid spring race to ensure you have the needed endurance and muscle strength to prevent injury.
You'll notice this plan is about far more than just a bunch of miles. The goal is to create a well-rounded body, so that when you enter intense training and may have less time or energy for other pieces, your body is primed to handle it.
Why your winter training is so important for a PR's in the Spring #runchat
Click To Tweet
Goals of a Running Maintenance Plan
Why are we even talking about this? Can't you just keep on running like normal?
Of course you can, but a good maintenance plan is going to set you up for a fantastic and HEALTHY year of running! Plus, many of you come to me saying that cold weather running throws off your normal training because you just can't predict it.
One of the biggest things we want to achieve during base building is a more efficient aerobic system. This means that your heart won't need to work as hard at a given pace and will be prepared when you start to add in speed or hills without overtaxing your body.
That's one of the major benefits to the Low Heart Rate training I espouse so often.
Here's what you should expect from a few months of base building workouts.
•Flexibility in training to allow for changes due to weather/life
•Improve running economy (making you more efficient at running)
• Correct muscle imbalances and minimize injury-risk
• Improve our breathing during running
• Maintain or improve body composition
• Improve mobility and stability
• Provide psychological benefits
• Improve endurance
• Prevent loss of muscle mass
A good plan is going to incorporate the trifecta of happy healthy running: strength training (knee strengthening exercises), cross training and easy running!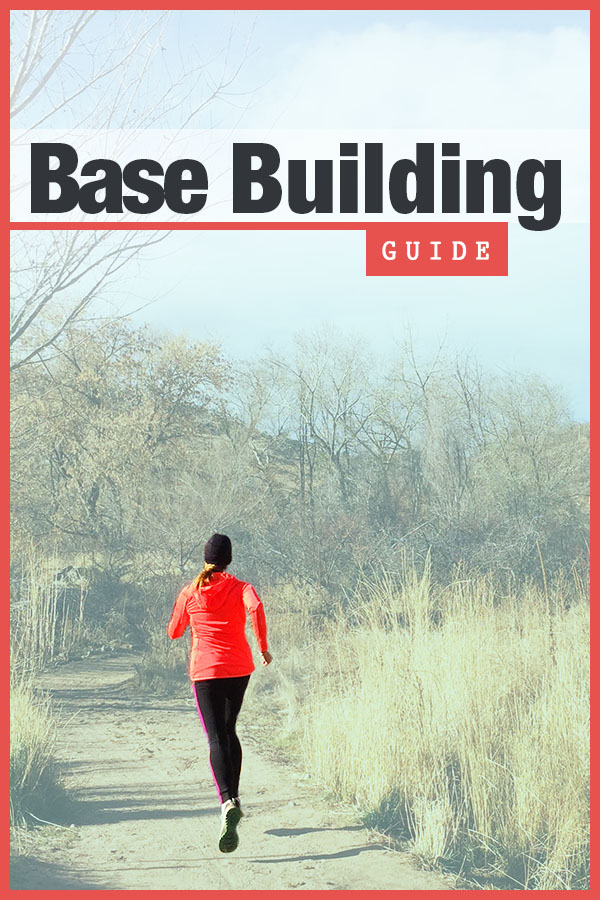 Since every runner is different and the mileage for a seasoned marathon runner, wouldn't match up to a new 5K runner there are no set rules for mileage, instead here are the guidelines for creating your running winter maintenance plan.
Of course since we are talking about winter running, make sure you checkout these tips for layering and my must have winter gear!
Base Building Running Plan
One of your big questions is what should a base building running plan look like. As any good running coach will tell you there are a lot of variables from your current fitness level, to time, to what you want to do!
I'll start off by giving you an example base building schedule and then we can dive in to each piece for you to best put together your 6-8 week plan.
Base Training Runs Have a Purpose

2-3 per week
Think back to the weeks 1-3 of a new training plan where the focus is easy runs, maybe some short hill workouts. Remember there is a REASON for keeping everything easy right now.
Generally no speed work
easy miles (use this perceived exertion chart if you aren't sure what easy means)
long run being usually half of your goal distance or less
Half marathoners might find 8-10 miles is their sweet spot for weekend long runs that feel easy and maintain endurance.
Much like LHR training, the goal of this phase in running is to build your anaerobic base. We want your body to consistently feel strong and that the same pace is requiring less effort over time.
At the end of this phase, you should be ready to add hills, speed workouts and tempo runs per a structured training plan.
Cross Training During Base Building

2-3 sessions per week
– Great time to test out some fitness classes or workout programs like Beachbody
– Increases your stamina in different ways by engaging other muscles
– Utilizes new muscles
– Do whatever you enjoy! Swimming, stair master, biking, skiing, snowshoeing (this is on my list!). It's all going to benefit your running in the long term.
Checkout the best cross training for endurance athletes>>
Strength Training Is Key to Base Training

2-3 sessions per week, often on the same day as a short run or cross training session. Here are a few different options and the benefits:
Heavy Weights
Unfortunately distance running can eat away at muscle mass, which is why many runners find themselves in the odd place of being fit and yet a bit fluffy. Heavier weights are going to help build the muscles that burn the fat, that keep us strong and get the "bodies" many runners desire.
Try 2 sessions a week of just a few exercises:
chest press
rows,
shoulder press
tricep pull downs
lunges
squats
deadlifts
Checkout our complete 12 week heavy lifting course for runners!
Lighter Weights
High rep weight training can benefit endurance runners because this is in effect another form of endurance. It's going to help you continue to pump your arms when tired during the final miles of a race and maintain good form.
Usually best as a full body workout, checkout this post with ideas for the most beneficial upper body moves. For a full body workout, include things like: Shoulder flys, tricep dips on a bench, push ups, bicep curls, IT Band Lunge Matrix + core.
Need more ideas?
Checkout our At Home Runner Strength Programs >>
What is base building? Find out how to do it right this winter #runchat
Click To Tweet
Yoga
Not only will you be surprised at the strength you can build, but you'll improve your breathing and learn how to work through discomfort, which will benefit you on the run.
You can either do an athletic yoga workout or go with a restorative session, in fact it would be best to do both!
You'll also get a ton of mental training benefits from slowing down.
Here are some key yoga moves for runners >>
Pilates
If you don't know yet that I think working your core is a KEY component of training…you must be new here. Pilates is an amazing way to build strength through a complete focus on utilizing the core, which doesn't just mean your abs. These moves are going to strengthen your hips and engage your glutes, which we know is a primary cause of injury in runners.
Learn more about it and an at home workout>>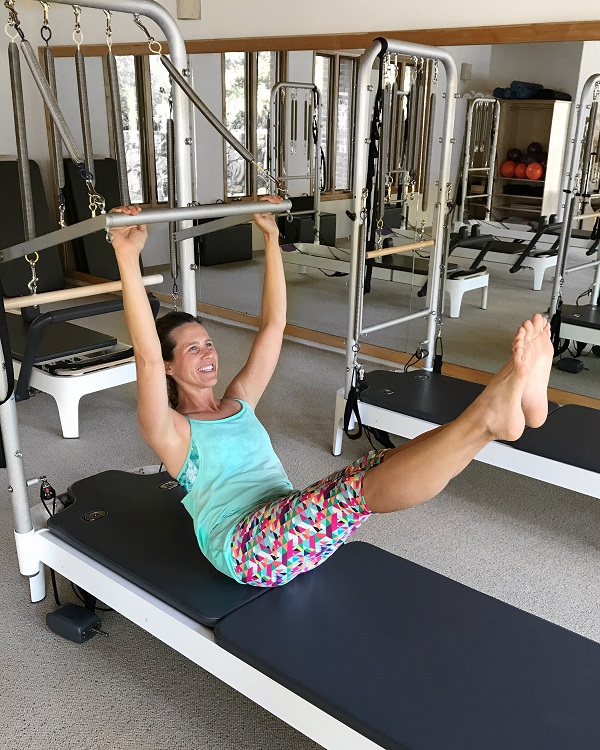 Treadmill Training Notes
Personally I love treadmill runs, so if icy roads or crazy summer temps push you indoors that's ok!
Incline
For easy runs vary between 0 and 1%, for hill workouts it's going to vary depending on what you are used to, but generally 3-4% for long inclines and 5-6% for quick hill springs.
Speed
You might feel like the treadmill is easier or harder than running outside. Some of this is mental and some of it is the consistent pacing provided by a treadmill, which many newer runners aren't used to.
For easy runs, play with the pace until you find a speed that feels comfortable (defined as something you could hold, it's not forcing you to breathe too hard and yet not so slow you could file your nails).
Read more about treadmill training to hit your next PR >>
Looking for more training tips:
Other ways to connect with Amanda
Instagram Daily Fun: RunToTheFinish
Facebook Community Chatter: RunToTheFinish
Get more running tips: Pinterest