As with most lessons that are learned the hard way, this one stung. It was a wake up call to my invincibility and eventually required me to put my pride to the side if I ever wanted to run healthy.
A few years after completing my first marathon (2007), a wave of friends began focusing on this new goal: Boston Qualifying. While speed had never been a particular goal of mine, I was simply focused on running longer and enjoying it more, I was swept up in their enthusiasm.
I dove head first in to speed workouts.
I focused on a time goal that was probably outside of my reach. But hey "dream big", right?
After a few months of these constantly intense workouts, I developed IT Band Syndrome.
My first injury was literally a textbook beginner case:
Too much
Too soon
Not enough cross training
Unfortunately, I did what many runners do with an injury. I continued to run, right up until I couldn't even walk, which lead to a 3 week hiatus from running in the month prior to my marathon.
In the years that followed that pain, I vowed to become a smarter runner.
To avoid injuries that were truly preventable (unlike my misfortune on the trails that lead to my meniscus tear).
But first…I had to really learn my lesson the hard way….
RACE DAY MAKES IT WORSE
As the weeks passed, I returned to running easy and lined up at the 2007 Rock N Roll San Diego Marathon ready to run against all the words of caution I'd received from experienced runners and my own better judgment.
Miles 1-12 flew by then we hit the graded incline to mile 13 and my IT Band began to scream. It wasn't whispering slow down, it was screaming "if you don't quit this very instant I'll make you pay".
But I'd trained for months, I couldn't possibly quit. So I began to walk. At first I was maintaining a 15 minute mile, but the pain continued to creep up and eventually I was limping along in an awkward half stride, half leg pull motion at a 22 minute mile.
I finished.
In the moment, I felt victorious. I'd pushed through and persevered. Isn't that what good runners do?
Turns out the answer is no, they do not.
They listen to the signals that their body is sending because it's never about just one race, it's about a lifetime of running. And as I learned that day pushing too far doesn't just mean one poor finish it means 3 months of no running and lots of physical therapy.
12 Lessons in Injury Prevention

1) Too Much Too Soon
That old adage is around for a reason, we have to give the body time to adapt to our new requests of it. Try not to get swept up in the excitement, instead focus on the long game and follow the plan or stick to the no more than 10% more mileage per week rule.
2) Know the Signals
Running discomfort vs pain – once you learn this it's easier to know when to stop and when to push.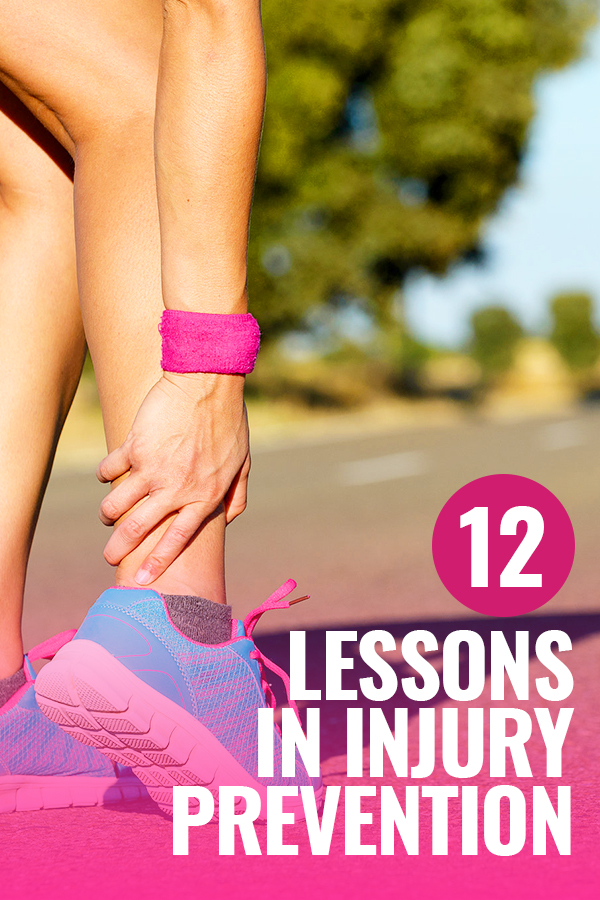 3) Physical Therapy
Turns out this isn't just for injuries, it's actually one of the keys to preventing it! PT focuses on ingraining good movement patterns and strengthening notoriously weak areas like the hips and glutes. 5 minutes daily of quick PT exercises can prevent injuries.
4) Warm-Up
Dynamic warm-ups are worth the time. Not only have studies shown it can allow you to run farther easier, but of course injury prevention by ensuring you're working with warm muscles ready to perform.
5) Extra Mile Benefits
I love to spend time thinking on long runs, but while I spent months walking for hours to recover I realized that it was a great time to get inspired, motivated and smarter as well! Audiobooks and podcasts are amazing ways to pass the time, especially on long runs it provides a different mental stimulus. For many staying injury free is tied to enjoying the process and this is one way to switch it up.
6) Mental Pain
During one of those podcasts, I learned about the idea of physical pain being caused by our thoughts and that has been a game changer. Read all about that here. But even without reading you know the difference your mindset can make on a run right? Imagine that on a bigger scale impacting you long term.
7) Slow is Ok
One of the other great things you learn during an injury is that it's important to enjoy all the miles. The slow one's, the speedy internavls, the hard one's, the one's you barely finish and the one's that prove runners high is oh so real. Slowing down on many of your runs means you aren't over taxing the body and can thus keep enjoying better speed workouts without injury or over training.
8) Foam Rolling
We all hate it…at least to start, then you begin to find some weird pleasure in the discomfort. Regardless, it's super important to take time after each run or at least at the end of the day to work a little on your muscles. Help to keep them loose, break up adhesions and tension. Here's a complete guide to help you do it right.
9) Cross Training
We only have so many hours in the week, so I know that especially at the height of marathon training it can feel like a burden to fit in cross training. Which is why we have to reframe how we think about it! Cross training should be focused on making you a stronger, faster, fitter runner. Thus it's still kind of all about running.
You can absolutely go the route of doing CrossFit with less running or you can opt to fit in 3 short 20 minute total body sessions each week. Both are going to make you a better and less injury prone runner.
10) Anti-Inflammatory Eating
One of the great things about running is that it tends to make you want to balance your pizza love with healthier options that will fuel your running. But a huge component is learning to eat in a way that helps your body recover quicker between sessions and that means anti-inflammatory foods, read all about it.
11) Form Checks
As we begin increasing our training distances, the body gets tired and it's really natural for our form to start to deteriorate. But as you begin to slouch or let your arms cross the body, it throws off your entire stride. This places extra stress on muscles in ways they weren't designed to handle which ulitmate leads to strains or overuse. Here a 4 super simple form tips to help you out.
These lessons have served me well over the last seven years and minus a few aches here and there, I haven't been sidelined for more than a few days at a time!
Running doesn't have to mean injury! 12 Lessons Every Runner Needs #runchat via @runtothefinish Click To Tweet
I know how hard too much, too fast, too soon is not to do as I've watched myself peel back runner after runner that I'm coaching from making the same mistakes. While the lessons I learned have helped me tremendously, they really are avoidable from the get go!
12) Run Because You Love It
I love running for the pure sake of running and sometimes that is all that matters. My pride may want the PR for all my efforts, but my heart prefers knowing I have a long running life ahead of me. And let's be honest when we put pride aside it's a lot easier to remain injury free.
What's the worst running injury you've had?
Did it make you a better runner?
Other ways to connect with Amanda
Instagram Daily Fun: RunToTheFinish
Facebook Community Chatter: RunToTheFinish
Sign Up to Receive a Weekly Newsletter with Top Running Tips