Heel pain after running is not something to be ignored. Also, don't immediately freak out because sometimes there is a pretty quick and easy solution. Instead, let's look at what small changes might help or when you need to hit the doctor for more advice.
Even as an experienced runner and coach, I chose to have a complete freak out when mine started hurting about 4 weeks before a race. I was ready to Rock tape my foot, put it in a bucket of ice, epsom salt bath and anything else I could think of. But since I was traveling none of that was available to me!!
What was available, a different pair of shoes. To my surprise the firmer pair of shoes immediately felt better and my heel pain was gone within a day.
Ahhh yes, a reminder to start with some basics before worst case scenario.
Is it normal for your heels to hurt after running? Short answer: It's common, but that doesn't mean it should be ignored or considered normal. Discomfort and soreness are one thing, but pain is your body's way of signaling that something isn't right.
Most Common Causes of Heel Pain After Running
Multiple factors could be causing your heel pain—from your running style and the surfaces you're running on to issues with footwear or even an underlying medical condition.
Let's first look at some of the prevailing issues and then what you can do to treat heel pain from running.
#1 Wearing the Wrong Shoes
You'll see this mentioned many times below because it can help with so many foot injuries. The wrong shoes can put extra stress on your heel bone and the attached tissues, leading to all kinds of injuries.
For example, a shoe with too much arch support can cause problems if you have flat feet. Worn-out shoes lose their cushioning and support, which can aggravate existing heel issues or create new ones.
Those are just a few examples of how the wrong shoes can cause pain and injuries. You'll see many others below.
Not sure which running shoes you should be wearing? Check out my complete guide to the different types of running shoes and how to choose the best ones for you.
#2 Plantar Fasciitis
Unfortunate, one of the most common foot issues for runners. If you've had it before, you definitely know the feeling: you take that first step in the morning, and it feels like a knife is stabbing you in the heel.
This condition is an inflammation of the plantar fascia, which is the thick band of tissue that runs along the bottom of your foot from the heel bone to the toes.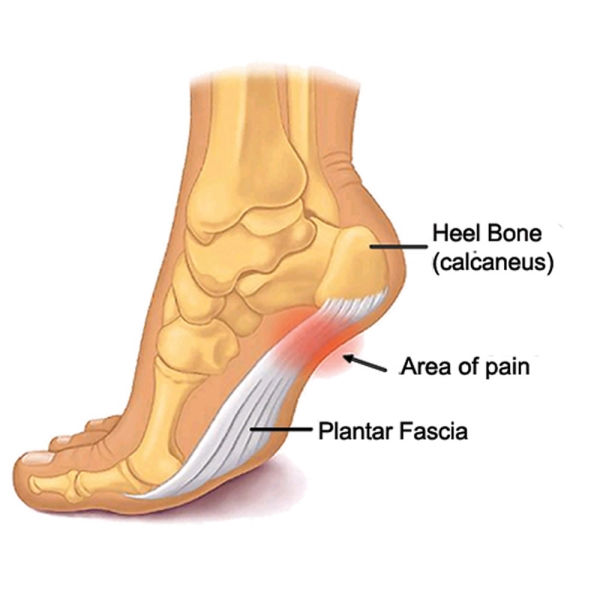 How do you get plantar fasciitis? Usually, it comes from repetitive strain or tension on this tissue. Activities that put extra stress on your heel and attached tissue, like running, can trigger it.
High arches, flat feet, or even your gait can also contribute to the problem. The pain often feels the worst first thing in the morning.
Does plantar fasciitis go away? Good news: it can if you take the right measures to treat it. Try some of the following as soon as you start noticing heel pain:
stretching
massaging the area
applying an ice pack after a run
taking anti-inflammatory medication
Read more about running with plantar fasciitis for tips and shoes >>
#3 Achilles Tendonitis
Achilles tendonitis targets the Achilles tendon, the strong fibrous cord that connects your calf muscles to your heel bone. And since this connects to your foot, it could indeed be the cause of heel pain after running.
Symptoms: It usually starts as a mild ache in the heel or along the in the back of the leg (where the tendon is) after running or other physical activities.
Don't ignore it. If left untreated, it can escalate and become more serious.
Achilles tendonitis is a common overuse injury. Pushing your body too quickly—whether it's increased distance, speed, or a sudden introduction to hill running—can strain the tendon and lead to inflammation. Unfortunately we're also seeing that some of the super cushioned plated shoes might aggravate this for some runners.
Your risk is also higher if you have tight calf muscles, worn-out shoes, or if you're running on hard or uneven surfaces. Like with plantar fasciitis, stretching and the right shoes can go a long way in prevention and treatment.
Read more on Achilles Tendonitis recovery and best shoes >>
#4 Heel Spurs
A heel spur is a small, bony protrusion under your heel bone. They're not always painful, but when they do hurt, it's usually a sharp, stabbing sensation.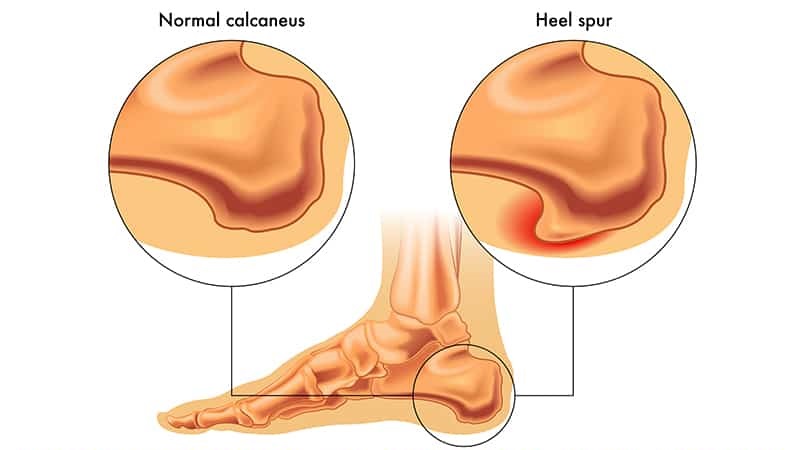 However in most cases, heel spurs don't usually cause pain themselves; they're often a symptom of other foot issues like plantar fasciitis.
They typically develop over long periods and are the result of prolonged strain on the muscles and ligaments in your foot. This strain leads to repeated tearing of the membrane that covers the heel bone, allowing calcium deposits to accumulate and form a spur.
Risk factors for heel spurs include obesity, running on hard surfaces, and—you guessed it—wearing ill-fitting or worn-out shoes.
#5 Retrocalcaneal Bursitis
This condition inflames the bursa, which is a small fluid-filled sac that acts as a cushion between the heel bone and Achilles tendon.
What triggers it? This condition is often caused by overuse, excessive friction, or pressure on the bursa, which can lead to irritation and inflammation. Running or jumping are common activities that cause it because they put repeated stress the heel.
Symptoms: Runners with retrocalcaneal bursitis may experience pain and tenderness at the back of the heel, just above the insertion of the Achilles tendon. The pain may worsen with activity, such as running, and can also be aggravated by wearing tight shoes.
#6 Pulled Muscle Arch
Sometimes it can be a pulled muscle in the arch of your foot that's causing your heel pain. Once again overtraining by increasing your mileage or intensity too quickly, could pull this muscle which is attached to your plantar fascia and thus creates heel pain.
Other possible causes are overstretching or straining the muscles, often through overuse or wearing the wrong running shoes, can lead to this condition.
Symptoms: An arch muscle injury in a runner may include pain or discomfort in the arch of the foot, swelling, tenderness, and a decrease in running performance due to discomfort.
The pain is generally felt in the arch but can also radiate to the heel. Rest, ice, compression, and elevation (the RICE method) can help treat a pulled arch muscle.
#7 Overuse Injuries
Runners are notorious for pushing the limits, making overuse injuries super common. Overuse injuries happen when you do too much too soon, or simply do too much of the same activity without enough rest.
Symptoms: Heel pain due to overuse injuries usually feels like a constant, nagging pain that gets worse with continued activity.
Often times you'll notice this all day and it doesn't quite sound like any of the bigger issues described. But over time, it can lead to other conditions like plantar fasciitis or Achilles tendonitis.
The best approach here is prevention: make sure you're wearing proper footwear, vary your running surfaces, and follow a training plan that includes plenty of rest and recovery. If you're already experiencing symptoms, consider reducing your mileage or taking some time off to recover.
#8 Stress Fracture
A less common but more serious cause could be a stress fracture in the heel bone. Unlike a regular fracture, which results from a single, severe impact, stress fractures occur over time due to repetitive stress.
The most common causes of stress fractures are running on hard surfaces like concrete or asphalt and using shoes that don't have the right support or cushioning. The pain starts as a minor annoyance but can quickly escalate into a sharper, more localized pain, especially during or after running.
The key treatment here is immediately seeing a medical professional. Depending on the severity, your healthcare provider might recommend a walking boot, crutches, or, in the worst-case scenario, surgery. If you do end up with a stress fracture, you'll definitely need to give running a break for a while.
What to Do If Your Heel Hurts When You Run?
How do you fix heel pain after running? First things first, don't ignore the pain; it's your body's way of telling you something is off. You may need to do some trial and error to figure out the best way to reduce heel pain, but here are some places to start.
Step one if you are having sharp pain is to see a doctor!!! If it's an ache that is persisting, also a great time to go see your Physical Therapist or Orthopedic Dr.
Stretches
When it comes to heel pain, stretching is a great first line of defense. Why? Issues like tight calf muscles can contribute to conditions like plantar fasciitis and Achilles tendonitis by putting extra strain on the heel.
Stretching and strengthening exercises can help alleviate this tightness and offer some relief. Easy to do at home, simple stretches like the runner's stretch or seated calf raises can make a noticeable difference. Incorporating these stretches after your runs can go a long way toward preventing heel pain.
Dr. Claire Morrow, a physical therapist and contributor to Forbes Magazine, explains how stretching and strengthening your calf muscles can help relieve pain from plantar fasciitis:
"The best exercises for plantar fasciitis include strengthening and stretching your calf muscles and the bottom of your foot. Stretching can be really helpful in managing plantar fasciitis pain," says Dr. Morrow. "Strengthening the calf muscles is also really important for long-term relief."
If you're not sure where to start, seeing a physical therapist can help guide you in the right direction.
Find the Right Running Shoes
The right pair of running shoes can make all the difference, especially for those prone to heel pain. A few key factors to consider are cushioning and arch support. Too little arch support can result in excessive strain on your heel, while too much can lead to other issues.
Always visit a running store to get fitted for shoes. The professionals at a running store can help you find the type of shoe best suited for your gait and foot shape. They can even perform a gait analysis to determine how you land and push off while running. And make sure you properly break in your running shoes, too!
Correct Muscle Imbalances
Muscle imbalances in your hips, knees, and ankles can all throw off your gait and contribute to heel pain.
An imbalance in your hips or knees can alter the way you land your foot, leading to an uneven distribution of pressure. This can exacerbate conditions like plantar fasciitis or Achilles tendonitis.
Strengthening exercises that target these imbalances can help get your body back into alignment. The exercises will depend on the specific imbalance you have, but they could range from hip flexor stretches to knee-strengthening activities like squats or leg lifts.
Try some of these exercises to correct muscle imbalances:
As always, if you're not sure what you need, a physical therapist can identify the imbalances and guide you through the right exercises to correct them.
Reduce Your Training Load
I'll say it again: pain is your body's way of telling you something isn't right. Pushing through the pain is rarely a good idea and can lead to more severe issues down the line. Sometimes the most effective strategy is to simply cut back.
Reducing your training load, either by decreasing your mileage or intensity, can give your body the breathing room it needs to heal. It might feel frustrating to take your foot off the gas, especially if you're training for a race. But a temporary reduction can help you come back stronger and, more importantly, pain-free.
Which Medicine is Best for Heel Pain?
When it comes to immediate relief, over-the-counter anti-inflammatory drugs like ibuprofen can help manage the pain and reduce inflammation. But keep in mind, they're not a long-term solution, and they aren't addressing the root cause of the problem.
Please don't use pain relievers to mask the pain so that you can run.
If heel pain becomes a chronic issue or interferes significantly with your day-to-day activities, it's time to bring in the big guns and consult a medical professional.
Can I Still Exercise with Heel Pain?
If you find yourself wincing with every step or struggling to walk, it's probably time to pump the brakes. Continuing to exercise with severe heel pain could exacerbate the issue and lead to long-term damage.
Ideally we want to get you off your feet as much as possible to limit additional inflammation. One of my athletes went through a severe bout of PF and we still go her to the Chicago marathon start line with smart training.
Switching to low-impact activities for a short period of time can help you maintain your fitness level while taking the stress off your heels.
Swimming is a great option here. It provides a full-body workout without the jarring impact of running, making it much easier on your heels. You could also try cycling.
If you're dealing with other foot pain while running, check out these articles:
Other ways to connect with Amanda
Instagram Daily Fun: RunToTheFinish
Facebook Community Chatter: RunToTheFinish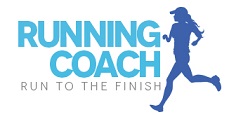 Sign Up to Receive a Weekly Newsletter with Top Running Tips and Laughs