Depending on where you live winter running shoes might just be your Fall, Spring and Summer shoes! That was certainly the case when I lived in Florida, but now in Colorado not so much. I need some traction and some weatherproofing to get me through the chill and the snow.
Having the right gear, particularly shoes, can make all the difference for runners facing challenging weather. I'm certainly not adverse to treadmill days when I just don't want to face it, but it can actually be a lot of fun to get out and enjoy all the seasons!
It's pretty easy to remember to switch out the clothing options. Obviously, most of us aren't going to head out in snowy, icy, and windy weather in tanks and shorts. We dutifully break out the varying layers, hats, gloves, and earwarmers.
But many people neglect to consider that switching to a shoe meant for winter running will not only make running more enjoyable, but safer too.
Keep reading to learn more about what to look for in winter running shoes and some of my favorite picks!
What to Look for in Winter Running Shoes
Whether you live in a more mild climate or one that's a bit colder, you're going to deal with a variety of weather conditions in the winter. I'm talking about cold temperatures (what's actually cold is up for debate depending on where you live), rain, snow, ice, and even mud.
Shoes that keep your feet dry and offer security and stability on tricky surfaces will go a long way in ensuring you continue to have fun on your runs and avoid injury. So what are some key features to look for?
#1 Type of Shoe and Tread
You can find plenty of options for winter running shoes regardless of whether you run roads or trails. But one of the benefits of a trail shoe for winter running, even on roads, is the more aggressive tread.
Like it does on trails, the tread of a trail running shoe provides more traction. This can come in handy when navigating snow piles and ice on sidewalks and roads. There are also shoes with built-in spikes that are really handy in more severe icy conditions (see below!).
Not sold on trail shoes for road running? Don't worry, there are plenty of winter road-specific shoes you can keep running in with modifications like screws. You can also get a pair of yak-trax or metal spikes to attach to your road shoes to ensure you have the traction you need to stay on your feet.
#2 Waterproof and Insulation
As I've mentioned, in the winter you're going to end up out there in snow, ice, wind, and rain. It's one thing to have wet feet in the summer, but wet feet in the winter when it's freezing will quickly have you wishing you'd just stayed home.
To avoid cold and wet feet, look for waterproof shoes. Shoes with GORE-TEX uppers are the most common option to repel water and keep your feet dry. This also makes the shoe warmer and is why we often don't wear it in the summer.
Please note that waterproof and water-resistant are not the same thing. Water-resistant materials may keep you dry to an extent, but you could still wind up with damp or wet toes!
Another thing to consider is insulation. As with waterproofing, shoes that are great for the other three seasons tend to allow for more breathability to keep our feet dry and hopefully blister free. You'll notice on some winter shoes that they'll offer more insulation to help your feet stay warm.
#3 Visibility
Since we're well past daylight savings time, the days have gotten woefully short when it comes to sunlight. This means you may be out in the dark for many runs.
Another feature to consider when it comes to winter running shoes is their visibility. Do they have reflective markings that can help cars see you earlier? Pair them with lights and reflective clothing and you'll be easier to see and safer.
#4 Shoe Coverage
A lot of summer shoes tend to be lower cut. This can be problematic on wet winter runs where you know you'll be in high snow because it can allow snow, rain and debris into your shoe. BRRRRRR.
Some winter shoes come with a higher profile around the ankles. They may or may not work for everyone. If higher cut shoes aren't for you, opt for some accessories like higher cut socks or gaiters to provide the coverage you need, especially if out on trails or in deeper snow on the roads.
One other thing I want to mention before we dive into shoe recommendations is to keep in mind your general running shoe needs. If you need a support shoe during the other seasons, make sure you look for winter running support shoes. Same thing if you wear neutral shoes. If you wear shoes with a wide toe box, don't go squeezing your feet into a more narrow style through the winter.
Lots to think about! But without further delay, let's get to the shoes!
8 Best Winter Running Shoes
While this isn't an all-encompassing list as there are simply too many shoes on the market, I'm confident there's a nice variety of options here with one or more shoes that will meet your winter weather running needs.
Best for Icy Runs
Icebug makes a number of winter running shoes. This latest pair is designed for road running and boasts a GORE-TEX upper and roomy toe box. It's a winter running shoe designed for extra comfort on even the longest runs. It's a great shoe for winter roads, gravel and city parks.
The integrated steel studs and the rubber sole allow the spikes to work independently and adapt to the surface you're running on. The shoes contain a surplus of studs to ensure that even if a few are lost over time, their overall function remains intact.
Waterproof
Rubber outsole with 13-19 dynamic steel studs
7mm heel drop
9.5 oz (women's)
Neutral
$210
Best for Hard Packed Snow or Ice
The Saucony Peregrine Ice+ is designed to help you tackle even the iciest of days. It's great for road and trail with its PWRTRAC ICE outsole for a strong grip. The shoe boasts a rock plate to protect against rough terrain underfoot too.
The shoes have softer PWRRUN foam cushions, a water-resistant upper, and its FORMFIT design hugs the foot.
I'm such a huge Saucony fan and yet…maybe another color? At least it's not white! Regardless, the Peregrine has been in my running shoe rotation off and on for a decade.
Water-resistent
Trail outsole lug height of 3.5mm
4mm heel drop
9.1 oz (women's)
Neutral
$150
Best for Trail Runs
The Hoka Speedgoat is a favorite trail shoe for many. Its winterized counterpart offers all the great features of its warmer season counterpart, but with a lightweight and breathable GORE-TEX bootie to keep your feet dry.
Pictured here is the original Speedgoat which has carried me over so many miles. The bonus to the GTX is that additional coverage and keeping those feet dry without losing the great fit.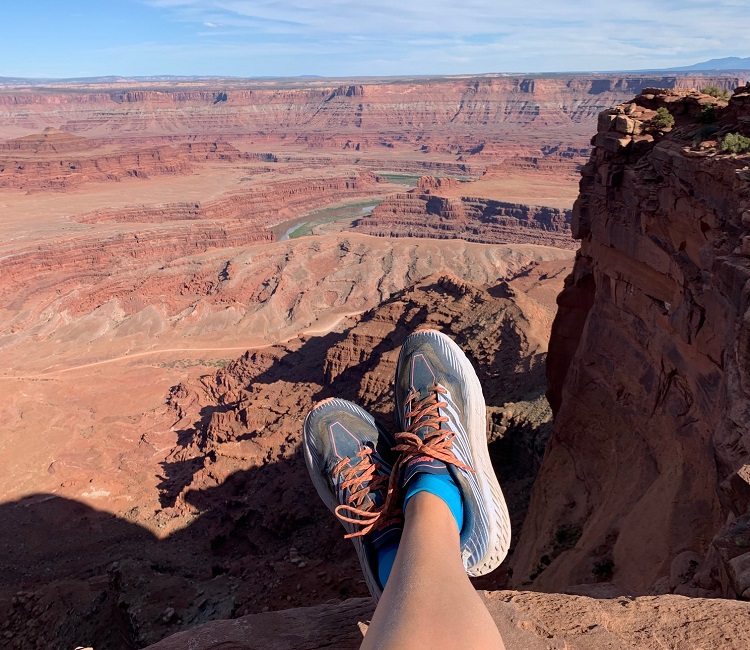 The mush upper is water-resistant and the gusseted tongue has strategic cutouts for additional breathability. The midsole is made of lightweight foam and while the shoe has plenty of protective cushion, it maintains a responsive toe-off should you want to pick up the pace.
While a trail shoe, it can also work on wintery pavement just fine!
Waterproof
Trail outsole lug height of 3.5mm
Maximum cushion
4mm heel drop
10.2 oz (women's)
Neutral
$160
Best Zero Drop Shoes
Altra is known for its zero drop shoes and the footshape fit, which means a nice wide running shoe. These shoes are definitely comfortable if you're a zero drop shoe regular!
Having run in the original, I'm super happy to recommend the winter version for a little more protection.
Similar to their classic Lone Peak trail shoe, the All Weather version has a weather-resistant eVent bootie, which while not waterproof, will help keep your feet dryer than a regular shoe and offers great breathability.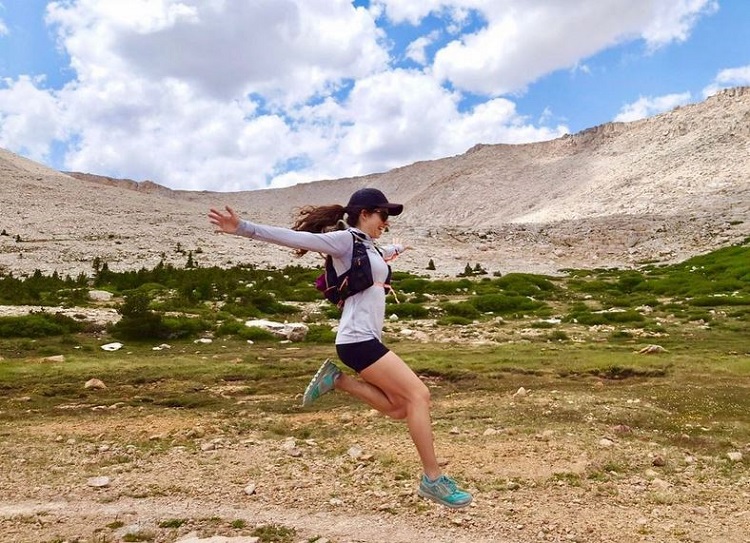 Ultra runner Camilla taking the Lone Peak on adventures.
The outsole, called MaxTrac, provides grip, traction, and durability regardless of whether you're on trails or snowy roads. The outsole also has Altra's canted Trailclaw lugs for added traction.
Weather-resistant
Moderate cushion
0mm heel drop
10.4 oz (women's)
Neutral
$170
Best for Snowy Roads
Brooks shoes are consistently on "Best Of" lists for a reason. Another great shoe for trail runners, the Cascadia will transition well to any snowy road.
While waterproof, they have tabs to make adding a gaiter for extra protection super easy. The shoe also has what they call a "Ballistic Rock Shield" to help keep out debris. They have added an extra 2mm of cushioning, but with its new DNA Loft v2 midsole, the cushioning is softer and lighter than previous models.
I've run in a few different models of this shoe and always found it really comfortable for a lot of trail miles.
While a lot of Brooks shoes have a pretty substantial heel drop of 12mm, these come in at only 8mm, so a nice middle ground between zero drop and your typical Brooks running shoe.
Waterproof
8mm heel drop
10.2 oz (women's)
Neutral
$160
It can be hard to narrow the list down, so here we are with a runner-up!
The Nike Pegasus Trail is waterproof with GORE-TEX so you can count on having dry feet regardless of the weather you encounter. The shoe also has a higher ankle gaiter for extra coverage.
My husband found these to be a great shoe for going from roads to trails, which is also a good sign for handling traction in the snow.
The Pegasus Trail has a durable and lightweight foam providing stability on even the rockiest trails. The traction pattern with rubber nubs provides plenty of grip whether you're heading up the mountain or down, but isn't too chunky for a seamless transition to the road.
Read my full review of the Pegasus Trail >>
Waterproof
8.5mm heel drop
9.75 oz (women's)
Neutral
$160
Best Shoes for Stability and Comfort
The Zegama's are known for their grip and stability and are ready to help you tackle rocky trails with even the gnarliest inclines and declines. The shoe, like its friend the Pegasus, has a built-in ankle gaiter to keep out debris.
The lug pattern is deep, 4-5mm, and the shoe has a significant stack height to provide plenty of cushion on runs both short and long. The shoe has an engineered mesh providing more stability and breathability.
Can I just say…I'm really stoked to get a chance to run in these because they look freaking cool! I'll update you once I have.
Waterproof
4mm heel drop
9.3 oz (women's)
Neutral
$160
Best for Muddy Conditions
The newest version of the Speedcross is lighter than past versions. It is made with waterproof and breathable GORE-TEX and ripstop fabric to resist tearing and abrasions. The upper is made with a tight mesh to help keep out debris and it has a Quicklace system for one-pull tightening and easy on and off.
The outsole has deep lugs to maximize grip in even the muddiest of rugged conditions. This shoe continues to be a favorite for many. But do note that it may feel stiffer than some shoes. This is due to the ability to keep your feet dry
Waterproof
10mm heel drop
9.8 oz (women's)
Neutral
$160
Looking for other product reviews? Check out some of my other must-have gear to save you time and money.
Other ways to connect with Amanda
Instagram Daily Fun: RunToTheFinish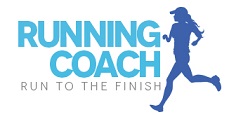 Facebook Community Chatter: RunToTheFinish
Sign Up to Receive a Weekly Newsletter with Top Running Tips and Laughs