Just one more minute. Just one more mile. Just one more step.
I've got this. I'm doing this. Do this I will.
Push through, don't stop, don't give in to the pain.
Runners learn some incredible Jedi mind tricks that allow us to constantly push our boundaries and achieve more in life, but sometimes those Type A achiever qualities can lead friends to start asking "is running bad for you?"
We push it too far, we ignore our instincts and non-runners don't always know why.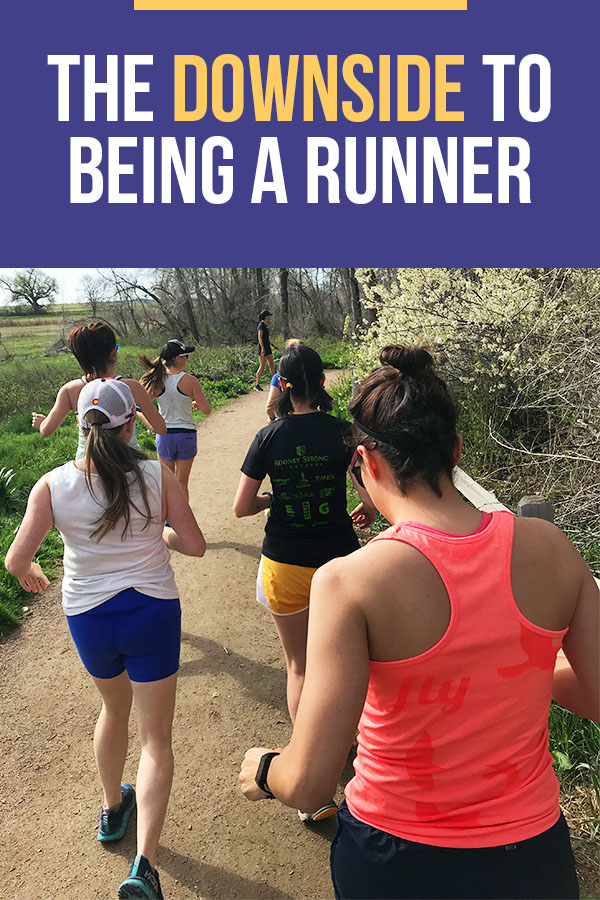 Over the years the tribe has grown and with it the lessons. Like while we live running, there are some downsides when we take it too far.
Tough it Out Mentality
We often dig in to this tough mentality. We can push through it. We always want to achieve more, push our boundaries.
It's a great tool for teaching ourselves that we can do more than we imagine, but a problem when we don't listen to our bodies. The days where we've been sick with bronchitis for a week, but still show up at a start line or have been leaning slightly to the right for a week to relieve pressure on our left foot…yah those are a problem.
There's a unfortunate perception that we aren't a "real runner" if we don't push through. But real runners know that it's not about 1 race or 1 run, it's about longevity, which requires rest, recovery and being smart.

Read more on why we run through pain (inside the injured runners brain!)>>
Hormones Gone Awry
This one is really big to me because a few people over the last year have created the impression that running means you can't get pregnant because if hormones.
Nope.
Running a lot (well over 50+ miles per week) and underfueling your body for months on end to hit a race day goal weight effects hormones. And most of them show that after a few months of not following such a punishing program they're hormones rebound.
Everyone is different. But the average runner, not pushing the boundaries and fueling right has no issues.
But is running good for your health?
One study says that one hour of running can add seven hours to your life! It reduces blood pressure, relieves stress, encourages us to make other healthy choices and so much more. Like anything, you can have "too much", but that varies by person.
Vacations are All About Races
Remember the days of beach lounging and poolside drinks…those are kinda gone. You might get one or two, but only post race because suddenly every trip is a great opportunity for a race…ok honestly we pick the race then convince you it will be a fun trip.
It usually starts like this…"wanna go to Hawaii?"
Then once we have you hooked, we toss in "and run a marathon!" Which means there will be 1 day of rest before the race where we don't want to do a ton of sightseeing or try new foods, then there's race day and finally the post race hobble.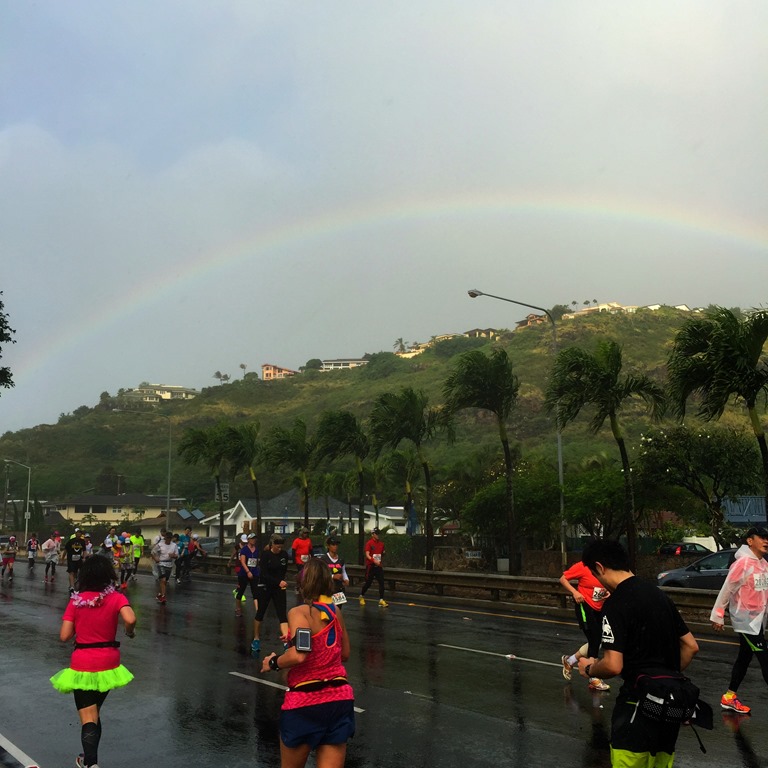 The good news is the longer we run, the more we learn how to really weave them in to a true racecation.
We schedule the race early in the trip, pull on compression pants afterwards to go exploring or start focusing on shorter races like the half marathon that take us a little less time to recover. Additionally, for a lot of people it gives them an excuse to travel (though we don't need one). For some reason traveling due to a race ensures that we actually take trips!!
Friday's are for Couches
Happy hour? Maybe. Anything after 8PM, sorry no can do gotta get up at the crack of dawn to run.
We don't love our friends less, but overtime our priorities shift. That feel good of a long Saturday morning run, usually wins out over the headache of a Friday night party. And in turn…it often means our friends change.
That doesn't have to be a bad thing, but it's extremely common among distance runners. We fall in to a new pack and have to ensure that we make time for our non-running friends who also bring a lot to our lives! Sometimes we have to sacrifice a run because they're big moment is more important.
Who else totally knows that feeling?
Runners Get Injured
I walk in to a dresser, doorknob or counter at least once a week. But it never fails if I mention something hurts, "oh must be all that running". I see. So it would be better if I hunkered down on the couch for a Netflix marathon?
People get hurt doing CrossFit, playing baseball, cycling, living! It's part of putting yourself out there and trying to grow.
We also know that running is actually NOT bad for your knees, but running can certainly lead to injuries.
So yes, running can cause injuries. But most of them aren't because of running, they're because of us runners.
Closet Take Over
It's true, even minimalists like me find they begin amassing more shoes than necessary, followed closely by gadgets and gizmos a plenty.
It's hard to let go of old shoes which hold months of miles and memories.
It's easy to get excited about new shoes, which mean new motivation.
We NEED different shoes for trails vs road…and you know mowing the yard.
Running often gets a bad rap because people believe it's too hard on the body, which I've debunked before, so I don't want this to be another "ah ha running is awful" article. More of a let's be honest, we like to share the glory of the finish line with our friends and we relish just a tiny bit talking about how long we spent running over the weekend, but it's not always roses.
Sometimes we have to make sure that like doctors we make a pact with ourselves to "do no harm".
Enjoy driving yourself hard for a new Personal Best or a new distance record, but make sure you aren't sacrificing the bigger picture.
Have you fallen in to any of the downsides of running?
Other ways to connect with Amanda
Instagram Daily Fun: RunToTheFinish
Facebook Community Chatter: RunToTheFinish
Get more running tips: Pinterest