Among the multitude of running shoe options, lightweight running shoes stand as a testament to innovation, engineering, and design. They are the choice of athletes who crave speed, agility, and the thrill of racing against the wind.
A couple of extra ounces may not seem like much at the start, but add a few miles and it starts to make all the difference. That's why lightweight running shoes are a hot topic among runners these days.
The quest for the best lightweight running shoes involves striking a balance between weight, cushioning, support, and durability. The ideal pair should complement your running style, whether you're pounding the pavement for miles on end, sprinting towards the finish line, or simply embracing the joy of a leisurely jog.
In this comprehensive guide, we'll dig in to some of the top lightweight running shoe models in the market, discuss crucial factors to consider when making your choice, and provide practical tips for when they'll be most beneficial.
What you will not find in this list is a bunch of racing flats. I don't have a whole lot of you coming here for track and field, so instead we are thinking more of the distance runners from the 5K to marathon.
What is Considered a Lightweight Running Shoe?
Lightweight running shoes are defined by their emphasis on minimal weight and a design that prioritizes reduced bulk.
These shoes typically weigh significantly less than traditional running shoes, often falling in the range of 6 to 9 ounces (170 to 280 grams) per shoe.  This emphasis on weight reduction is a fundamental characteristic of lightweight running shoes.
In addition to their low weight, lightweight running shoes often feature a streamlined and minimalistic design. They seek to eliminate unnecessary padding and structure, ensuring that every component serves a purpose in enhancing the runner's experience.
The focus on weight reduction means that these shoes are tailored to minimize the amount of material used while still providing essential support and cushioning.
Are Lightweight Shoes Good for Running?
Lightweight running shoes can be a game-changer for runners who are serious about their performance. But they absolutely aren't a requirement for great training or performances, we're talking a matter of an ounce or two in many cases.
Beyond just the light feel, they often incorporate state-of-the-art materials designed to offer cushioning and support without the extra grams. This means you're not just getting a shoe that's light; you're getting a shoe engineered to make every stride more efficient.
These materials can include anything from advanced foams to carbon fiber plates, all aiming to deliver better energy return.
Simply put, lightweight shoes can make your runs not only more efficient but also far more enjoyable. With less material weighing you down, it's easier to achieve that "runner's high" we all chase.
It's important to recognize that lightweight running shoes are not universally suitable for all runners. The choice of the right lightweight shoe depends on individual running styles, foot shapes, and specific goals. While some runners thrive with the minimalism and speed of ultra-light options, others may prefer a bit more cushioning and support.
7 Best Lightweight Running Shoes
One major advantage is that lightweight running shoes encourage better running form. With less weight on your feet, it's easier to maintain a natural and efficient gait, holding good running form and reducing the likelihood of injuries.
The other theory is that they also help minimize fatigue. Anyone who's lugged around in heavy shoes knows how taxing it can be over time. By cutting the weight of the shoe, you're making it easier for yourself, especially in the later stages of long runs or races.
Here are a few of my favorite lightweight shoes currently on the market. As always, I try to give you shoes from a variety of brands because we often have one that seems to fit us best. Many of them are newer versions of popular styles that have been updated to be even lighter than before.
If you're looking for only the best carbon plate running shoes, checkout my previous article. Today we're going for a variety!
#1 Best Carbon Fiber Lightweight Running Shoe: Nike Vaporfly 3
The Vaporfly has a cult following among elite runners. This racing shoe is built for speed and has a carbon fiber plate in the midsole that makes you feel like you're getting an extra push with each stride. They're highly responsive, allowing for immediate energy return.
Fit-wise, they hug your foot and have the standard more narrow Nike fit. The foam in these is truly unlike what most of us have previously experienced, it bounces!
Initially, the arch support felt a tad uncomfortable, but you used to it pretty quickly. It's actually an intentional feature of the shoe in their complete focus on finding ways to make you as fast as possible.
Because Nike tries to make the sole of these as thin as possible, they aren't super durable. After a 10K race in these shoes the rubber outsole was already starting to peel away. Because of that, I've continued to use my Vaporfly 2 more than the 3.
If you're gunning for a PR and don't mind replacing your shoes often (and these aren't cheap), this might be a good choice for you.
Weight: Men's 6.5oz., Women's 5.6oz.
Heel Drop: 8 mm
Price: $260
See my complete Vaporfly 3 review
#2 Best Everyday Lightweight Trainer: Saucony Kinvara 14
As a long-time fan of Saucony's Kinvara line, I was stoked to find out that even with the growing popularity of their Endorphin range, the Kinvara isn't being left in the dust. I've truly run in so many of models of this and often recommend it for the low heel to toe drop if anyone has dealt with IT band issues.
The first thing I noticed when I put them on was that it's taller than the previous versions. I've loved Kinvara for its low profile while providing enough cushion for my long runs. But, this new model seemed to take a page out of the Endorphin line's book. Still, they've been trending taller since the Kinvara 12, so not a total surprise.
They're also a bit wider, so if you've been wearing narrow-fit shoes like Nikes, this could feel like a change and make take some time to transition.
They still feel like the Kinvara I know and love, but with a slightly different vibe due to the increased stack height. They're especially great for mid-distance runs where comfort and adaptability are crucial.
The New Balance FuelCell Rebel v3 is an excellent choice for both speed workouts and long runs. For a shoe this light, it offers a good balance of cushioning and support, thanks to the EnergySole responsive foam that sits underneath the shoe's insole.
The FuelCell foam doesn't feel as soft to me as the NB 1080 that I recommend so often for great long run shoe. I've run in the Supercomp elite, which is comparable to this shoe, just adding in the carbon plate.
But, this shoe is known for its energy return, with the v3 being even more responsive than the previous version. Could be a good option if you struggle with issues like plantar fasciitis because it's not as soft as others.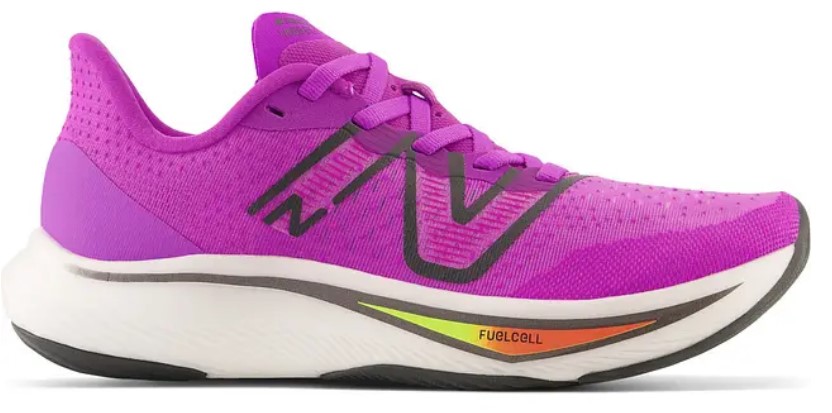 These are go-to shoes for various kinds of runs. Whether you're doing a quick loop around the neighborhood or prepping for a half marathon, the FuelCell v3 is up to the task. Overall, they maintain the New Balance legacy but add a fresh twist that keeps you excited to lace up.
Weight: Men's 7.4 oz, Women's 7.4 oz
Heel Drop: 6 mm
Price: $104
#4 Most Affordable Lightweight Running Shoe: Brooks Launch 10
The Brooks Launch 10 is a simple shoe that makes a great daily trainer. At 7.4 oz for women's and 8.7 oz for men's, it's not the lightest shoe on the list, but it's an affordable option that still falls into the lightweight category.
The Brooks Launch is equipped with adequate cushioning, which strikes a balance between responsiveness and shock absorption. This makes it suitable for various types of runs, from daily training sessions to faster-paced workouts.
Runners often praise the shoe for its versatility, making it a go-to option for those who enjoy mixing up their training routines. Its breathable upper and flexible construction enhance comfort during longer runs, and the shoe's durability ensures it can withstand the rigors of regular training.
This shoe is like the Toyota Corolla of footwear, nothing fancy, but super popular, reliable, and you know it will get the job done. For neutral runners looking for an all around shoe that combines performance with comfort, the Brooks Launch 10 is certainly worth considering.
Weight: Men's 8.7 oz, Women's 7.4 oz
Heel Drop: 10 mm
Price: $110
Also available
Hoka is known for their cushioned shoes, and the Rincon 3 offers a softer ride compared to many other road shoes out there without sacrificing its lightweight nature.
They've trimmed down the weight from the Rincon 2, and you'll feel it. They're lighter, making those uphill segments just a tad bit easier. The shoe has a more streamlined silhouette but doesn't compromise on that roomy toe box that Hoka fans have come to love.
Hokas are popular among long distance runners and those seeking stability without stiffness.  This shoe's stability combined with it's cushion makes it a great lightweight shoe for runners who are injury-prone.
My personal preference is actually the HOKA Mach 5, which is lighter at 6.8 oz, but does have a bit less cushion. It's a shoe that is a steady part of my training rotation and one that I think most will like.
Weight: Men's 7.3 oz, Women's 7.2 oz
Heel Drop: 5 mm
Price: $125
The Asics Gel Kayano Lite is for runners who don't want to compromise on stability. These shoes offer a secure, locked-in feel that many runners crave. And they manage to do so without being bulky or heavy.
The Kayano is one of their longest running most popular shoes and this is the option for those who have loved the Kayano, but want to shave a few oz off on race day to find a little extra speed.
The FLYTEFOAM® cushioning is made from organically derived materials, and this version has more foam in the forefront for a more energetic rebound.
One thing to note: if you're a die-hard fan of the plush cushioning in the regular Kayano line, this one is a bit firmer. It's still comfy, but it leans more towards responsiveness, which is great for tempo runs or when you're trying to push the pace. It's a great pick for those who want stability but dread the extra weight that often comes with it.
Weight: Men's 9.7 oz, Women's 8.3 oz
Heel Drop: 8 mm
Price: $99
When you want to get the feel of carbon fiber, but want to also save a little money…welcome to the world of Nylon plate shoes. The Saucony Endorphin line of running shoes is a collection of performance-oriented footwear designed to elevate the running experience to new heights.
Saucony has built this series with an emphasis on speed, efficiency, and comfort, making it particularly popular among competitive runners, long-distance athletes, and those seeking to achieve their personal bests.
The Saucony Endorphin Speed 3 is a powerhouse shoe that is great for tempo training. The winged nylon plate centers and supports your foot, and the SPEEDROLL technology propels you forward, making it easier to maintain a quick tempo.
Fit-wise, it stays true to what you'd expect from Saucony. It's not too narrow, but also not overly roomy. Basically, it strikes that Goldilocks balance of 'just right' that most runners appreciate.
While it's durable enough for a good number of miles, it's not the shoe you want for your daily runs. It's on the expensive side, so save it for those days when you're looking to dial up the intensity.
Weight: Men's 8.1 oz, Women's 7.2 oz
Heel Drop: 8 mm
Price: $170
Is it Better to Run in Heavy or Light Shoes?
Determining the "better" shoe really boils down to your individual needs, such as your running style, foot structure, and what you're looking to get out of your runs.
Lighter shoes are generally great for improving your running economy because you're spending less metabolic energy for the same pace, which is a massive plus.
Heavier shoes sometimes offer greater support and durability, making them ideal for those who need more structural integrity—perhaps due to overpronation—or who frequently trail run on rugged, uneven terrains.
And remember we are often talking ounces here, so what matters the most is finding the shoe that fits you and feels good. There are actually studies proving that the better feeling shoe provides a better performance, regardless of the other factors.
So, the answer isn't one-size-fits-all; it's more about finding the right tool for the job.
How to Choose the Best Lightweight Running Shoe For You
When selecting the ideal lightweight running shoe, there are several factors you should consider to make sure you're getting the shoe that's best suited for you.
Fit
The most crucial aspect is how well the shoe fits. A snug yet comfortable fit ensures that your foot is secure, preventing blisters and offering better control during your runs. Make sure there's a thumb's width of space between your longest toe and the front of the shoe to allow for swelling and natural movement.
Purpose
What are you planning to use the shoes for. Will they be for short races, long runs, or general training? If you're focusing on speedwork, you might want a shoe with more responsiveness. If it's long distances, you might prioritize cushioning.
Cushioning vs. Responsiveness
Speaking of cushioning and responsiveness, it's vital to find a balance that suits your running style. More cushioning offers comfort but might lessen the 'feel' of the road. More responsiveness can boost performance but might lack long-run comfort.
Durability
Lightweight doesn't have to mean short-lived. Look for shoes with high-quality materials that can withstand the mileage you plan to put in.
Heel-to-Toe Drop
The heel-to-toe drop can impact your running mechanics. A lower drop (0-4mm) generally encourages a more natural running form but might be hard on your calves. A higher drop (8-12mm) can offer more heel cushioning and might be more comfortable for some runners.
Traction
Don't overlook the sole. The grip should be suited for the terrain you run on the most, whether it's road, track, or trail. Check the tread pattern and rubber type for clues on how it will perform on different surfaces.
Price
Lightweight running shoes often feature advanced materials and technology, which can make them pricey. Set a budget that you're comfortable with, but remember that investing in a quality pair can pay off in comfort, performance, and durability.
In the world of running, the search for the best lightweight running shoes boils down to understanding your individual needs. We've highlighted the key traits of these shoes, such as their low weight and streamlined design, which play a significant role in improving your running experience.
The significance of selecting the right lightweight running shoes can't be understated. These shoes have the potential to enhance your performance, whether you're aiming to beat your personal records in races, take on your local 10K, or simply enjoy a relaxed jog through your preferred terrain.
Looking for additional running shoe tips?
Other ways to connect with Amanda
Instagram Daily Fun: RunToTheFinish
Facebook Community Chatter: RunToTheFinish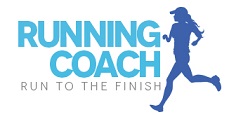 Sign Up to Receive a Weekly Newsletter with Top Running Tips and Laughs