Many CrossFit gyms helped to popularize self-propelled treadmills, as part of their sprint and HIIT workouts. It lead to an explosive growth in Woodway curved treadmills, but when is it the right choice for your home workouts?
This isn't a debate over whether you should run outside or use the treadmill. Both are incredible options to get fit, stay health and active.
Instead, we're looking at who is going to get the most out of non-motorized treadmill at home.
Is it the walk while you work at home person, the distance runner, the sprinter, or the just starting out exerciser?
I've used treadmills as part of my training since day 1, way back in 2002. Whether you need them to avoid running on ice, to be close to the kids, for the adding cushion or simply because you enjoy it they play a big role in enhancing your race day performance when used correctly.
If you're thinking about buying a treadmill, a self-propelled treadmill might be a better fit than a traditional motorized machine based on your goals. Here are some factors to consider as you make your decision, along with my recommendations for the best manual treadmills.
What is a Manual Treadmill?
When most people hear the word "treadmill," they think of the motorized exercise equipment where you walk or run on a belt that is pulled across a platform. The belt moves with the assistance of an electric motor, and you can adjust speed and incline/decline settings from the console.
A self-propelled treadmill (a.k.a., manual treadmill or non-motorized treadmill) is exactly what it sounds like: a treadmill that relies on your own bodyweight and effort to move the belt.
Usually there is a slight incline or a curve that will help you to start the belt moving, but after that it's entirely up to you to keep the machine moving.
Many self-propelled treadmills still have a battery-powered display to track speed, calories, etc., although the display is more basic than a you would see on a standard treadmill and way less than the Peloton Treadmill.
7 Benefits of a Manual Treadmill Over Motorized Treadmill
Electric treadmills may be more common in gyms and homes, but there are some distinct advantages to buying a manual treadmill!
Let's cover those before we jump in to some potential drawbacks and then some top picks for self-powered treadmill once you know it's the right fit for you.
1. No Power Source Needed
There's no need to set your treadmill up near an electrical outlet – convenient! This often allows for easier placement in a garage or basement to accommodate the rest of your stuff.
Plus, you'll save money on your electricity bill while still getting a terrific workout.
2. Affordable At-Home Treadmill
Flat-bed, self-propelled treadmills are significantly cheaper than motorized treadmills. This is one reason they can be a good option for those who simply need an at home option for walking when the weather is bad and you want to get in a workout.
Or for those who are looking for stand up desk option that allows you to move a little bit as well, an under the desk manual treadmill is incredible. So much cheaper and smaller.
Note: Curved treadmills have more bells and whistles and are comparable in price to motorized treadmills.
3. Better for Small Spaces or Storing Away
Motorized treadmills have bulky motors that take up space, and they're heavy! Self-propelled treadmills are more compact, lighter, and many even fold up for easy, out-of-the-way storage.
As noted above there are options designed to fit under a desk, to slide under a bed or easily fold up. They're going to require a lot less space.
4. Potential for Workout Efficiency
When you use a motorized treadmill, the motor does some of the work for you. You'll expend more calories per mile using a manual treadmill.
Do you burn more calories on a manual treadmill? Maybe.
The immediate answer is that you could burn up to 30% more calories per mile, but most people will also not go as far or often as fast as they would on motorized treadmill which means their total calorie burn is far less.
5. Improved Stride
One study, showed that running on a non-motorized, curved-deck treadmill is improved gait mechanics. It forced runners to pick up their knees and learn to land under their body for the best control.
I've seen no data that shows the flat models will improve stride.
6. They're Safer for Those with Balance Issues
Because the treadmill won't move without you specifically working to make it move, there's no risk of the belt moving unexpectedly and causing injury. Or flying off because you hit a button and the speed has increased beyond your capacity.
It's also going to immediately slow down or stop when you stop moving. This decreases the chance of becoming one of those viral videos where someone slides off the back or steps on a moving belt.
Note: Again curved treadmills are a slightly different story. They can actually be more dangerous for those who don't know who to utilize their body to slow down the machine.
7. You Have Full Control of the Workout
Go the speed you want to go at any time. With a manual treadmill, you get to control the pace by exerting more effort instead of trying to keep up with a speed you set on a screen.
As a coach, I love this because it means you'll ease in to your workout. Starting out at an easy pace and then slowly progressing as you feel good.
And just like a standard treadmill, you're going to get some cushioning which can help to soften the impact on joints from your workouts.
Drawbacks to Manual Treadmills
There are a few big areas here that could matter based on your needs.
Pacing Issues
American College of Sports Medicine notes that it can be harder to regulate your pace on some manual treadmills because there is no consistency from the motor.
In the case of curved treadmills this often means going to fast, but on flat manual models it often means going slower than you planned and thus decreasing the impact of the workout.
Fatigue for Long Distance
Flat-bed manual treadmills really aren't built for distance running or much heavy running at all. They are not as sturdy and the extra effort required, will drain your energy faster making it harder to hit any long distance goals.
Types of Self-Propelled Treadmills Available
Even when it comes to manual treadmills, there is no "one size fits all" option. Instead, you can choose from several different options on the market to find exactly what you want.
When it comes to self-propelled treadmills, here's what you'll find:
Standard Manual Treadmills
These look like scaled-down typical treadmills and are intended for people who want a basic machine to use at home. These machines don't have a motor or large screen. Some don't have a screen at all!
They use a standard deck with a belt running surface. And they typically have short belt lengths because they're geared towards users who just want to walk.
Curved Treadmills
Curved treadmills (as the name indicates) are self-propelled treadmills that have a slightly curved base and use the biomechanics of running to propel the belt forward. Also, instead of a solid belt, you walk or run on a slat belt.
Curved treadmills provide a training experience that's more similar to ground running because it reduces friction as it requires more muscle engagement in the posterior chain. So get ready to feel those hamstrings and glutes!
Additionally, these treadmills are terrific for high-intensity interval training and act as a great trainer for athletes.
Hybrid (Self-Propelled & Motorized) Treadmills
These treadmills have a motor along with a manual option. You can find both flat and curved versions. There are also versions that work only for walking and others that allow running. They have all the technology you would expect on a motorized machine with an added manual option.
This type of treadmill is great if you have multiple users in the house who condition at different levels.
Factors to Consider When Purchasing a Manual Treadmill
Before you look at what models are available, take a little time to think about what you need. Take these considerations into account:
What's your budget?
Do you need a self-propelled treadmill that you can fold up and store out of the way?
How do you intend to use your treadmill? (walking, running, or both)
Do you want a curved treadmill for training?
How long is the belt? (Many self-propelled treadmills have short belts which can make running impossible.)
Will multiple people use it?
What is the maximum user weight capacity?
Do you need built-in workout programs?
What's the years parts warranty look like? While there is less maintenance needed, you still want a good warranty.
6 Best Manual Treadmills
If there were only one manual treadmill option on the market, it would be easy to choose which one you wanted! However, there are many different models available that all offer various options, which can make it tough to know which one is the best for you.
So I'm sharing my favorite self-propelled treadmill models with you to help make your decision easier.
Once you know the answers to the questions above, picking a self-propelled treadmill from this list should be quick and painless!
1. Most Affordable For At Home Training
This Asuna 7700 treadmill is designed to be sturdy, stable, and affordable while giving you a terrific workout.
It also has a long belt for a manual machine and long handlebars, which will enable you to run with a normal stride. The dual flywheel design ensures smooth belt movement and adjustable tension to help you build your strength.
And the soft drop system allows you to gently fold your treadmill to the floor, hands-free after a hard workout.
Resistance Levels: 8
Incline Range: 6 – 10°
Soft Drop System: Yes
Dimensions: 55L x 30.5W x 57H in
Folded Dimensions: 27.5L x 30.5W x 57H
Maximum Weight Capacity: 440 lb
2. Best Low Cost Walking Manual Treadmill
For more of a mid-range choice, go with the Exerpeutic. The belt on this model is 45 inches long, so many people will find it too short running. You'll also find extra long handrails and heart rate measurement capability.
Resistance Levels: 3
Incline Range: 8 – 15°
Soft Drop System: No
Dimensions: 50L x 29W x 50H in
User Weight Limit: 325 lb
3. Best for HIIT Training
Now we're getting into curved treadmills, which will be much more expensive than flat-belt self-propelled treadmills.
The Assault Fitness AirRunner is a popular model because it's a great fit no matter what kind of training you want to do. It's sturdy, stable, reliable, and has a battery-powered LCD screen.
In addition, many manual treadmills only allow you to reach a certain speed (usually around 4 mph), but this one will enable you to go as fast as you want to push yourself.
Bluetooth-enabled, battery-powered LCD console
Dimensions: 69.9L x 32.8W x 64H in
Weight Limit: 350 lb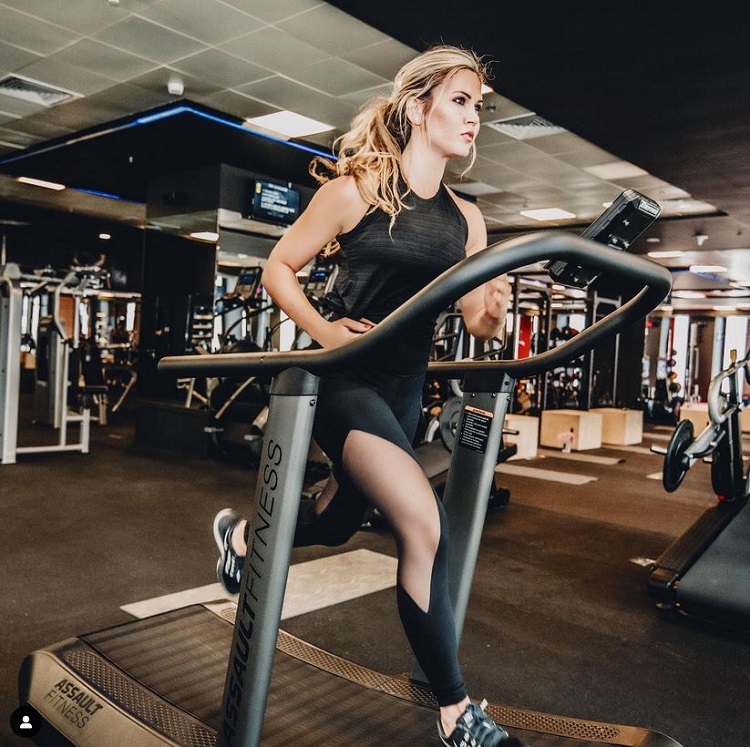 4. Best for Working
Honestly, I just can't recommend a good manual option. They all have these huge bars that stick up and thus would make it impossible to slide under your standing desk.
Instead, this is an affordable option with a very small motor.
While they often show photos of people running on these treadmills, I wouldn't encourage it due to the lack of handrails or any screen giving you data. Instead, this is a nice option to slide under your standing desk to get in light movement throughout the day, which we know can spark creativity!
LED Display: Instead of a screen at eye level, it's along the top of the base of the treadmill.
Speed: .5mph to 4mph
Dimensions:

49.6L x 20.5W x 4.7 (H)

User Weight Limit: 220 lb
5. Best High End Hybrid Treadmill
NordicTrack x32i Treadmill
The NordicTrack x32i is a hybrid treadmill, so it has a motor as well as the option to use it in manual mode, making it great for households with multiple runners. It also boasts a 32" color touchscreen and more than 16,000 pre-loaded workouts.
Plus, with a steel frame, durability isn't even a question. But if you do have any concerns, the generous warranty should alleviate them.
Note: the manual setting isn't designed for sprinting but rather for low-speed resistance work and HIIT workouts. If you want to really go for a run, a curved treadmill will be your best option.
32-inch touchscreen
Incline Range: -6% – 40%
Soft Drop System: No
Dimensions: 76.5L x 40W x 73H in
Max User Weight: 300 lb
✅Save over $1000 on this treadmill by buying one from a damaged box!
By taking advantage of the power in your lower body, manual treadmills offer heart-pumping workout possibilities and a great alternative to motorized treadmills.
Boasting many advantages, including cost savings, convenience, and safety and storage benefits, self-propelled treadmills are becoming more popular by the day. So, if you're looking to add a treadmill to your home gym, one of the options on this list may be exactly what you need.
Looking for more treadmill help?
Try a search in the top right or check out one of these helpful posts:
Other ways to connect with Amanda
Instagram for daily motivation RunToTheFinish
Pinterest for more recipes and running RunToTheFinish
Facebook stay up to date with running news RunToTheFinish