You might shrug off a lot of quotes as cliche or trite, but the truth is that good motivational running quotes can change your run. It shifts the mindset and gives you a new way to look at your struggle.
Every runner needs a little bit of motivation every now or then, and a running quote is one of the best ways to get going.
Whether you're a seasoned runner, or just starting off, you're sure to find something here that will give you that extra little push today.
Why Running Quotes Work So Well
Science says this is why we so love those marathon running quotes:
It's like hearing someone else say they believe in you
It's like having a coach in your head to guide you through
We know word choice matters in our training (have to vs get to)
We like having role models, they give us things to aspire to
They help us convey to others feelings we often can't put into words
It's easy to get caught up in the logistics behind achieving goals. The numbers, the miles, the hours spent, the grueling early mornings or late nights, the injuries – that we sometimes lose track of why we started the journey, to begin with.
The Role of Motivation in Running
Motivation is not just a mental state, but a physical one as well. When we are motivated, our bodies respond in kind.
Our strides become longer and more purposeful, our breathing becomes steady and controlled, and our minds become focused and clear. It's in these moments that we feel the true power of motivation coursing through our veins.
But motivation is not a one-size-fits-all concept. What motivates one runner may not have the same effect on another.
For some, it may be the desire to improve their health and fitness. For others, it may be the thrill of competition and the pursuit of personal records.
And for some, it may simply be the joy and freedom that comes from being out in nature, feeling the wind on their face and the earth beneath their feet.
Regardless of our individual motivations, one thing remains constant: motivation is what keeps us going when the going gets tough.
It is what separates the dedicated from the casual, the determined from the complacent. It is what allows us to push through the pain, to overcome our doubts and fears, and to achieve things we never thought possible.
How Running Quotes Have Helped Me
So if you're anything like me thinking about your own big running goals, I hope these quotes might help you too!
It's common to have marathon training burn out after running for a long time, which means we have to find ways to mentally get back to why we run.
We run because we love it – the freedom it gives us, the goal to focus on, the way it makes us feel.
But occasionally, we just aren't feeling it! We don't have the energy to lace up the shoes and head out the door, or to find a new marathon or goal to set. It happens.
So for those moments, sometimes all I need is a few extra words of encouragement that will motivate me to keep going, to remember why I started running in the first place, and to know that I am not alone with this!
91 Running Quotes for Marathon Training
So you signed up to run 26.2 and are second guessing it now? Yes, it happens!
Those long  cold-weather runs don't always sound appealing, but you signed up because it was something you knew you could do.
"The race always hurts. Expect it to hurt. You don't train so it doesn't hurt. You train so you can tolerate it." – Unknown
"I always say if the marathon is a part-time interest, you will only get part-time results." – Bill Rodgers
"You have to forget your last marathon before you try another. Your mind can't know what's coming" – Frank Shorter
"In running, it doesn't matter whether you come in first, in the middle of the pack, or last. You can say, 'I have finished.' There is a lot of satisfaction in that." – Fred Lebow, New York City Marathon co-founder
"When you run the marathon, you run against the distance, not against the other runners and not against the time." – Haile Gebrselassie
"Every marathon I ran, I knew I had a faster one in me." – Dick Beardsley
"Run when you can, walk if you have to, crawl if you must; just never give up." – Dean Karnazes
"If you want to run, then run a mile. If you want to experience another life, run a marathon." – Emil Zatopek
"The will to win means nothing without the will to prepare."- Juma Ikangaa
"The miracle isn't that I finished. The miracle is that I had the courage to start." – John Bingham
"You must not run faster than this or jump higher than that. The human spirit is indomitable." – Roger Bannister, first sub-four-minute mile runner
"It's very hard in the beginning to understand that the whole idea is not to beat the other runners. Eventually, you learn that the competition is against the little voice inside you that wants you to quit." – George Sheehan
"The real marathon is never the race, but the preparation leading up to it." – John Hanc
"I succeed on my own personal motivation, dedication, and commitment. My mindset is: If I'm not out there training, someone else is." – Lynn Jennings
"The real purpose of running isn't to win a race. It's to test the limits of the human heart." – Bill Bowerman
"Get going … walk if you have to but finish the damned race." – Ron Hill
"In the marathon, anything can happen. Your body can argue that it wants to stop, but your mind has to convince it to keep going." – Cathy O'Brien
"Gold medals aren't really made of gold. They're made of sweat, determination, and a hard-to-find alloy called guts."  – Dan Gable
"My thoughts before a big race are usually pretty simple. I tell myself: "Get out of the blocks, run your race, stay relaxed. If you run your race, you'll win… channel your energy. Focus." – Carl Lewis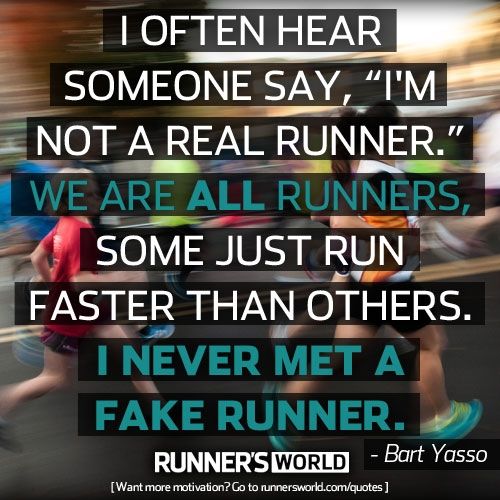 Running Quotes for Personal Growth
Growth isn't just physical with running.
While being healthy and active are strong motivating reasons, there are also a lot of mental and emotional benefits from running as well! It's important to always remember that.
"For an athlete, the biggest pressure comes from within. You know what you want to do and what you're capable of." – Paula Radcliffe
"If you want to become the best runner you can be, start now. Don't spend the rest of your life wondering if you could do it" – Priscilla Welsh
"Some of the world's greatest feats were accomplished by people not smart enough to know they were impossible." – Doug Larson
"Confidence is not some nonphysical quality snatched from the spiritual dimension and installed in the mind. It is the feeling that arises when the body's knowledge of itself is in harmony with a person's dreams." – Matt Fitzgerald
"Out on the roads, there is fitness and self-discovery and the persons we were destined to be." – George Sheehan
"I cannot live without it now. When you have such a good workout, it clears everything up mentally, physically, and you just have a better day." – Minka Kell
"You are stronger than you think. Believe in your ability to overcome." – Unknown
"We are what we repeatedly do. Excellence, then, is not an act, but a habit." – Aristotle
"The man who moves a mountain begins by carrying away small stones." – Confucius
"The obsession with running is really an obsession with the potential for more and more life." – George Sheehan
"A lot of people run a race to see who's the fastest.  I run to see who has the most guts." – Steve Prefontaine
Running Quotes for Perseverance
For those moments when you wonder if you have enough strength to continue on. You do! We all do.
It's all about finding your inner grit.
"We all have dreams, in order to make dreams come into reality, it takes an awful lot of determination, dedication, self-discipline, and effort." – Jesse Owens, Olympic gold-medalist
"All you need is the courage to believe in yourself and put one foot in front of the other." – Kathrine Switzer
"It could all end tomorrow, so enjoy what you have and never take it for granted. And never forget to take an easy run for yourself once in a while and just remember why you love to run." – Dathan Ritzenhein
"Ask yourself: 'Can I give more?' The answer is usually: 'Yes'." – Tergat, Kenyan professional marathoner
"When you recognize that failing doesn't make you a failure, you give yourself permission to try all sorts of things." – Lauren Fleshman
"Never underestimate the power that one good workout can have on your mind. Keeping the dream alive is half the battle." – Kara Goucher
"Believe in yourself and all that you are. Know that there is something inside you that is greater than any obstacle." – Christian D. Larson
"Run hard when it's hard to run" – Pavvo
"Winning has nothing to do with racing. Most days don't have races anyway. Winning is about struggle and effort and optimism, and never, ever, ever giving up." – Amby Burfoot
"Pain is temporary. It may last a minute, or an hour, or a day, or a year, but eventually it will subside and something else will take its place. If I quit, however, it lasts forever."  – Lance Armstrong
"A champion is someone who gets up when they can't." – Jack Dempsey
Running Quotes to Keep You Inspired
Inspiration for running usually comes from within, but sometimes we just need that extra little nudge to help us keep going.
"Running has given me the courage to start, the determination to keep trying, and the childlike spirit to have fun along the way. Run often. Run long. But never outrun your joy of running." – Julie Isphording
"If we had a drug that did what exercise did, it would be the biggest revolution ever and would be promoted all over the world. And all you have to do is go out for a run."- Greg Wells, Ph.D
"Running is the classical road to self-consciousness, self-awareness, and self-reliance." — Noel Carroll
"I run because long after my footprints fade away, maybe I will have inspired a few to reject the easy path, hit the trails, put one foot in front of the other, and come to the same conclusion I did: I run because it always takes me where I want to go." – Dean Karnazes
"Most runners hope running will always be a part of their lives. I'll be happy if running and I can grow old together." – Haruki Murakami
"Run often. Run long. But never outrun your joy of running." – Julie Isphording
"You are truly your own hero in running. It is up to you to have the responsibility and self-discipline to get the job done." – Adam Goucher
"If you don't think you were born to run you're not only denying history. You're denying who you are." – Christopher McDougall
"Everyone in life is looking for a certain rush. Racing is where I get mine." – John Trautmann
"It's you versus you. Make sure you come out on top." – Unknown
"If you train your mind for running, everything else will be easy." Amby Burfoot
"If you run, you are a runner. It doesn't matter how fast or how far. It doesn't matter if today is your first day or if you've been running for twenty years. There is no test to pass, no license to earn, no membership card to get. You just run." –John Bingham
"But I also realize that winning doesn't always mean getting first place; it means getting the best out of yourself." – Meb Keflezighi
"You don't have to be the best, you just have to give your best." – Unknown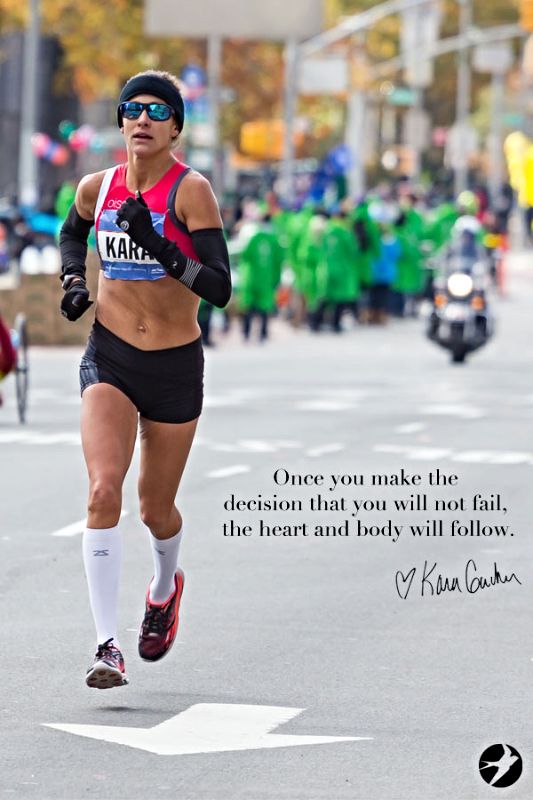 Running Quotes to Help You Remember Why You Started
It's easy for life to take over and for us to forget why we started running in the first place. For those situations, here's something that'll help you remember why you started in the first place:
"You have to wonder at times what you're doing out there. Over the years, I've given myself a thousand reasons to keep running, but it always comes back to where it started. It comes down to self-satisfaction and a sense of achievement." – Steve Prefontaine, U.S. Olympic runner and running legend
"Running is the greatest metaphor for life, because you get out of it what you put into it." – Oprah Winfrey
"Running is my private time, my therapy, my religion." – Gail W. Kislevitz
"I run because it's so symbolic of life. You have to drive yourself to overcome the obstacles. You might feel that you can't. But then you find your inner strength, and realize you're capable of so much more than you thought."- Arthur Blank
"There is something magical about running; after a certain distance, it transcends the body. Then a bit further, it transcends the mind. A bit further yet, and what you have before you, laid bare, is the soul." – Kristin Armstrong
"There is magic in misery. Just ask any runner." – Dean Karnazes
"I often hear someone say I'm not a real runner. We are all runners, some just run faster than others. I never met a fake runner." – Bart Yasso
"Our running shoes have magic in them. The power to transform a bad day into a good day; frustration into speed; self-doubt into confidence; chocolate cake into muscle." – Mina Samuels
"A good laugh and a long run are the two best cures for anything." – Unknown
"Running is that big question mark that's there each and every day. It asks, 'Are you going to be a wimp or are you going to be strong today?'" – Peter Maher, Olympic marathoner
"Running is my meditation, mind flush, cosmic telephone, mood elevator, and spiritual communion." – Lorraine Moller
"Something happens to me when I run. People think it's crazy when I say it. All of my ideas come in when I run. That is my time where it's just me, where I get to create." – Theo Rossi
Running Quotes for Your Next Run
Not feeling up for your next run? It happens to the best of us. But there's always something to look forward to, there's always something to help us keep going.
"Every morning in Africa, a gazelle wakes up, it knows it must outrun the fastest lion or it will be killed. Every morning in Africa, a lion wakes up. It knows it must run faster than the slowest gazelle, or it will starve. It doesn't matter whether you're the lion or a gazelle-when the sun comes up, you'd better be running."- Christopher McDougall
"I don't run to add days to my life, I run to add life to my days." – Ronald Rook
"Only those who risk going too far, can possibly find out how far one can go."- T.S. Elliot
"Running is something you can do and be alone in your thoughts, and I like that." — Carole Radziwill
"I love running but I think you have to find a workout routine that really speaks to you beyond trying to get goals for your body. For me, running, I need it as much for my head and to clear my head as I do for keeping in shape." – Meghan Markle
"Remember, the feeling you get from a good run is far better than the feeling you get from sitting around wishing you were running." – Sarah Condor
"Running is alone time that lets my brain unspool the tangles that build up over days. I run, pound it out on the pavement, channel that energy into my legs, and when I'm done with my run, I'm done with it." – Rob Haneisen
"Run like hell and get the agony over with." – Clarence DeMar
"I always loved running…it was something you could do by yourself, and under your own power. You could go in any direction, fast or slow as you wanted, fighting the wind if you felt like it, seeking out new sights just on the strength of your feet and the courage of your lungs." – Jesse Owens
"When it's pouring rain and you're bowling along through the wet, there's satisfaction in knowing you're out there and the others aren't."- Peter Snell
"Pain is inevitable. Suffering is optional." – Haruki Murakami
"If you don't have answers to your problems after a four-hour run, you ain't getting them." – Christopher McDougall
"Winning has nothing to do with racing. Most days don't have races anyway. Winning is about struggle and effort and optimism, and never, ever, ever giving up." – Amby Burfoot
"There's no such thing as bad weather, just soft people." – Bill Bowerman
Other Great Motivational Running Quotes
"It was being a runner that mattered, not how fast or how far I could run. The joy was in the act of running and in the journey, not in the destination." – John Bingham
"Running! If there's any activity happier, more exhilarating, more nourishing to the imagination, I can't think of what it might be. In running the mind flees with the body, the mysterious efflorescence of language seems to pulse in the brain, in rhythm with our feet and the swinging of our arms." – Joyce Carol Oates
"You can't flirt with the track, you must marry it." – Bill Easton
"Struggling and suffering are the essence of a life worth living. If you're not pushing yourself beyond the comfort zone, if you're not demanding more from yourself – expanding and learning as you go – you're choosing a numb existence. You're denying yourself an extraordinary trip."– Dean Karnazes
"There's not one body type that equates to success. Accept the body you have and be the best you can be with it." – Mary Cullen
"I'm not telling you it's going to be easy… I'm telling you it's going to be worth it." –Art Williams

"We cannot become what we want by remaining what we are." —Max Depree

"I have self-doubt. I have insecurity. I have fear of failure. I have nights when I show up at the arena and I'm like, 'My back hurts, my feet hurt, my knees hurt. I don't have it. I just want to chill.' We all have self-doubt. You don't deny it, but you also don't capitulate to it. You embrace it." – Kobe Bryant

"The principle is competing against yourself. It's about self-improvement, about being better than you were the day before." – Steve Young

"You can motivate by fear, and you can motivate by reward. But both those methods are only temporary. The only lasting thing is self motivation."– Homer Rice
How to Use These Quotes in Your Daily Running Routine
Incorporating motivational quotes into your daily running routine can have a profound impact on your mindset and overall performance. Here are a few ways you can use these quotes:
Write down your favorite quotes and keep them in a place where you can see them daily, such as on your bathroom mirror, at your desk, or in your running journal.
Create a motivational playlist and include quotes within the songs to give you an extra boost during your runs.
Share your favorite quotes with fellow runners, creating a community of support and inspiration.
The options are endless. Find what works for you and let these quotes become a source of motivation and strength as you continue your running journey.
The Power of Positive Thinking in Running
Finally, remember the power of positive thinking in running. Your thoughts and mindset have a direct impact on your performance. When faced with challenges, choose to focus on the positive, embrace failure as an opportunity for growth, and keep pushing forward with determination and resilience.
So, lace up those shoes, hit the road, and let these 100 motivational running quotes be the wind beneath your wings.
Looking for additional running motivation?
Other ways to connect with Amanda
Instagram Daily Fun: RunToTheFinish
Facebook Community Chatter: RunToTheFinish
Get more running tips: Pinterest