Staying healthy while traveling can be tough, I feel you. But it doesn't have to be so hard – healthy snacks are a lifesaver! 
When I'm on the road, I always bring stuff to nibble that's tasty and keeps me going. Things with protein, fiber, etc – it really makes a difference in how I feel during and after a long trip.
Back in college, I used to just grab whatever was quick, which meant lots of junk food. No bueno. 
But taking a little time to pack some healthier stuff has been a game-changer.  Now I have the energy I need to keep up with my busy schedule rather than crashing an hour later.  Plus, it helps me make better choices throughout the day, instead of just grabbing whatever's around. 
If you've been looking for the best healthy travel snacks, you're in luck! This guide has the best ones you can take with you the next time you're traveling around the country (or world!).
17 Best Healthy Travel Snacks
These snacks are incredibly portable, delicious, and good for you too. Here are my top picks as a certified personal trainer and running coach:
1. Beef Jerky
Finding healthy snacks that you can bring on trips can be tough.  Most of the time, snacks that are easy to pack and eat aren't very good for you. But beef jerky breaks this rule – it's convenient for travel and really nutritious.  
Beef jerky has lots of protein, which helps you stay full while you're on the go.  And because it's low in fat and carbs, it's a smart choice if you're watching your weight.   
But you need to be careful because some beef jerky has high amounts of sodium and artificial preservatives. So try to find kinds with lower sodium that don't have weird preservatives.  Some jerky companies even make it from grass-fed cows, which gives you healthy omega-3s.
2. High Protein Energy Balls
These little protein balls are delicious for a quick snack or breakfast on the go! I With just a few ingredients from your pantry, you can whip them up in 5 minutes flat. 
Checkout my favorite energy bite recipes >>
The best part is you can flavor them however you want – I've made ones with peanut butter, chocolate chips, oats, cranberries, you name it.  So versatile and easy to customize to your taste. 
My favorite thing about these balls is that they're vegan and dairy/gluten-free, so they work for any diet.  I have friends with allergies, so it's great to have a snack I can share with everyone.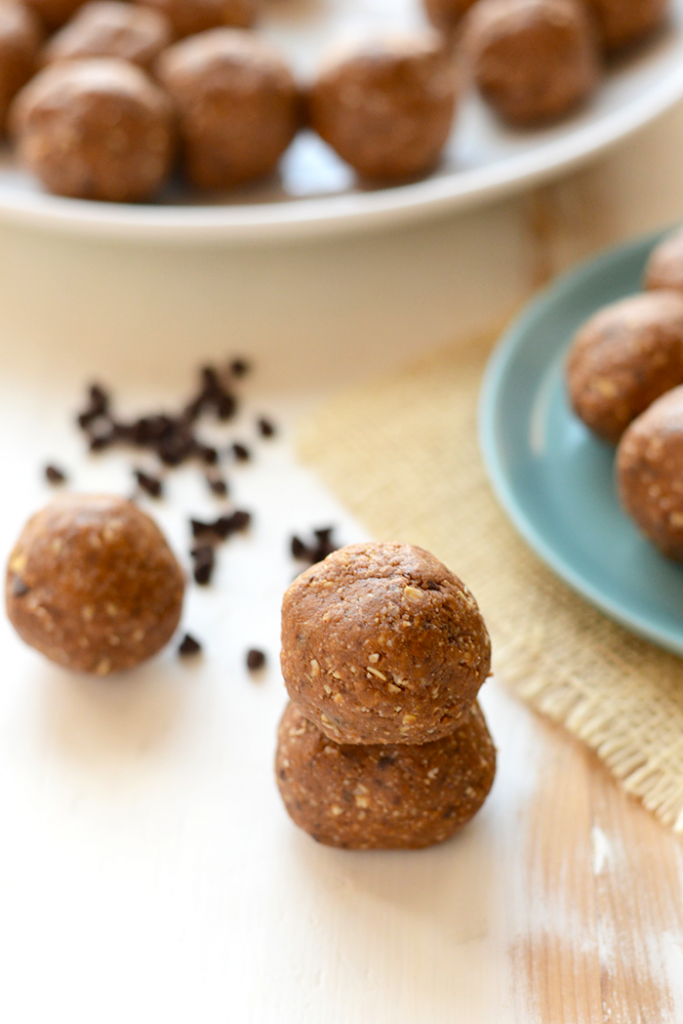 Plus, they're loaded up with protein powder, which means these tasty bites really fill me up and keep me going until my next meal without a crash.  They're especially great portable snacks when I'm out running around all day!
With just 5 minutes of work, you'll get roughly 30 balls using the scoop that are 60 calories each with 3.6g of protein, 9.8 grams of carbs, and 3.7 grams of fat. 
3. High Protein Cookie Dough
Craving a delicious snack that's got plenty of protein but not a ton of carbs or sugar? This no-bake cookie dough recipe is a total game changer.  
It tastes amazing but it's actually not bad for you at all and  the secret is using less sugar – just a bit of honey or maple syrup instead of pouring in the usual crazy amount.  You still get the sweetness you want without going overboard.   
My high protein cookie dough is also allergy friendly!!
And you can mix up the flavors and make a combo you love! Throw in any protein powder that sounds good – vanilla, chocolate, strawberry whatever.  Toss in chocolate chips or berries too if you want to get wild with it! 
The options are endless, so every batch can be something totally new and exciting.  My advice? Whip up a batch stat before traveling next time! 
This recipe makes roughly 10 servings at 100 calories each with 5 grams of protein or 5 servings with 10 grams of protein.
4. Popcorn
Popcorn is a super snack for road trips because of the fiber and complex carbs, which means they'll keep you regular on those long drives. 
Plus, the carbs provide energy to keep you alert behind the wheel.  But skip the microwave stuff coated in chemicals.  Go to a natural grocery and get popcorn made with just corn, salt, and oil.  
Even better, make your own at home on the stove with olive oil or butter and salt.  That way, you control exactly what goes in. You can't beat popcorn from scratch!
5. Hard-boiled Eggs
Hard boiled eggs are great as traveling snacks if you want to stay healthy.  They're easy to make ahead of time, and you can just bring them along with you in an small container.  
Plus, eggs have lots of protein to keep you full and not feel hungry too often. Eggs also have vitamin B12 for your brain and vitamin D for strong bones which is great because travel can really wear you down physically and mentally.
You can just eat hard boiled eggs by themselves, or put them on whole grain bread or with some fruit and veggies for a well-rounded snack.  Also, eggs are low in calories, so they're great if you're trying to watch your weight while seeing the world.
6. Protein Bars
Protein bars are great when you're hustling to stay healthy on the move. They fit nicely in your bag, give you the pick-me-up you need, and help you stick to eating right.  But you have to be careful because some have a lot of sugar and preservatives that'll jack your goals.
As a certified PT and running coach, I recommend protein bars with whole ingredients and no added sugar.  Steer clear of bars with weird chemical names you can't even read and always check the label.  
With the right bar, you can snack healthy and keep killing your fitness game on the go.
I even have a guide to help you find the right best protein bar! I taste tested them and reviewed ingredients!
7. String Cheese
String cheese is a go-to road trip snack for good reason – it has a decent amount of protein to keep you feeling full between pit stops.  
The protein can provide lasting energy to get through drives or long days exploring new places.  Cheese is also packed with calcium, so you get a dose of bone-strengthening nutrients.  
I like that each stick is wrapped up on its own which makes it super easy to toss in your bag without having to worry about loose cheese getting smushed. Plus,  you can nibble on the cheese solo or pair it up with some fruit, nuts, or crackers if you want something more substantial.  It works for a quick bite or a makeshift meal. 
8. Hummus and Celery
Hummus and celery make a great combo for a healthy snack on the go.  Hummus is packed with protein and fiber to fill you up.  It's made from chickpeas, which have lots of iron, folate, and B vitamins, too. Celery is mostly water, so it hydrates you and it contains vitamins A, K, C, and fiber as well.  
Together, hummus and celery give you a nice balance of protein, fiber, and vitamins.  The creaminess of the hummus matches perfectly with the satisfying crunch of the celery.  This tasty snack keeps you full while providing nutrition.  It's way better than greasy fast food when you're traveling or on the run. 
I like hummus and celery because it's simple to pack for a busy day.  The combo keeps me energized when I'm hustling between work and errands.  It's also pretty affordable compared to some grab-and-go snacks.  
Most importantly, it just tastes good! The fresh flavors make me feel healthy even when life gets hectic. For a pick-me-up, hummus and celery is one travel snack I always turn to.
9. Greek Yogurt
Greek yogurt has a lot going for it. For one thing, it's filled with good bacteria – aka probiotics.  That makes it awesome for your gut, especially when you're traveling and your diet is not the same. This is when probiotics really help keep your digestive system balanced.
Besides being so healthy, Greek yogurt's really versatile, too.  You can just eat it plain if you want, but it's also great with some fresh fruit mixed in.  And it makes a creamy dip for veggies too and is way better than those store-bought ranch dips.
But you have to be careful which Greek yogurt you choose. Go for the plain, unsweetened kind, so you're not getting all that added sugar.  That way, you control how sweet it is, and you can throw in your own healthy toppings. Berries, granola, cinnamon – so many options!
10. Peanut Butter Sandwich
Peanut butter sandwiches is great for taking food on trips. Peanut butter has lots of protein to fill you up, healthy fats, and fiber.  The bread carbs provide energy while you're on the move.  
Making a sandwich is super easy and fast.  Just grab some whole grain bread, which has fiber and spread on the PB and you can even add yummy fresh fruit like banana slices or strawberries to get more nutrients and make it sweet.  
The key to a healthy peanut butter sandwich is using good ingredients.  Go for whole grain bread and natural peanut butter without added sugar or unhealthy fats. Make sure you stay away from processed stuff loaded with junk.
11. Roasted Chickpeas
Roasting chickpeas at home is super easy and they make the best snack to bring when traveling.  Just toss some chickpeas in olive oil and whatever spices you want, bake them until they get nice and crispy! And just like that you've got yourself a tasty, crunchy treat.  
I'm obsessed with bringing roasted chickpeas as a snack whenever I'm on the go! 
And not only are they absolutely delicious, but they're also loaded with protein and fiber so they'll keep you full and energized.  When you're traveling, the last thing you want is to be starving and reaching for junk food.  Roasted chickpeas are a lifesaver since they're so nutrient-dense.  
Another reason I love bringing roasted chickpeas when I travel is that they really help keep my digestion regular.  Let's be real – digestive issues are common when you're on the road, and your eating schedule is all out of whack.  The high fiber in chickpeas helps combat that. I swear, roasted chickpeas have magical powers over my stomach. 
12. Tuna and Crackers
Tuna and crackers make for a tasty and nutritious snack when you're on the go.  Tuna provides protein to keep you feeling full and focused, and it also has omega-3s that are good for your heart and help fight inflammation.  
Pair it with some whole grain crackers for a nice crunch. The fiber in the crackers is good for your digestion and keeps you feeling satisfied longer.  The B vitamins and iron in the crackers give you an energy boost, too.   
For an easy snack, get canned or pouch tuna that's packaged in water, not oil, and low in sodium.  Choose crackers with minimal added sugar and artificial stuff.  Portion control is important for healthy snacking.  A serving of tuna with a handful of crackers should do the trick.
13. Grilled Chicken 
Grilled chicken is a great healthy snack for travelers. The protein helps your muscles recover from exploring new places. It keeps you full too, so you don't snack on junk.  
Making your own is so easy; just marinate the chicken however you want and grill it up. It's way healthier than fast food, plus cheaper too!  
Store it in something airtight and insulated to keep it fresh.  Eat it with veggies or whole wheat wrap for a tasty, balanced meal. 
I like grilling chicken since I can add my own flavors.  It's nice having homemade food when I'm far from home.  And it gives me the energy to keep sightseeing without getting tired.  
14. Ham and Cheese Wheels
Rolling up some ham and cheese can make for a tasty snack when you're rushing around.  
Having healthy bites ready to go is key if you don't want to be derailed by hunger on long trips.  Lean ham and low-fat cheese rolled together give you a nice combo of protein and calcium as you're on the move.  
You could even toss in some apple or cucumber slices for extra crunch and vitamins if you want!
The best part about these little ham and cheese roll-ups is that they're so easy to grab and go.  Just wrap them up, pack them in a container in your bag, and you've got a convenient snack that won't make a mess while you're eating.  
Since they don't need to be refrigerated for a few hours, they're there when you need them to keep your energy up and your stomach from grumbling mid-journey.  
15. Pita Pocket Sandwiches
Pita pocket sandwiches are great for eating healthy on the road.  They're easy to pack for travel and give you lots of nutrients.
The pitas themselves have fiber which really help. Plus, you can fill them up with whatever healthy stuff you want – maybe some chicken, or tofu if you're vegetarian.  Throw in lots of colorful veggies, too for vitamins.  Spread on some avocado or hummus for flavor and creaminess.   
16. Dark Chocolate
Dark chocolate is actually a pretty solid snack choice for frequent travelers.  I know it might not seem like the most obvious healthy snack, but hear me out.  The right kind of dark chocolate packs a ton of nutritional value that can be super useful when you're on the road.  
The big thing with dark chocolate is all the antioxidants it contains.  Those are really important for neutralizing harmful free radicals floating around in your system. 
And it's also loaded with beneficial minerals like iron, magnesium, and copper.  Plus, since it's high in fiber it will help you feel satisfied and avoid grabbing less healthy snacks. 
Now, you can't just eat any old dark chocolate and expect to get those advantages.  You really want to find one that's at least 70% cocoa to get the most nutritional bang for your buck.  Those tend to have less added sugar and really let the goodness of the cocoa shine through. Milk chocolate and stuff just won't cut it.  
17. Dried Fruits
Dried fruit makes for a smart pick when you're looking for healthy snacks to bring on a trip.  Since they don't spoil quickly and are easy to pack, dried fruits like apricots, dates, and raisins are perfect for long journeys.  
They give you fiber to help your digestion keep moving plus antioxidants and vitamins that give your immune system a boost – handy when you're traveling far and wide! 
Just keep an eye on portion sizes, as dried fruit packs more concentrated sugar and calories than fresh.  A small handful is plenty and and try to pick ones with no added sugar or preservatives, which you can often find in health food aisles or online.
Best Veggies, Fruits, and Nuts for Snacking While Traveling 
Of course, veggies, fruits, and nuts are great healthy travel snacks too! Let's look at some of my top picks:
1. Apples
Apples are straight up one of the best snacks to bring when you're traveling.  Not only are they delicious, but they also have a bunch of good stuff for your body.  
The fiber helps keep your stomach satisfied so you don't get too hungry on long trips. And get this – apples have antioxidants that make your immune system stronger! Pretty great when you're moving around to different places.  
Oh, and don't forget that apples are mostly water.  We're talking 85 percent. They will keep you hydrated, which is key when you're on the road.  
The best part is how easy apples are to pack – no fridge required! And you can just grab one and eat it without any prep.  Nature was smart to give them their own built-in takeaway packaging.  And that skin has extra nutrients too, so don't peel it off!
2. Bananas
Bananas are my favorite snack when I'm on the go.  They're so convenient to just grab and eat, and they give me the energy boost I need during a busy day.  I like that they come in their own easy-to-peel wrapping – no extra packaging needed! 
What I love most about bananas is how nutritious they are.  They have lots of potassium, which helps my heart stay healthy.  Bananas give me vitamin C too, which keeps my immune system going strong.  
The natural sugars and fiber fill me up and keep me feeling satisfied for a while and bananas aren't just delicious they actually help my body function at its best. 
I always keep some bananas on hand for when I'm rushing out the door in the morning or need a quick pick-me-up in the afternoon.  
They're the perfect portable snack to throw in my bag or take in the car.  Bananas have so many benefits in such an easy, tasty package. To me, they're nature's perfect energy bar!
3. Grapes
Grapes make a great snack to bring with you when you're traveling or on the go.  They taste amazing, plus they have lots of good stuff in them that's important for your body, like vitamins C and K.  
Vitamin C helps your immune system stay healthy, and vitamin K is good for your bones.  Grapes have fiber too, which helps your digestion keep working smoothly even when you're eating different foods or snacks than normal since you're traveling.  
The other cool thing about grapes is they have a bunch of water in them.  So munching on grapes when you're on a plane or road tripping helps you stay hydrated, which is really important because it's easy to get dehydrated when you're moving around a lot. 
Plus, theyre easy to throw in your bag too since they don't need to be cut up or anything.  And they aren't messy, so you can snack on them without getting grape juice everywhere.  
Basically, grapes make the perfect healthy snack to bring with you when you're traveling or out and about running around.  They taste great and have lots of nutrients and water to help keep your body fueled and hydrated.
4. Baby Carrots
Baby carrots are one of the best healthy snacks to bring when you're traveling.  Not only are they super tasty with their crunchy bite, but they also give your body good stuff it needs, like vitamin A for healthy eyes and a strong immune system.  
And since they're low-calorie and have lots of fiber, they're great if you're watching your weight or just trying not to be starving between meals.   
The other thing that makes baby carrots so perfect for taking with you is how convenient they are.  They come all ready to eat, so you don't have to do anything to them.  Just toss some in a plastic baggie or a container and you're good to go. 
5. Snap Peas
Snap peas are great! They're a super healthy snack to bring when you're traveling.  These bright green crunchy pods aren't just tasty, they give your body the good stuff it needs too. 
Snap peas are low in calories but they do have lots of fiber.  They also have vitamins A, C, and K which is great if you want to eat healthy on the road. Plus, the fiber fills you up so you won't be as tempted by junk food. 
The best part is you don't need to keep snap peas cold! You can munch on them raw in the car, on a plane, or while hiking.  If you want them softer, just lightly steam them before your trip.
6. Pistachios
Pistachios are a great snack for when you're on the go.  I always pack some when I travel because they're so nutritious and easy to carry around.  They've got protein, fiber, and healthy fats to keep you feeling full, which is nice when you're rushing between airports and hotels and don't have time for a real meal and  
Another reason I like pistachios is that they're packed with antioxidants.  Those help fight off damage from free radicals, and staying healthy is extra important when traveling since it's easy to get run down. 
You can just throw some pistachios in a plastic bag or container in your purse or backpack.  They don't take up much room at all!  Plus, they don't have any cholesterol, so your heart will be happy too.  
I don't know about you, but I'd rather snack on something like pistachios than potato chips or candy when I'm traveling. It's an easy way to sneak some nutrition into your busy day!
7. Walnuts
Packing snacks is key for any road trip or long plane ride, and on't forget to bring some walnuts! They make a great travel companion.  
Walnuts are so handy – they don't need refrigeration and come perfectly packaged in their own little shells.  Plus, they have lots of nutrients to keep you full between meals.
Walnuts have healthy fats, protein, and fiber.  This combo fills you up and keeps hunger away which is so helpful when you're stuck in a car or plane for hours with no food in sight.  As a bonus, walnuts deliver omega-3s, the heart healthy fats.   
It's hard to eat healthy while traveling, but walnuts make it easy.  Toss some in your bag for a simple snack on the go.  You can even mix them into trail mix or yogurt if you want some crunch.  
8. Cashews
Cashews make a great snack for travel.  Their small size and lack of need for refrigeration make them super convenient to toss in your bag.  Plus, they pack a nutritional punch that can help fight off the fatigue from all that time spent in transit.  
These little kidney-shaped seeds are chock full of good stuff for your body and brain.  The healthy fats keep your cholesterol levels down and your heart happy and meanwhile, the magnesium they contain is key for energy, muscle function, and just generally keeping your nerves calm amidst the chaos of travel.  
Cashews also provide protein to fill you up and prevent mindless snacking in airports and rest stops. 
9. Trail Mix
Trail mix is one of the best snacks to bring when you're traveling or hiking.  It's got a tasty combo of dried fruit, nuts, and chocolate bits all mixed together.  
The nuts fill you up since they have protein and healthy fats.  The dried fruit gives you a burst of natural sugar to keep your energy levels up.  
It's nice and lightweight so you can easily toss some trail mix in your bag without it weighing you down.  You don't need to keep it refrigerated either, which makes it super convenient.
Plus, you can customize your own trail mix too if you've got dietary restrictions or just want to switch it up.  Vegans can make a trail mix without the chocolate and use more seeds and dried fruit instead.  
Just remember that trail mix is high in calories so you've gotta watch your portions.  A small handful, around 1/4 cup is a good amount for one serving.  Don't go crazy and overdo it! 
10. Sunflower Seeds
Here's the thing, I've got the inside scoop on the perfect snack to keep you going on all your adventures.  Sunflower seeds! These little suckers are jam-packed with the good stuff to fuel your body and keep you going! 
First up, they've got healthy fats protein, and fiber to fill you up and prevent hangry meltdowns mid-journey and that's great when you're on the move.  And get this – they're packed with important vitamins and minerals like vitamin E and magnesium.  So they'll take care of your heart, blood sugar, and brain along the way.  Can't beat that!
Now here's the best part – sunflower seeds are also incredibly portable.  Just toss a bag in your backpack or suitcase, and you're good to go. No fridge required, and no mess to clean up.  
11. Homemade Vegetable Chips
Homemade veggie chips are a great healthy snack option for traveling.  You can control what goes in them when you make them yourself at home, so they don't have any weird preservatives or tons of salt like store-bought chips.  They're tasty and nutritious! 
You can use different veggies like beets, kale, sweet potatoes or carrots.  Those all have good nutrients and fiber that'll keep you full and give you energy on long trips.  
To make them, just slice up whichever vegetables you want real thin, drizzle a little olive oil on them, and bake until they get crispy and browned.  Add a pinch of sea salt or some herbs and spices you like to jazz them up. 
Seriously, they're so easy to make and you can take a big baggie of them with you wherever you go.
And there you have it – some great healthy travel snack ideas I'm sure you'll love! Before you go, here are some great high protein breakfast ideas and some high protein desserts you should try!
Other ways to connect with Amanda
Instagram Daily Fun: RunToTheFinish
Facebook Community Chatter: RunToTheFinish
Get more running tips: Pinterest