During my stay at Wellfit Malibu, I probably heard the words "energy ball" every 10 minutes thanks to the hilarious Lee and Davida who were indeed starving on the low calorie menu.
I of course then snuck in to their rooms and begged for said energy bites! One taste and I realized that I must once again attempt these delicious, whole food snacks.
BUT my first attempts have turned out to look more like blobs than balls. So for all my fellow runners looking for homemade energy bars or bites, I'm going to share some of their best tips and some of the recipes that you will absolutely adore.
Whether you want these as energy snack bites for during the day or for ultrarunning food, I've got you covered.
Tips for Homemade Energy Balls
Before we dive in to the recipes, here are a couple of tips to ensure you end up with delightfully edible food you expected.
After mixing put it in the fridge before creating the balls
Make sure you've mixed HARD so everything is coated
If not binding you may need a bit more of the maple syrup or nut butter
You can scoop with a cookie scoop to make them uniform in size
If you want to make them in to homemade energy bars, you can utilize these recipes with a small twist.
Press them in to a non-stick dish or pain
You'll scoop the mixture in
Use wax paper to press until largely flat and even
Again place in the fridge
Cut in to small squares and you'll like need to keep in the fridge for better stability
So with their tips in mind, I went looking for some energy bite recipes to spark my kitchen creations and I just had to share what I came across because these recipes for runners are a must!
They make for fantastic homemade energy bars during runs, pre-run snacks or post run refueling when you need those carbs!
Each of these come from recipe creators who have experience in the ball area and I KNOW are trust worthy for creating things they've actually tested and tasted multiple times!
Not sure the best way to sweetener your bites to keep them healthier! I've got a guide for you! Homemade energy balls are a fantastic way to keep the sugar down and your wallet happy.
Download your guide to natural sugar sweeteners (and what to avoid)
I consider this the ultimate round up of the best energy bars for runners because you can control the ingredients, the protein, the sugar and the amount you eat.
Chocolate Energy Bites
When you want a treat, but still want to feel healthy…it's time to reach for a chocolate energy ball! These recipes will satisfy whatever craving you might be having!
Chocolate Peanut Butter Bake Energy Bites from Gimme Some Oven
Almond Joy Protein Balls from Get Healthy Yu
Chickpea + Dairy Free Chocolate Energy Bites from RTTF
Trail Mix Quinoa Energy Bites from The Baker Mama
Fig Almond No Bake Energy Bites from Well Plated
Chocolate Fudge Red Velvet Cake Bites from Cotter Crunch
Fruit Based Energy Balls
Amusing that almost everyone in this group called them BITES and not BALLS…presumably because they know far too many of us aren't mature enough not to giggle every time we say balls.
We could simply refer to them as healthy snacks for runners, but where is the fun in that.
Pumpkin Pie Energy Bites from Paleo Grubs
Blueberry Lemon Energy Bites from The NY Melrose Family
Lemon Poppy Seed Energy Bites from Amy 's Healthy Baking
Healthy Strawberry Shortcake Energy Bites from Desserts With Benefits
Raspberry Coconut Energy Bites from Fifteen Spatulas
Fig Newton Bites from The Lemon Bowl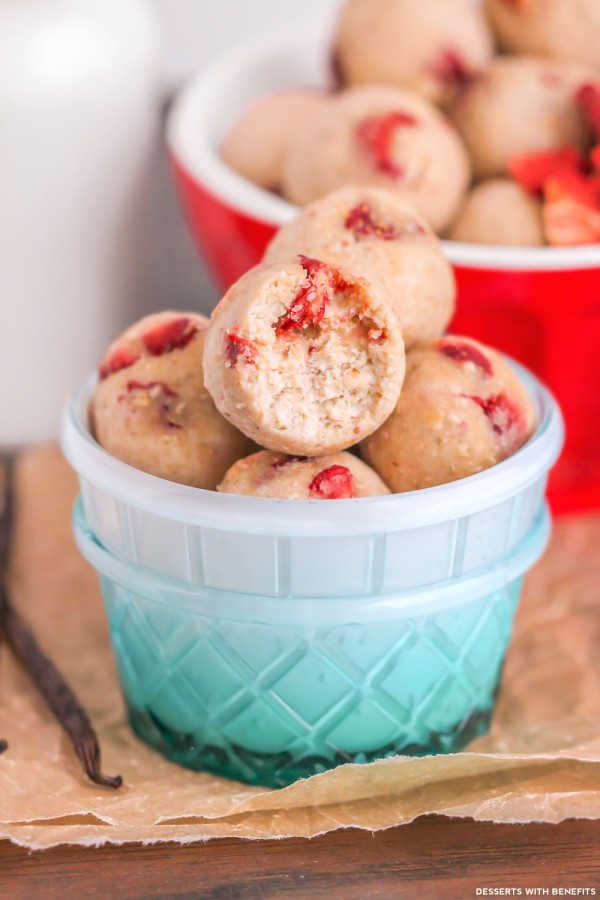 Nut Free Energy Balls
I've often wondered if people with a nut allergy where simply excluded from the whole energy bite recipe experience, but it turns out plenty of people have found ways to make them with seeds and other things. Enjoy these desserts with benefits!
Nut Free Coconut Date Energy Balls by Diary of an ExSloth
Paleo Energy Bites from The Nourishing Gourmet
Nut Free Chocolate Energy Balls from FitMitten Kitchen
Date Energy Balls from Detoxinista
Chocolate Chip Banana Bread Energy Bites from Running with Spoons
High Protein Energy Bites
Who needs a protein bar when you can make these at home and save yourself mola, calories and often chemicals.
It also ensures if you're like me that you have the option to avoid dairy and whey in the protein which is a well known allergen…hello inflammation and bloating!
No bake oatmeal protein energy balls by The Healthy Maven
High Protein Mint Chocolate Chip by Fit Foodie Finds (one of my personal fav flavors!!)
Brownie Batter Energy Bites by InIt4TheLongRun
Detox Protein Matcha Balls by The Healthy Chef
Sweet Potato Protein Bites by Pancake Warriors
SAVORY BITES BONUS: If you're in the mood for a savory ball rather than all the sweet, you've got to checkout this new recipe I created using potatoes and Tahini!
Benefits of Homemade Running Snacks
Not sure why everyone has gone so gaga for energy balls, energy bites and whatever other name they might go by? There are some very good reasons.
Unlike some bars you know the ingredients are nothing but WHOLE foods.
You can actually carry these on a run for fuel.
Their small size makes them calorie controlled, so when post run hunger strikes you can attempt not to go crazy.
Most are filled with foods that are going to replenish glycogen and help with muscle repair making them perfect for pre, during and post run.
All natural sugars.
Easy to make them gluten free.
Easy to digest for most runners (in other words no runners trots like with gels)
Whether you call them energy balls or bites, they're the perfect running fuel! 21 Healthy Energy Ball ideas
Click To Tweet
What do you need?
A food processor or high-speed blender work equally well. After that it's all about your hands!
Are energy balls healthy?
The best thing is that they're totally customizable to your preferences, your allergies and well based on the number you eat, your calorie needs! Just a few of the key ingredients that provide benefits:
Chia seeds: a known high protein plant based fuel that's great for runners
Nuts: a high quality fat to keep you feeling full
Oats: a complex carb for lasting energy
How many energy bites do they make?
Most recipes make between 10-12 bites depending on size…which means I recommend making a double or triple batch and then tossing them in the freezer or the fridge to extend their life.
Looking for more runner nutrition?
Other ways to connect with Amanda
Instagram Daily Fun: RunToTheFinish
Facebook Community Chatter: RunToTheFinish
Sign Up to Receive a Weekly Newsletter with Top Running Tips and Laughs