On my first outings as a runner, I rarely called myself a runner because it was mostly walking. I had what felt like a HUGE goal of being able to run a mile without stopping.
What starts out as a big goal, slowly with the right steps becomes super doable.
And then you start looking to new goals, like could I just possibly run a 5k? Or perhaps I could get faster at that mile!
There is so much to learn about training, running gear, breathing, resting and recovery that those early days of running can be overwhelming and really easy to stop before we hit the good stuff. And there is good stuff, I swear!
How to Run A Mile Without Stopping
Let's first make sure we're clear that running .1 mile makes you a runner!
But this is a running goal that feels really motivating and super attainable for nearly every fitness level.
Let's look at the tips that are going to help you learn how to run. And that means being comfortable with starting at the beginning, drop the ego, build a foundation that allows you to be successful.
Train Consistently
Progress will not happen after 1 run. Progress may not even feel like it's happening after 10 runs.
But keep putting on your running shoes and suddenly your body catches on to what you're asking of it and you get a slingshot effect.
We call this supercompensation.
From baseline you'll start training
This will breakdown the body (required to make it stronger!!)
Then you will have a rest day or a cut back week
All of that training will be absorbed by the body during that rest
Then you suddenly get a big boost that pushes you past your original base line fitness
Repeat, repeat, repeat
When you are first starting out, it's absolutely ok to walk every single day.
But you don't need to run every day. You'll be better off alternating higher and lower intensity days.
Power Walking
One of the first goals with runners we coach 1-1, who are starting out and want to run a mile, is working up to power walking 3 miles with each one at a 15 minute per mile pace.
In fact, we have a power walking plan inside Run Club and our Low Heart Rate program.
Being able to power walk 3 miles at that pace will 100% make your progress to run a mile without stopping 10x's faster, less painful and less likely to result in injury.
We have done this with many runners and each time they're blown away by how much faster they progress with that base.
Start with Run/Walk
There is possibly no better way to increase your endurance than started with planned walk run intervals, also referred to as the Galloway Method.
This means you don't go until you're gasping for air, but instead start with a planned amount of time to walk and to run. On training plans, you'll often see this listed as 1:1 – meaning run 1 minute, walk 1 minute.
Start with 30:30 in seconds
Once you can complete a mile at that interval, slowly start to increase
1:1
2:1
3:1
Checkout this Couch to 5K plan for some ideas on continuing to increase intervals
Seriously, have some fun!
Listen to a great running podcast, go with a friend and remember NO ONE knows what your pace is or how far you're going or whether you're out for a stroll or a run.
Slow Down the Run Pace
Once you start running, it's important to make sure you aren't pushing the pace too much.
Could you hold up your end of a conversation? This is a good test for effort level to make sure you are keeping it easy enough.
Are you panting? If yes, then go back to walking.
Checkout this great chart on Running Perceived Exertion – to give you more ideas on managing effort.
Play with Run Intervals
If you feel like you've been doing the training schedule for a long time and just aren't seeing progress then you might benefit from throwing in a few intervals.
This can make training more interesting, but it's also going to improve your mental strength!
After running hard, it feels much better to slow down and go for longer.
If you are following a training plan, this is how you will find intervals listed on the plan.
Here are two ideas to start with intervals:
Celebrate Each Additional Step
This is one of the mushy ones that you're going to want to skip.
Don't.
Running is so much about your mental state. You have to spend time thinking that you CAN do this and you ARE doing this. Which sounds impossible when we start, which is why we make it easier by taking the time to celebrate our progress.
Made it one step farther today? Incredible!
Ran 10 seconds more than last week? Progress!!
Showed up on day you'd rather have slept in? Winning.
Find a Flat Route
On the whole, as a running coach, I advocate including hills in your runs. It's going to make you stronger and eventually faster.
But when you've picked out the day you're going to try for that first mile then we want to pile everything in your favor. A little rolling course can give you the benefit of enjoying a downhill, but flat is awesome to just take away any mental worries.
Here's some tips on how to plan a running route >>
Add Strength and Core Work
One of the things most long time runners wish we'd known was the value of strength training and especially core work on day one.
Cross training used to just mean more cardio, but that's not the way to run faster.
We want to build muscle and improve our stability.
More muscle means more power in your glutes
More power in your glutes means running faster and fatiguing slower
Building up your core means more stability which means better endurance
Working your entire core means less chance of knee, hip or ankle pain
You've now got all the tools to start to run.
It's up to you to simply choose to do it!
To really help build the habit you could commit to 30 Days of running a mile a day. Checkout that guide for tips to do it safely.
Don't worry about that whole walking thing, it is genuinely how MOST runners start. Of course, few of them talk about it now, but they did!! Over time they gradually increased their running intervals, until suddenly they were running a mile without stopping.
Which 100% leads to finding a training schedule that will show you how to run longer.
Looking for additional training tips?
Other ways to connect with Amanda
Instagram Daily Fun: RunToTheFinish
Facebook Community Chatter: RunToTheFinish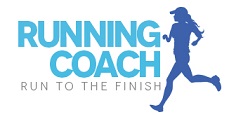 Sign Up to Receive a Weekly Newsletter with Top Running Tips and Laughs