As a running enthusiast and gear geek, there's nothing quite like checking all the data on your GPS watch post run. And when it comes to GPS watches, the best Garmin watch for runners is a super fun topic. I've put them all to the test over many years and many runs to help provide you a comparison of models.
Left to right: Garmin Venu 2s, Garmin Forerunner 265, Garmin Fenix 7s, Garmin Enduro.
Garmin is a brand that needs no introduction.  With their sleek designs, accurate tracking capabilities, and impressive data analysis features, Garmin watches have become the go-to choice for runners of all levels.
But with so many models on the market, how do you know which one to choose?
Well, fear not, fellow runners! As someone who loves putting running gear to the test, I'm here to help.
In this article, I'll be sharing my top picks for the best Garmin watches for runners, based on factors like GPS accuracy, battery life, and data tracking capabilities.
I've been using Garmin watches since 2004 and it's amazing to see how they've progressed, so hopefully I can give you some insights on comparing Garmin watches for running. Whether you're just starting out or you're a seasoned pro, there's an option that's perfect for you.
So, let's hit the ground running! Here's a peak at the most recent Garmin watches I've been testing.
Garmin Running Watch Features to Consider
Garmin is a company that's been around since 1989 and is well known for its GPS technology. They have a long-standing reputation for producing high-quality, reliable, and durable products.
Garmin's first foray into the running watch market was the Forerunner 101 in 2003. This watch was a game-changer at the time, as it allowed runners to track their distance, pace, and time without having to use a separate GPS device. (Seriously, I ran for years with just a watch that could tell time, start and stop!!)
Since then, Garmin has continued to innovate and improve upon its running watch designs, releasing new models with increasingly advanced features and technologies.
Today, Garmin offers a wide range of running watches to suit the needs of runners of all levels, from beginners to elite athletes. We're going to dive in to comparing these below, but first I want to talk a bit more about the features you may need to consider.
They make SO MANY WATCHES now that it can be confusing. Here are the primary features you're going to want to consider.
GPS Accuracy
In general, all Garmin running watches are going to meet your basic GPS needs. You'll be getting accurate data on the road and for the majority of your trail runs. However, if you are going to be doing more back-country things or open water swimming, then you may need to step up to the higher level watches like the 965, Fenix and Enduro.
Battery Life
Battery life is another important factor to consider, especially if you're planning to use your watch for long runs or multi-day events. There is a wide range depending upon the smartwatch features and available GPS modes, going from 20 hours up to several weeks in battery save mode.
Size and Weight
The size and weight of your Garmin watch can also impact your running experience. Look for models that are comfortable to wear and won't weigh you down during your runs.
More and more Garmin is making most models in their S version, which means small. It fits better on a smaller wrist and I can attest to this when you see me wearing the Enduro next to the Venu 2s.
Display Features
A clear and easy-to-read display is important for tracking your progress during a run. Pretty much all Garmin watches will have  high-resolution screens, adjustable brightness levels, and easy-to-navigate menus.
But you may need to decide if you want touch screen or are more focused on long battery life and thus willing to forgo all the pretty colors.
You'll also find that the Garmin Connect app makes it very easy to customize your screens during workouts on all watches. Additionally some watches will provide additional watch face options there or you can track things like your cycle via the app.
Heart Rate Monitor
All Garmin running watches are going to include the wrist based HR monitor sensors. This is the feature I tend to be the pickiest about as I use it for all of my easy runs.
So far the Enduro has performed the best over the long term. This may have something to do with the larger style and it being more rugged, so in the winter it can continue to get a better reading.
That being said, all the watches also pair with a chest strap via Bluetooth or ANT+ so you can get the gold standard of readings. I also appreciate that they now have 24/7 HR tracking to help you monitor resting HR.
Data Tracking and Analysis Capabilities
Garmin watches come with a variety of data tracking and analysis features, including heart rate monitoring, VO2 max tracking, and custom workout creation. Consider which metrics are most important to you and choose a watch that offers the features you need.
Price Range
Running watches range in price from around $150 to over $1,000. Some of this is due to features, some to do with materials like a screen that's less likely to break when you drop it off a cliff or can be submerged in water for diving, not just  a swim. Consider your budget when choosing a watch, but also keep in mind that a more expensive watch may offer more advanced features and better durability.
Best Garmin Watches for Runners Breakdown
All right now let's compare Garmin running watches. These are listed in order from basic entry level to top end, along with some of the features that set each one apart.
Best Garmin for Beginners – Garmin 55 ($199)
Let's start with the watch that I recommend 9 times out of 10 for someone who just needs a GPS watch to start better tracking their workouts, the Garmin Forerunner 55.
Understanding the features of this entry level watch, will also help you better understand any upgrades that appear in more advanced watches. Checkout my in-depth review of the Garmin 55 to see all the basics you should expect in your Garmin running watch and what they mean (i.e. what is training status, Live Tracking or treadmill calibration).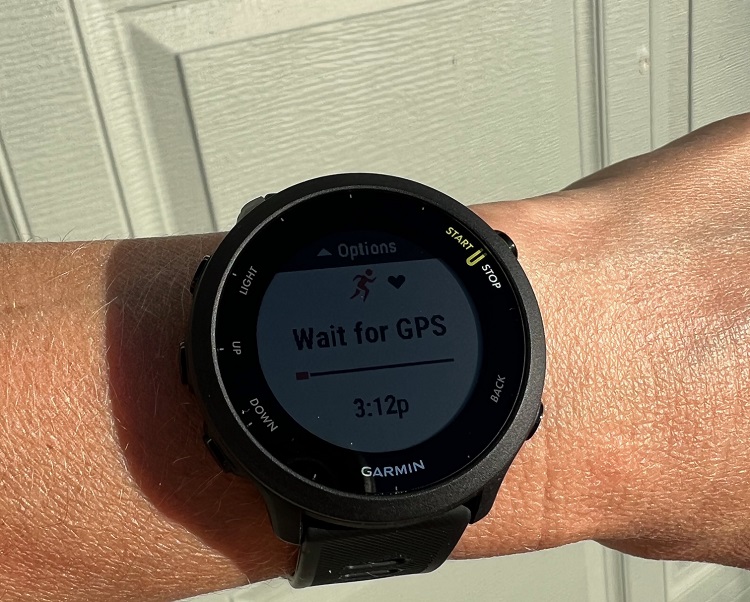 The only downside to this watch is that you aren't getting the top level GPS. So if you take it on the trails or through a lot of buildings it may not be as accurate.
Additionally, you don't have a built in accelerometer, altimeter or barometer, so you won't be getting any information about elevation changes.  As I mention with the Venu, I do believe that data is helpful.
**Note it will give you elevation data, but it's coming from the GPS of the watch. So it is less accurate than the other models with built in altimeter.
Beyond that, you won't be getting things like race predictor, music control or storage, sleep tracking and some other running data insights.
See the full specs of the Garmin 55 >>
Best Garmin Smartwatch – Garmin Venu 2 ($399)
A lot of you have asked me about the Venu 2, so I spent some time running with it and wearing it 24/7 recently to give you my honest feedback. Let's just start with it's a beautiful watch and the AMOLED touchscreen color display is incredible!
I had no issues with the sleep tracking, steps or even GPS. And while you might think of this as a fitness tracker, I'd say it's absolutely a step above anything I've seen from Fitbit or other brands. It's missing some run data, but has a lot of other well though out features like the body battery or sleep data, that simply remind a lot of you to recover better.
Where it came up short for me is on the metrics provided for runners and during a run.
It doesn't provide elevation gain or loss, which may not be useful to you. But I find this information really valuable when training for a specific race and working on matching the course.
The screens during a workout don't have a variety of colors, which I've gotten used to for quickly scanning the data.
I turned off the movement alert reminder, but it just kept pinging me all day long anyways.
All of that being said, this may still be absolutely the best option for you!!
I would 100% prefer this model over a standard Apple Watch for giving you more accurate HR data, GPS and general information. And with the Venu 2Plus, you can indeed receive and make phone calls just like from your Apple Watch.  Or you can snag the Venu Sq which is their only square model of a running watch to give you that Apple look.
See all the specs of the Garmin Venu options >>
✅Best Overall Garmin Watch for Runners – Garmin 265 ($449)
After testing this watch, I'm actually ready to start changing my recommendation for a lot of runners from the Forerunner 55 to the 265. This AMOLED display is insane and the watch features really are a step up from the entry level watch.
It's the watch I am asked most about when sharing photos and the one I'm using about 80% of the time right now. The other 20% is my Garmin Enduro on trail runs. Which means this has finally bumped my long standing Polar Vantage V2 from it's coveted daily spot. (We'll see if the HR remains super accurate when winter hits, but so far, right on.)
That being said, if all you need are the basics of HR, how far did I run and some pace data then don't spend the extra!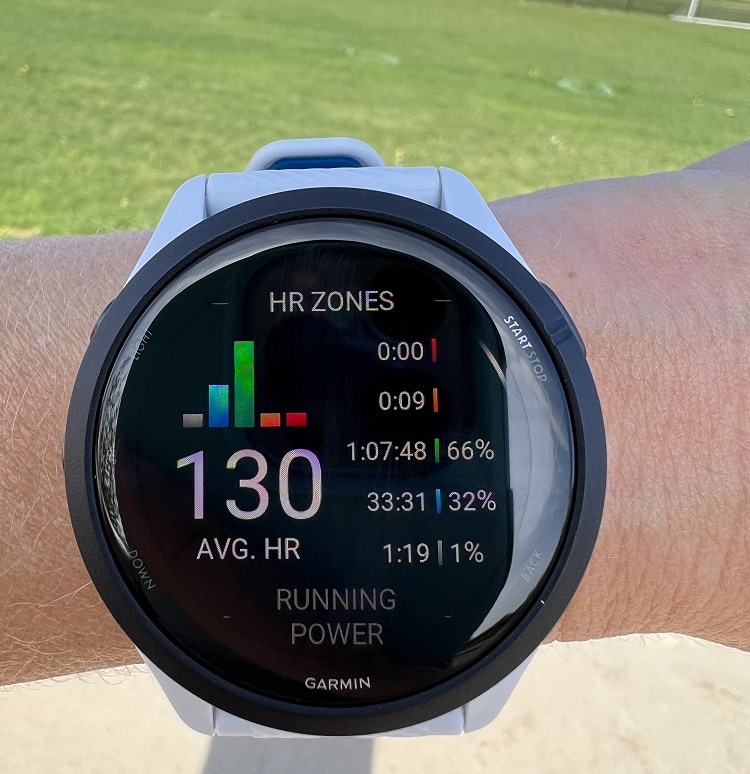 All the watches from here have the touchscreen option, which is nice…but can also be a serious pain in the winter. So I appreciate that all of the buttons remain available to make it easy to start, stop, lap, or even adjust settings (including turning off touch screen).
The 265 is going to be a little lighter than the Venu and yet also less durable than the Venu or Fenix.  It's also going to start giving you more of those running stats:
Recovery time
HRV status (debatable how accurate HRV is)
Training readiness, training load and training effect
 Elevation data, stride length, running power, running dynamics
More accurate track workouts, PacePro
Better cycling and swimming tracking
See all the specs of the Garmin 265 >>
And you're still getting most of the smartwatch features of the Venu, Garmin pay for contactless payment, and music storage, so it's a better option if you're truly looking for training data to help you improve.
Best All Around Garmin Watch for All Sports – Garmin Fenix 7 ($699- $999)
When you want a running watch that looks like a 10 and has the brains of a 10, this is your clear cut winner. The Fenix can do it all from running to deep sea diving to skydiving, right alongside giving you phone notifications, pay from your watch and a decent multi-color display.
Honestly, I didn't realize how dull the screen was until I got the Venu and 265.
Night and day difference, but again I think the less colorful non-touch screen is part of the longer battery and durability. You can adjust the screen brightness, but assume brighter will take more battery and it will still not look like the above watches.
Utilizing all 3 satellite options, GPS, GLONASS and Galileo, which means this watch is giving you top notch performance for GPS accuracy no matter what adventure you're on.
You'll also be getting all of the expected running features like cadence, stride, vertical oscillation, altitude, elevation gain, pulse oximeter, fueling reminders, race predictor, training suggestions, pace, and VO2 max.
The Fenix also includes maps, which is an incredible feature if you love not just trails, but running in new cities (which I do a lot!)
Due to all of the features the battery life on this watch is good, but not what you'll find in the Enduro.
Smartwatch up to 11 Days
Standard GPS mode 37 hours
Solar charging means that you get extra on all the battery life settings, like up to 46 hours GPS or 14 days smartwatch mode (big fan of all their solar edition watches now)
The Fenix also allows you to pre-load music so that you aren't streaming from your phone.  However, for the majority of runners I still recommend carrying your phone. The emergency alert features actually require the Garmin app to be open on your phone to give people your location.
Interested in more details? Checkout my in-depth Garmin Fenix 7 review and comparison >>
See more specs of the Garmin Fenix 7 >>
Best for Experienced Trail Runners – Garmin Enduro ($799-$1099)
One of the few watches that immediately got my stamp of approval for HR accuracy! It's a beast of a watch, in terms of size, but I still wear it just about any time I'll be hitting the trails and for a lot of my road marathon training as well.
Additionally, it became my go to for our mountain hikes, snowshoeing and cross country ski days. Since battery life is one of the things that stands out, let's look at that.
Smartwatch up to 50 Days
Standard GPS mode 70 hours
Solar charging means that you get extra on all the battery life settings, like up to 300 hours of GPS!
Power Meter to help conserve battery life by turning off some things, then up to 200 hours in GPS mode
Expedition mode is designed for multi-day activities to help you get that extended battery life
Maps for navigation are one of the features that used to set this watch apart, but you can now get even more brilliant colors and maps on the 965.
Again the screen on this one is not that bright touch screen of the smartwatches, but it absolutely still gives you all your watch notifications. You cannot respond to texts from the watch.
What the Enduro has that Fenix does not:
Titanium option for watch face
Nylon strap
Larger watch face and display with no S option for smaller wrists
Dramatically longer battery life across the board
Solar edition is truly spectacular when it comes to battery
Additional sport features for Ultrarunning, Expedition, Adventure Racing
Note only the Enduro 2 includes maps, which will cost you another $300. But honestly this feels like a must have feature for those long outdoor adventures.
Interested in more details? Checkout my in-depth Garmin Enduro eview and comparison >>
See more specs of the Garmin Enduro >>
Best Watch for Triathlon – Garmin 965 ($599)
While this is not a triathlon blog and I will not pretend to know all the things you need, I have done my fair share of swimming and biking over the years. I also owned on of the early models of this watch the 935 and it was a stellar watch. So I feel confident speaking to the features and quality for triathletes.
While  I have used older models while living and training in Florida (that one time attempted triathlon), I have not put on the newest model.  But I couldn't write up this review and not include it!
Which Garmin Running Watch to Pick?
As you can see from the list above, I have good things to say about pretty much all the Garmin running watches I've tested.
In this article, we've covered some of the key factors to consider when choosing a Garmin watch for running, including GPS accuracy, battery life, size and weight, display features, data tracking and analysis capabilities, and price range.
By taking these factors into account, you'll be able to choose a watch that meets your specific needs and helps you achieve your running goals. But I know that's still easier said than done because the Garmin 55 might do what you need…but oh boy is that Fenix pretty and wow the screen on the 265!!
Here's a look at the regular size of their watches vs the S models.
Garmin Running Watch Comparison Chart
There are a lot of factors to consider, but let's look at a few of them to try and help with that final choice.
Garmin Forerunner 55
- Entry Level
- No elevation
- $149


Basic running stats, a few sports


Garmin Venu 2
- Entry level
- Overall wellness watch
- $299 - $49


Touchscreen, AMOLED display


Available in mulitple sizes

Notifications, song storage, contactless pay


Plus offers calls and text response


Garmin Forerunner 265
- Advanced, all running stats
- Improved GPS
- $449


Touchscreen, AMOLED display

Available in mulitple sizes, 13 day battery


Notifications, song storage, contactless pay

Elevation profiles, more running data, multisport


Garmin Fenix 7
- Advanced, all running stats


- Only diving approved watch
- $700 - $1000

Available in multiple sizes, dimmer screen, but more durable


Most sport profiles of any watch, maps


11 day battery life, solar options


Sapphire screen more durable, rose gold options


Garmin Enduro 2
- Advanced, all running stats
- Best for ultra, mutli-day events
- $1099


No sizes, dimmer display, rugged watch, nylon strap


Longest Battery life, extended with solar up to 150 hours GPS


Stat IQ and rest tracker, ideal for Ultra runners


Garmin Forerunner 965
- Best triathlon watch
- $599


Easily switches between sports automatically


Multisport, elevation, routes


Larger screen and AMOLED screen with maps

So what are you waiting for? Whether you're just starting out or you're a seasoned pro, there's a Garmin watch out there that's perfect for you.
Take some time to explore the various models available, read reviews, and try some on for size. With a little research and some careful consideration, you're sure to find a Garmin watch that will be your perfect running companion for years to come.
Looking for more tips?
Other ways to connect with Coach Amanda
Instagram Daily Fun: RunToTheFinish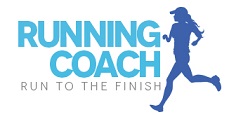 Facebook Community Chatter: RunToTheFinish
Sign Up to Receive a Weekly Newsletter with Top Running Tips and Laughs