Many new runners reach out to me wondering what's the major difference: Garmin vs Apple Watch? They already have an Apple smartwatch and aren't sure if they need to switch to a whole new GPS watch to track their runs.
I mean the Apple Watch has GPS, so what's the deal?
The truth is there are some pretty big differences between a fitness tracker and GPS running watch.
But which of those features actually matter to you is an entirely different story. I don't think it has to do with fitness level, I think it simply is a matter of what smartwatch features are key for you if you'll be wearing it all day long or just need it for fitness.
A few of the major differences Garmin vs Apple Watch:
Garmin wants to be part of every facet of your active life, all the performance metrics you could ever want, tracking every possible sport, Apple Pay, music, tracking your menstrual cycle and other assorted features
Apple wants to be the best smartwatch available, which does track your workouts, but isn't actually focused on your workouts the way a Garmin watch is..
If you're looking to purchase your first GPS watch for running, check out my post on GPS watch mistakes not to make, so you don't end up getting more than what you need and spending more money than necessary.
This side-by-side comparison should help you better understand the different features and narrow down your choices.
Not interested in all the research and just want to know what I'd pick?
✅This is the watch I'd choose as a beginner.
It has more than enough features to last you through that first 5K all the way through many marathons and is more cost effective than other options.
Apple Watch Vs Garmin Feature Comparison

Even the most basic of fitness trackers today include the same features such as heart rate monitor, pace, distance, calorie tracking, and lap function.
Where these two differ is in the quality of the technology that is focused on your fitness.
Starting at $399 for the newest Apple Watch cost is on par with many upper end GPS watches, so that's where the majority of the feature comparison will focus.
You can still get the Apple Watch Series 3 for $199, which is the equivalent to or just above the entry level Garmin 55.
While I tend to encourage our runners to get a Garmin, running coach Nick Klastava (a super fast marathon runner himself) says he often goes out in his Apple Watch. He's also not as Type A as a lot of us :).
He agrees it's harder to get splits and some data, but gives you the basics on all those easy runs.
I have done a full Apple Ultra Review separately. I'll mention it below, but it's the only Apple with a good GPS signal, however it's much pricier.
Display – Winner Garmin

Both Garmin and Apple watches have a good clear display with a solid watch face that shouldn't scratch or crack most of the time.
But the Apple watch only gives 10 potential fields of data to display, while even the most basic Garmin has 27 fields and upgraded models have twice that.
The screens on the Garmin can be modified via the Garmin Connect app, which includes a ton of other add-ons as well.
For me the screen customization is huge.
I need to easily see my HR, my current pace, distance, etc.
Maybe all you really want to know right now is how far and how fast, which the Apple will show.
Watch Fit – Tie
Another important comparison around screen size is how the watches fit. The Apple Watch works well on small wrists, which is one reason many tend to veer away from traditional GPS watches.
However, Garmin offers an S series in many models, which is smaller and designed to fit a smaller wrist while having all the same features of the model as the original.
Additionally, the Garmin Fenix and Venu are designed to be that nicer looking watch you can wear all day long.
Alerts – Apple
The newest Apple watch has audio alerts which can come through your headphones to update you on pace, distance or if you are ahead of a goal pace you set. This is not the ding that a Garmin does, but actual audio providing you an update with specific numbers.
While the all the Garmin models can ding or vibrate with each mile, only the Fenix 6 and above currently have audio prompts. Some folks prefer to have that audio so they aren't checking their watch.
All Apple and Garmin models include smart phone notifications
Apple makes responding to messages from the watch easier
Most Garmin and Apple allow for music controls
GPS Accuracy – Winner Garmin
For me this is the biggest Apple Watch Vs Garmin thing that matters.
In terms of which watchmaker reigns in tracking, the Garmin is going to win based on the intense focus they've had on GPS for years. They also uses multiple satellites, which means more accuracy (GPS, Galileo and GLONASS).

While the Apple Watch 7 series is far more accurate than earlier versions, many folks still find it not as accurate as Garmin and as a long distance runner that matters!
Imagine doing a 10 mile to find out you actually only ran 9.5 or you ran 11! I've had this happen to a number of runners in our group, who found the Apple Watches just never managed to be completely accurate or consistent.
**The only exception to this is the Apple Ultra, which uses more satellites and some additional software to help ensure you're getting better GPS even in downtown areas.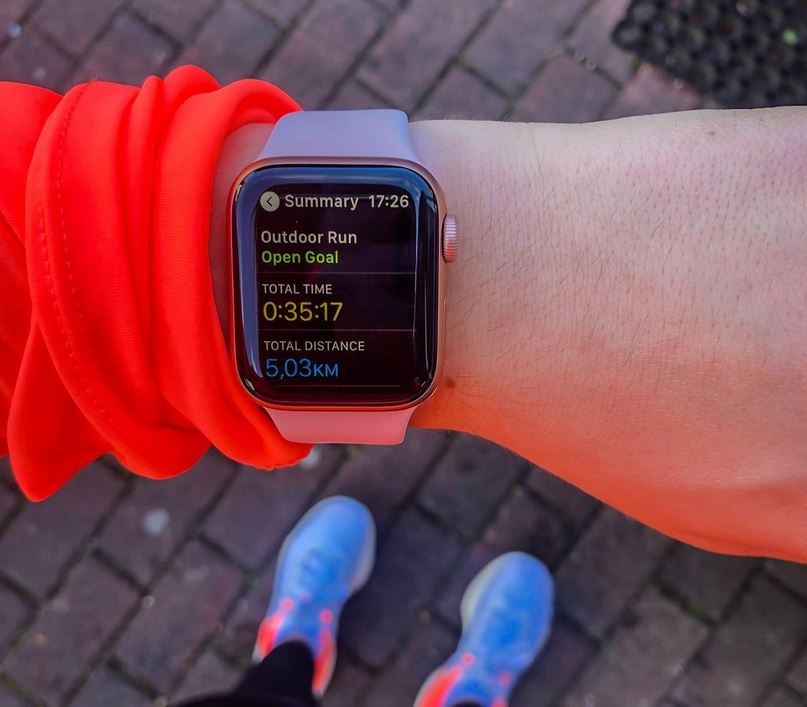 Watch Battery Life – Winner Garmin

While few runners need a running watch to last them 24 hours with all features turned on, you're more likely to have that happen with the Garmin.
The newest Apple Watch can run with you up to 6 hours on a full charge, the most basic Garmin goes 20 hours.
So if you're pushing for that first 5 plus hour marathon it won't cut it between the time getting to the start, etc.
In daily usage mode, the Apple Watch still needs a daily charge while the basic Garmin goes up to 7 days and upper models up to 14 days between charges.
Mapping and Navigation – Winner Garmin

For those running new routes or who have a tendency to get turned around during a run, the navigational features on Garmin watches will make sure you stay on course and return home safely.
If you don't mind looking at a map on a tiny screen, the Garmin Fenix series includes color topographic mapping capabilities.
You can do navigation via Google Maps on your Apple Watch, but it's not really designed to work with your runnning workout.
Heart Rate Monitoring – Tie

These days, most GPS watches come with either strap-based or wrist-based optical heart rate monitors.
Optical heart rate monitors are known to provide inaccurate results due to recording random movements (which is why I actually switched to the upgraded wrist based HR tracking with the Polar GPS watches).
Having talked with many runners who use Apple's HR they find it's pretty good at rest, but not terribly reliable on the run.
Please note, in the comparison chart below that the 3 series is going to be the LEAST accurate.
I had issues with the Apple Watch dropping out mid-run, while a Garmin may simply have moments where it spikes.
Lifestyle Tracking – Apple
Both brands track wellness-related data like sleep metrics and heart rate throughout the day.
However, Apple really focuses on being the best smartwatch, so you can do A LOT more from the watch like responding to the text messages you receive.
Apple is really pushing that they have added two new features:
Blood oxygen readings – basically can tell if you are getting sick
Electrocardiogram readings – watch for heart rhythm irregularities
Pulse Ox is available in upper end Garmin watches as well. I'll be honest, it's a feature that rarely gets used unless you have a specific health issue or are at altitude.
Music Management
Apple and Garmin watches make it easy to sync your Spotify playlist (not all Garmin models, but most.)
Or both watches will allow you to start, stop, skip songs that are playing on your phone from the watch. This is my personal preference to not take up space on the watch, but it's also a benefit to be able to load a few songs on your Apple watch from Apple for those times where you may lack a good connection.
Data Management and Apps – Tie

Garmin uses a program called Connect, and users seem to love the additional capabilities like the ability to create workouts, build courses, and challenge friends to competitions.
There are a ton of apps for the Apple Watch that allow you to sync with different programs, find workouts, etc.Including their new Apple Fitness+ which is free for 3 months, and provides new workouts each week.
UPDATE: The release of the 9.0 software for any Apple watch 6 and newer includes the ability to create running workout on the watch.
Meaning as a coach we set up a 4 x 3 minute hard effort with recovery of 2 minutes and that can be programmed to your Garmin and Apple now.
If you're switching between brands, then a third-party app like Strava is the best place to keep all of your data safely in one place.
For both iPhone and Android users these apps are available, though everything does seem to flow better from one Apple to another.
Garmin VS Apple Watch For Running

Ok we're finishing up the Garmin vs Apple comparison.
Click any link below to see the watch and additional function details.
Budget Running Watches

✅ Garmin Forerunner 55 ($200)
This is now what's considered an entry level running watch and it has EVERYTHING including smart watch features. You can go more basic with the Garmin 25, but it's not well supported now. So with the 55 you'll get:
wrist based HR
sleep tracking, step tracking
GPS features
Smart phone notifications
Safety features for fall detection and notification
VO2 Max
It's a great value when I think I paid this price for my first Garmin that could only track how far I ran!
Apple 3 Series ($159)

This is their most basic model of Apple Watch that includes the necessary GPS features. But it has a much shorter battery life than the Garmin and will require daily charging to ensure it's ready to run when you are.
In fact, I can't quite figure out how you would use it to run and track sleep, unless you took it off to charge before going to bed?!
It does include:
HR sensor is still first generation so less accurate
GPS
sleep tracking, step tracking, Apple Pay
smart phone notifications – can respond from watch with text or microphone
water resistant for swimming
Has SOS notification, but not fall detection
Mid Range Smartwatches
I don't often recommend the Garmin Venu, but if you're looking for something that feels similar to an Apple Watch I think this is a good option.
Garmin Venu Sq ($149)
There are multiple models of the Venu, here we are looking at the smallest size with NO premium features to compare it to the SE.
The only square Garmin, making it look more like an Apple Watch
Lifestyle tracking for sleep, steps, HR, stress, hydration, women's health
Pay from watch with Garmin Pay, smart phone notifications, pulse oximeter
Pre-loaded workouts, Garmin Coach to guide runs
Apple Watch SE ($279)
Noted cost does not include cellular, which makes all Apple Watches cost more.
The SE contains a few upgrades from the Apple 3 Series:
Larger display with retina recognition
Includes incident detection (falls will trigger an alert)
Watch performs about twice as fast
Real time elevation always provided
High End Running Watches
Now we're going to look at the most recent models from both brands. At this point you've decided you want all the things and both act as great smart watches, but again with a different focus.
Here Garmin is now focused on EVERY bit of data around your fitness, while Apple is still focused on features for your lifestyle.
Garmin's premier sport watch, the Fenix series does pretty much anything you want, but is often the sought after watch because it has an everyday look.
Let's be honest, white/rose gold look basically convinced me I need the Garmin Fenix 6s (the S version is made smaller for a woman's wrist too)!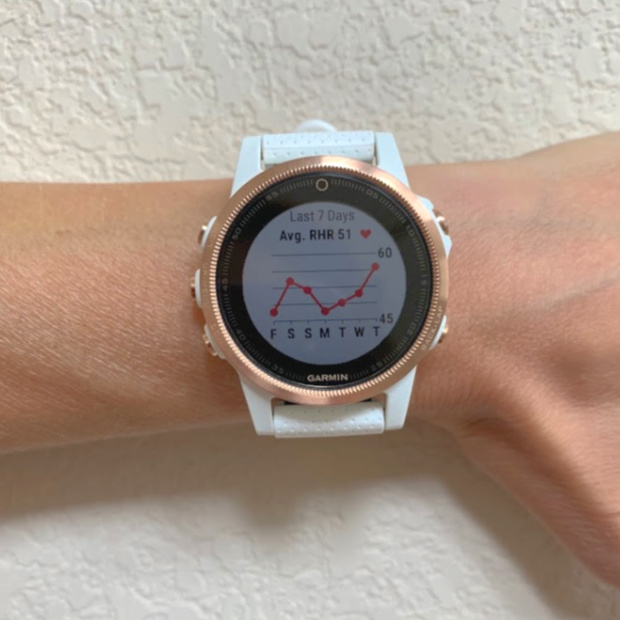 This watch is for the athlete who wants their watch to just know what they're doing.
It's going to have every bell and whistle we've discussed previously, plus the components are upgraded.
The Fenix can tell the difference if you're running indoors vs outside vs on the road or trail. It knows if you're in a pool or swimming in open water. It can even give you an accurate weather forecast via Bluetooth.
Right now you can get the Fenix 5s at a huge discount because they're rolling out the new Fenix 6 series.
See my full review of the Garmin Fenix 5S.
Apple Watch 7 Series ($399)
Let's look at the newest model of Apple Watch on the market.
Again you'll be getting all of the features from the 3 and SE, so here are the additional updates:
20% larger display and more casing options
20% faster than the SE
Improved HR sensor, blood oxygen and ECG sensor
What you'll notice here is that the watch did not suddenly add more fitness features.
It doesn't have nearly the same battery life, it has no maps or changes to the display or access to all three different types of satellites for more accurate GPS.
Again, all of this boils down to what features matter to you. Maybe you'll never be on the trails, looking for a breadcrumb trail to help you back.
Or you don't care if your watch finishes .2 miles off of your total in one direction or another.
Hopefully, this Apple Watch vs Garmin breakdown gives you some ideas about how both work and which might be best for your training.
Apple Ultra ($799)
This watch has most of the same features as the 3 thanks to the OS 9 software. What sets it apart is a little more focus on fitness and the GPS improvement.
I linked above to the full review. In terms of Apple watches for running, it's the only one I recommend due to the better GPS. But it's larger and quite a bit more expensive
Looking for more reviews to find the best things for you run?
Checkout our full page of my must have running gear reviews and guides to save you time searching and money! I share what's worked for me and fellow runners, along with what wasn't worth the price tag.
A few common requests:
Other watches you want to know about? Let me know!
Other ways to connect with Amanda
Instagram Daily Fun: RunToTheFinish
Facebook Community Chatter: RunToTheFinish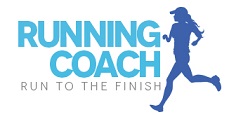 Sign Up to Receive a Weekly Newsletter with Top Running Tips and Laughs