In the last 10 years, I've tested a lot of GPS running watches. I'm not sure any have caught the attention as much as the Garmin Fenix S series. It was suddenly a running watch that looked great, fit smaller wrists and had all theses crazy features. What more could they possibly add to the Garmin Fenix 7s?
Having run in a few versions, I was curious to answer this for myself. Thus I've been taking the Garmin Fenix 7s Sapphire Solar model out on road runs, trail runs, treadmill runs, hill repeats and even the track.
The first thing I noticed in putting it on was how small it feels. I've been wearing the Garmin Enduro and Polar Vantage V2 for most runs, so it was a welcome change.
There are so many features to this watch that it would take forever to go through them all. So I'm going to focus on some of the major highlights, pro's, con's and differences from other models.
Having tested other Garmin models, Coros watches, Polar watches, Sunnto watches and yes even some brands you may not have realized had watches like TomTom or Epson, I'll do my best to help with the comparisons.
Garmin Fenix 7s Review
Garmin Fenix is designed to not only be the fitness watch that will take you through every possible activity you enjoy, but be a stellar smartwatch.
The Garmin Fenix 7 comes in a lot of variations. Knowing what the different titles and letters mean will help you decide what you need because of course each one changes the price.
I've been specifically testing the Garmin Fenix 7s Sapphire Solar model. Yup, a lot of words in that title. We'll break it all down!
Garmin Fenix 7 = basic model
Garmin Fenix 7s = s means a smaller fit
Garmin Fenix 7 Sapphire = has sapphire glass instead of regular glass, which means less scratches and stronger face
Garmin Fenix Solar = utilizes solar energy to help charge the watch
Garmin Fenix 7x = largest size, power glass screen, longer battery life
Garmin Fenix 7 vs 6
If you're wondering about whether or not you should upgrade, let's take a quick look at the differences.
7 has an upgraded HR sensor (see review it's still not great)
7 uses all 3 satellite systems which is even more accurate – this is the biggest upgrade for anyone doing outdoor activities
7 has a longer battery life, especially with solar option
7 is a touchscreen
7 adds stamina tracking and a visual race predictor graph
Watch Fit
Depending upon which watch model you select which change the fit. The S model is great for those like me with a smaller wrist.
For reference my wrist is 5.5 inches and there isn't a lot of strap left over once I strap it on.
Weight is 63 grams, larger models go up in weight to 96 grams for the X
Screen size is large and really easy to read, have multiple fields visible
It's a very snug fit, partially due to being a smaller watch face that sits tighter on my wrist
With larger watches, I've noticed that after long runs my wrist bone can be a little bruised and that's what I found with the Enduro, but not the Garmin Fenix 7s.
Photo of my older Fenix 5 to give you a size comparison.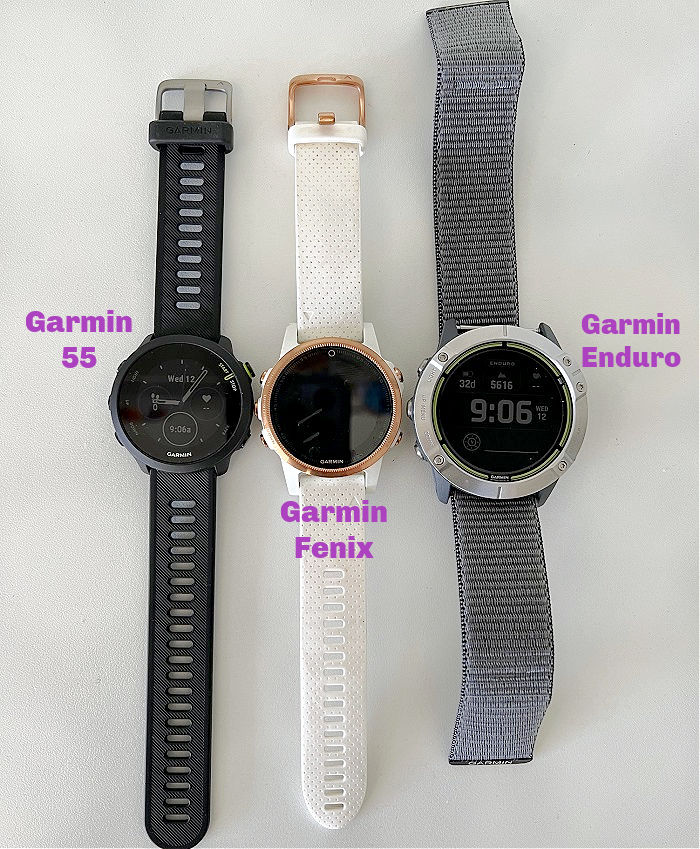 Battery Life – Mid-Range
While battery life on this watch is good, it's not top end. If you really want long battery life then you need to look at the Enduro or X models.
Smartwatch up to 11 Days
Standard GPS mode 37 hours
Solar charging means that you get extra on all the battery life settings, like up to 46 hours GPS or 14 days smartwatch mode
Battery saver mode can also help extend life by turning off some features
Expedition mode is designed for multi-day activities to help you get that extended battery life
I took the watch off for over a week after the wildfires and then went out for a run and watched it charge back up. I loved that I wasn't worried about it being dead or dying during the run,
Heart Rate – Often Inaccurate
For me this is a feature that ranks nearly number 1 in a MUST have and a must work well. I've got very mixed thoughts on this because mostly the watch was right…but is mostly good enough at this price point?
On about 80% of my runs the HR was wrong for the first mile of the workout. I've been running so long I know what my HR usually is and it's not 150. It's never 150 on an easy run. That first mile being wrong also means it impacts the score Garmin gives you around the workout.
After that it tended to settle in and stay fairly accurate.
Unless you count my hill repeats, where it said my HR was only 112. I remember sprinting, not walking to those hills, so again this is problematic.
While colder weather can absolutely impact all writs based readings, it was in the 40's and full sun for many of these tests.
GPS Accuracy – Top Notch
Many of you asked about accuracy when you're in a densely forested area, while I have not tested this because things here are not like the PNW, I do know it uses all 3 satellite options, GPS, GLONASS and Galileo, making it the most accurate possible for any GPS watch.
Minus being directly in downtown areas like the Chicago marathon, you should find the GPS to remain pretty reliable.
It's also going to have a few other running features that I love:
Altimeter – more accuracy on elevation gain and loss
Compass and Gyroscope – increases accuracy of tracking and mapping
Accelerometer – helps know if you are moving forward or just moving your arm
Barrometer – to help monitor weather
Pulse Ox – measuring oxygen levels as you start running at altitude can be really useful
Maps – Great Feature
First, a few of you asked me which watch is going to have the best GPS a for rural areas and this one is going to be on the top of the list. It includes advanced GPS and GLONASS satellite for better location tracking, which is part of what makes the maps feature possible.
One of the features I was most excited about was maps.
Since we're often doing new trails, I liked the idea that I could pre-load a map or I could use the navigation finder to help me get back to a trailhead. Hopefully, ensuring I do not end up like that lady who was airlifted in Hawaii for getting off trail and then totally lost.
Runsploring Tip:
Hold the light button, then select Point of Interest to save your starting location
Head out on your run
If you start to feel confused, during the run hold the menu button and scroll to navigation
You'll pick your point of interest, select Back to Start and you're on your way back to the hotel
Loading maps takes a little more effort, but worth it if that's your jam. Especially all of you asking me how I run in new cities all the time.
First download Garmin Basecamp
Import the GPX or TCX file you want to Basecamp
Connect your Garmin Fenix 5 to computer
Export route to watch
Find it by Main menu > Navigation > Courses
Activity Tracking – Incredible Range
More than simply being able to pick an activity, the Garmin Fenix 7 is designed with a lot of customized fields to really track the activities you love.
You'll get more data around your Climbing, Skiing, Cross Country Skiing, Mountain Biking and more.
Golf courses will allow you download maps to plot your ball trajectory.
Skiview will allow you to download maps to find the right runs for you.
Climb indoor allows you to track your routes, see how you're progressing in speed
While the Fenix is waterproof to 100M it's not meant for diving. You can enjoy all the open water swimming and snorkeling you want, but will need something bigger for depth.
Customizable Fields
One of the features I like best is that I can customize the watch screens for each of these different activities.
On my trail runs I like having an elevation map. While on my road runs, I'm watching cadence more or looking for incline information as I test out what hills will work for repeats.
You can customize the fields directly in the watch when you open an activity. And there are HUNDREDS of data fields you can choose from, which means you can see just about anything you want.
Fueling Reminders
A feature that many of you like from Polar and Coros is the fueling reminder. You can now get this with a Garmin App.
From the Garmin ConnectIQ you can download the My Fuel Reminder App (developed by GU). Currently, it will remind you ever 5KM to take in fuel, there is not yet customization.
Create a custom alert for your activity, which takes 2 seconds. It can go off based on a countdown timer. I.e. Every 45 minutes your watch can vibrate or buzz and that's your reminder to take in fuel.
Use the Calorie alert feature. You can set this alert to go off when the watch senses you've burned anywhere from 50 to 500 calories, you can select your target in 50 calorie increments.
Using the alerts is nice because you can have a different alert for your Ultrarun activity than your road run activity.
Expected Garmin Features
I'm not going to detail each of these, as you have probably read about them in my Garmin 55 review, these are the features we expect in a Garmin:
Suggested workouts, which adjust as the watch learns you
VO2 Max
Cadence, pace, stride length
Huge variety of activities included and can customize
Ability to customize watch face and screens
Step tracking, sleep tracking
Smartphone notifications, calendar, weather
Safety features with incident protection and Group Tracking — big one for ultrarunners
Control music playing on your smartphone
Listen I'm not saying you'll actually pay attention to the training tip it provides you for the day, but if you don't have a program then it can be useful.
Every time you start an activity it will provide a suggested workout, which you can dismiss or turn off this feature. Useful if you aren't following a plan.
Music Sans Phone
Loading music is actually surprisingly easy and for those of you who have said you don't want to carry your phones any more, here you go.
Create a playlist in iTunes, Spotify (or other program)
Connect your watch to your computer
Open Garmin Express
Select Music and then it will allow you to select your music, playlists or podcasts
Then send it to your watch and sync (Garmin express walks you through that)
Next on the watch go to Settings >> Sensors and Accessories >> Add New >> Headphones – tada no phone needed and wireless headphones connected
Additional Garmin Fenix 7 Features
So beyond the standard features you need, there are some additions which could enhance your training in the Garmin Fenix 5!
Training status
Looking at the last 7 days of your training the Garmin takes in to account a number of factors to help tell you whether your peaking, improving your fitness, maintaining, in recovery mode or starting to hit the point of overtraining.
Cadence and stride length
I'm always harping on having faster turn over rather than longer strides, so here's your chance to watch and make small adjustments to hit the optimal 180 footfalls per minute.
Race Predictor
This is a super cool feature, but for me at least felt a little ambitious. If I could run a 3:31 marathon, I'd be signing up for one ASAP…that's however not accurate based on what I know of myself. It's based largely off of VO2Max and a table of correlated times.
VO2Max
I've actually done an entire post about this topic and whether or not it's valuable to your training, so I'll just say it's measured..ish via the watch. According to the makers, Firstbeat, it has only a 5% margin of error from laboratory testing.
But within this watch it's important because they use VO2Max to provide your race pace predictions.
Recovery Time
Takes in to account the intensity of your workout to provide you with an estimated number of hours before you should tackle an intense training sessions again. It looks at your overall training load as well as the specific workout, to help remind you not to break the too much, too fast rule.
Golf Swing
Should you enjoy golfing as well as running (did I mention David bought me clubs our very first Christmas) then you're in luck!
Swim Strokes
And of course, you know I've told you all the reasons that you should consider swimming as part of your consistent cross training, so this watch is on top of it!
Smartwatch Features
As noted Fenix is really focused on being your everyday watch with all the smart features.
Having now started using tap to pay many places, I like that it can be even easier by setting up the wallet on my watch. You'll also see all notifications that you'd like on your watch (or turn them off). You are not able to respond to messages from the watch.
Audio Prompts
From the Garmin Connect app you can turn on audio prompts!
These are status announcements from your smartphone during any activity. Whatever audio you're listening too will be muted as these play.
Prompts include the lap number and lap time, pace or speed, and heart rate data.
Pace Pro
Designed to help keep you on pace during your race! You'll set up in advance the goals and then during the race it will help you see if you are on track.
Say you start out the race too fast, it's going to adjust splits from there to help keep you on target.
Running Power
Some runners have started using power meters instead of HR to judge effort. This used to require a separate item attached to your show, but now that the watch can judge stride length, vertical oscillation and so much more it's available right on your watch.
HRV Status
Heart rate variability has grown in popularity thanks to things like the Whoop. While there are still questions about how useful the data can be, it's now available for you here if you wear the watch 24/7.
Where to Buy?
I'm going to recommend you checkout REI's return policy.
As one of my friends says, you can take your gear out get it muddy, roll around in a puddle and still return it. When I'm looking at a big expense, I like a try it out policy.
See Garmin Fenix Models at REI >> $700 – $900 depending on model
See Garmin Fenix on Garmin >> $700 – $1000, you're more likely to find sales here first
Garmin Enduro Vs Garmin Fenix 7
How do these two top of the line Garmin watches match up?
Which one is going to best serve your running needs…
Let's take a look at where they differ so you can make a choice that works best for you. They share a TON of features including the same charging port and a bazillion sport modes.
Solar Charging
Only the Garmin Fenix Solar has this feature, so for that particular feature you'll get it for about $100-$200 less than the Enduro. While you could find the base Fenix for up to $200 less than an Enduro.
Beyond that let's compare the Enduro, Fenix and Fenix Pro Solar.
What the Enduro has that Fenix does not:
Titanium option for watch face
Nylon strap
Larger watch face and display with no S option for smaller wrists
Dramatically longer battery life across the board
Additional sport features for Ultrarunning, Expedition, Adventure Racing
Features on the Garmin Fenix that are not on the Enduro:
Topographic maps of the US
Music storage of up to 2,000 songs
S option for smaller wrist
Additional colors (like the infamous rose gold)
Garmin Around Me Mode to help navigate based on nearby things on the map
Yes the biggest issue some have found is that Enduro only has breadcrumb navigation. However, if you love the watch overall, you can utilize the dwMap App from Garmin Connect IQ.
Checkout more details of the Garmin Fenix Pro Solar >>
(I'm partial to the orange strap!)
Checkout more details of the original Garmin Fenix >>
(I have the s model in rose gold and do love the smaller fit.)
Hopefully this Garmin Enduro review from my last few months of running with it helped to answer some of your biggest questions!
Looking for more GPS Watch information?
Other ways to connect with Amanda
Instagram Daily Fun: RunToTheFinish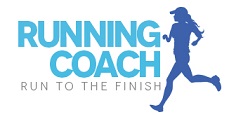 Facebook Community Chatter: RunToTheFinish
Sign Up to Receive a Weekly Newsletter with Top Running Tips and Laughs