Every runner is on the hunt for the perfect set of headphones. From wireless earbuds to bone conduction headphones, weather-resistant to comfort, there's plenty to consider before investing in a good pair. What about AirPods for running?
When AirPods first came onto the market, many were skeptical about how well they would actually work for running and other exercises. In fact, I've told you that while I would run in them, my limit was around 6 miles.
Runs longer than that and the original AirPods start to cut in to my ears with their hard shell.
But now that we're a few generations in and the AirPods Pro has been on the market for a while now, there may be hope!
Before purchasing a set of headphones, there are quite a few factors you will want to think about. Here's what you can expect from AirPods Pro (not the 2nd or 3rd Generation).
AirPods Features for Running
My Apple AirPods 2nd generation are now generally relegated to walks where I want to call someone to chat.
I've found that the other wireless headphones I have tested out for running, do not make for great phone calls because they let in too much ambient noise.
Which means that most days if you see me on a run wearing AirPods it's the Pro version now.
However, they are not my favorite wireless headphones for running.
They're good, don't get me wrong. And if you're only buying 1 set of headphones that can do everything, then I'd certainly start here and let's look at why.
Comfort While Running
Comfort is probably one of the biggest factors for runners, as we want something that will stay put in the ear with a secure fit without a chance of it bouncing out.
AirPods Pro boasts a customizable fit to make sure they are comfortable for the shape of your ears.
This comes down to the different silicone ear tips that come with them. They have small, medium, and large silicone tips that seal into the ear canal for better sound quality and noise cancellation.
Conforming to the ear, they should stay put once in.
Again, the original versions do not have the silicon tips, just the hard plastic.
To ensure you're wearing the right size tip for each ear, you can do the Ear Tip Fit Test on IOS devices. This will lead you through trying the different sizes with music tests until you feel you've found your perfect match.
Inside the ear, vents on the earbuds help to equalize pressure so that you ideally don't notice the headphones.
If your ears hurt after running, you definitely need to go through this fit guide.
Will AirPods Pro fall out while running?
I'm continually amazed at how well AirPods Pro stay in while running. For me, they stayed in without any need for adjustment for 2 hours.
I hate having to constantly push earbuds back in, but I didn't have this problem at all with the AirPods.
The silicone tip really helps to keep them in place and conform to your ear shape. Making sure they're the right fit will go a long way in making sure you that even as you start to sweat, they stay put.
I will say that it took me time with the AirPod 2nd generation to figure out how to put it in for lasting fit…and even then I spend a lot of time wondering if it's going to bounce free.
See how the Pro compares to other generations >>
However, if fit is a BIG issue for you as it often is for me, then checkout these Jaybird Vista headphones. The way the twist in to the ear a little bit makes them a much snugger fit and I never worry about them.
Decent Battery Life
On a single charge, AirPods Pro can last up to 4.5 hours. More if you're only using them for music, and less if you're talking.
The charging case itself gets you 24 hours of battery life, so you can pop them back in when you're on the go. For every five minutes of charging in the case, you get one hour of use.
Your phone or Apple Watch will let you know when your battery is running low. The AirPods themselves also send warning noises when the battery is about to run out, and it's time for a charge.
For your average and daily run, you will have no problem relying on one charge for your AirPods.
However, for a marathon, you'd likely have to recharge AirPods while running, which would require you to bring along your charging case. The case is small, but it's just one more thing to worry about when you're just trying to keep moving forward.
Alternatively, you can also use just one earbud while the other is charging in the case.
Sweat and Weather Resistant
Durability is another important thing to consider. AirPods are technically water and sweat-resistant.
Water resistant does not mean waterproof. This means they have a tight seal can handle some moisture, but should never be completely soaked or taken for a swim.
I've definitely had mine on in a massive rain storm and freaked out (yup this rain storm, I just took them out for a ridiculous photo).
They kept right on working for years afterwards, so I'd say they passed the test!
Are AirPods Good for running sweat?
AirPods are water and sweat-resistant. They have an official rating of IPX4. This means they can withstand the conditions, but should not be directly put in water or used for any kind of water sports. Their resistance can also wear over time.
For running, they should be able to hold up. Unless you sweat a stream of water, your AirPods should be able to handle the moisture.
Make sure to always store and charge your AirPods dry, as small amounts of moisture that linger can add up over time.
Is it okay to use AirPods in the rain?
My recommendation is to save them for a "drizzle" rather than any heavy "rain". Mine obviously survived just fine, but lets I be the one to ruing yours!
The outer microphones can become damaged from lots of water, though are able to withstand some moisture.
If you run in the rain often, exposure to moisture often may also mean a shorter lifespan for your AirPods.
It should also be noted that the charging case is not water or sweat-resistant – only the AirPods themselves hold this rating. For more on the water and sweat resistance properties of AirPods Pro, check out this Apple Support article.
Excellent Sound Quality
One of the major features of the AirPods Pro earphones that set it apart from the other generations of AirPods is the active noise-cancelling feature.
With the push of a button, you can cancel out excess noise or switch back to transparency mode to allow the sounds of the outside world to come through.
I personally LOVE this feature for my workout in a gym or when I'm using them on a plane. The additional blocking of that outside noise means I can actually hear my podcast.
Meanwhile, on the run I can turn it off to ensure I'm fully aware of my surroundings. Though I also like running with 1 earbud if I'm ever in a new place.
Finally, AirPods also boasts spatial audio, which creates a 3D, cinema-like sound filled with bass and rich notes that make it feel like the sound comes from all around you. I should probably be way more impressed about this…but as long as the sound is clear and static free, I'm pretty happy.
Really, for me the biggest sound feature is that I can make phone calls with clarity, due to the mesh microphone on the outside. In my other running headphones people tend to complain about wind and ambient sound.
Wireless Features
Of course, these AirPods are completely wireless (hooray for no cords!) and use Bluetooth to connect to your phone. Besides switching between noise-canceling and transparency mode, you can also skip and go back to songs and answer calls at the touch of a button on the buds.
Where you used to just tap the orginals, now you have a button, which just feels like more control.
Single-press: pause/play
Double-press: skip forward
Triple-press: skip backward
Long hold: switch between the two sound modes
AirPods are also compatible with Siri, so you can ask questions and have your notifications read to you wirelessly without breaking your stride.
Frequently Asked Questions about Running with AirPods Pro
All right, I've given you a run down on why people like running with AirPods, so let's answer some of the other questions that keep popping up!
How do you secure AirPods for running?
Ideally, your AirPods should stay inside your ear without any additional help.
I highly recommend doing the Ear Tip Fit Test. This will help make sure that you're using the right size of tips for your ear. One ear may even require a different size than the other! The test will help you determine which is right for you. The better it fits, the more likely it will stay in while moving.
That being said, if you're worried about them falling out, you can use a tiny piece of medical tape to hold them in place to your ear. (please do send me a photo if you do this😉) Winter gear such as headbands and beanies also help to keep them in place.
What AirPods are best for running?
Airpods now has three different wireless earbuds for sale: AirPods (2nd Generation), AirPods (3rd Generation), and AirPods Pro.
For running, I recommend going with the Airpods Pro as it is the only one of the three that has silicone tips.
Not only do they make them fit better, but they're much more comfortable than the other generations. I found the hard plastic of the original Airpods to be uncomfortable after a two-hour run.
That being said, the price jump for Airpods Pro is mostly due to the fact that they also have noise-canceling features. This is not considered an ideal option for runners as we should always be aware of our surroundings, whether on the road or on the trail.
So, if you find that the 2nd or 3rd Generation AirPods fit in your ear just fine, you might as well save the money!
Can I run with my AirPods without my phone?
Yes, but you'll also need an Apple Watch.
The Apple Watch Series 3 (or higher) and AirPod combo can work really well for running. The watch comes with LTE capabilities which means you can leave your phone at home and still enjoy music, phone calls, and notifications from your watch while you're away.
You can either stream your music or download playlists ahead of time to your watch. Together with Siri, you can do everything from your watch hands-free without needing to stop your run.
You will notice that using all these features will drain battery life faster, but it should still do very well for your average run!
All of the above being said, I prefer using a Garmin to an Apple Watch, although I know plenty of runners like the Apple Watch better.
How far can you go with AirPods without a iPhone?
You can get about 30-60 feet away from your phone before you notice connectivity issues. Unless you have an Apple Watch, this means you will need to take your phone with you on your run.
But if you're running on a treadmill, indoor cycling or doing some other exercises in the gym, you can easily leave your phone in one place while you work out.
Is it better to wear AirPods or bone conduction headphones for running?
This all comes down to preference. Some prefer not having any kind of wires or rests on their head while running, while others like how it feels more secure.
When it comes to safety, bone conduction headphones are often noted as the best option. They allow you to be much more aware of your surroundings while running since they don't seal in the ear canal.
And because the technology from Aftershokz headphones doesn't rely on eardrums and instead goes straight to the ear's cochlea, these headphones are good for those with hearing deficiencies.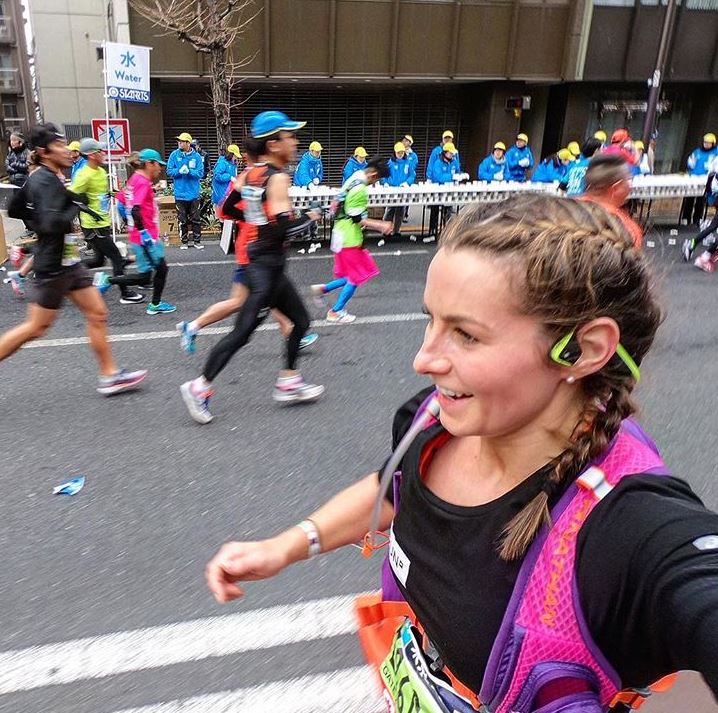 But for the same reason, the audio quality will go down for those as the lack of seal and eardrum use will lower audio.
For me, using bone conduction headphones also means I have a more difficult time wearing sunglasses while running as the ear hooks interfere with the frames.
You can find my full review on other wireless headphones for running here.
Final Verdict—Are AirPods Pro Good for Running?
When it comes to wireless headphones for running, the AirPods Pro is a solid choice.
Overall, they stay in the ears even while running and have plenty of wireless options that make using them easy while on the go. Their charge time should get you through your daily run and then some.
The sound quality is extremely high, and you know you're getting a good product with Apple.
So if you can justify the price point of the Pro version, I say go for it!
Looking for more gear reviews?
Other ways to connect with Amanda
Instagram Daily Fun: RunToTheFinish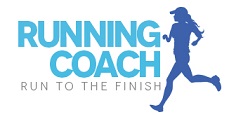 Facebook Community Chatter: RunToTheFinish
Sign Up to Receive a Weekly Newsletter with Top Running Tips and Laughs