I've made no secret of the fact that I can happily train year round, without ever actually setting foot on a start line. I think I'm continually in half marathon training…just without anything specific on the calendar!
A few years ago, my health issues made running HARD, and I needed to take a step back and approach it in a different way.
Not the I'm new to this distance and it's exciting when I hit new milestones even if it hurts, kind of hard.
More like I'm sleeping 10 hours a night, eating whole foods and still feel like someone has a rope tied around my waist pulling backwards, kind of hard.
There were plenty of good runs and endorphins to keep me going, but every race was a meltdown. I decided to listen to my body and take a break from races for a bit….it kind of stuck and I haven't done a whole lot since then either.
BUT I think that's about to change and I think I'm going to enjoy it.
One of the things that's making my return to running easier since knee surgery is the concept of practice races.
I know that we all go in to races saying "I'm just going to do it for fun." And then find ourselves going all out, that's ok. What I want is to change our perspective on how we use those "fun" races.
I finally took a really analytical approach to race day, resulting in some great lessons for me to use for all future half marathon training plans and race day.
How to Use a Practice Race
Whether you find yourself not quite ready for your goal race, you've gotten that crazy flu floating around or had an injury that slowed down training, or maybe your motivation just waned, there is still hope.
Stop thinking about a PR and think about how this race can set you up for future success.
Different Race Goals
Instead of focusing on just your watch for this race, it's time to really take in the whole experience. Your goal is to LEARN everything you can that will make your goal race better.
How did you feel at the start line? Do you need more throw away clothes to stay comfy?
Do you need to be awake longer to digest and use the bathroom?
Were you super stressed getting the start line, can you stay closer next time?
Was a destination race harder for you because of the travel?
Do you like being surrounded by others for energy or find that draining?
Did music cause you to go out too fast? Maybe start it later in the race as your energy drops.
Did that gel make your stomach hurt? Would you do better with whole food fuel.
Enjoying the Experience
We're sooooo tense on race day that we often forget this is supposed to be fun and worse than that we waste boatloads of energy that could be going to our legs by scrunching up our face to concentrate or tightening our shoulders.
Simply having a day to practice this will remind you on goal day how to let go. I've seen it time and again, when folks start having fun on race day they often end up ringing that PR bell.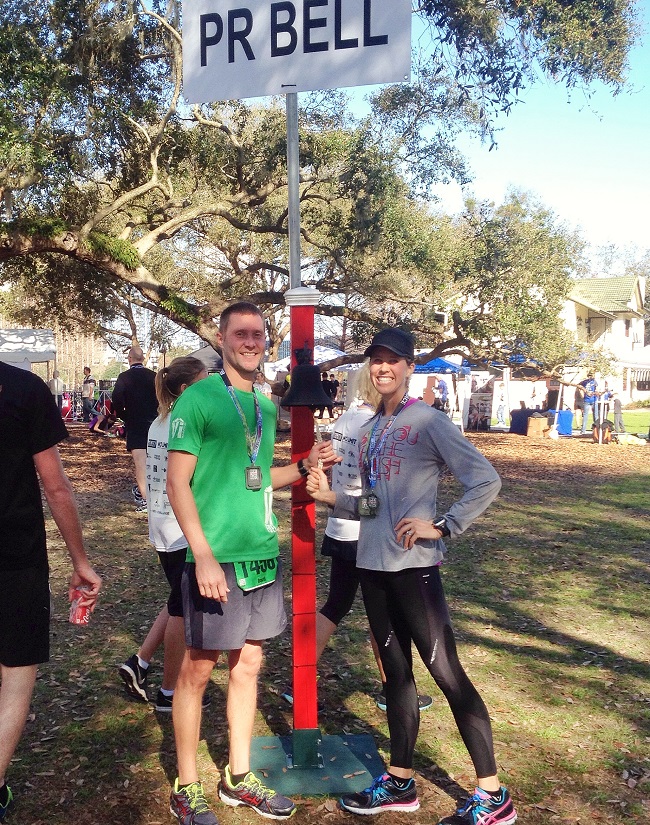 Practice Pacing
While you are NOT going out for a PR, this race is a good chance to see how it feels when you push your limits. Did you find your energy waning by mile 10 because you rocketed off the start line? Did you finish still thinking you had something left to give?
Just notice your breathing, your legs, the tension in your shoulders and yes whether or not you were even having fun!
Why You Need a Practice Race: Half Marathon Training
Click To Tweet
Half Marathon Tips
When I decided it was time to come back from knee surgery, David and I signed up for the Steamboat Half Marathon as a little tune up. I was surprised at how much I actually relearned doing that race and now I know those things will be important for my upcoming race goals.
Here are the half marathon tips I took away from my practice race that might help you as well!
Start line carbs
My HR shoots up in mile one, which means immediately I'm dipping in to carbs. I'm going to try sipping a sports drink while standing in the coral.
Warm Up Better
A longer warm up will really help my legs be ready to go in those first few miles. Without it I can tell I'm pushing really hard to hit my desired pace…I tend to skip it thinking I'm wasting energy, but that's backfiring. Here are some of my favorite dynamic warm up moves that I'll be using again.
Water Stations (bring my own)
These continue to be an issue for me as I break stride and then have trouble getting back without my HR soaring. I HATE stopping to drink, so I kinda sip or just run by because I don't want to be bothered. Which means dodging other runners or getting dehydrated which causes bonking.
I've now found if I carry a small bottle for the first half with a pre-workout supplement I can sip it and then toss mid-way. That ensures I'm getting something that I know works for me.
Start Closer to the Front
I tend to start farther back in the pack to keep from going out to fast, but then waste a lot of time dodging people to pick up the pace. In this race I had the guts to start farther forward and it was worth it.
Overthinking
Miles in a race feel way longer than during practice and I think in this case it was because I kept looking at my watch to see how my HR was doing compared to pace, etc. On race day, you have to let all of that go.
Not checking my watch has often allowed me to run faster than I believed I could. Focus on how the body feels.
Practice races are also a great time to see how you feel using a group pacer. It sounds great, but maybe it's not right for you.
Embrace Stress
I saw an amazing video the day before the race talking about how stress is a good thing and when we recognize it's preparing our body everything gets easier.
Flip Belt: GOOD!!! I never used to carry a phone during a race, can't do the spibelt or water belt, but now I want to. It's fun for me to take photos! This was perfect to have my phone with me, no bounce, all good. Now I tend to prefer my hydration pack, but this a great option.
Rolling Hills Work For Me
Totally my kind of race! I am strong on the up hills and then love the pick up going down. I have a much harder time on totally flat courses. Which means I need to really understand race course descriptions before picking a PR goal race.
Too Many Turns on A Course
Slow down, speed up…not my thing. If I really have a PR goal I need the straightest course I can find! We had a lot of hair pin turns and that also got my HR up. Again another time to really consider what race I'm choosing for my goal.
3 Song Maximum
Unless the Top 40 countdown is on, I no longer need a mega playlist. I usually turn my music on around mile 6 and only want to listen to one or two songs repeatedly. I didn't even know there was actually some science behind this about the repetition allowing me to get in to a zone and of course not futzing with my music because a song comes on that I don't like. I pick songs that would make me want to sing and dance in the car.
Have you ever done a race just to practice or learn?
Are you a fan of racing?
Other ways to connect with Amanda
Instagram Daily Fun: RunToTheFinish
Facebook Community Chatter: RunToTheFinish
Get more running tips: Pinterest