Should I do this race? Is it good for a PR? How's the weather?
Just a few of the things I'm wondering before clicking register, which is why I now include a race review prior to my more personal journey from the start to finish line. (Spoiler first post surgery race was a success.)
Steamboat Springs Marathon and Half Marathon
Let's just start with one of the key things you need to know: net downhill. Some of you will stop reading right there and hit register, but for the rest of you let's elaborate and decode this course!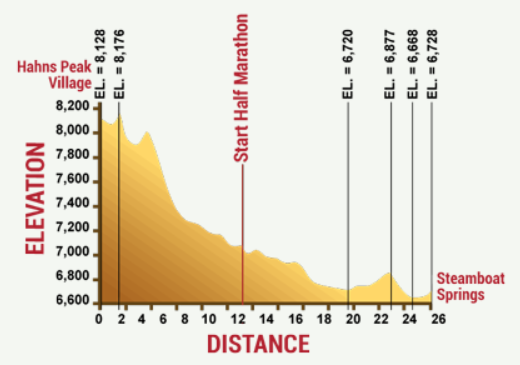 Expo
Easy peasy walk in to grab your bib, shirt and then a few vendors are around. It's definitely not the focus of the race, they have a number of virtual coupons and such provided in advance.
The race shirt isn't your standard technical shirt, it's a pre-shrunk performance t-shirt and we both loved it. Super soft and something you would wear out and about.
Race Day Parking
You cannot or mostly should not try to drive to the start. It's a point-to-point course, which means they have shuttles from the finish to the start line. The shuttles meet right downtown and leave at different times for the marathon and half (the marathon needs to drive farther out of town…so logically).
I always get a little nervous about parking because we've seen it hold people up in so many races. We had no issues whipping in to a street spot just a few blocks from the buses and everyone else seemed pretty good too. No back up of traffic.
An Instagram husband moment where I took about 20 shots, because I was laughing, we were staring at the sun and it really made no sense except to pass the time. :)
Start Line
My one and only disappointment was no start line arch or banner. BUT that's such a small thing compared to everything else, still if I said it was all roses, would you believe me? Because you are bused out to the start, expect to spend 40-60 minutes there before the race begins.
Hence my favorite race day tip: throw away clothes!!!! It's a lesson I taught David and he was ever so grateful once again because it was around 33 when we hopped off the bus and the sun wasn't quite to us yet.
Good news is there were plenty of porta-potties, there is a bag check if you want to take things with you and there was of course music!
Steamboat Springs Course Review

All right, let's dig in to why this is a race that you'll often see on lists as a must run. As always I do this a pro/con list to help you out.
PROS
Net downhill – This does not mean all downhill, I'd say it was rolling hills, but with enough downhills to really help your time
Gorgeous – The views…oh the views. You start up in the valley which means running along a paved country road with green everywhere and the roaring Yampa river beside you at times
Aid Stations – Plenty of aid stations along the course providing water and Powerade, most also had porta potties available
Porta- Potties – Speaking of this I gotta say I was impressed at the start line. I made it through twice because the lines were the shortest I've ever seen at a race!!
Roads – After Fort Collins I was nervous, that canyon road was severely slanted for water run off, which leads to knee and IT Band issues for runners. NOT this one!! It was smooth and flat, plus David often ran just to the side in the soft gravel.
Temperatures – While I hate being cold at the start, you can't beat a race in the 40's, which is pretty likely what you'll find this time of year.
CONS
One lane – it's not a closed course, which means after the first two miles you are all put in one lane to run. Generally enough room and I ONLY list this as a con because the few cars disrupt the total peace of that portion of the run
Crowds – If you get fired up by crowds this is not the course for you. There are some hearty ranchers who will come to the road and clap, but it's just not built for spectators
Cell Signal – I knew we'd be without service at least for awhile, so I planned ahead…David didn't and thus couldn't stream any music which is his default. Just something to think about.
Downhill?? Really this is only a con if you haven't done any downhill training.
Elevation?? Coming from Denver I wondered if I would notice the 7200 start and honestly I don't really think so…maybe a teeny bit on one hill, but I'd say even sea level folks would still be able to enjoy this race.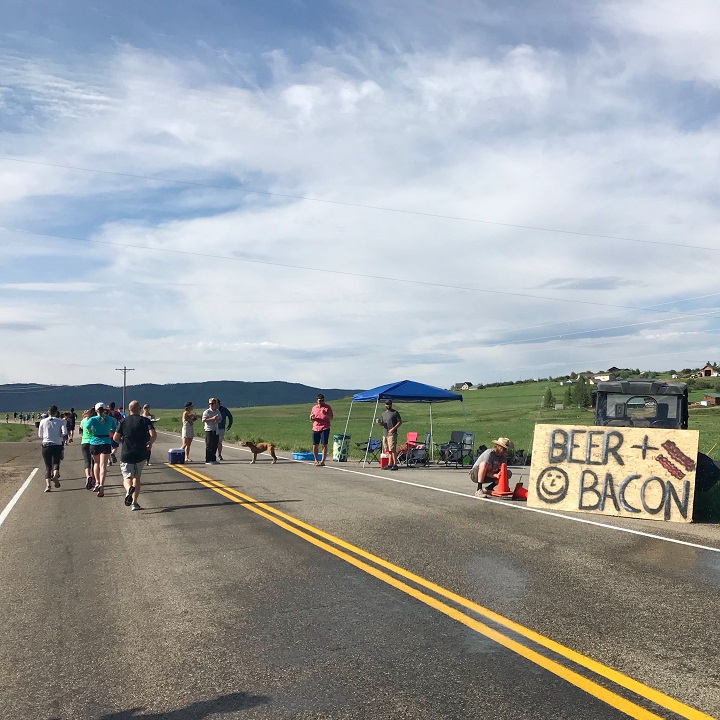 While I said not many spectators, I didn't say none!! This hilarious crew was in fact out with massively piled high plates of back and beet around mile 7 I think. I couldn't stop laughing!
Finish Line
The finish is in downtown Steamboat, which means it's perfect for grabbing a bite to eat or as we did, heading straight to the Old Town Hot Springs to soak!!
It's a small race, so the finish area is pretty small too. Qdoba hands out vegetarian breakfast burritos, there's water, oranges, bananas and a few other vendors, along with a play area for bean bag toss and such.
All right I hope that was enough to give you some insights on this race!
My Race Report
I had one major goal for this race: finish without pain.
This surgery seems like it was forever ago in many respects, but since the injury drug on for a nearly 9 months before surgery the road back wasn't quite as speedy as I'd assumed. My totally mileage climbed quickly, but my speed and my endurance I'm still fighting for.
Thus I waited 9 months post surgery to hit this start line. My first race ever in 2002 was a half marathon, so I figured my first race post surgery should be one as well.
Steamboat Springs was calling my name thanks to both the net downhill and what I'd heard about the beauty. I figured that would keep me distracted, regardless of my pace.
Go, Go, Gadget Arm
I love racing with David 98.2% of the time. I definitely give myself a little extra push with him beside me and I just feel great knowing he's there.
However, we have EXTREMELY different racing styles.
I am steady Eddie. One pace start to finish.
David is like the flash and the tortoise.
Each time we encountered a downhill, he'd go flying away and honestly it just made me smile and try to allow my own legs to move a little faster. They hadn't seen that pace in over a year though, so they were unsure.
Eventually, the course would flatten or uphill and I'd pull alongside him. A fun little game of cat and mouse, until we got to the last few miles and then this cat was out of fumes to catch the mouse so he slowed down.
Energy
It's been so long since I've paced myself in a race that I couldn't tell if I was going out too hard or conserving too much energy.
I loved that I could tell I was pushing compared to my long runs, but I didn't feel like I was blowing up. By mile 11, a sub 2 hour finish was just within reach if I could pick the pace up a tiny bit….I did for about .75 and then the gas ran out.
I didn't need to walk, but I couldn't will my legs to go any faster than 9:30 at that point and so we skated in just under 2:02.
While I wanted that sub-two hour half finish to help me feel like I really am on my way back, more important was that I didn't walk one bit. This sounds odd, but since I've been doing low heart rate training there's been a decent amount of walk breaks and I started to realize I was giving to myself at times to let myself off the hook for hard work.
Finish Line
I expected tears at the finish, but I think I was just too spent. I was happy, but definitely aware this is the most I've asked of my running legs since the Phoenix half in Feb 2017.
Snagging the cold wet towels they provided, I started to walk off and realized…pain.
It's good I didn't walk during the race because that split second of stopping seemed to make my knee stiff and painful. I found myself doing the straight leg pirates walk to move around the finish area and I was concerned.
We made it the couple blocks back to the car and, due to my planners nature, had all our stuff to hit the Hot Springs (more on this coming soon)!!! Turns out that was a great idea for my knee and while it's not 100% it feels ridiculously better already without a single anti-inflammatory or pain pill. WOHOOOO.
So 2:02 is now the post surgery time to beat and I feel confident that's coming soon!
THANKS FOR ALL THE SUPPORT MY FRIENDS!!!
Looking for a Steamboat Springs Marathon discount code? Hit me up, I'm working to get one right away for you!
Other ways to connect with Amanda
Instagram: RunToTheFinish
Facebook: RunToTheFinish
Get new posts via BlogLovin