Are you thinking about running a marathon or half marathon? Setting a marathon goal pace is incredibly important for a successful race.
In this comprehensive guide, I'll dive into the importance of setting a marathon pace goal, the art of mastering it, the effectiveness of marathon pace calculators, and how to navigate the marathon pace chart.
By the end of this article, you will be equipped with the knowledge and tools to optimize your marathon performance. And let's be honest, these steps work for EVERY SINGLE race distance. So walk yourself through the process and feel more confident on race day.
Why Runners Should Consider Setting a Marathon Goal Pace
Just like choosing the right marathon training plan, setting a marathon pace goal is not just about picking a random number. It can significantly impact your performance and overall race experience. By establishing a target pace, you provide yourself with a clear focus and a tangible objective to work towards, plus you can use it as a guide during your training cycle.
It serves as a motivator during training and helps you stay on track.
Why Having a Target Race Pace Can Improve Your Performance
Having a target pace can enhance your performance in several ways. First, it helps you manage your energy more efficiently. By knowing the pace you need to maintain, you can distribute your effort and avoid burning out too early in the race.
This strategy is especially important for long-distance events like marathons or half marathons, where pacing is key to maintaining stamina and avoiding fatigue.
Second, having a goal marathon pace enables you to set realistic expectations, which can prevent frustration and disappointment. When you have a specific goal in mind, you can plan your training accordingly and gradually build up your endurance and speed.
This approach allows you to progress at a pace that is challenging yet attainable, leading to a more satisfying race experience.
Plus, having a specific goal pace allows you to gauge your progress and make necessary adjustments during training. As you track your training runs and monitor your training paces, you can evaluate your performance and make informed decisions about your training regimen.
This data-driven approach helps you identify areas for improvement and make the necessary adjustments to optimize your performance on race day.
Benefits of Setting Realistic Marathon Pace Goals
Setting a realistic marathon race pace is incredibly important for long-term success. While it's essential to challenge yourself, setting a goal that is too ambitious can lead to burnout or injuries.
Remember that longer distance races like marathons are a LONG GAME. No pun intended. They take years of work and consistent improvement.
Realistic goals allow for gradual improvements. They allow you to build confidence along the way as you work up to a faster pace. By setting achievable milestones, you can celebrate small victories and stay motivated throughout your training journey.
Plus, setting realistic pace goals helps you develop a better understanding of your body's capabilities. It allows you to listen to your body, recognize your limits, and make adjustments accordingly. By respecting your body's needs and limitations, you can avoid overexertion and reduce the risk of injuries.
Remember, success in a marathon is the result of consistent, sustainable progress. By setting a marathon pace goal that is both challenging and realistic, you can optimize your performance, enjoy the race experience, and achieve your personal best.
How to Set a Marathon Pace Goal (Step-by-Step)
I
I've seen so many people throw out goals to "beat Oprah" or run a sub-2 hour half marathon, when their current training level and time to race day just don't match up.
And even if you plug a past race in to one of those fun calculators, I've found them to be around 50/50 on actually predicting the time you could potentially run.
So how do you figure out your race pace?
Setting a marathon pace goal requires a thoughtful approach. It involves analyzing various factors and personal considerations. Let's explore a step-by-step guide to help you determine your ideal target pace.
1. Assess Your Fitness Level
Setting a marathon pace goal is not a one-size-fits-all approach. It's essential to understand your fitness level before determining your target pace. Take a look at your recent race times and training logs to assess your current performance.
Consider factors such as your overall physical condition and any recent improvements you have made. This evaluation will provide a solid foundation for setting a realistic marathon pace goal.
2. Set Realistic Time Goals
When setting your marathon pace goal, it's important to be realistic. Consider your previous race performances and and the level of improvement you desire. If you have consistently been finishing races within a specific time range, it would be reasonable to aim for a similar pace as your previous marathon finish time.
However, if you have been making significant progress in your training, you should challenge yourself and set a more ambitious goal. Remember to strike a balance between pushing your limits and ensuring that your goal is achievable.
Should You Set A and B Goals?
While I do believe in racing for fun, if you're ready to go for a new goal then let's talk about the idea of setting multiple goals.
Most of us hedge our bets with an A, B and C goal. Why?
It can be scary to set big goals.
It gives us an out if we aren't doing the work.
We've all learned to make measurable goals, so it's clearly defined failure if we don't meet it.
I hate that style of goal setting. It leaves too much wiggle room to fudge workouts, skip a hill repeat or skimp on your weekly mileage, or indulge a bit to much and neglect our cross training….and then suffer the regrets at the end of the race.
Now, with that being said, I do understand setting goals where your A goal is truly your hearts desire…then your b and c goals are if things keep going well or to support A.
Example: In My first race after surgery my goals were as follows:
Finish pain free.
B. Don't take walk breaks (didn't want to let myself off the hook of pushing through).
C. Sub Two hours.
In this case, the A goal was all that mattered, once I could tell it was happening I started trying to focus on the other two.
3. Establish a Timeline
One of the first things to consider when picking your new goal is your timeline. Have you suddenly gotten inspired for a shorter distance like a 10K, but it's just a month a way? You'll see some progress, but not a ton in 4 weeks.
I think this chart does a great job of breaking down how much time you likely need to train for a PR in most events. Once you've truly evaluated your timeline, then you'll have a better idea of how much you can truly progress prior to race day.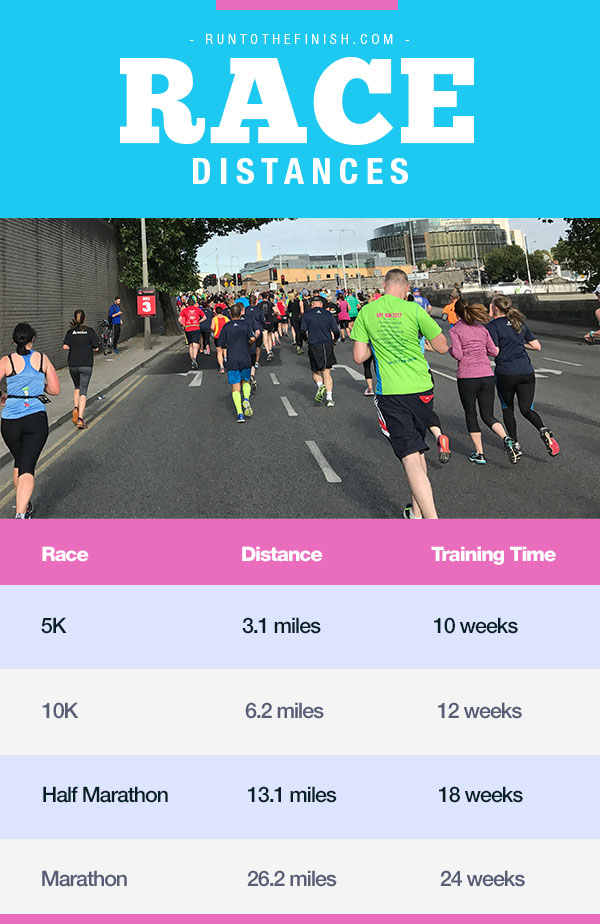 Your marathon pace goal should be aligned with your training schedule. Consider the number of weeks you have before the race and the intensity of your workouts.
If you have a longer training period, you may have more time to gradually increase your pace. On the other hand, if you have a shorter training period, you might need to adjust your goal to ensure it is attainable within the given timeframe.
Your training schedule should support your pace goal and help you build the necessary endurance and speed to achieve it.
4. Consider Course Specifics
Every marathon course is unique, and it's essential to take its specifics into account when setting your pace goal. Research the terrain and elevation changes to understand the challenges you may face during the race.
Plus, consider the potential weather conditions that could impact your performance. Adjust your pace goal accordingly to ensure that you are adequately prepared for the course's demands.
I've written a few posts on picking the right race or understanding race course descriptions, but it has to be mentioned here as well that the course is also key in selecting your pace.
The best way to PR is a consistent pace from start to finish (yup, better than negative splits!)
BUT a super hilly course means you'll need to plan for pace adjustments in order to meet your goal marathon time.
Compare the course to those you've done previously and how they affected your time.
Review potential weather conditions, you will slow down in the heat.

5. Seek Expert Advice
When it comes to setting a marathon pace goal, seeking advice from experienced runners or coaches can be invaluable. They can provide insights based on their knowledge and expertise, helping you make more informed decisions.
Discuss your fitness level, previous race performances, and training history with them. They can offer guidance on setting a realistic and challenging pace goal that aligns with your abilities and aspirations.
Looking for Help?✅Checkout Virtual Run Club.
For the cost of a meal out, you'll get access to 11 run coaches, plus tons of courses to help you improve your strength, nutrition, form and mindset.
6. Be Realistic About Progress
I know this particular point can feel like a buzzkill. You don't come here for me to sugarcoat it though, I give it to you straight!
You have to be realistic and honest when looking at your timeline, the course and your training schedule when deciding on a goal.
New runners will often see massive gains in pace from one race to the next.
Long time runners might have a massive PR by shaving a minute off their time.
Do you have time to increase your mileage? Cross train?
Are you open to trying a running group, which might give you a little competitive push?
How do you choose the RIGHT race goal? What matters? Learn more #runchat
Click To Tweet
Find a route you regularly run from 3-6 miles depending on your goal and every 5 weeks, use that run for a speed workout. Push yourself to that race day feeling and record progress. It will help you determine if you're on track for the big goal you set.
Here is a great post with tips on learning to pace yourself while running outside >>
8. Race Pace Miles
For some reason, very few training plans include race pace miles, but it's one of the best ways throughout training to find out if you're on track.
Early in training you might be able to hit a few miles, but shouldn't expect to run a long ways at your goal pace. Instead, these miles are saved for later in training when you have built a solid foundation.
Factors to Consider When Determining Your Marathon Pace Goal
When determining your marathon pace goal, certain factors need to be taken into account:
Previous or recent race times and personal records
Training volume and intensity
Age and gender
Natural running ability
Overall health and fitness level
Race-day conditions
Considering these factors will provide a comprehensive understanding of your capabilities and limitations.
Your previous race times, personal records, and overall running history can give you insights into your potential. Training volume and intensity will determine your level of preparedness.
Age and gender can influence your physiological response to training. Natural running ability plays a role in setting realistic goals. Overall health and fitness level impact your endurance and performance.
Lastly, race-day conditions, such as temperature and humidity, can affect your pace. By considering these factors, you'll easily be able to set a marathon pace goal that is tailored to your unique circumstances.
Marathon pace calculators can be valuable tools in helping you determine your goal pace. They take into account various factors to provide an estimated pace that aligns with your desired finishing time. However, it's essential to understand their pros and cons before relying solely on their calculations.
When it comes to marathon training, having a clear goal pace in mind can be incredibly beneficial. It allows you to structure your training plan around that target, ensuring that you're adequately prepared for the demands of the race.
Marathon pace calculators offer a convenient way to determine this goal pace, saving you the time and effort of manually crunching numbers.
One significant advantage of marathon pace calculators is their convenience. They allow you to quickly calculate a target pace based on your desired finish time and provide a starting point for your training.
Imagine the time and effort it would take to manually calculate your pace for a marathon based on your desired finishing time. With a pace calculator, all you need to do is input a few details, and voila! You have your target pace.
Limitations of Marathon Pace Calculators
However, it's important to recognize that marathon pace calculators have their limitations. These calculators rely on general formulas and assumptions, which may not consider your unique strengths, weaknesses, or specific race conditions.
They provide a rough estimate based on average data, but every runner is different. Some runners may excel at endurance while struggling with speed, while others may have a natural talent for maintaining a consistent pace throughout the race. These individual characteristics are not accounted for in the calculations of a pace calculator.
Therefore, it's important to use marathon pace calculators as a guideline rather than the sole determiner of your marathon pace. Consider them as a starting point for your training, but be open to adjusting your goal based on personal considerations and expert advice.
Remember, no algorithm can fully capture the intricacies of your body and its capabilities.
How to Use Marathon Pace Calculators to Your Advantage
To make the most of marathon pace calculators, use them as a starting point and adjust your goal based on personal considerations and expert advice. Experiment with different paces during training runs to find a rhythm that feels comfortable and sustainable. Your body is the ultimate gauge of what pace is right for you.
Plus, it's essential to consider other factors that may influence your marathon performance. These factors include weather conditions, course elevation, and your overall fitness level.
A marathon pace calculator may not account for a sudden change in weather that affects your performance or a hilly course that requires adjustments to your pace strategy. It's important to be adaptable and listen to your body during training and on race day.
Plus, seeking expert advice from experienced runners or coaches can provide valuable insights into setting your marathon pace. They can help you analyze your training progress, identify areas for improvement, and fine-tune your goal pace.
Remember, running a marathon is not just about the numbers; it's about understanding your body and finding a balance between pushing yourself and avoiding burnout.
How to Use Marathon Pace Charts
A marathon pace chart typically displays target paces in minutes per mile or kilometer based on your desired finish time. To utilize this chart effectively, there are a few steps you need to follow:
Identify your desired finish time goal on the chart. This will serve as your ultimate goal throughout your training and the race itself.
Once you've found your desired finish time, read across to find the corresponding pace per mile or kilometer. This will give you an idea of the speed you need to maintain throughout the race.
Compare the goal race pace with your current fitness level and adjust if necessary. It's important to be realistic and choose a pace that is challenging yet attainable for you.
Use these paces as guidelines during training and racing. Incorporate them into your workouts and long runs to familiarize yourself with the required speed.
How to Use A Marathon Pace Chart to Achieve Your Goals
Utilize the marathon pace chart to devise a race strategy that aligns with your desired finish time. Break down your race into segments and determine the target paces for each section. This approach helps you structure your effort and avoid starting too fast or burning out towards the end.
For example, if you're aiming for a four-hour marathon or a two-hour half marathon time, you can use the pace chart to determine the pace you need to maintain for each mile or kilometer. This allows you to distribute your energy evenly throughout the race, ensuring that you don't exhaust yourself too early.
Remember, the marathon is a test of both physical and mental endurance. It's not just about running; it's about strategy and pacing yourself properly. By utilizing the marathon pace chart, you can set yourself up for success and increase your chances of achieving your goals.
When training for a marathon, it's important to practice different workout paces during your training cycle. This will help you familiarize yourself with the rhythm of each segment and build the necessary stamina to maintain your desired pace.
Incorporate speed workouts, tempo runs, intervals, and long runs at your goal race pace to prepare your body for the demands of the marathon.
Remember, setting a goal pace is not just about a number; it's about creating focus, managing energy, and staying motivated.
With determination and proper planning, you can achieve your marathon goals and cross that finish line with pride. Best of luck on your marathon journey!
Other ways to connect with Amanda
Get each new post in your inbox — talk about speedy service
Facebook: RunToTheFinish
Get more inspiration on Pinterest