As any of you who follow me on Instagram know the last few years have been wild and a bit out of my control on the running front. First I was injured for 8 months and then there were the months of rebuilding after I finally had knee surgery.
Now, I'm back to 120 miles a month and feeling like I really want to find my speed again.
I WANT to prove I can come back just as strong as I was before the injury.
Since I'm back in action, I decided to create a series of race specific posts to help anyone else in this process! Hopefully, it will help in your next PR attempt to find some tips, motivation or just comfort when I crash and burn.
Next in the Road to a PR Series:
Picking the right race for your goal >>
Creating your training plan >>
Why you need a base building phase>>
Safely adding speed work >>
Why you need a peak week >>
How to correctly taper >>
Race day etiquette do's and don'ts >>
Should you follow a pace group >>
Selecting a Race Goal?
While I do believe in racing for fun, this time around I'm focused and motivated. Both of those were lacking in previous years, so I didn't need to line up enjoy my runs.
Most of us hedge our bets with an A, B and C goal.Why?
It's scary to set big goals.
It gives us an out if we aren't doing the work
We've all learned to make measurable goals, so it's clearly defined failure if we don't meet it.
I hate that style of goal setting. It leaves too much wiggle room to fudge workouts, skip a hill repeat, indulge a bit to much and neglect our cross training….and then suffer the regrets at the end of the race.
Now that being said, I do understand setting goals where your A goal is truly your hearts desire…then your b and c goals are if things keep going well or to support A.
Example: In My first race after surgery my goals were as follows:
A. Finish pain free
B. Don't take walk breaks (didn't want to let myself off the hook of pushing through)
C. Sub Two hours
In this case, the A goal was all that mattered, once I could tell it was happening I started trying to focus on the other two.
Step 1: Establish a Timeline
The first thing to consider when picking your new goal is your timeline. Have you suddenly gotten inspired for a 10K that's just a month a way? You'll see some progress, but not a ton in 4 weeks.
I think this chart does a great job of breaking down how much time you likely need to train for a PR in most events.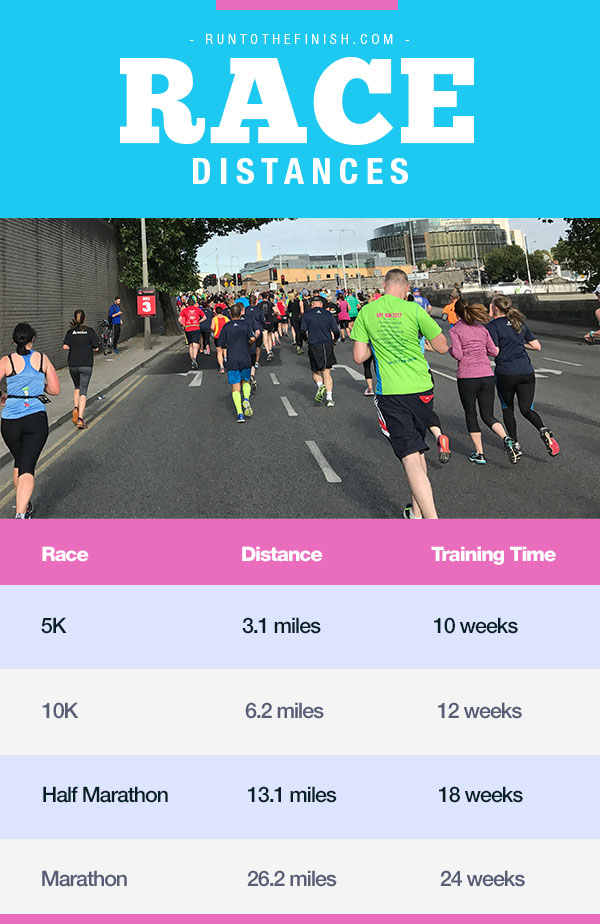 Once you've truly evaluated your timeline, then you'll have a better idea of how much you can truly progress prior to race day.
Step 2: Review the Race Course
I've written a few posts on picking the right race or understanding race course descriptions, but it has to be mentioned here as well that the course is also key in selecting your pace.
The best way to PR is a consistent pace from start to finish (yup better than negative splitting!)
BUT a super hilly course means you'll need to plan for pace adjustments
Compare this course to those you've done previously and how they effected your time
Review potential weather conditions, you will slow down in the heat
Step 3: Get Realistic About Progress
I know this particular point can feel like a buzzkill. You don't come here for me to sugarcoat it though, I give it to you straight!
You have to be realistic and honest when looking at your timeline, the course and your training schedule when deciding on a goal.
New runners will often see massive gains in pace from one race to the next
Long time runners might have a massive PR by shaving a minute off their time
Do you have time to increase your mileage? Cross train?
Are you open to trying a running group, which might give you a little competitive push?
Are you focused on quality recovery and nutrition?
How do you choose the RIGHT race goal? What matters? Learn more #runchat
Click To Tweet
Step 4: Set a Race Pace Goal
Finally, we have reached the long awaited section of actually figuring out what you want to run each mile. You know the course, you've committed, you're excited, but how do you choose a race pace?
I've seen so many people throw out goals to "beat Oprah" or run a sub-2 hour half marathon, when their current training level and time to race day just don't match up. And even if you plug a past race in to one of those fun calculators, I've found them to be around 50/50 on actually predicting the time you could potentially run.
So how do you figure out your race pace?
Talk to a Running Coach
You might not be interested in working with someone long term, but even a consult will help you get a better grasp on your current fitness and what you can reasonably achieve.
Evaluate Current Fitness
Be honest with yourself about your current running, have you been doing it? Do you have a recent race time to judge your fitness? Plug that data in to a race pace calculator to get an initial idea and then consider how that output compares to what you've actually run previously.
Consider Your Running History
Newer runners can often expect a much bigger jump in improvement levels because they're learning and adjusting, where long time runners have dialed in much of what works for them already. Additionally, if you have a tendency to get injured that's going to impact the intensity and duration you can handle to push towards a big PR.
Repeat Test Runs
Find a route you regularly run from 3-6 miles depending on your goal and every 5 weeks use that run for a speed workout. Push yourself to that race day feeling and record progress. It will help you determine if you're on track for the big goal you set.
Here is a great post with tips on learning to pace yourself while running outside >>
Race Pace Miles
For some reason very few training plans include race pace miles, but it's one of the best ways throughout training to find out if you're on track. Early in training you might be able to hit a few miles, but shouldn't expect to run a long ways at your goal pace. Instead, these miles are saved for later in training when you have built a solid foundation.
My Personal Next Goal
My goal: A PR of sub 1:45.
Is it realistic? I'm not sure, but it's the one that is most motivating to me right now! I've also learned from years of running and coaching that many who miss their PR on a planned race, find they easily hit it in the coming months.
Even a perfect round of training is no guarantee of a great race day. Nerves, travel, eating fried catfish the night before (yup I've done that), weather, can all derail our best laid plans.
Unfortunately, I've got more than unmanageable race day moments to think about. My body runs the show around here and sometimes it's agrees with my plans other times not so much, like that whole no estrogen thing.
What's that mean for my training?
LHR training is a must to control my cortisol levels
I'll likely have to take unplanned rest days to recover due when I'm feeling too fatigued.
I'm still slower at altitude, so I'm hoping to find a good sea level race.
I can work on continuing to improve my diet to help offset these things.
I will get regular massages, meditate and laugh to reduce overall stress levels.
How often do you race for a PR?
What was the last scary goal you set?
Other ways to connect with Amanda
Get each new post in your inbox — talk about speedy service
Facebook: RunToTheFinish
Get more inspiration on Pinterest