In the last 10 years, I've tested a lot of GPS running watches. One that I'd avoided due to GPS inaccuracy was running with the Apple Watch. However…is it possible they've resolved that? In this Apple Ultra watch review I hope to share what you need to know as a runner.
If you love having a smartwatch to beat all smartwatches then you may not care about some of the running features as much. Though I have to say with the Garmin Fenix 7S it is nearly on par for smartwatch features.
The first thing I noticed in putting it on was that it's a chunky watch. I've been wearing the Garmin Enduro and Polar Vantage V2 for most runs and it's pretty similar. It's a bigger watch than a standard Apple.

There are so many features to this watch that it would take forever to go through them all. So I'm going to focus on some of the major highlights, pro's, con's and differences from other models.
Having tested other Garmin models, Coros watches, Polar watches, Sunnto watches and yes even some brands you may not have realized had watches like TomTom or Epson, I'll do my best to help with the comparisons.
Apple Ultra Review
All right let's talk about the Apple Ultra which they proclaim to be the Apple for runners. It certainly fits the mold with a lot of the expected features around HR tracking, sleep tracking, upgraded GPS and even the different bands which I find more comfortable.
Over 3 months of testing, I took the watch out on road runs, around town, wayyyy out in Iowa on back roads, on the treadmill, through rowing, strength and lots of walking. My goal really was to put it through the paces and see if my mind would be changed about recommending Apple Watches for runners.
Short story…maybe.
The GPS is vastly improved, which was one of my major complaints. But it requires about a $500 upgrade to get that GPS which is available on a $200 model of most running watches.
So now it comes down to if you just truly already have and LOVE using Apple.
I'm going to dive in to specific areas to give you more information, but a couple issues I ran in to right out of the box.
1. Of course Apple doesn't give you a standard USB cable. The only place I can charge my watch is from my computer, which is inconvenient, especially when traveling.
2. The watch was really hot to the touch after charging. Probably not an issue…but after hearing so many battery explosion issues that wasn't something I liked.
Apple Ultra vs Apple Watch 8
One of the key things to know upfront is that the most recent software upgrade to 9.0 for all Apple Watch models over 6 gives you MOST of the features of this watch.
For example, the ability to finally create workouts directly on the watch.
Apple Watch 8 is $399 vs the Ultra $799
Apple Watch 8 comes in 41 and 45mm vs the Ultra 49mm size
Water resistance increases from 50m to 100m with the Ultra for diving
Ultra display is a little brighter which makes it easy to read while running in any light
Apple Ultra has up to 36 hour battery life, so double the 8.
Ultra has the precision start for workouts (getting GPS before starting the workout)
Ultra has a 86 decibel siren for safety
Ultra uses a left side quick button to start workouts
Ultra is a titanium frame making it far more durable
Ultra will have upgraded speakers and mic
The Apple SE is going to have even less features than the 8, so I didn't add it to the comparison.
Apple Ultra GPS Accuracy – Pretty Impressive
The main reason I was excited to review the Apple Ultra watch is the upgraded GPS. In previous models they only connected to 1 satellite, resulting in consistently incorrect readings for most of our runners.
For a casual run is that a big deal? Not really.
But over the course of marathon training when we're trying to put in specific distances or specific workouts, then it absolutely becomes an issue. We're never sure if you ran too far, too little or the right distance for an interval.
In the Apple Ultra you are now getting connected to multiple satellites via dual-frequency GPS (just like the other big GPS watch brands) and they've added technology to assist with tracking through tall buildings. The idea is that if you blip out, it takes in to account your stride, pace, etc and can still correctly map your distance.
Testing the watch around downtown Denver it was pretty accurate, but is that really a big city?? Luckily my friend Charlie of The Runner Beans wore both the Apple Ultra and her Garmin Fenix for the London marathon. Passing under bridges and through buildings, she found the Ultra to be pretty spot on.
That being said, it's not completely problem free, just likely to be closer to right in those situations. I've seen some very detailed testing around the Chicago marathon where we know watches are notoriously awful. And while the Apple Ultra is not perfect, it does seem to perform better than Garmin!
So if you're already a huge fan of your Apple watch then this alone is a good reason to upgrade to the Ultra and keep on running.
REMINDER: You must go in to settings and turn on precision tracking. Without this when you go to start a run it will just start without waiting to find satellites. I really don't understand why you would ever choose that, so it should just be the default mode.
It's also going to have a few other running features that I love:
Altimeter – more accuracy on elevation gain and loss
Compass- increases accuracy of tracking and mapping
Accelerometer – what it utilizes to recognize an accident or crash
Barrometer – to help monitor weather
Blood Oxygen Sensor- measuring oxygen levels as you start running at altitude can be really useful
Watch Fit – Comparable to Other Top End GPS Watches
This watch comes in only one size and it's beefier than your standard Apple Watch. That being said, I didn't really mind the size, but some folks commented on how big it looked.
For reference my wrist is 5.5 inches and with the small strap there wasn't much strap left.
Weight is 61 grams, which is similar to the Garmin Fenix 7S
Screen size is large and really easy to read
It's a very snug fit with the velcro strap, partially due to being a smaller watch face that sits tighter on my wrist
With larger watches, I've noticed that after long runs my wrist bone can be a little bruised but I didn't run in to that with the Ultra. Possibly due to the square shape or the velcro strap moving less, I'm not sure.
Battery Life – Not Great
While battery life on this watch is better than a standard Apple Watch, for me it's really lacking. I've now tested so many watches that I can go weeks without charging, it was pretty frustrating to need to charge this every few days.
On the workout side of things, probably very few folks need a watch with full GPS for 12 hours. Though they have touted this as great for ultra runners.
Again…I just really love going longer between charging, so I hope this is an area they continue to improve.
Smartwatch standard mode 36 hours
GPS mode 12 hours
Battery saver mode can also help extend life by turning off display and getting you 70 hours smartwatch mode…so perhaps 14-15 hours in GPS mode.
In fairness, other folks just love this improved battery. They don't mind charging every two days. So it really comes down to what you're used to.
I love having my watch in the drawer for a few days pulling it out and finding it still fully charged. But it's also not acting as my all day weather reader, responding to texts, etc.
Heart Rate – Problematic
For me this is a feature that ranks nearly number 1 in a MUST have and a must work well. I've got very mixed thoughts on this because mostly the watch was right…but is mostly good enough at this price point?
On about 80% of my runs the HR would simply drop off a few miles in and show back up at some point later. This is beyond frustrating and it wasn't just a display issue, looking at the run data later there are big gaps in the HR.
While colder weather can absolutely impact all writs based readings, it was in the 40's or 50's and full sun for many of these tests.
In fact, I ran in to the same issue on the treadmill at times. So I know I wasn't dead and it wasn't too cold to be reading and the watch was absolutely on tight enough.
When it was reading, I'd say the numbers were generally right in line with what I'd see on a chest strap.

Luckily you can pair it with a chest strap, which is the best way to get good readings anyways.
Maps – Not on Par with Similar Watches
Because of the improved GPS system maps are now going to be far more accurate on the Ultra. It comes with Apple Maps installed, but that's about it.
You're missing some of the standard components for loading maps, back tracking and other features of GPS watches at this price point. It seems like this will probably be an easy add in a future software update.
Right now you can supplement by taking advantage of the robust apps for Apple Watches. Koomot is a well known app and that will provide you with a lot more of the mapping tools.
Customizable Fields – Not Great
One of the features I like best is that I can customize the watch screens for each of these different activities.
On my trail runs I like having an elevation map. While on my road runs, I'm watching cadence more or looking for incline information as I test out what hills will work for repeats.
You can customize your fields per workout type on the Apple Ultra. But I just didn't love the screen display, while running I actually found it hard to quickly read or get the data I wanted… like how much elevation have I gained.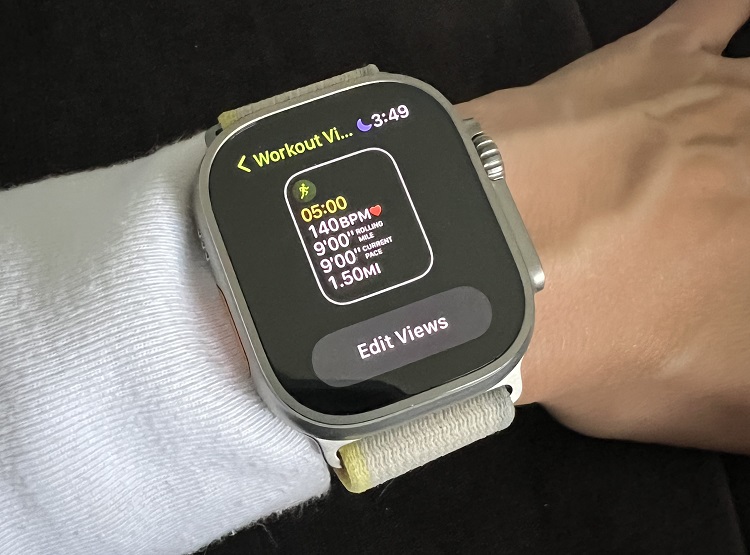 Expected Apple Watch Features
I'm not going to detail each of these, as you have probably read about them in in past Apple Watch reviews because again most are available with the 9.0 and newer software releases.
VO2 Max
Cadence, pace, stride length
Track detection to get even more accurate distance
Ability to race against a past run
Multisport mode that automatically switches between workouts
Huge variety of activities included and can customize
Ability to customize watch face and screens
Step tracking, sleep tracking
SIRI, Apple Pay
Smartphone notifications, calendar, weather
Safety features with incident protection to send out alerts
Control music playing on your smartphone
Additional Apple Ultra Watch Features
So beyond the standard features you need, there are some additions which could enhance your training in the Apple Watch (again not just the Ultra).
Cadence and stride length
I'm always harping on having faster turn over rather than longer strides, so here's your chance to watch and make small adjustments to hit the optimal 180 footfalls per minute.
VO2Max
I've actually done an entire post about this topic and whether or not it's valuable to your training, so I'll just say it's measured..ish via the watch.
It's definitely no emphasized the way it is in other GPS watches where you see it after a workout and then you get predicted race times. I had to dig for it to find it. Absolutely fine with that.
Heart Health Notifications

Not only can it read your HR throughout the day, but can send you alerts when something seems abnormal for you. It can also be used to do an ECG. Things I know about after my Dad's heart attack, where you're watching for irregular rhythms.
Music Sans Phone
Loading music is possible for those who don't want to carry your phone. However, it needs to be via Apple Music. So you aren't downloading a podcast to play directly from your watch.
Smartwatch Features
This is where Apple is going to beat many other watches. You'll have all the notification, pay features on most watches, but a few other things here.
You can respond to text messages from your watch.
You can take phone calls.
With the speakers you can play music
The weather updates much faster than I've seen on other GPS watches
SOOOOO many apps
You can use your watch as a timer for better photos
Running Power
Some runners have started using power meters instead of HR to judge effort. This used to require a separate item attached to your show, but now that the watch can judge stride length, vertical oscillation and so much more it's available right on your watch.
HRV Status
Heart rate variability has grown in popularity thanks to things like the Whoop. While there are still questions about how useful the data can be, it's now available for you here if you wear the watch 24/7.
Where to Buy?
You can always buy directly from Apple.
But if you have places where you earn points back like we do, then a few other options:
Best Buy — Any sales run by Apple they'll be running too >>
Amazon –– Again same sales and free shipping >>
Hopefully this Apple Ultra Watch review from my last few months of running with it helped to answer some of your biggest questions!
Looking for more GPS Watch information?
Other ways to connect with Amanda
Instagram Daily Fun: RunToTheFinish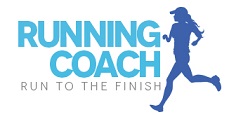 Facebook Community Chatter: RunToTheFinish
Sign Up to Receive a Weekly Newsletter with Top Running Tips and Laughs