Strength training for runners is increasingly part of most standard running plans (at least for all our athletes) and no longer an after thought, which is why I've been sharing more strength training at home ideas on Instagram.
There are a few things which matter most to me when it comes to online strength training:
Qualified person providing the movement, so I know that it's safe.
Workouts that fit in to a distance running schedule (i.e. not so taxing you can't run again).
Movements that engage the core as often as possible
Best At Home Strength Training Programs
While I have started going to the gym more frequently for my strength training sessions this last year, the previous decade nearly all my strength happened at home with dumbbells!
Thus many of the people I've gravitated too aren't creating workouts that require crazy equipment, but instead things we have at home or utilizing body weight.
When it comes to strength training for runners, you don't necessarily need a different workout. BUT personally, I've found that I get in enough cardio, so I want my strength sessions to largely be weights based and not HIIT style.
Online Strength Training Resources
I've decided to include a few different kinds of options, so you can opt for the place where you prefer to find content.
With Instagram, I love that I can use the save feature or know that many of these people will be publishing something new every single week. On the other hand, an actual platform where you can search by a certain body part or type of workout (yoga, upper body, mobility, etc) are some of the online tools that I also lean on!
Having them in my feed not only gives me ideas, but reminds me to stay consistent with showing up for my strength workouts…even if I'd rather be running.
True, she is now someone I consider a dear friend. True, at first I was freaked out by her workouts because she is a BEAST who loves HIIT. True, she has the biggest freaking heart and goes above and beyond anyone I've seen for anyone doing her workouts.
Weekly she shares a full workout or tips in her feed, but she also has a number of fantastic ebooks and challenges so that you can buy and go get your sweat on. Those programs have a crazy loyal following which means that you can easily find community and connection with others doing these sweatastic moves.
She loves a good burpee, but honestly reminds me quite often in her content the key to getting that fit fierce runners body is picking up weights. Also she gets all the credit for me trying to add box jumps in each week (even if they're still real small).
Let's start by saying if you use the link above you can try it free for 21 days.
Not like try a little, but get access to everything, which I took full advantage of to try out a slew of things from ab workouts to yoga to combat dance. It reminded me just how much I love kickboxing and the way those workouts really get my abs engaged!
High and low impact classes
Yoga for recovery or yoga for athletes
Fun dance classes to mix things up
LOTS of strength training options
Great ab workouts and core workouts
Seriously…they have every workout under the sun
One of the athletes on my team still uses it consistently as part of her half marathon training and loves the variety it provides to her cross training.
Sometimes a little switch up is what you need to put the FUN back in training. And doing other forms of cardio can indeed make you a much better runner.
This is a feed I only discovered a few months ago, but fell in love quickly. They put the entire workout on their feed and with every move show you what muscle is being worked (or more accurately what muscle you should be working to help you do the moves right).
As noted, I am not in to my strength workouts for a HIIT or cardio session.
So often times I'll pull two or three moves from one of their workouts to add to an existing routine of mine. That way I know I'm hitting muscles differently and challenging myself.
When the aforementioned Danielle began creating workouts for this app I was intrigued and then they made the whole dang thing free!
Here again, you'll have access to a whole variety of workouts and intensities, plus you can participate in monthly challenges if those excite you or connect with friends or sign up for a class at the same time as others.

I don't love that I have to rate every class when I finish to get to anything else, so um I just close the app. And I find it really weird they have "toning" and "strength" as separate workouts…it's the same thing.
Last year Becky hurt her knee, which forced her, like moi, to get in to the gym for something else to do. Only she fell in love with it (and the gym owner, ha). In the process, she learned a great deal about targeting our glutes, hips and core to create a truly strong runners body.
She created an 8 week program called Move with Strength for runners, but also shows you her daily strength training in IG stories. You'll find full body workouts, mobility, all designed around a runners schedule.
Can strength training be done without weights? Absolutely!!
That's definitely a benefit you find with a platform like Beachbody where there's a huge variety of workout options to fit whatever mood you might be in for the day. I've actually done a full Beachbody workout program comparison before, so check that out and see if something might be right for you.
And if you belong to Amazon Prime, you get a lot of the Beachbody workouts free…which is news to me, so I'm about to add even more of these to my routine. I was still using some OLD SCHOOL DVDs.
BONUS: They have sections dedicated to pregnancy and postnatal workouts!!
Checkout my complete Beachbody vs Peloton review to see which is best.
Crystal is a bad ass ultra runner, who knows that a strong body is key to doing what she loves. Not only is she a personal trainer, but she provides all the strength workouts for one of my fellow running coaches team.
She showcases these moves each week in her feed.
One of the things I love most is that she provides a lot of combo moves to engage the core, as well as plenty of options showing how to maximize your body weight. I don't need to get high intensity to really feel the burn from these moves.
Well it doesn't get much more runner specific than a distance runner and coach providing you tips!! Each week Christina provides both a strength workout, usually with dumbbells AND a mobility workout.
You know I'm hot and heavy on mobility now, so she's constantly giving me new ideas to add to my routines. I like that her workouts run the gamut from forcing me a bit out of my comfort zone with pistol squats to easier days where I know it's a basic move, but absolutely works.
Hers is definitely an at home strength training program because of the focus on dumbbells.
Tired of doing the same moves every time you strength train?? Here are 10 places to find new workouts and ideas! #runchat #fitness #crosstraining
Click To Tweet
Ok i don't usually give you full workouts, but I do slip in all the hip, glute, core and IT band workouts to keep you injury free!
If you aren't following me on YouTube to find them there, you can definitely get the snippets on Instagram.
And now we have an entire Strength Training for Runners program. It's 4 weeks of at home training with follow along videos for just $12.
Not only will you find workouts on their YouTube channel, but you'll likely get sucked in to some of the other tips on form and injury prevention.
Let's just say if I didn't love RunToTheFinish so much, I wish I'd been part of this site as they ramped up because I believe in what they're doing.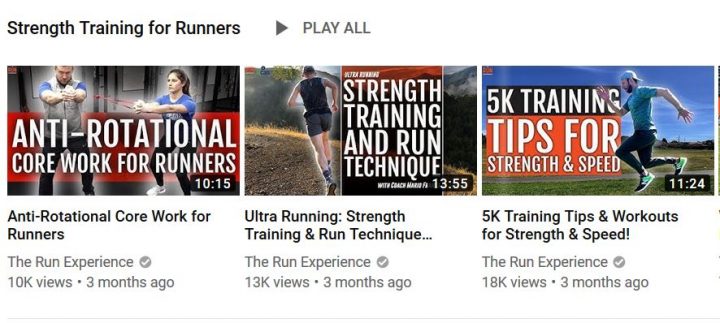 Anyone or platform that's a must for you with strength workouts?
Other ways to connect with Amanda
Instagram Daily Fun: RunToTheFinish
Facebook Community Chatter: RunToTheFinish
Sign Up to Receive a Weekly Newsletter with Top Running Tips