If you're in the midst of a training program for your next race, particularly a half marathon or longer, you probably have a weekly long run on your schedule.
Long runs are challenging part of training, but possibly the greater challenge is recovering from them well enough to continue the rest of your training and to do it well.
Experienced runners know, the path to Personal Bests is not solely about logging miles; it also involves understanding the essential role of recovery in the pursuit of peak performance.
In the realm of running, recovery is the unsung hero, the secret weapon that often determines the difference between achieving personal bests and succumbing to injuries and burnout.
Just as training diligently is crucial to progress, allowing the body to recuperate and rebuild is equally vital. In this comprehensive guide, we will delve into the art of recovery and explore various techniques that can help you rejuvenate after long runs.
You all know I love my warmups, but I also prioritize my recovery too. You don't need to be an elite athlete to reap the benefits of avoiding a dreaded overuse injury or excessive soreness.
In this article, I'll not only explain why we should prioritize our recovery, but also give you some ideas for how to recover effectively after a long run or high-intensity workout.
You don't need to do all of the options, by any means. Hopefully though you find a few that you can make part of your routine and that help you the most to keep hitting the roads and trails.
Why Should We Prioritize Run Recovery?
When you engage in long-distance running, your muscles undergo immense stress and fatigue. The repetitive impact on your legs, coupled with the muscle contractions required for propulsion, leads to microscopic tears in the muscle fibers. While this may sound alarming, these micro-tears are a normal part of the muscle adaptation process, allowing your muscles to grow stronger over time.
After a long run, the body enters a critical recovery phase.
This is when the real magic happens as your body initiates a series of repair mechanisms to heal the damaged muscle fibers. As part of this process, blood flow increases to the affected areas, delivering oxygen and vital nutrients essential for repair. The body also releases growth hormones, such as insulin-like growth factor 1 (IGF-1), to promote muscle recovery and regeneration.
When training for a race, it's hard not to get caught up in the idea that more is better. I mean, after all, we see elite athletes putting in 100+ mile weeks.
But trying to emulate an elite athlete and not focusing on our personal goals and recovery is a recipe for a disaster.
Prioritizing our recovery helps us in a multitude of ways. These include:
Reducing risk of an overuse injury (IT Band pain, shin splints, bursitis, stress reactions/fractures, etc.)
Improving muscle adaptation to the work
Lessening soreness and fatigue, both immediate and DOMS (delayed-onset muscle soreness)
Reducing inflammation
Lowering the risk of running burnout
Ensuring you can give your best effort in your next workout
Long term training sustainability
Muscle fatigue, a natural consequence of long-distance running, can lead to a decrease in performance and an increased risk of injury. When muscles are fatigued, they are more susceptible to strain and overuse injuries.
Moreover, during this recovery phase, your nervous system plays a crucial role in resetting and stabilizing. The nervous system can become fatigued from the repetitive and intense movements involved in running.
Adequate recovery allows the nervous system to recalibrate, leading to improved coordination and muscle function.
Does Timing of Recovery Methods Matter?
Speaking of time frames, does it matter when you tackle your recovery methods? Yes, some things are going to have the most impact when done right away after a long run and others need to be woven in to your overall training.
The highest priority immediately post run is fuel. Please read more on why you SHOULD NOT be using ice baths right after your long runs.
Long runs deplete our glycogen stores. In order to refill those stores and help our bodies repair our muscles, we have to help them through proper fueling, both during and after our runs.
Excessive soreness and fatigue can be indicators that we're not properly fueling and hydrating before, during, and after our runs.
I'll get more into how to fuel in the next section, but one thing I want to mention is post-run fueling is crucial, particularly for women over 40. According to Dr. Stacey Simms, women should eat within 30-45 minutes after exercising and it should be 25-30 grams of protein with some carbohydrates.
By not doing this, Dr. Simms says women may prevent their bodies from starting the repair cycle. By having a protein-based snack combined with some carbohydrates, we're ensuring our muscles can repair and come back stronger while also refilling our glycogen stores.
If you follow me on social, you may notice I love to keep a protein shake, like Fairlife Core Power, in my car for right after a run. These are a great option since they're shelf stable and have 26+ grams of protein. Throw in some crackers or a granola bar and you have some carbs too!
When it comes to other recovery methods and timing, keep reading for more information on when it helps to do each one.
10 Best Ways To Recover After a Long Run
It can be really easy after a long run or race to head home, shower,and just plop on the couch with your favorite comfort foods.
Yes, we need to refuel and rest, but how we do that is important. Effective running recovery is a bit more complicated than just lounging on the couch the rest of the day.
1. Take Time for Post-Run Walks
Post-run walks and cool downs are a great way to start the recovery process. Personally, I love to build in a 10-20 minute walk at the end of my runs.
Just like a warm-up readies our body's to run, a cool down helps get our bodies back to normal post-exercise. It allows your heart rate to lower, your breathing to slow, and your muscles to start relaxing.
Sitting down immediately isn't great for your heart and often leads to stiff tight muscles.
A way to guarantee you end with a walk is to ensure your running route ends before you get back to your car. Maybe plan a route that has you finishing a half-mile or so from where you parked so you have that time already planned in. If you finish your run at your car, it's that much easier to just get in and get on the road without cooling down.
2. Immediate Post Run Refueling and Hydration
Most, if not all, of us know that hydrating and fueling before our runs is essential, especially for our long runs.
Fueling during our runs can be challenging and may be a work in progress for many of us. However, we know it's important and we'll carry water or an electrolyte drink and take gels or chews.
All of this is especially important during hot and humid summer months, but should be a priority year round.
Post-run it can be hard to refuel effectively. Sometimes we may have a suppressed appetite or we're simply not thirsty. It's important that we try to get hydration and nutrition to help with recovery though.
As I mentioned earlier, it's important, especially for women over 40, to get 25-30 grams of protein and some carbohydrates within 30-45 minutes after a run to aid in recovery.
For everyone, make sure to have some kind of carbohydrate and protein-rich snack and then a bit later try to get in a good meal that has protein, carbs, and fats to continue your refueling.
For hydration, water is great. You don't need to drink some fancy sports drink, although those can be helpful to replenish electrolytes like sodium lost through sweat on especially hot days. The benefit to electrolytes is that they can encourage you to drink more, which will help you hydrate enough.
3. Legs Up the Wall
Legs up the wall is a very easy yoga pose that's both enjoyable and relaxing. Find a wall, lie down with your butt against the wall and extend your legs straight up.
Plan to stay here for 10-20 minutes. This is great to do relatively soon after a workout, but is also great at the end of a long day.
This pose helps remove the fluid that may collect in your legs by helping improve blood flow and circulation and reducing swelling. As a bonus, it's also a great way to simply relax and destress.
4. Take Epsom Salt Baths
If you're someone who enjoys a soak in the tub, an epsom salt bath might be a great recovery choice for you. (ME, this is me!!! I swear I feel better for just having been in the hot water and allowing myself to pause.)
While the science is mixed, people use epsom salt baths for pain relief from muscle soreness, stress relief, to prevent and ease inflammation, and more. Just fill the tub with hot water, add in a cup or two of epsom salt and soak for 15 minutes.
One popular brand is Dr. Teal's, but there are plenty of options on the market. There are even foot scrubs, bubble baths, and lotions that may be of use.
5. Stretching When It Feels Good
While I recommend dynamic moves for warm-ups, it's not always necessary to stretch post run. However, for some runners light static stretching post-run feels good, helps them relax and that promotes recovery.
Remember that if you are feeling really tight, that is often a sign of a muscle being overworked or weak! Both things you need to take care of with more strength training, to help manage those longer miles.
This doesn't have to be immediately after you finish. It could be later in the day. Maybe it's a little bit of yoga or just 10-20 minutes of stretching in the evening when you're watching TV.
Regardless of when you might make time to do it, it's good to focus on the total body.
Obviously you want to target your lower body, specifically the hips, glutes, quads, hamstrings, and calves. But don't neglect your upper body that can also tighten up, especially as our posture erodes on long runs as we tire.
Make sure to spend some time working on your back, chest, arms, and neck. Stretches should be gently held for at least 20-30 seconds.
Also, don't neglect your feet. They need some love too considering all they do for us!
6. Prioritize Your Daily Sleep Schedule
Sleep is not just a period of inactivity; it is a critical phase during which the body undergoes significant repair and restoration. As a runner, getting sufficient and high-quality sleep is vital for maximizing muscle recovery and overall performance.
During deep sleep stages, the body releases growth hormones, such as human growth hormone (HGH) and testosterone. These hormones play a key role in repairing damaged tissues, including the micro-tears in your muscles caused by intense running.
Inadequate sleep can disrupt hormone balance, leading to increased levels of cortisol, the body's stress hormone. Elevated cortisol levels can hinder muscle recovery and even contribute to muscle breakdown. Additionally, disrupted sleep can affect hunger hormones, such as ghrelin and leptin, leading to an increased appetite and potential weight gain.
Sleep is also essential for maintaining a robust immune system. During sleep, your body produces and releases cytokines, proteins that help regulate the immune response. A strong immune system is crucial for warding off infections and illnesses, which can significantly disrupt your training schedule.
Checkout these tips for improving your sleep quality >>
And remember if you are having trouble sleeping repeatedly, that could be a sign of overtraining. A signal you need to prioritize rest and recovery even more.
7. Spend Time Cross Training
Some people can run daily and their bodies handle it well. Other people can't run every day and that's ok (I don't actually recommend anyone run daily!!). Regardless of which category you fall into, cross training is a useful part of recovery and injury prevention.
Cross training can be activities like walking, cycling, swimming, and strength training. Cycling and swimming are great no-impact activities that can be really beneficial for our endurance.
Strength training is integral to healthy running. It doesn't have to be overly intense and shouldn't leave you excessively sore.
It helps with muscle imbalances, overall strength, and is crucial for injury prevention. Twenty to 30 minutes, 2-3 times per week is plenty depending on your goals.
8. Massage and Self Myofascial Release
Massage is a great way to not only relieve sore muscles, but also to stay healthy. If you can find a great massage therapist, especially one who works with athletes, keep them!
One drawback is that massages can be expensive. Sometimes health insurance may cover them, but more often than not they don't. So what else can you do?
A great option is to simply invest in a foam roller for self myofascial release. Just like a massage, foam rolling can help increase circulation, lessen stiffness and muscle soreness, and assist with the recovery process.
Another favorite tool to have on hand is a massage gun. With their many attachments and varying intensities, these can provide targeted relief very quickly.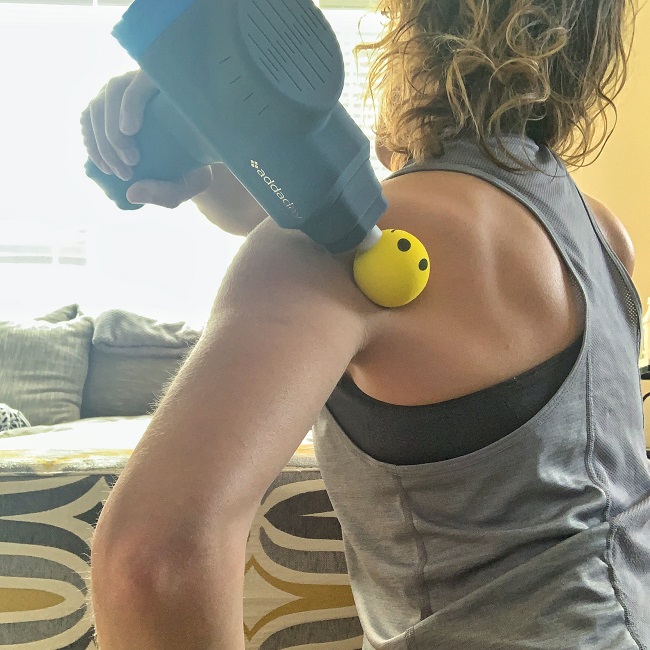 9. Utilize Rest Days
Some runners despise rest days, while others welcome them with open arms.
Many of us struggle with the thought that we're losing fitness any time we're not actively working towards our goals. But that's simply not true.
Just like you didn't gain your fitness in a day, you won't lose it in a day either. Our bodies use our nightly sleep to help us recover, and taking rest days offer similar benefits.
Taking a rest day doesn't mean you can't do anything, although that's totally fine too. But it should be a day where maybe you do a gentle yoga or pilates class or take a walk around the neighborhood.
These low key activities help to aid in recovery and still let your body get the rest it needs from the more high intensity running workouts.
10. Compression Garments
This one is absolutely optional as you need to see what works for you. Personally, I've found a great deal of benefit from wearing compression tights during some long runs, but after many marathon long runs.
Compression tights or compression socks are designed promote blood flow to the muscles, improving the delivery of oxygen and nutrients while aiding in the removal of metabolic waste products. This increased circulation can accelerate the muscle repair process.
For me, I've found that it can alleviate muscle soreness and decrease the severity of post-exercise soreness
I know some of you are wondering why compression boots or other fancy things didn't make an appearance. The truth is that there isn't a lot of data to prove they work. But we 100% know that the things above can make a difference.
In fact, if you made only the change to fuel enough and sleep enough you'd like be blown away with the results.
Every runner is unique, and what works well for one person may not be the ideal approach for another. Personalizing your recovery plan is key to addressing your specific needs and maximizing the benefits of recovery.
Other ways to connect with Amanda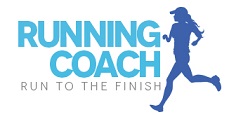 Instagram Daily Fun: RunToTheFinish
Facebook Community Chatter: RunToTheFinish
Sign Up to Receive a Weekly Newsletter with Top Running Tips and Laughs