It's darker, it's colder and I don't know about you, but that's when I pull out a good book to boost my motivation.
I know reading is sooooo old school.
You could just listen to an audiobook (I've got a whole list of those) or in a few years you'll probably just have the words telepathically sent to you or even turned into a whole 3D experience.
But I like the feel of the paper. I like my brain conjuring up the images of Scott Jurek cresting another hill and pushing on despite the blisters. It's a bit like running: basic, but requires some time.
Motivational Running Books by Goal
Of course there are a million ways to get motivated, but these seem to be the most common running goals from those I coach and you my dear readers.
"Ability is what you're capable of doing.
Motivation determines what you do.
Attitude determines how well you do it."
– Lou Holtz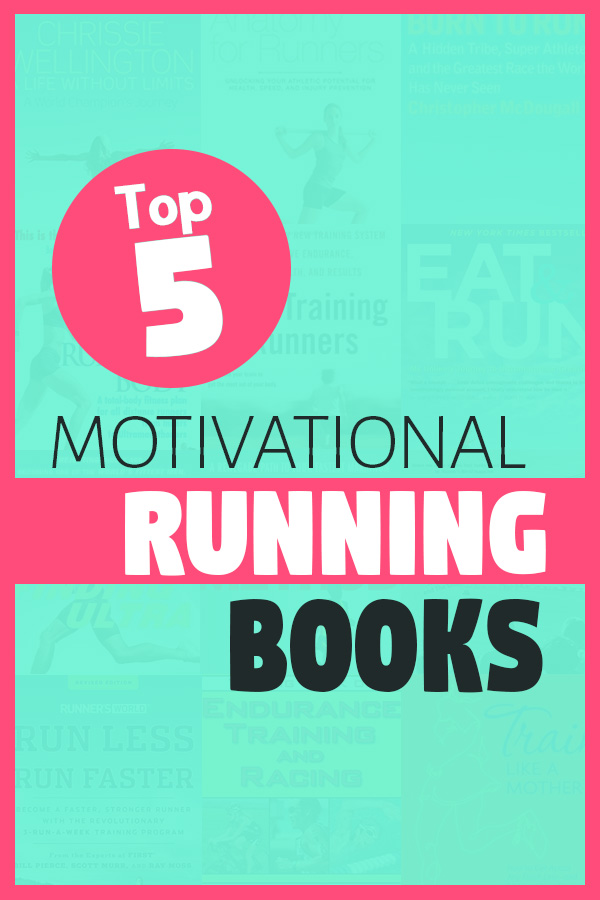 A few years ago, I gave you my top 50 running books of all time. That list still stands, but if you're in need of a quick fix I've weighed the words, measured the impact and toiled away to somehow select just 5.
Goal: Get Started (for the first time or again!)
Book: An Accidental Athlete by John Bingham
I was handed my first ever Runner's World in 2004 and began devouring it every month. Then in 2010, John Bingham became a regular contributor with his newbie runner series sharing all the horrific moments I'd learned myself, but with a great deal more humor.
His memoir is now an expansion of that fun, along with all the up's and down's and excuses any of us could have! You'll see yourself in these pages and it will get you off the couch or out of your funk and on the road.
Runner Up: Shut Up and Run by Robin Arzon
Goal: Hit a New PR
Book: Brain Training for Runners by Matt Fitzgerald
I would largely say read everything you can by this man. I own all of books from Diet Cults to Run Faster and while no one can have my copy, I'd make it a gift in an instant.
This one I like because it covers everything. How to optimize your form so all your energy is focused on moving forward. How to change your thought process to take things to the next level. How to change your training to really get results. In fact, I use many of the principles he provides in creating plans for my athletes! I also followed one of his plans to a half marathon PR a few years ago.
Runner up – How Bad Do You Want It by Matt Fitzgerald
Have a new #running goal? These books will motivate you to make it happen! #bibchat
Click To Tweet
Goal: Conquer a New Distance
Book: Finding Ultra by Rich Roll
Maybe you aren't spiraling down the alcoholism pathway or completely lost in what you want from life, maybe you are. Doesn't matter, you'll still find yourself engrossed in this book and wanting to push through your own limitations to embrace your internal drive.
His insane distances aren't something I could ever fathom doing, but they made me feel powerful enough to get through my training runs. And while he doesn't talk as much in this book about nutrition, it will likely turn you on to his podcast where he discusses all the reasons he's vegan and how to live your best life.
Runner Up: Beyond Training by Ben Greenfield
Goal: Find the Joy
Book: My Life on the Run by Bart Yasso
Oh Bart. He could probably just create a book with his smiling face and we'd all rush out to buy it. But the truth is that's because of stories like the one's he shares in this book of going from an elite runner to a man fighting to run through Lyme disease. He takes you beyond worrying about your watch pace to watching for rhinos or holding on to your donkey.
Delight is in every page of this book and it will surely have you lacing up with a new perspective. WE GET TO RUN.
Runner Up: 50/50 by Dean Karnazes
Goal: Run Healthy (reducing injuries or losing weight)
Book: Unbreakable Runner by Brian McKenzie
I'm not a CrossFitter. Not even close. BUT I have a lot of respect for the strong bodies they build and that's why I was open to reading this book.
Runners who find themselves consistently injured or hitting a mileage wall will find benefits in this book. They might also find that adding in different workouts makes their running more enjoyable.
Traditional runners who love lots of miles might not love all the training plans to which I say, that's ok!! I am unlikely to give up my miles, but I am able to incorporate many of the principles to create a body that is stronger, faster and less likely to get injured due to better form and mechanics.
Runner Up: Run Like a Champion from Alan Culpepper
Now of course motivation is highly subjective, so I'd love to hear
Not quite what you need?
Checkout the best fitness books that aren't exactly about running!What running book helped you beat a funk? Run a PR? Hit a new distance?
Do you still like a physical book or prefer Kindle?
Other ways to connect with Amanda
Pinterest: RunToTheFinish
Instagram: RunToTheFinish
Facebook: RunToTheFinish