It's no surprise I talk a lot about my favorite running books for motivation or running books for training, but what about overall best fitness books?
Today we dive in to other areas like strength training, mental training and motivation to train hard.
While there are tons of free workouts found on YouTube and Instagram, there's still something really powerful about books you can quickly reference to help meet your goals, better understand your body or get a true plan.
10 Best Fitness Books
While you know I may tend towards running, I believe these books are great for everyone.
In fact, I made sure to look for books that are outside of running and will still benefit runners! We have to know about strength, nutrition, our hormones, our total health and how our MIND works.
SO find the find the fitness book that's speaking to what you need the most right now!
How to Match Your Food and Fitness to Your Unique Female Physiology for Optimum Performance, Great Health, and a Strong, Lean Body for Life — whew I thought my books subheading was long, but that's a mouthful which helps to explain that this book is filled with information.

What I liked about this book what it helps women understand how training may need to look different for us than it does a man. We have hormones afterall!!
No one wants to talk about that, but it changes things and learning to work with your body is a great gift.
2. Boundless: Upgrade Your Brain, Optimize Your Body & Defy Aging
If you've ever listened to the Ben Greenfield podcast, you'll have an idea of what's coming in this book…but it's still worth reading. Sometimes it's the repetition of things in different ways that allows it to hit us and stick.
He does base his ideas in science, but may also take things too far for many folks. I'm always open to trying new things and seeing what really works for me. That's why I like what he shares.
Understanding how your body should move might be one of the best ways to prevent injuries.
Since, I go on and on around here about pre-hab and the value of physical therapy, consider this the do it yourself version. You'll find tons of exercises to help with different things and you'll finally understand what might be causing some of the issues that you've had.
I'm basically a fan of everything by Matt Fitzgerald, but this one is a great look in to the mindset that it takes to truly push yourself to those ultimate limits.
I've had many runners recommend this book themselves when I ask for favorites. I think it's just a book that helps you figure out how to dig deep and what's happening when you feel like stopping.
The first book I read from Daniel Amen fascinated me! The inside look at our brains and how certain nutrient deficiencies could be hindering all kinds of progress was amazing.
It's so easy to blame yourself for feeling tired and just not doing enough. But what if the real issue is low Vitamin D or that you played soccer and had concussions? It's an eye opening and useful read.
6. Run To The Finish – The Middle of the Packers Guide to Training
I mean we all knew this would be on the list right? I'm partial, but I still believe it's a must read for most runners.
Breaking down many of the mental pieces that hold us back, looking at how to implement strength movements that will prevent injuries and even figuring out the best training plan for you. Plus 4 training plans included for the half to full marathon.
😄I'm just gonna say it has over 320 reviews that are 5 stars.
Ok… this one is going to be a little out there for some of you. But it did wonders for me and I know two others who have read it an immediately found their injuries disappeared.
It's all about the idea that tension and not an injury is causing your pain.
It goes in to the psychology of your brain distracting you from things you don't want to deal with by throwing up pain signals. And I LOVE when it dives in to things like how a diagnosis actually makes you worse. We've seen a lot of health studies around this idea that people start acting sicker as soon as their told something is wrong, when previously they were walking around like a picture of health.
The Sports Doctor's Complete Guide to Staying Healthy and Injury-Free for Life — having met Jordan I can say without a doubt that not only does he know his stuff, but he lives it. He loves running. He wants to see people running strong and healthy for as many years as possible.

This book provides great visuals for stretching and strength exercises that are going to pay off when you start adding them in to your routine consistently.
I've talked about this book from RD Marni Sumbal before, but it had to make this list. If you aren't fueling your body well then it doesn't matter what your exercise looks like.
You'll get weaker, you'll become unhealthy and prone to injuries.
She doesn't mess with fads, she knows the science and will give you great ideas to optimize your nutrition.
I admit the title turns me off a little bit and yet isn't that what so many runners tell me they're looking for?? This book is actually really well done with straightforward information and tons of exercises that help utilize whatever you have access too.
It's not about fads or diet trends, so I appreciate the overall content and usefulness. For runners the big thing is learning how to combine strength with your mileage and knowing that doing HARD all the time will lead to burn out.
LOOKING FOR MORE RUNNING BOOKS?
Other ways to connect with Amanda
Instagram Daily Fun: RunToTheFinish
Facebook Community Chatter: RunToTheFinish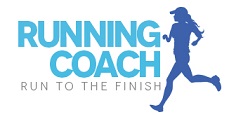 Sign Up to Receive a Weekly Newsletter with Top Running Tips and Laughs