In honor of Valentine's Day, I thought what better than to bring you a big old fight with your significant other!! No, no, actually I've enlisted my friend and Couple's Therapist Hilary Silver to help answer a very common dilemma, how to get your spouse to exercise.

And don't let her title fool you, she also has drool worthy abs, so she gets that fitness is about you, but also about making your relationship better. Take it away Hilary…

So you're a runner. Maybe you're new at it so calling yourself a runner doesn't feel quite right, but you are a runner. Because you run.
Or perhaps you're a serious runner. Training, races… the whole deal. That's awesome—so good for you.
The problem is… your husband isn't. He doesn't run. Maybe he works out occasionally, but he doesn't really enjoy it the way you do. In fact, getting him to take initiative with his health can be a point of contention in your relationship.
Be honest. His lack of fitness could even be a worry for you deep down. You love him but not only do you worry about his health, maybe it's a turn off for you. Especially if you're feeling so strong and healthy!
It's OK to Be Frustrated
If you've been giving yourself a hard time about your feelings, which can include guilt, feeling petty or even resentment towards him… stop! This is a real problem and you are not shallow for feeling this way.
Growing up with an obese father, I watched him neglect his health, eat junk food and avoid anything resembling exercise. He invited Diabetes II and heart disease with a red carpet. As a young girl, those impressions helped form my values and my erotic template; meaning what turns me on and what turns me off.
When I began dating, I only felt attracted to fit men and eventually I married an athlete. We included this line in our wedding vows:
"I promise to take care of my mind, body and spirit,
so to be the best version of myself and the best partner I can be."
If your lover has let himself go, or if he never really took great care of himself to begin with and now it's causing problems for you, here is what I want you to know:
You are NOT shallow for struggling with attraction to a partner who doesn't care for himself (physically or otherwise). Especially if he once was in shape
Do NOT let his lack of participation keep you from running and taking care of yourself. It is possible this gap in your values and lifestyle may threaten your relationship long term, but you cannot sacrifice your health and what is important to you just to keep the peace.
Get over the fact that your husband doesn't run like you do and just hope to uncover an interest in any form of fitness and a healthier lifestyle. Discovering an activity that he enjoys may be part of the solution.
Likely your husband's lack of interest in fitness is a symptom of a deeper issue like lack of confidence, self worth or depression.
Nagging him and poking at him with gripes or complaints will further exacerbate the problem. He may begin to feel like a disappointment to you and create a wedge between you. Instead, sit him down for a 'real talk' about the problem.
A Realistic Guide to Getting Your Husband Moving #healthy #love with @askhilary
Click To Tweet
How to Motivate Your Spouse

Now the key part is how you talk through your feelings and hopefully make some changes without creating any big clashes. These five tips can help to guide your conversation.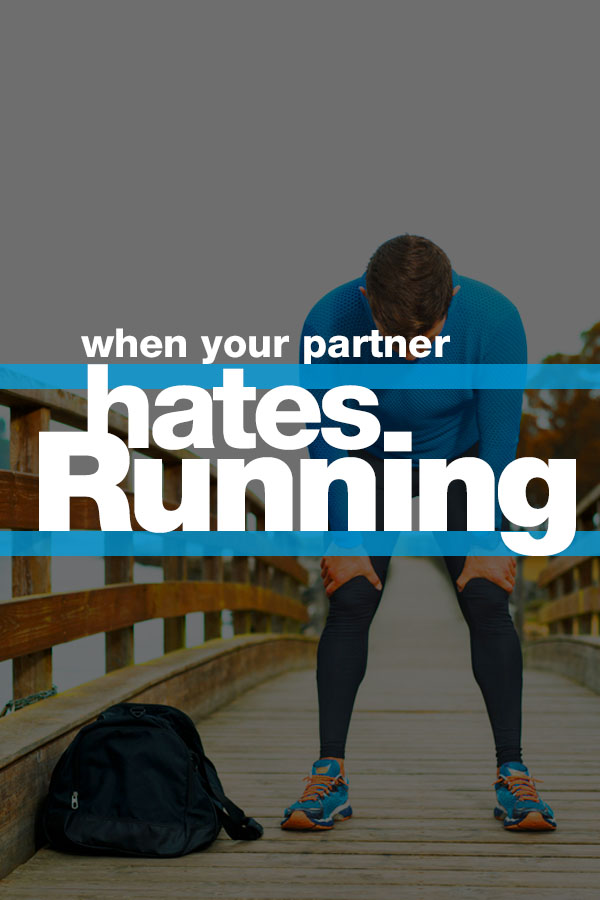 Positive Focus
Start with the positive connections you have in your relationship. Tell him you love him and your relationship is the most important thing to you.
Focus on Who You Are
If you came to this relationship with a healthy lifestyle, then remind him of this critical piece of who you are; and if this is something new for you, take responsibility for 'changing the rules.' You are now asking something of him that wasn't part of the deal when he signed up for a life with you. Either way, this is you now (and likely forever going forward) and it's a good thing.
It's ok to be funny, like benefits of being married to a runner >>
Your Feelings, Not His Issues
Own your feelings and share your concerns, both about his health and the reasons behind his self- neglect. And include your concerns for the toll it may take on your relationship down the road should this gap in your lifestyle and priorities widen.
Open Invitation
Make sure to invite him to share his perspective and point of view. The best way to get him to really share is to watch your non-verbal communication and body language. You may not like what he says but it's still his truth and you want to know this information about him.
Checkout these tips for running with a spouse >>
Plan It
Together, come up with a plan that works for both of you. Ask how you can support him. It may mean you workout together or cheerlead for him but it may mean you back off and give him space. We all feel supported in different ways!
The only problems couples can't solve are the ones they avoid or don't tackle together!
This is a super common issue for couples, especially the longer they have been together. It's a problem, like most, that will only get worse if it's not addressed and it is such a solvable problem.
Do you have this in your relationship?
Any tips that worked for you?
Hilary Silver, LCSW is a couples therapist and a sex & relationship expert. She is the founder of Hilary Silver international, a global counseling and coaching practice and creator of Hot, Healthy & Happily Ever After, a lifestyle brand that teaches men, women and couples how to find love and keep their love and passion alive for the long term.
You can find her at Hilary Silver or sign up for her free guide- 5 F-words For Keeping It HOT. She also has a new podcast and tons of online services to help you get your hot on at home and not just the gym.
Other ways to connect with Amanda
Instagram: RunToTheFinish
Facebook: RunToTheFinish
Get new posts via BlogLovin