"Nothing seems to go right for me, what am I doing wrong?!" I sobbed these nonsensical words as we hiked passed towering cacti under the Phoenix sun in February.
The day after a painful half marathon, I was per normal tired, exhilarated and confused about my lingering injury, all leading to a complete hiccuping, snotty faced moment. And the painstaking moment where my husband tries to figure out how to make it stop.
Of course in retrospect I wasn't even at the height of my injury, it was only just beginning, as was the rest of my best worst year.
So it begins
January 15th every one of my goals for the year was placed on indefinite hold. My knee looked like a basketball, but my spirits were still relatively high…I mean I've managed to stay mostly injury free for 10 years!
I do PT before every run.
I drink green smoothies.
I don't ski or do anything super crazy that might leave me injured…yet you can walk around in bubble wrap and life still happens.
Months passed and my emotions were all over the place.
I was fine, I was frustrated, I was focusing on what I could do, I was pissed, I was hopeful and finally I was post surgery. Here we are nearly 12 months from the injury still wondering if my knee will ever be the same.
This year changed me and probably for the better.
I'm still not going to tell you I'm grateful, but I am making the most of what the situation gave me! I was able to share tons of helpful first hand info with you, I got consistently with true strength training and I remembered what it was like to be a beginner.
High Low Game
While at times it felt like the worst, it was filled with momentous highs too. Learning to recognize those great things amdist the rough is true gift!
High: Signing my biggest sponsored contract
Low: Being dropped the day before surgery
High: Enjoying the best running retreat ever
Low: Being in pain
High: Running my first international race
Low: Hardly able to walk pain free
High: Running my first trail race
Low:…..I think you see the pattern
High: My first ever real photo shoot!
Low: My body feeling all out of shape due to not running and food intolerances
High: Finally got my estrogen levels up a little bit
Low: Found I have enlarged leg vein and on the edge of osteopenia
High: Lots of great long active weekends around Colorado with my husband
Low: My first race DNF one of those weekends
High: Sticking to a strength training program for 9 months now!
Low: Being forced to do only strength work!
In truth, it wasn't just the running which made this the best worst year. There were a lot of things on the personal side that continued to feel up and down.
But for sure, this was a year that truly helped me to learn new levels of patience. I feel stronger for it and know that my next lesson is how to keep a smile through more of the lows.
PAST PERFORMANCE (the miles)
Linked years are a recap from that year! Unfortunately, I didn't start digitally tracking til half way through 2007, which means I'm not 100% of my numbers for the first 5 years of my running career. I'd love to know what my true total is (but know it's over 20,000 miles)!
As noted before I don't look at monthly or weekly mileage until December hits then I become curious. This year, I knew would be my lowest in a long time…but I didn't realize I would be at half my previous mileage!
I have a long ways to go to build back to where I was, but I'm extremely motivated to get back.
2008: 1423.3
2009: 1277.7
2010: 1600.3
2011: 1600.3
2012: 1458.5
2013: 1618.3
2014: 1603
2015: 1571.5
2016: 1626.2
2017: 847
— Highest Month: January 134.3
— Lowest month: September 1 – surgery recovery

Thanks to the knee, I spent more time lifting weights this year than I ever have before! I also rode my stationary bike and actually found myself enjoying more outdoor rides!
| | | | | | |
| --- | --- | --- | --- | --- | --- |
| | Biking | Swimming | Cardio | Walk/Hike | Strength/Yoga/PT |
| 2017 | 100 hours | 0 | 5 hours | 820 miles | 180 hours |
| 2016 | 14 hours | 0 | 20 hours | 790 miles | 110 hours |
| 2015 | 12 hours | 0 | 70 hours | 730 miles | 118 hours |
| 2014 | 45 hours | 0 | 5 hours? | 690 miles | 90 hours |
| 2013 | 58 hours | 1 hour | 13 hours? | 560 miles | 120 hours |
| 2012 | 70 hours | 3 hours | unsure | 620 miles | 100 hours |
| 2011 | 42 hours | 2 hours | 29 hours | 980 miles | 137 hours |
| 2010 | 13 hours | 3 hours | 30 hours | 1068 miles | 86 hours |
States Run in: 6 (CO, MD, CA, NY, OR, AZ) + Mexico, Ireland — down from previous years as I enjoyed staying in CO!
Longest Run: 14.5 miles leading up the Phoenix Half marathon which was originally a big goal race
Most interesting run: Running on the beach in Malibu past the filming of a TV plane wreck was super fun! Plus that lead to running through the California Super Bloom.
Most exciting #runnerd moment: I'll talk more about this soon…but suffice to say I'll have a byline in my favorite magazine soon!!!
How did this year compare? Hard. I had so many wonderful running opportunities and yet I couldn't take advantage of all the things I truly wanted to.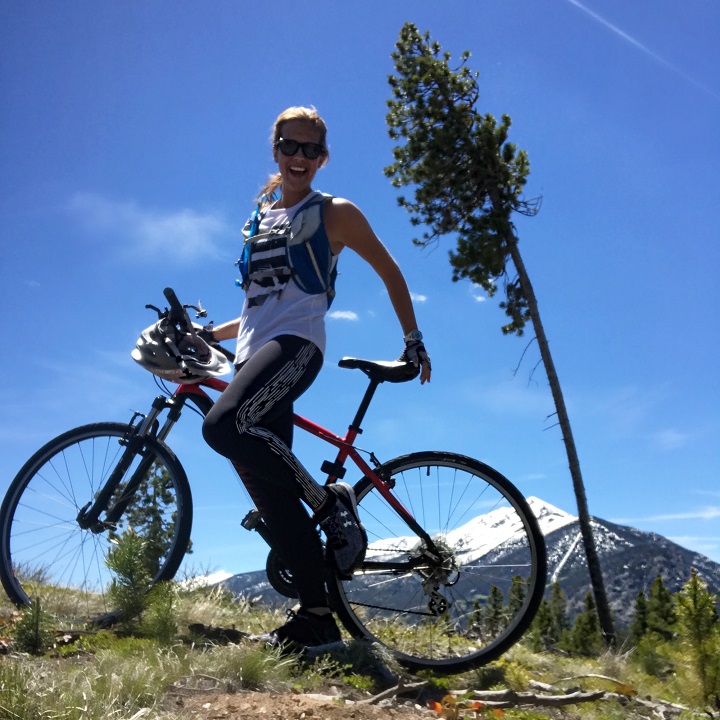 Best race: Doing my first trail race was fantastic, not only because it was in beautiful Oregon, but because my knee held up beyond all logic!
Favorite gear: Currently beyond obsessed with my new Epson Prosense 307 GPS watch.
Goal for next year? Oh man it feels scary to put any goals out there other than "run pain free". I still have high hopes to PR in the half marathon, but initially I just want to get back to feeling normal and enjoying the freedom of the miles.
What was your best running moment of 2017?
Do you log your total mileage?
Other ways to connect with Amanda
Instagram: RunToTheFinish
Facebook: RunToTheFinish
Pinterest: RunToTheFinish