Welcome to Part 2 of discovering Rancho La Puerta in Mexico! There was simply too much to share to contain it to one post! Find all the details on trails and fitness classes in part 1.
As noted this is so much more than a place to sweat. Unlike previous retreats that focused on weight loss or running specifically this is about total wellness. Which as a runner is something I can get behind 100%.
The better my body feels, the more I get to run, the more I get to run, the happier I am!
Digital Escape
Let's get this part out of the way first because I think it's the hardest for many of us to swallow.
No WiFi in your casita or most common areas.
No TV.
It's time to disconnect.
How did we do with this?? The TV wasn't much of an issue except for the World Series, but WiFi was a little bit harder largely because my whole job involves social media. I found myself at 5 Am sitting outside a WiFi hot spot in the dark to get caught up on Instagram before we started the day!
I didn't mind feeling less connected and guarantee it was good to get rid of phantom vibrations!! Had it been a totally relaxing trip, maybe I could more easily have let go…but I had work to get done. My humble guess is that they may keep common areas digital free, I think extended WiFi will likely come sooner than later.
It was WONDERFUL to actually eat meals with people paying attention to each other. Walking around without anyone bumping in to you because they were looking up, not down!
What You'll Eat?
Not only is this a vegetarian retreat, but you'll actually have numerous opportunities to experience the farm where everything is grown. You can see the peppers for your dinner being picked along side the rosemary, thyme and arugula.
While I've no desire to rough it for my food on a daily basis, this farm and the people running it are wonderful. Not just the setting, but the true care and love they have more it is miraculous. I'm pretty sure there's something extra about food that's been loved on that much, it's gotta have better nutrients!
As you might know recently, I've really been focused on MORE protein per some recommendations. Thus, I was interested to see if I'd feel hungry or how my very meat loving husband would do on a week of mostly plant protein.
We were both completely satisfied in terms of hunger (even being so active)
It was a great way to get him more excited about vegetables
Meals were simple (my fav), but delicious and easy to replicate
Gives you tons of ideas for how to mix things up
No one is afraid of carbs because everything is whole foods
While the meals themselves only totaled around 1500-1800 calories each day, you could truly eat as needed and snacks from smoothies to fruit and veggies or daily fresh made guacamole and handmade corn chips. I may have eaten a Kind bar before our morning hikes and a couple pieces of dark chocolate each day, but pretty much relied on the set meal times and felt full.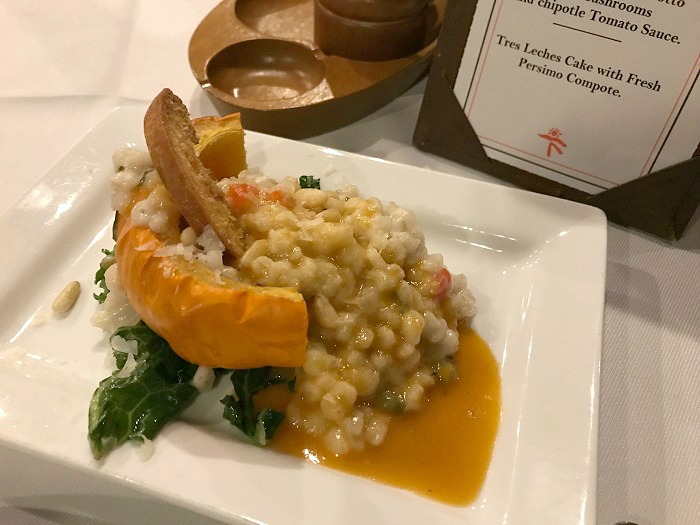 They're also great about customizing the menu to your needs, which I didn't utilize as much as I should have to avoid dairy or limit eggs. But I really wanted to try many of the dishes and was surprised to find most were indeed dairy free anyways.
A few of the delicious meals:
Every morning fresh made granola and green juices were available
Dinner always included a fresh soup from turmeric carrot to pea to butternut squash
Dinner also always included a great starter salad with a mix of fruits and vinaigrette
Mixed seafood toastadas with guacamole
Lasagna with Lentils
Zucchini Parmigiana with Lentil Puree
Catch of the day over Millet
Roasted Mexican Vegetables
Each night they also served a small dessert with dinner and I'll admit most of them tasted like a Larabar to me, but it was great to enjoy just that touch of sweetness and know it was still all made with whole foods! If you're trying to change your eating habits, this is a fantastic place to do it.
Who You'll Meet?
As noted in Part 1, nearly 50% of the guests have all been to Rancho La Puerta previously, which means they're super passionate about the place and love to talk about the way it makes them feel.
As someone still craving to see more of the world it can be a little hard to comprehend. They love coming back and knowing people, feeling comfortable and at east.
It's a different kind of travel than many of us might be used to, but understandable. Imagine being all grown up, your kids are gone, you've got time on your hands…why not enjoy a week with friends filled with healthy choices that are going to keep you going strong in to your 80+ years!
Evenings are a sit down dinner, where everyone tends to sit at large tables meeting new people! Everything was decorated to the 9's for Dia De Los Muertos as well.
Truly the healthiest population over 60 I've seen in my entire life and I'm from Colorado! This helps to ensure that no matter your age, you all have something in common which makes it extremely easy to talk to people from across the country of all different ages.
The staff are genuinely kind at every turn and the guests are equally interested in learning about each other. That was a wonderful feeling and definitely brings you back to the kid like camp atmosphere, rather than what we've become accustomed to with intense work place competition.
One evening, I took a cooking class at their school on the farm. Again, these skilled cooks welcomed my novice skills in and we spent an evening creating delicious foods which were then served family style.
You'll find a lot of mother daughter groups and groups of friends as well, which I can certainly imagine would be a ton of fun. I'm already plotting a way to enjoy a wellness week with my mom because you can enjoy things together and spend time on your own easily.
Could you go vegetarian for a week?
What matters most to you in an active getaway?
Other ways to connect with Amanda
Instagram: RunToTheFinish
Facebook: RunToTheFinish
Pinterest: RunToTheFinish