Brown, dry, brittle, sandy….that's Colorado currently and what I envisioned we'd encounter in Phoenix. Once again, I was pleasantly wrong.
Instead of lying around our hotel pool for three days post race, we set out to make my grapefruit sized knee balloon up to a basketball. We were successful and in the process found that Phoenix was darn near lush!
The mountains are visible in every direction from the city and trails abound, which meant we had to go, go, go!
In case you're considering an adventurous retreat in the form of a Phoenix getaway, here are some of the trails I'd recommend.
But first, we SPA
One of the interesting things about this area are the day spas, where you can buy a pass to spend the day enjoying the pool, hot tubs and saunas. David has been longing for the water since we left Florida, so my Valentine's Day gift to him was a couple's massage and time at the Alvadora Spa in Scottsdale.
A few hours after finishing our half marathon, we pulled on our vibrant little suits and headed off to relax. A few hours poolside, allowed me to dive in to a book before heading in to have someone work out the kinks we'd created.
And because David rarely gets a massage, I thoroughly enjoyed hearing the masseuse say things like "huh, your head only turns that far?" "you really should try stretching" and other whispered hints to help him.
I can honestly say I haven't laid out at the pool this long in years. It was just the perfect way to relax. Give me a good running book and I can sit peacefully for hours or fall asleep, both are good results.
Spur Cross Ranch
13.1 miles of running behind us, we set out to doddle about some other places to truly take in the scenery. We started with one of the coolest places, Spur Cross Ranch Conservation Area.
About 30 minutes from Phoenix this park is over 2,100 acres includes views of 4,000 foot mesas and the only creek to flow year round! We could have spent the entire day on the varied trails, taking in the sweeping vistas and seriously ogling the thousands of saguaro cactus's.
I haven't ever seen any that large or so up close!
Did you know the saguaro cactcus is only found here, grows up to 50 feet and can live 200 years?!
This area was interesting because up high you had views of surrounding red mountains, then suddenly you dipped in to the valley to find running water and a little beach of playing families. To our dismay we did not encounter any wildlife, but we did see wildflowers and more green than Colorado has seen in months.
We should have carried around a little guide to tell us what all the different cacti were…all though if it's anything like learning all the varieties of palm trees we found in Miami, I'd never remember anyhow.
Pinnacle Peak
After 4 hours on the trails, you might think we'd be done…but no.
Once we refueled with a seriously green smoothie at a raw food place for me and a massive Italian sandwich for D, it was time to hit up another hiking spot. Mostly we were afraid it might rain the next day and we'd miss out!
In complete contrast to the previous trail, the Pinnacle Peak trail was packed with families and groups because it provides a short, but beautiful hike with views of Scottsdale. The trail is well maintained with roughly 500ft of elevation gain in the first mile (yes that's peanuts compared to CO trails).
The total trail is 3.5 miles from the main parking lot to the peak and down and is only an out-and-back, no loops. Here the views are more about massive boulders and the vistas than the thousands of cacti we encountered at Spur Cross. This area also offers rock climbing, so we spent some time watching climbers in an area above the trail peak scramble up flat walls.
Looking for a great active vacation? Checkout #phoenix with this guide
Click To Tweet
Usery Mountain Regional Park
Our last full day in Phoenix blessed us with more great weather, so off we went to put a few more miles on the legs. While we still ended up doing over 8 miles, most of the trails in this particular park were flat meaning it wasn't nearly so taxing on my bum knee.
Even by our third hike, David was still entirely fascinated by how prickly the cactus's were and continued to touch them.
This finally lead to attempts at amusing photos like hugging the Teddy Bar cholla or sitting on a toadstool…and yes you can be sure at least one of us got poked in the bum. It also lead to a lot of conversations about pushing each other off the trail, which was only funny because we didn't.
I was impressed at how well maintained the trails were in every park. The cacti were always trimmed away from the path, though you still needed to keep your eyes open for little balls that occasionally had dropped into the trail.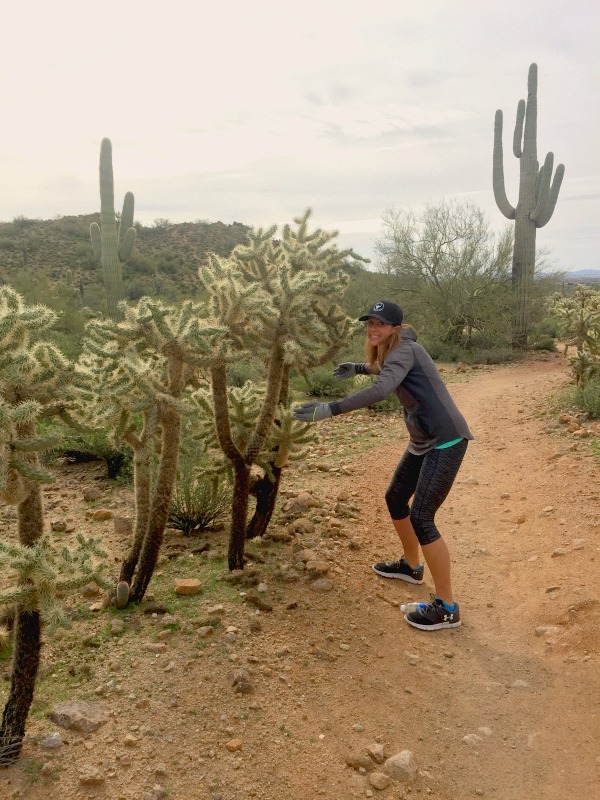 This park again had miles and miles of trails which could have taken us all day to explore, but we stuck to around 3 hours before heading off to secure food and explore a new trail. Oddly the park only looks off to the distance at Usery Mountain, so no idea why it's named that way. But a good example of how once again in every direction there are beautiful mountains from Superstitions to Four Peaks to Usery.
Did you know that though this is part of the Sonoran Desert, it's actually over 1,000 feet above sea level?
We finally saw some wildlife in a little antelope squirrel, but no Gila monsters or coyotes. Yes, I wanted to see something crazy!!
Did you know that some of the Arizona mountains were formed by underground volcanoes, calderas, bursting through the surface and others like the South Mountains are from the tectonic plates moving? No idea why, but learning about how it all came to be was fascinating for moi.
Hawes Trail
Our final hike, came about because I kept pointing at Red Mountain and saying "that's soooo cool, I want to see it!!" So David did his David thing, scoured the trail maps and found there wasn't a hike on McDowell Mountain, but instead one nearby with stellar views.
This hidden gem might have been my favorite and when we first arrived I didn't think I had another hike in my throbbing knee, but I am so thrilled that I played my little mental games of let's just start and see what happens.
It's not an easy trail to find, there is just a small parking lot with no signs and then you have to cross a 4 lane road to find a trail head behind a steel traffic barrier. Ahh but as soon as you step on to the trail, you'll know it's going to be good. The massive Red Mountain looms in the distance and the path undulates with changing colors from red clay dirt to softer grays.
Most of this trail system was built by mountain bikers, hence how David found it, and that makes for some interesting turns and views.
Other fun Phoenix things:
Near Spur Cross you'll find Old Town with tons of great sculptures and carvings, plus a Wild West Theme
Ballparks abound and the city was filled with people excited for spring training (15 teams train here!)
Take a second to really look at the highways as you drive, all of the walls are decorated (impressive and expensive)
Phoenix doesn't do daylight savings time and I think this is genius
My only downside to this trip was I wanted to run all of these trails and it stunk that post race my knee wasn't having it.
After weeks of feeling a little overwhelmed with my to do list, this getaway was exactly what I needed to put things back in perspective. Yes certain things aren't going the way I'd like and some days I feel like I'm spinning my wheels, but one of my strengths is remaining steadfast and consistent, which I know means I'll eventually figure it all out.
Have you ever visited a place that surprised you?
What do you do in the days after a race on vacation?
Other ways to connect with Amanda
Instagram: RunToTheFinish
Facebook: RunToTheFinish
Get new posts via BlogLovin