Cancelling our Utah road trip might be one of the best things that's happened to me lately.
Wait, let me explain.
I could have been sad, regretting the choice to not just tough it out, but instead I'm focusing on what I gained instead. I'm still dying to hike and run those Utah trails, when the knee is better…but this weekend forced me to re-examine my thoughts on biking.
The truth is walking a 1/2 mile at a 20 minute pace was all I could muster after getting the PRP shot (which I'll be answering questions on this weekend). And yes, while I can tape it to squeeze in a couple miles of running here and there that simply wasn't the goal of a trip to Utah. Our goal was to spend as much of every day as we could on the trails…so we cancelled.
David was prepared to simply go back to work and skip vacation, but who ever regrets a vacation?!
I pondered and plotted and realized that we could go to Breckenridge for him to mountain bike, while I explored some new paved paths. I keep saying I don't love biking, but at least that was something I could do instead of sitting around.
But why my negativity towards biking?
Living in Miami gave me a rational and overblown fear of cycling on the roads. Once a week someone was killed by a hit and run driver. Didn't matter if they were alone, in a group, in the bike lane or not. Slowly my jaunts outdoors transitioned to indoors and then I just went back to running because that allowed me to feel safe heading outside!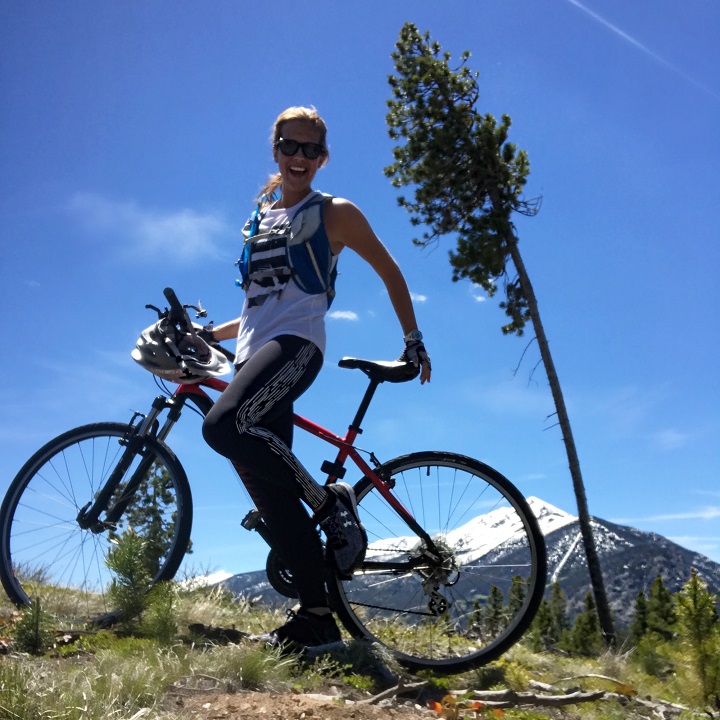 In Colorado, the bike has been waiting for me and this weekend I finally found myself blissfully enjoying hours in the saddle (ok minus the ache in my rump which has no padding and isn't used to the bike yet).
These paved paths winding through the forests, overlooking water and never leaving sight of the mountains allowed me to simply relax, pedal, enjoy!
I didn't have to think about cars or even worry about a ton of other bikers. It was the closest I've felt to a long run since getting injured. I found myself smiling, even on the burning uphills and of course still riding the the brakes downhill (not everything changes overnight), but it was eye opening!
"At the end of the day, let there be no excuses, no explanations, no regrets."
― Steve Maraboli
I could lament the time I've missed exploring because I was afraid or thought I simply wasn't strong enough to bike, but instead I'm thrilled to now feel like I can pull my bike out back home as well. There are plenty of paved paths here and you better bet as this knee heels, I'll be out exploring the view from my handlebars.
I think it's so important to remember that a quick weekend getaway can be a cheap way to bust you out of your daily routine. A routine which likely isn't leaving a ton of time for you to step away from the computer, to snuggle just a little longer in bed and to challenge yourself in a new environment.
Here's a little more for anyone else looking to enjoy some Colorado biking or even just get motivated to try something a little different.
Paved Paths
Each time we drive in to the mountains, I find myself noting paved paths that run along the creeks and into the surrounding towns. It's an ongoing refrain "we'll have to try that sometime" and we genuinely mean it, we just have so many places to explore!
This particular trip took us to Frisco and Breckenridge where I had the most wonderful bike rides of my entire adult life! I'm sure as a kid I had rides that felt epic simply because I did them…this felt epic because it was almost like being on a long run. Zen.
It's funny that when I look at a map all these places seem so far apart and yet I can hop on any of the bike paths and find myself riding from Breckenridge to Frisco…Frisco to Dillon..Dillon to Vail! All with barely a moment riding next to cars.
Plus of course in the mountains there is the added benefit of random wildlife spotting! This time a moose was wandering along the path, which made for some fun video and a lot of us standing cautiously to the side to let him pass before continuing our ride.
Over the course of our little getaway I rode about 90 minutes each day, sans any padded shorts. And while I seriously love the no chafe comfort of my UA gear…my arse really wanted some padding! So I did pull out some old biking shorts for a ride near home once we returned.
How to find paths?
You can actually Google paved paths near me and you'll get some pretty great results.
Check in with the local Chamber of Commerce
The MTB Project app is a great way to find new trails and then navigate them using GPS, no need for WiFi.
Gear?
Currently I'm riding a hybrid bike which means it can do some gravel without fear of a puncture and it's sturdier feeling than a road bike.
A helmet is a must. I just can't with anyone who rides near cars and refuses to put one on to save their hair. What good is hair without a skull.
Sunscreen!!! You're usually out there longer and rays are more intense as you get up higher (we were over 9,000 feet for the weekend).
Always decked out in my Under Armour Women's gear because the heat gear wicks so well and truly keeps you cooler.
Lessons Learned
While I didn't clip in this time, I found my comfort again and will give that a go again soon.
What can I say, I thought I'd start with just a sore rump, instead of a broken bone to go with my knee. I've fallen over a few times with the clips, so I know it's generally more scary than painful, but nonetheless…baby steps.
Mountain bike trails will likely remain David's territory, I'm just not interested in another injury
Not every bike ride is the same, just like not every road run is the same.
It's worth driving a bit to find a place that will satisfy my soul.
Maybe running isn't the only game in town for seeing the world.
You can see a whole lot more on a bike due to being able to travel farther.
I am a machine when it comes to powering up hills…still a weenie who holds the brakes going downhill.
I love that David is excited for me to start enjoying this more and willing to ride the easy path with me sometimes.
There's no saying I won't tackle the roads, as I get more comfortable again with biking.
Since I won't be on the mountain trails with David, these bike trips will be a variation on our normal weekends. Usually we'd find a new trail and while he set of for a couple hours of biking, I set out for a couple hours of trail running.
Now, we'll attempt to find a good trail with a great paved path nearby. I'll go one way, he'll go the other and then we come back together. Depending on my how knee feels, we try to take a short walk or just enjoy a little time sharing what we saw before jumping back in the car to head home for a much needed shower.
When was your last weekend getaway?
Do you mountain bike, road bike, spin…none of the above?
Other ways to connect with Amanda
Instagram: RunToTheFinish
Facebook: RunToTheFinish
Get new more motivation for running and food on Pinterest