If you've ever experienced the uncomfortable sensation of your feet burning while walking, you're not alone. This common issue can turn a leisurely stroll or an essential part of your daily routine into a painful and frustrating experience.
However, understanding the reasons behind this discomfort and learning how to alleviate it can make a world of difference.
In this article, we will delve into the perplexing issue of burning feet during walking, shedding light on the most common causes and symptoms. But don't worry, it's not all bad news. We will also provide you with practical strategies and remedies to help put out the flames and put the joy back into your stride.
It may also feel like numbness or a bunch of pins or needles poking the soles of the feet, which is all the more confusing.
Your feet are your foundation, and taking care of them is essential for your overall well-being.
In this article, we will delve into the perplexing issue of burning feet while walking, shedding light on the various causes and symptoms. I'll also provide you with practical strategies and remedies to help put out the flames and put the joy back into your stride (like wearing the right shoes!).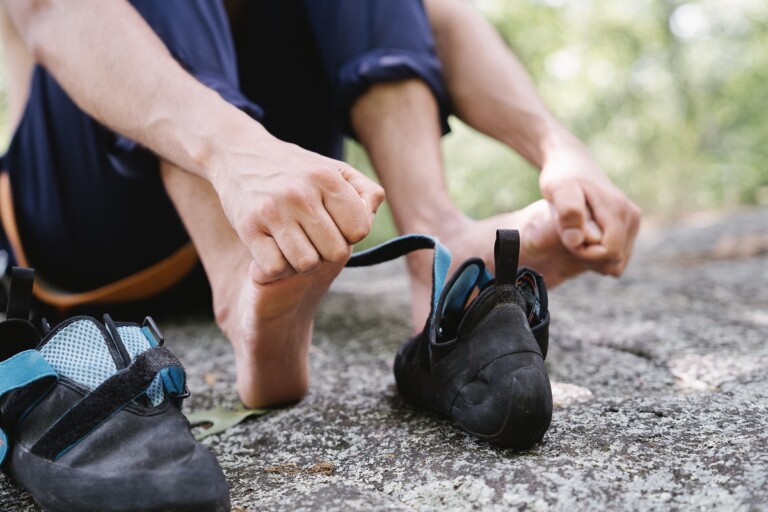 What Causes of Burning Feet When Walking or Running
Identifying the source of the discomfort is the first step in finding effective solutions. Here are some common factors that contribute to burning feet:
Overuse and Fatigue of Foot Muscles
One of the most prevalent culprits behind the sensation of burning feet while walking is the overuse and fatigue of the muscles in your lower extremities. It's akin to asking your feet to work overtime without granting them a well-deserved break.
Prolonged periods of walking or standing, especially on hard or uneven surfaces, can place tremendous stress on your foot muscles. This can lead to a burning sensation that gradually intensifies as you continue your activity.
If you've had a longer day than normal on your feet, they may simply be overworked and possibly it's related to the next item.
Wearing the Wrong Shoes
Your shoes are a key player in how your feet feel during physical activity. Wearing the wrong shoes can create pressure points that irritate your feet and restrict blood flow, causing that burning sensation.
The wrong type of material can also exacerbate this by trapping heat. Make sure to choose the right type of running or walking shoes that offer good support, and are appropriate for your activity to minimize discomfort. If needed, add some shoe inserts.
Checkout these articles if you're on your feet all day:
Friction
Poorly fitted shoes or even the wrong type of sock can lead to excessive friction. When your feet are constantly rubbing against the inside of your shoes, it can lead to irritation and eventually that unbearable burning feeling.
Pay attention to how your feet feel during the day. If you notice early signs of irritation, that's your cue to address the problem before it escalates.
Hot Surfaces
Sometimes the surface you're walking or running on can be the culprit. Hot pavement, sand, or even a treadmill that's been in use for a while can contribute to hot, burning feet.
You may not notice it at first, but as you keep going for long distances, you'll start to feel the heat.
Sweat
You might not think about it, but sweat plays a significant role in foot comfort. Excessive sweating can create a moist environment inside your shoe, which in turn can irritate your skin.
Once your skin is irritated, the likelihood of experiencing that burning sensation increases.
To keep things dry, consider moisture-wicking socks and possibly a foot powder designed to absorb sweat.
Symptoms of Burning Feet While Walking
I'm sure the hot sensation underfoot is enough for you to know, but sometimes we're not sure what to call the feeling that we have. So let's just make sure we're all on the same page before diving in to some additional medical causes.
Recognizing the symptoms associated with burning feet while walking is crucial for early intervention and effective management. Each symptom provides valuable insights into the underlying causes of your discomfort. Here, we delve into these symptoms to help you better understand what your body may be trying to communicate.
The more of these you are experiencing, the more likely it may be that just shoes are not the issue. However if you have ramped up your mileage significantly that is still a common culprit.
A. Burning Sensation
The most prominent and unmistakable symptom is the persistent burning or heat-like sensation that envelops one or both of your feet. This sensation can range from a mild, nagging discomfort to an intense, searing pain. It's often described as feeling as though you're walking on hot coals or standing on a heated surface.
This burning sensation can be localized or extend throughout the entire foot.
B. Tingling or Numbness
In addition to the burning sensation, you might experience tingling or pins-and-needles sensations in your feet. This tingling is often a sign of nerve involvement. It may start subtly and progress as you continue to walk. In more severe cases, you might even experience numbness in your feet.
Numbness can make it challenging to maintain your balance and feel the ground properly while walking, increasing the risk of tripping or stumbling. Checkout more causes of numb feet while runninng.
C. Swelling
Burning feet can also be accompanied by visible swelling. Inflammation caused by various factors, such as overuse, poor footwear, or underlying medical conditions, can lead to puffiness in your feet and ankles.
This swelling can exacerbate the sensation of heat and discomfort, making it essential to address both the swelling and the underlying issue causing it.
D. Redness and Warmth
Increased blood flow to the affected area often results in redness and warmth in the feet. These symptoms are closely related to inflammation and may be noticeable to the touch.
Redness and warmth, while not inherently harmful, can be distressing and indicative of an underlying problem that should be addressed.
Medical Conditions That Can Cause Burning Feet
Sometimes your feet are trying to tell you something about your overall health, sending pain signals to tell you that something might be wrong.
If you've addressed all the external factors like footwear and still find yourself troubled by burning feet, you may be dealing with an underlying medical issue.
Diabetes and Its Complications
One of the earliest symptoms of diabetes can be a tingling or burning sensation in the feet. This is due to high blood sugar levels affecting the nerves, known as diabetic neuropathy. In fact, one data shows that about half of people with diabetes have some type of nerve damage.
The sensation can range from mild to severe and often worsens at night. If you're experiencing persistent burning and have other symptoms like frequent urination, thirst, and fatigue, it might be a good idea to get checked for diabetes.
Nerve Damage
Aside from diabetes, other types of nerve damage or peripheral neuropathy can cause your feet to burn. Excessive alcohol use, exposure to toxins, or even some medications can cause nerve pain in your feet.
If you're feeling constant pain, tingling, or burning without an obvious external cause, nerve damage could be the issue.
Hypothyroidism
While it may not be the first thing that comes to mind, hypothyroidism can also contribute to that uncomfortable burning sensation in your feet.
This condition occurs when your thyroid gland doesn't produce enough thyroid hormones, leading to a variety of symptoms that can range from fatigue and weight gain to, you guessed it, burning feet.
Tarsal Tunnell Syndrome
Tarsal Tunnel Syndrome may not be as widely discussed as other conditions, but it's another potential culprit behind that burning sensation in your feet. This condition occurs when the tibial nerve, which runs through the tarsal tunnel along the inner leg, becomes compressed or pinched.
Fungal Infections
Foot conditions like athlete's foot can also make your feet feel like they're burning. Fungal infections thrive in warm, moist environments—like the inside of a shoe—and can irritate your skin, leading to that fiery feeling.
Ways to treat fungal infections:
topical creams
apple cider vinegar (it has antimicrobial effects)
a foot soak of baking soda and water
go barefoot and let your feet air out as often as possible
Vitamin Deficiencies
Lacking certain vitamins can affect nerve function and lead to burning feet.
For example, deficiencies in Vitamin B can result in a range of symptoms, including that uncomfortable burning sensation in your feet. If you suspect a deficiency is causing your issues, blood tests can confirm this and supplementation can often resolve the problem.
Other medical problems that can contribute to burning feet:
kidney disease
Lyme disease
peripheral artery disease (PAD)
complex regional pain syndrome (CRPS)
When external fixes like better footwear or moisture control aren't doing the trick, it's important to dig deeper. If you suspect that a medical condition is causing your discomfort, consult a healthcare professional for diagnosis and treatment options.
How to Avoid Hot, Burning Feet When Walking or Running
The best way to tackle burning feet is to prevent the problem from happening in the first place. A little preparation can make your walks or runs far more comfortable. Here's a breakdown of what you can do to keep your feet cool and comfy.
#1 Choose the Right Footwear
It all starts with picking the right pair of shoes. Your footwear should fit well, offer good arch support, and be designed for your specific activity.
For example, if you're going on a trail run, make sure you have good trail running shoes that offer grip and ankle support.
If you're planning on a leisurely walk, opt for cushioning and flexibility. A well-fitted shoe minimizes friction and pressure points, keeping that burning feeling at bay.
#2 Invest in Moisture-Wicking Socks
Keeping your feet dry is a big step towards avoiding irritation.Good running socks are specifically designed to pull sweat away from your skin (aka moisture-wikcing) and onto the fabric's surface, where it can evaporate.
These socks can be a game-changer, especially in hot weather or during intense exercise. If you're prone to sweating, consider carrying an extra pair with you so you can swap them out during your activity.
#3 Stretching Tight Muscles (including your feet)
Stretching your feet and legs before you head out can help improve circulation, preparing your muscles and nerves for physical activity.
Good circulation can prevent the sensation of burning in your feet. Spend a few minutes doing some dynamic stretches to warm up your feet, ankles, and calves. Toe raises, ankle circles, and calf stretches are all good options to include in your warm-up routine.
#4 Stay Hydrated to Keep the Heat Away
Dehydration can worsen many types of discomfort, including that burning feeling in your feet. Lack of hydration can affect your body's ability to regulate heat and can impair your physical performance.
Make sure to drink enough water before you leave and consider bringing a running water bottle to sip from during your activity.
How to Treat Burning Feet
When your feet are burning while walking, finding immediate relief can be a top priority. Here, we explore several strategies and remedies that can help soothe the discomfort and provide you with much-needed respite.
Home Remedies for Instant Relief
Sometimes immediate relief is the first priority.
Soaking your feet in cold water can provide quick relief from the burning sensation. The cold temperature helps constrict blood vessels, reducing inflammation and numbing the area.
The ocean is a one two punch for being cold and containing salt!
Epsom salt baths are another option; they not only cool down your feet but also provide essential minerals that can help with nerve function.
Over-the-counter creams containing lidocaine can also provide a cooling effect. Personally, I'm a fan of trying things like curcumin in a tumeric supplement. That's going to reduce inflammation, but not mask pain so you keep overdoing.
A good ole foot massage can also help reduce the burning in your feet. You can easily give yourself a foot massage, or better yet, find someone to do it for you.
Rest and Elevation
One of the simplest and most effective ways to alleviate burning feet is to give them a break. Find a comfortable place to sit or lie down and elevate your legs to encourage better blood flow back to your heart. This can reduce swelling, relieve pressure on your feet, and ease the burning sensation.
Orthotic Solutions
Custom-made or even over-the-counter orthotic insoles can be extremely beneficial, especially if the root cause is related to your footwear or walking gait. These insoles provide extra cushioning and support, distributing pressure more evenly across your foot.
Medical Treatment
If you suspect that your burning feet are due to a medical condition like diabetes, hypothyroidism, or Tarsal Tunnel Syndrome, it's essential to consult a healthcare provider who can give you a physical exam and a proper diagnosis.
Your treatment plan may involve medications or even surgery, depending on the severity and underlying cause.
Other types of foot pain and what to do about it:
Don't let burning feet hold you back from enjoying your walks or runs. Understanding the root causes and taking preventative steps can help keep your feet cool and comfortable, letting you focus on the scenery, your fitness goals, or just a good conversation with a friend.
If the problem persists, though, seek professional advice. It's better to address the issue head-on than to let it linger and potentially worsen.
Other ways to connect with Amanda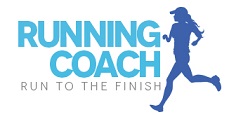 Instagram Daily Fun: RunToTheFinish
Facebook Community Chatter: RunToTheFinish
Sign Up to Receive a Weekly Newsletter with Top Running Tips and Laughs