Confession. This was supposed to be chili.
Well the recipe wasn't supposed to be chili, but what David asked me to make was chili. In fact, he went so far as to find and send me a recipe to make, which has happened approximately 3 times in our 15 years together.
In my defense:
A. That recipe had not a single vegetable in sight and he needs more.
B. I offered up extra chili that was currently in the freezer and he turned it down…which lead me to believe I had wiggle room.
The results of my quick thinking was a recipe that he adored!! SCORE for me and vegetables.
Slow Cooker Vegetable Lamb Stew
You might be thinking, shouldn't that say beef stew and you could be right, that is absolutely an option. However, I wanted to mix things up a bit more and I don't eat a ton of red meat, so this felt like an opportunity to get some different nutrients.
Print Recipe
Slow Cooker Vegetable Lamb Stew
A hearty, healthy crockpot meal to switch up your meals. Can easily swap the lamb for beef and almost any veggies.

Ingredients
1

lb

lamb for stew

2

cans

diced tomatoes

1

can

green beens (or fresh)

3

diced red potatoes

3

carrots

3

celery stalks

4

cups

chicken broth (or beef)

black pepper

oregano

salt
I love that this recipe is easily customizable based on what you have available. You could skip the green beans and toss in diced zucchini or if you've got a frozen bag of soup starter like moi, then skip the whole dice an onion process!
And if you're like me (novice), in the store you will see packages labeled beef for stew or lamb for stew, which mostly means they are already chopped up in to pieces for you! You could absolutely use a rump roast and then shred it yourself, which would likely result in more meat.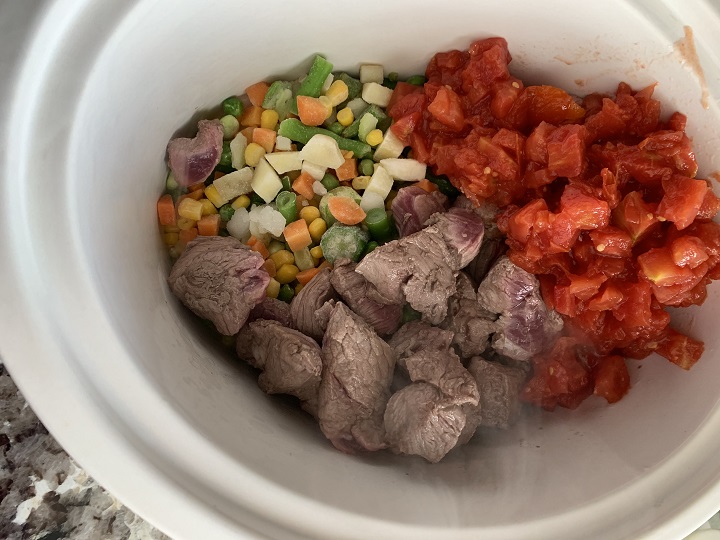 Nutritional Value
Let's break this down as a recipe for athletes!
Vegetables are kind of a no brainer, but I did opt for lamb for a reason.
Lamb
Grass fed lamb has more omega 3's than grass fed beef. It provides heme iron which is slightly more absorbable by the body, which is important as runners are often low in iron due to the pounding our bodies take.
It also contains all the B vitamins which are so good for our energy and zinc which helps to boost our immune system.
Quinoa
As a last minute addition, I decided to dump in a cup of quinoa which added to the texture (and made my husband feel like he was getting more pasta, his favorite thing). For me it meant a great carbohydrate source that also added protein!
Have an awesome crockpot meal? PLEASE share, I always need more.
Other ways to connect with Amanda
Instagram Daily Fun: RunToTheFinish
Facebook Community Chatter: RunToTheFinish
Sign Up to Receive a Weekly Newsletter with Top Running Tips and Laughs