Welcome to part two of this dairy free series!
First we chatted about why people are going dairy free and the ever important calcium, today we're touching on some of the dairy free alternatives and tomorrow healthy high protein dairy free meals.
While our goal is generally whole foods, that doesn't mean there isn't a place in our diets for some of these healthy packaged options. For example, baking tastes better with a milk option and I'd never meet my protein needs without a vegan protein shake.
Dairy Free Alternatives
Milk Alternatives
The American Milk Council has a done a great job of teaching us that we need milk to get calcium and be healthy…but repeated studies have also shown that there are some downsides to milk, as discussed previously.
With all of this information I think it's great to know about the other choices out there and to see if one might be worth adding to your diet if you have any concerns about dairy allergies or other issues from cow's milk.
I've tried nearly every variety on the market now and thought a quick break down could be helpful.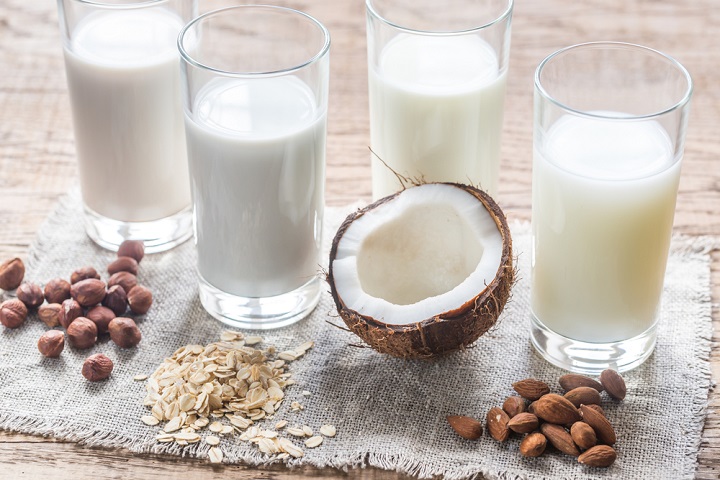 Soy Milk
The first option to hit mass market shelves was soy milk. Soy milk is often one of the cheapest and easiest to find alternatives for those looking to try something besides dairy in their cereal, baking or smoothies.
The debate continues on about the pros and cons of soy in the diet, so this is a personal decision each will need to make, but some of the proposed benefits are the lower sugar content, phytoestrogens, low cholesterol and some fortified brands could help with calcium absorption.
Almond Milk
Selecting unsweetened almond milk can make it a better choice for those watching blood sugar than many other varieties. Almond milk is also one of the best choices for calcium, as many brands contain 30% or more of the recommended daily value. Almond milk is also good for the skin with Vitamin E.
However, it should be understood that almond milk does not provide the same benefits as whole almonds. Again because I like to spread my nutrition around, I limit my almond milk intake in favor of daily nut servings.
Hemp Milk
Hemp milk has the strongest flavor of the listed milk alternatives and makes it something that many have to adjust to.
Hemp milk also contains the 10 essential amino acids, which is why it is often a favorite among vegans as a protein source. Hemp milk is generally a little more expensive and can spoil more quickly than other varieties, but as a bonus is safe for those with a nut allergy.
Breaking down the #dairyfree options you need to know about for healthy, high protein eating
Click To Tweet
Rice Milk
Rice milk is generally made from brown rice boiled then strained, so no worries you're not indulging in the often dreaded white food by enjoying rice milk.
Rice milk is naturally sweet from the grain so it does not work well in all baking situations, but is generally accepted for cereal and smoothies. This is another great vegan option.
However, as with many of the other choices I like to spread my nutrition around so I choose to keep this as an occasional choice rather than daily because it has a lower protein amount and often higher carb.
Coconut Milk
Due to a higher fat content coconut milk is often a last choice for many people, but it's a great alternative, as this is the healthy kind of fat which helps your body burn fat. Many coconut milks are slightly creamier making them great for muesli, smoothies and yogurt.
Studies have also shown that lauric acid (that fat I mentioned) can help to increase the bodies immune system and because this occurs naturally in breast milk it may be an alternative for babies when needed.
** Note on Carageean – While it's still debated by many, there is enough research for me and experience with my own unhappy stomach to avoid all products that contain it. You'll find it in tons of dairy free alternatives, so take a look at the label before buying. Read more about it here >>
Vegan Protein Powders
Some folks who are dairy free can still handle whey protein, which is great…I personally realized it leaves me super bloated which is going against every goal I have, ha! Thus, I started to wonder what made for a good dairy free option and what actually tastes good!
There are a few added benefits to focusing on plant based protein powders:
It's usually well digested and easily absorbed by the body
An extra fiber source, which makes it more filling that other protein powders
It's a complete protein
Convenient for pre-and-post workout nutrition
Digests slowly for muscle recovery and metabolism boosting
Added nutrients from the plants
No worries about growth hormones or antibiotics from animal sources
Let's start with what they are….
Ingredients
Most dairy free protein powders are a combo of sources to create a complete protein profile. The most common ingredients:
pea – my preferred option
soy
egg
hemp
pumpkin seeds
brown rice
quinoa
chia
My personal preference is to avoid soy options unless I really know a lot about how it was created and because of my egg intolerance those are out too.
The two that I personally love and use daily:
Vega Sport: I've used this particular powder for years now and love it. I can mix it with water and drink it on the go and everyone I've recommended it to has generally said they liked it. This is different than their Vega One which has too much of a greens flavor for me to drink with water.
Vital Proteins: This option isn't a protein powder or vegan, but instead a collagen supplement which provides 9 grams of protein per scoop. I love that I am getting some of the amazing benefits of collagen without the dairy. It has no flavor, so it mixes well in anything.
Beyond using those two consistently, here are a few others, I've tested.
Other Dairy Free Products for Beginners
Beyond milks and protein powders, there are a bevvy of other products on the market now for cheese and yogurt. I've certainly tested out some of these over the years and found they're great in moderation to make things like pizza, a cheesey mac option or when you're really jonesing for ice cream.
But I'm always digging in to the label to ensure there isn't carageen as noted above and to see what else had to be included to make it actually taste good. Sometimes the ingredient list is worth it once in awhile, but mostly after you've been dairy free for more than a few months, you'll stop craving a lot of those old foods and find it's better just to eat whole foods.
It's the same process as switching from meat eating to plant based, which I talked about here. Allow yourself the alternatives initially to make the switch easier!
Any dairy free alternatives you love?
What's most important to you when selecting?
Other ways to connect with Amanda
Instagram: RunToTheFinish
Facebook: RunToTheFinish
Get more Dairy Free Recipes on Pinterest
Sign Up to Receive a Weekly Newsletter with Top Running Tips