The ankles, often likened to the foundation of a house, play a pivotal role in maintaining stability and balance during the repetitive motion of running. This is where the significance of ankle support running shoes comes into play.
Not all runners require the same level of ankle support, but for individuals with specific biomechanical needs or a history of ankle-related issues, the right pair of running shoes can be a game-changer.
In this article, we delve into the world of running shoes designed to provide optimal ankle support. Whether you're a long-distance enthusiast, an occasional jogger, or even someone seeking to regain their stride after an ankle-related setback, understanding who might benefit from ankle support running shoes is the first step.
Then we'll provide you with a breakdown of our top 7 running shoes for ankle support.
Assessing Your Need for Ankle Support Running Shoes
Before diving into the world of ankle support running shoes, it's essential to evaluate whether these specialized shoes are the right fit for your unique running needs.
While ankle support can be beneficial for many runners, it's not a one-size-fits-all solution. And you know I'm always going to stay, please make sure you are starting with things like ankle strength training exercises!
History of Ankle Sprains
The National Institute of Health: National Library of Medicine states that ankle sprains remain the most common injury in athletes. Additionally, the study mentions that if you have experienced an ankle sprain in the past, you are 75% more likely to develop chronic ankle instability (CAI) if you do not correct the problem.
Basically what CAI means is, if you don't seek treatment or start using ankle support, rolling your ankles becomes more common leading to further injuries, leaving you benched on race day.
Biomechanical Issues
If you tend to overpronate (inward rolling of the foot) or underpronate (outward rolling), it can affect ankle stability. Look for shoes that offer appropriate arch support and motion control to align your ankles and reduce strain.
Body Weight
Heavier runners might experience greater impact forces on their ankles. Adequate ankle support can help distribute these forces more evenly and reduce strain.
Your ankle joint is made up of 3 separate bones: your tibia, fibula, and the talus which is right between the shin bones and your heel bone. Ensuring proper care for this joint will help you avoid foot and ankle pain while on the run.
Uneven Terrain
If you frequently run on trails or uneven surfaces, your ankles are subjected to greater stress. Ankle support running shoes can provide the stability needed to navigate such terrain safely.
Look, it may not seem like a big deal when you are not experiencing pain, but the fact is, the fit and comfort of your shoes don't begin and end with cushion and breathable fabrics. So let's dig a little deeper and find out what you need to look for in an ankle-supportive running shoe.
What To Look For in an Ankle Supportive Shoe
Everyone has their preferred running shoe brand (and some of us are die-hard fans who do not want to deviate from what we know). One of the most ankle-supportive types of shoes is the high-top shoes, but sadly these less often come with breathable mesh uppers and get too hot.
High tops are great for basketball, but not ideal for running. We don't want to over limit your movement. If you need more support, definitely checkout our top ankle braces for running.
Are there running shoes that provide ankle support?
While they will not be as stable as the mentioned high-tops or wearing an ankle brace, yes.
There are running shoes designed to provide better ankle support. These shoes are equipped with features and technologies aimed at stabilizing and protecting the ankles during running.
Do Stability Shoes Help Ankle Pain?
The short answer is: yes. By helping to prevent excessive motion, it can help to avoid new injuries or inflaming old injuries. Keeping your ankles stable and supported is a way to be proactive about possible injuries instead of reactive after they happen.
You'll notice that many of the recommended shoes have some sort of stability feature.
Additionally, ankle supporting shoes will usually have these characteristics:
Sufficient arch support: That's right, the bottoms of your feet matter to the health of your ankles. With flat feet often comes excessive pronation causing your ankles to roll inward leading to an imbalanced weight distribution and stabilization issues. A podiatrist can help you figure out your arch type so you know exactly what to look for.
Enhanced Midsole Support: These shoes often have a reinforced midsole structure that aids in stabilizing the foot and ankle, reducing the risk of overpronation or supination.
The right fit: You know how important it is to get fitted for the right running shoes, but it may be even more important than you thought. Shoes that are too tight or too loose can put strain and pressure on different areas of your foot, causing stress and inflammation to your ankles.
The right amount of cushion: You don't want the bottoms of your feet to be uncomfortable while you run, but too much cushion could cause you just as many problems. Finding the sweet spot between stability and cushion, rigidity and movement, is a balancing act.
Know your strike: Are you a heel or midfoot striker? Some shoes are designed for maximum shock absorption depending on where your strike falls.
Test the heel cup: If you want to feel more secure, stick with a deep heel cup. However, this is not always necessary as many shoes have improved their stabilizing technology to keep your foot in place.
An important reminder, that your old shoes might be the source of your pain. Once you have pounded away on the asphalt or trails, the stability of your shoes starts to take a turn for the worse, leading you down the path of potential injury. According to the Advanced Foot and Ankle Center in Utah, runners should replace their shoes every 350-500 miles or every 6-12 months (whichever comes first).
7 Best Shoes for Ankle Support
For those seeking an extra layer of security and stability, we present a curated selection of the seven best running shoes that will provide exceptional ankle support.
Nike React Infinity Run Flyknit 3 – Best Overall
Price: $140
Available on Nike.com
The Nike React Infinity Run Flyknit 3 is all about stability, motion control, and comfort. This shoe finds that perfect balancing act that is durable for hitting the pavement but comfortable enough to keep your feet and ankles happy.
Personally, I'm a big fan of the Flyknit feel. They always wrap so nicely around my foot and feel lighter. Plus the React foam I've raved about in many a review!
Utilizing Nike's proprietary React foam technology, the shoe delivers an exceptionally soft and springy feel with every step, effectively absorbing impact forces and reducing strain on the ankles. This is further complemented by the shoe's widened platform, promoting a more stable ride and aiding in ankle alignment.
For those who seek enhanced stability, the shoe features a supportive heel counter and reinforced overlays in key areas. These elements work in harmony to counteract overpronation, offering a steadying effect that promotes a more natural gait and reduces the risk of ankle-related issues.
Pros:
Wide sole and forefoot for added stability
Lightweight and breathable mesh upper
Shock responsive
Cons:
Limited styles and colors
Some runners felt it was too narrow
ASICS Gel Venture 9 – Best Budget Ankle Support Shoe

Price: $80
Check Amazon and Zappos for deals
When you think of a budget shoe, don't assume we are giving you something from the Walmart clearance bin (although, who doesn't love a good clearance bargain?). ASICS is a high-quality brand with friendly pricing. With quality comes stability, and that's what you'll get with ASICS Gel-Venture 9.
Built to tackle various terrains, this shoe is designed to provide ankle support and stability while navigating uneven surfaces from roads to light hiking trails.
The multi-directional lugs offer excellent traction on a variety of surfaces, whether you're navigating through muddy trails or rocky paths. This superior grip contributes to the overall stability of the shoe, preventing slips and slides that could potentially strain the ankle.
The ASICS Gel Venture 9's design also incorporates a reinforced toe cap and heel counter, adding an extra layer of protection and stability for your feet and ankles. This is particularly beneficial when encountering obstacles on the trail that could otherwise lead to injury.
The shoe features ASICS' signature Gel cushioning system strategically placed in the rearfoot to absorb shock upon impact, ensuring a smooth transition through each step. This is particularly beneficial for ankle support, as it helps to minimize the jarring forces that can affect ankle stability on rough trails.
While this isn't ASICS's most cushioned shoe, it's specifically designed with neutral and underpronators in mind to reduce injury.
Pros:
Versatile (basically a trail shoe and a road shoe in one!)
Affordable
Increased shock absorption
Cons:
Lacks the cushion many runners look for
Some runners say sizing runs small
Hoka Speedgoat 5 – Best For Trail Running
Price: $155
Available on Hoka.com

Trail running can be exciting and adventurous, but it can be scary if you're worried about rolling an ankle 5 miles into your 10-mile out and back. Finding trail-running shoes that have your back (and your feet!) is important.
This has been one of my go to shoes for many years. It is NOT a stability shoe, but due to the design of Hoka shoes it provides that needed support.
Hoka One One is known for its maximalist cushioning approach, and the Speedgoat 5 is no exception. The shoe features a generous stack height of cushioning foam, which not only provides excellent shock absorption for ankle protection but also helps to maintain a smooth ride over rocks, roots, and uneven surfaces.
The outsole of the Speedgoat 5 is designed for superior traction. It features aggressive multidirectional lugs that bite into the trail, ensuring exceptional grip on both ascents and descents. This level of traction is crucial for ankle support, as it prevents slipping and helps you maintain stability even on the most technical terrains.
Plus, you still get the late-stage meta-rocker effect to smooth out those trails.
Pros:
Vibram Megagrip with Traction Lugs for better grip
Wide sole for stability
Durable mesh upper and protective toe cap to avoid injury from flying rocks
Cons:
Still, a pretty heavy shoe compared to lightweight road versions
Not a good option for under/overpronators
Brooks Adrenaline GTS 23 – Best Stability Shoe For Road Running
Price: $140
Available on Brooksrunning.com in the most sizes (also sale on the 22!)
As one of the top contenders for ankle-supportive running shoes, we can't leave out Brooks.
The Adrenaline GTS 23 not only comes in a variety of widths to better fit your foot but is enhanced with Smart Support GuideRails to keep your foot in place. This technology aids in reducing excessive movement, not only at the foot but also at the ankle, helping prevent overpronation and promoting proper alignment.
The Adrenaline GTS 23 gives you a cushioned experience without sacrificing stability.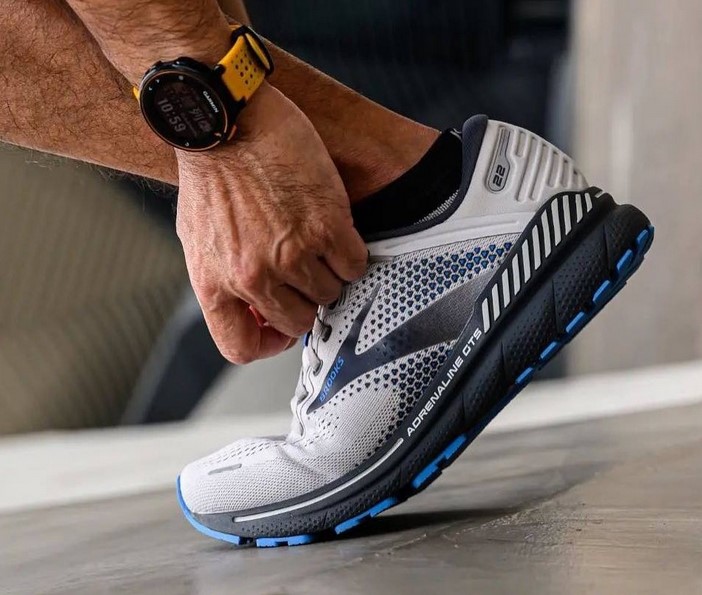 Brooks boasts that it's "super soft, but never too squishy" – which matters because the cushion loses its squish after a while and can change your footing. Its impact-reducing properties indirectly support the ankles by minimizing the forces that can lead to strain
Pros:
Smart Support GuideRails
Variety of widths
Soft, but not squishy inner sole foam
Cons:
Fit sometimes runs larger
Fewer color/style options for wider foot sizes
Here's a comparison of the Brooks Ghost vs Adrenaline, as I am often asked about the difference.
Salomon X Ultra 4 Low Hiking Shoes – Best Ankle Support For Technical Trails
Price: $160
Available on REI.com

Turns out that most people prefer running shoes over big boots for hiking! And that's a big win for those of us doing long ultra style runs which involve a lot of uphill hiking and dealing with more technical running.
The X Ultra GTX features a durable synthetic upper combined with a Gore-Tex membrane. This waterproof and breathable lining ensures that your feet and ankles remain dry even when encountering wet conditions, streams, or rain-soaked trails. The snug SensiFit™ construction, along with the padded collar, cradles your ankles comfortably, providing support and minimizing the risk of injury.
One of the standout features of the X Ultra 4 is its Contagrip® outsole. The lug pattern and rubber compound offer remarkable grip on a variety of surfaces, ensuring confident steps even on rocky or slippery trails. The enhanced traction directly contributes to maintaining stability around the ankles, which is crucial on challenging terrain.
Additionally, the shoe features a protective rubber toe cap that shields your feet and ankles from rocks and debris, enhancing the overall durability of the shoe.
Pros:
Grippy sole for technical terrain
Maximum protection and support
Gore-Tex waterproof technology
Cons:
Consumers advise against buying online unless you've tried them on first. Some people found variances in size from previous styles/models.
New Balance 1540v3 – Best Ankle Support For Walking
Price: $180
Available on New Balance.com in different widths, some sales on Amazon

The New Balance 1540v3 is a versatile shoe that you can wear on your outdoor runs and walks, or to the gym for some indoor cardio. I have others I recommend for heavy running and hence think these are more ideal for power walks to your casual stroll.
At the core of the 1540v3's design is its focus on stability and motion control. This shoe is well-suited for runners with overpronation, a tendency for the foot to excessively roll inward during the running gait. The dual-density midsole features New Balance's Rollbar technology, strategically positioned to minimize overpronation, reduce ankle strain, and provide a more neutral gait.
The 1540v3 was recognized by the American Podiatric Medical Association and received the Seal of Acceptance, making it foot-doctor approved as the best walking shoes for ankle support.
Pros:
Multiple width options
Rear-foot control
Podiatrist is recommended (but talk to your doctor as well)
Cons:
As of 2021, this shoe is no longer made in the USA
One of the more expensive shoes
Brooks Addiction GTS 15 – Best For Flat Feet
Price: $140
Available on Brooks.com in the most colors
If you are arch-support challenged, don't worry, we didn't forget about you. About 20-30% of the population struggles with finding the right support for their flat arches and it's not uncommon for adults to develop flat feet as they age.
With flat feet comes the risk of overpronation, which we learned earlier increases the risk of rolling an ankle.
At the core of the Addiction GTS 15's design is its focus on addressing overpronation—a common biomechanical issue where the foot excessively rolls inward during the running gait.
The Brooks Addiction GTS 15 provides maximum support with the right amount of comfortable arch support to keep your ankles secured.
Like with other Brooks stability shoes, the Addiction GTS 15 includes the GuideRails support technology. This feature helps guide the foot through a more neutral pronation pattern, promoting ankle stability and reducing the risk of strain or injury.
Pros:
Available in a variety of widths
Space for custom orthotics
Soft cushioning
GuideRail technology to keep your foot in place
Wide toe box
Cons:
Some runners have a problem with sizing, so be sure to try before you buy
Heavier than some other options
All right hopefully this list of stability running shoes to provide ankle support gave you some good ideas on where to start looking. Remember that comfort is king when it comes to the right shoe for you.
For more help selecting the right shoe for you, don't worry, I've got you:
Other ways to connect with Amanda
Instagram Daily Fun: RunToTheFinish
Facebook Community Chatter: RunToTheFinish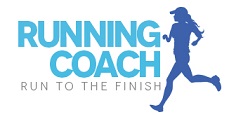 Sign Up to Receive a Weekly Newsletter with Top Running Tips and Laughs