Only if I were being chased….
That's what you do for fun?!
Don't you get bored?
We laugh as friends mock our desire to spend hours hoofing it "farther than they drive", but the truth is we know we're a little bit crazy. And even though we pretend otherwise, we secretly embrace our culture of pushing just a little too far for no particular reason.
And these meme's, Instagram images and funny running quotes are some of the best I've seen lately to give us all a much needed laugh and reminder that we are indeed special.
1. Because sometimes, you just have to laugh at yourself.

2. Because we've all needed a reason why we're working so hard and getting passed.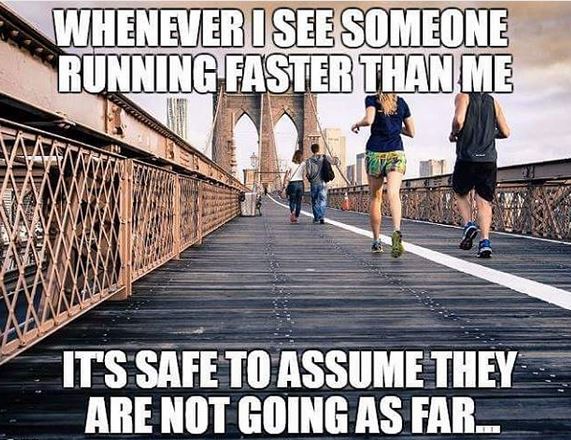 3. Because reality tv really can be used to explain all our running issues.

4. Because runner's high is real.


5.Because running in bad weather makes you a bad ass…at least that's what we tell ourselves to get out the door.

6. Because we run really long distances for the reward of…a .10 cent food.


7. Because we've all said "running is my therapy".

8. Because the reasons are endless and only another runner will get it…but with lots of gibberish others will at least stop asking.


9.Because it's funny when friends say they'd only run in chased and we know it would save us.

10. Because it's one of the reasons we run.


11. Because…see above.

12. Because we're motivated to pay people to run for the strangest reasons.


13. Because running for weight loss seems to work especially well in the chest region.

14. Because it's the only answer.


15. Because I'm going through an injury right now and have asked this about every potential repair option :)
16. Because everything in life relates to running.


17. Because it's true…it's why I started this blog.

Hope this gave you a good laugh today! They say laughter is the best medicine, so I'm hoping it miraculously fixes my knee because I'm definitely missing my daily dose of run therapy.
BONUS: I started a new series on Facebook called The Most Runner Thing I've Seen This Week. If you've got a photo I need to see, head over there to share it with me!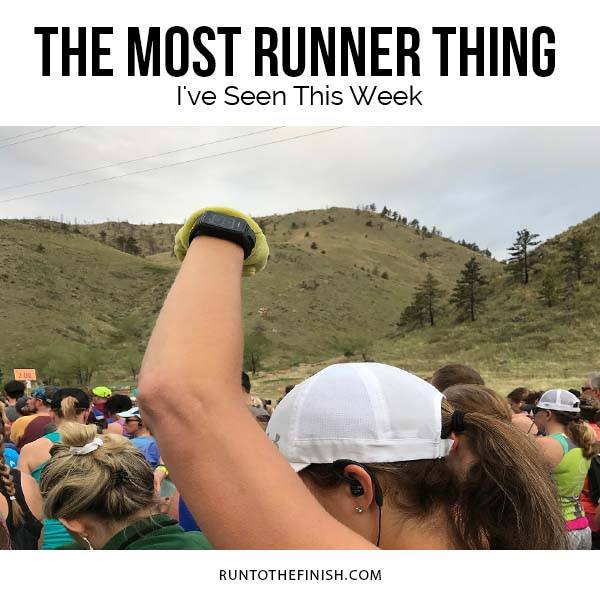 Any hilarious running meme's you've seen?
Funny running accounts we should checkout?
Other ways to connect with Amanda
Instagram: RunToTheFinish
Facebook: RunToTheFinish
Get new posts via BlogLovin